The obstacle course and slides
Dutch Springs may be best known for its scuba diving adventures, but the Aqua Park at Dutch Springs is also a popular place to play during the hot summer months. We headed to Dutch Springs for the first time on a really hot Saturday in July.
We decided to take advantage of their reduced rates after 4 PM on Saturdays and arrived around 5 PM. The drive there took us through what seemed to be an office park and just as we were about to doubt that we were going the right way, the entrance to Dutch Springs appeared.
We signed our waivers and paid at the ticket office, though both can be accomplished online. After getting back in the car we gave our tickets at the gate and pulled into a parking space close to the bath house and snack bar. We quickly changed, put on plenty of sun screen and headed for the water. The lake at Dutch Springs is from a man made quarry, and it can be very cold water. I was looking forward to it on this 95 degree day.
After placing our towels on the grass, we headed to get life jackets which everyone is required to wear. They supply the life jackets and have staff that will help make sure they are the correct fit. We ventured into the lake, and it was very refreshing! We first stopped at one of the trampolines, then the climbing walls, and then the obstacle course.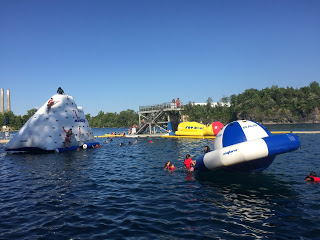 Rock wall with "Fat Boy" in the background
The wibit inflatables can be very slippery, and I quickly realized that I should have brought water shoes. It was very very physically challenging, though an extremely fun and unique experience. Finally, my husband decided to do the "fat boy" where you leap off a platform onto an inflatable, which makes the person laying on the end of it fly into the air.
After a total of about two hours, we were tired and ready to head to the snack bar. After eating and getting refreshed, we headed home for the day. After experiencing the Aqua Park, I'd recommend it for older children, and those that are adventurous. Lots of upper body strength helps too!
Things to Remember:
1. Water shoes would be extremely helpful on the slippery inflatables.
2. You can take your own picnic lunch, but there's also a fully stocked snack bar.
3. There isn't much shade in the grassy lake-side area, but I saw many people with tents.
Like my Facebook page for updates and exclusive content.