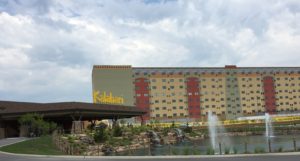 We visited Kalahari Resort in the Pocono Mountains in the late spring. Pulling into the resort, we were impressed by its size and the beautiful landscaping around the entrance. We didn't realize what a big venue it is, complete with a conference center. We quickly checked in at the desk and received our wristbands. After dropping off our bags in our room, we didn't waste any time changing into our swimsuits and heading to the water park.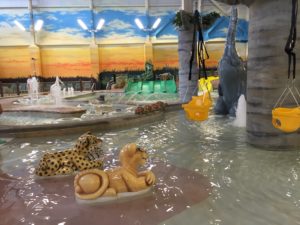 After arriving at the water park and getting a seat, we decided to sit near the large kid's water section, since we thought we'd spend our most time there. The kids' area has a mini lazy river, several different kinds of small water slides, baby swings, and lots of other water features. I particularity like the baby seats at the water table. Our baby loved splashing while sitting in the seats. The area is very spacious and had water depths that were good for both our baby and our four-year-old. After spending some time on the small slides, my daughter decided to tackle the water coaster. I love roller coasters, so adding a water element is a great thrill for me. There's no need to carry your tube to the top, because they have a system that does it for you. The water coaster even has a great photo opportunity from the deck, where you can see the riders for a split second before they disappear into a tube.
After a few turns on the water coaster, we headed to the large play structure with larger slides. I sat with the baby, as my other daughter did the slides multiple times. The structure is large, but most of the slides exited on the same side, so I could keep track of where she was playing. We also played for a bit in the basketball hoop pool, but my oldest was still a bit small. She did enjoy having her dad lift her up to dunk a few baske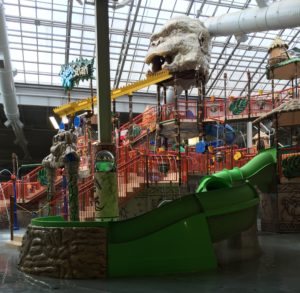 tballs. Kalahari has a Flow Rider as well, and my daughter absolutely loved it. The lifeguards were great at giving her some coaching so she could stay on longer.
The kids were tired after the time in the park, so we headed to the room for the night. The next day we explored the resort and the beautiful decor, especially in the lobby. There is a gift shop and bakery with desserts that looked amazing. There is also a spa and onsite restaurants, including an ice cream shoppe. For more activities for the kids, there is an Adventurer's Club that hosts crafts, games, and scavenger hunts. The adults can relax or take a trip to the spa.
We plan to make a trip back for one specific reason, on March 8th, 2017, Kalahari will open a second phase of their water park, making it the largest indoor water park in America.