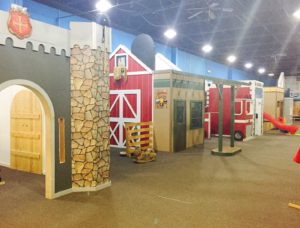 When it's much too cold to play outdoors, we head to some spots where outside fun can be experienced indoors. Kiddie Crusoe is one of these indoor play spaces, with three distinct areas for kids to enjoy. Kiddie Crusoe is located in Timonium, Maryland, not far from Interstate 83. It's tucked away in a large building on Fox Tail Road, off of York Road. The entrance is quite small, so be sure to watch carefully or you'll miss it.
We headed in and quickly became busy playing in the town that they have set up right inside the door. There's a grocery store, school, castle, restaurant, doctor's office, mechanic, and construction site with all of the accessories ready for play. My five-year-old particularly likes the restaurant, where I was waited on and served a hot dog with ketchup numerous times. After playing in the town, we headed to the next section, which is the playground.
The playground has an enormous swing set with over half a dozen slides, monkey ba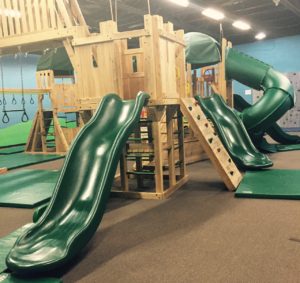 rs, swings, a couple trapeze bars, and lots of tunnels to climb through. There's also a rock wall and extra padding on the floor under slides and swings. My five-year-old played here the longest, as I think she's missed this park-like setting during the winter months. There's a lot to explore in this area, and she had to go down all of the slides at least once.
The third section is a bounce house area. There's one enclosed bounce house with a slide, one smaller slide that isn't enclosed that includes a ball pit to slide into, one toddler bounce, and one traditional bounce house. My daughter prefers the bounce slides, so she took several turns going down the slide into the ball pit and on the bigger slide. There's also an inflatable basketball hoop, that she enjoyed, but was a little crazy with throwing the ball.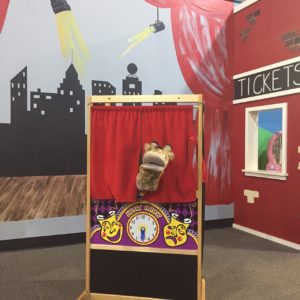 Since our last visit, they added a sensory section where the cafe used to be. In this area there's a several stations including a sand table filled with small straws, and a section of Legos for building. Even though my daughter has a ton of Legos at home, she still sat for at least 15 minutes and played with the box of Legos. It was a nice change of pace from following her around the play area.
Kiddie Crusoe does serve food, which is the typical kid-friendly fare. They also host birthday parties, summer programs, and have some special themed play times on their calendar on the website.
Things to Remember:
Bring socks for the bounce houses.
There's two locations now! Check out the location in Belcamp, if that's closer for you.
Check the calendar on their website before you go, so you know of any special events for that day.