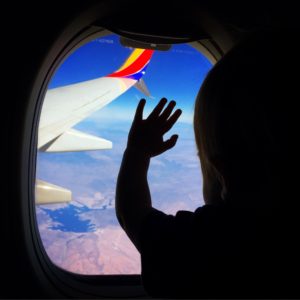 Traveling with two small children is a challenge – a challenge I love to conquer. If we can come out of a long road trip with a limited amount of crying and two happy kids, then I deem our trip a success. Here's some mistakes I've made along the way. I hope they keep you from learning the hard way.
Trying to do too much – A sure way to quickly ruin a trip is to try to pack too much into a day. It ends in overtired children, stressed out parents, and not enough time to enjoy our destination. Our itineraries now only include one large or two small places per day, and I've plan some flex time in case we need to make changes on the fly.
Running out of snacks – This still happens from time-to-time. I've gotten into the habit of packing the amount of snacks I think we'll need, and then adding a few extra packs of fruit snacks on top of that. You never know when a kid is going to refuse a meal, or have a sudden urge to eat three granola bars, so I over-pack the snacks knowing that I can just throw them back in the box when we get home if we don't eat them.
Lacking back-up clothes – It only took one spill on an airplane for me to learn my lesson with this one. Everyone needs a back-up outfit, even the adults. When we travel by car it's easy to throw some extra clothes in a bag to take along, and other times it is much trickier to pack a change of adult clothes into an already overflowing carry on bag.
Missing the weather forecast – During the Spring and Fall, it's easy to assume the weather one day will be exactly the same as the next, but you never know when a sudden dip (or spike) in temperature is goin
g to happen. In the early Fall I always pack an extra jacket, and in the Spring, I stash a pair of shorts just in case.
Taking the wrong stroller – This is always a serious debate before we go on any major trip. Do we lug around the much bigger double stroller or go with the single, simple, umbrella and let the older child walk? I try to think ahead about the amount of walking we'll be doing, and always lean toward taking the bigger one. In my opinion, having more room in the stroller is always better than having less.
Ignoring trip reports and reviews – Nothing is better than getting tips and tricks from other parents who have already visited your destination. From best places to take a break in the shade, to cleanest bathrooms, where to park, how to get the best deals…I could go on. Learning from this info is key to planning my trips; travel bloggers and TripAdvisor are my go-to sources.
Not knowing where to park – After spending hours in a car, it's so frustrating to finally get to your destination and have to circle it repeatedly to find a place to park. Most places will have parking tips on their website, so check it out early and have a plan. Also, there are plenty of "parking" websites that serve large cities where you can find a parking lot, pay ahead, and you can often use a coupon code to save money if you think ahead.
Just winging it with food – Just like having plenty of snacks, I like to know the locations of kid-friendly restaurants or snack shops ahead of time.
Whenever hunger hits our kids, they need something immediately, and at least
Ignoring nap time – I do ignore nap time on occasion, and I usually pay the price. Whenever possible we try to do at least a car nap in the middle of the day, and the break from the crowds and heat in the summertime usually rejuvenates the parents, too.
Sticking to the plan – While I leave the house with a plan for the day, sometimes, especially when traveling with small children, it just isn't possible to stick to a tight itinerary. From our many trips, I've learned that if the kids are having fun, we stick around as long as we can.