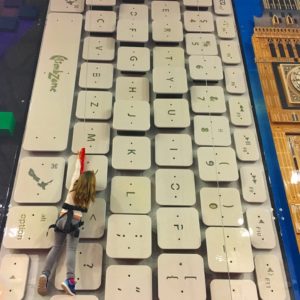 Sponsored post – ClimbZone hosted us.  All opinions are my own.
ClimbZone in White Marsh, Maryland is a climbing facility located near White Marsh Mall outside of Baltimore.  The walls at ClimbZone have a system called Clip 'n Climb, which is a relatively new auto-belay system that was developed in New Zealand.  It allows climbers to clip their harnesses into the auto-belay system to safely climb and then slowly descend without any assistance from someone on the ground.  When they've finished their ascent, they can let go of the wall and the system lowers them slowly down to the ground.  This system works for preschoolers through adults and allows everyone to have a safe, enjoyable climbing experience.
As you arrive at ClimbZone, watch carefully for signs that will lead you to the back of a new warehouse park where it is located.  If you haven't already filled out the waiver online, that's the first thing you'll do upon arriving.  Then, proceed to the counter to get your climbing gear.  The harnesses will be put on by a trained staff member.  You will listen to a short list of instructions on how to safely clip yourself (adults must clip children under 12) and how to safely climb.  After the tutorial, you're free to start climbing any of the 70+ walls they have to offer!
The walls range from easy to difficult.  Starting with the "kitty" wall would be the easiest.  This beginner wall is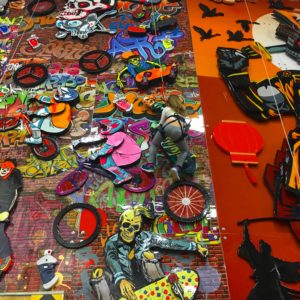 toward the back, right side of the facility.  It is a great place to start if you've never climbed before.  After that, challenge yourself to some of the more difficult walls, including three walls that start with a warped wall (three different heights of warped walls are available).  Two walls toward the front, left side of the building have timers built into them, so you can try to make your best time.  Another of my favorites is the two-sided, clear, climbing wall.  You can race a friend on the other side of the wall, and then see who will be the first to the top.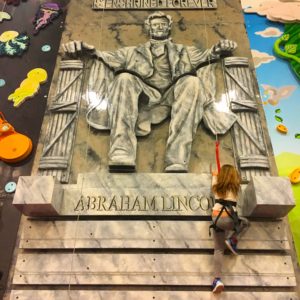 ClimbZone also caters to toddlers, as they have a large bounce house, inflatable slide, and a contained toddler play area.  My husband watched our two year old play in this area, while I helped our six year old clip herself in for climbs.  After a while, we switched, and the two children also played on the inflatables together.  There's also a gaga pit, party rooms, and plenty of storage for your belongings.  Lots of tables are available, and you can bring your own snacks and drinks.  ClimbZone does have a small offering of food if climbing has made you hungry.
Sponsored post – ClimbZone hosted us.  All opinions are my own.
Things to remember:
Wear good shoes to help you grip the walls with your feet and comfy clothes.
Fill out the waiver online before arriving to save time.
Outside food and snacks are permitted. I'd suggest a water bottle, because climbing the walls in hard work!