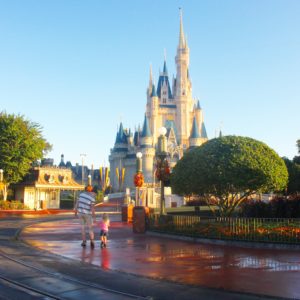 Planning for Disney World can be an overwhelming, year-long process. From advance dining reservations, to fast passes, to choosing a hotel there are a lot of choices! Now that we're in the midst of planning our second trip to Disney, here are my favorite tips I learned from my last trip.
Want the magic of Bibbidi Bobbidi Boutique without the price tag? Stop in the entrance for some pixie dust sprinkled on your child's head. The magic of pixie dust at no charge!
Harmony Barber Shop in Magic Kingdom is the perfect place to commemorate a first hair cut. They are great with kids (duh!), and the haircut package includes embroidered ears and a certificate.
There's tons of photographers hanging around Disney World to take your photo. When you see one, ask them if they have any magic shots. I've seen some cool ones over the years. My favorite is my daughter holding Tinker Bell.
There will be a sea of strollers outside any toddler-friendly attraction. Outside of the Disney Junior Live, I was sure we'd never see our stroller again! There were so many, and the cast members had rearranged them! Make sure your stroller is clearly marked, and something big and bright, like a big bow, tied as high as possible will help a ton.
Take something unique for the characters to sign. Everyone has an autograph book. Take something you can actually use! We have a signed photo mat from all of the princesses at the Akershus Royal Banquet Hall, a white backpack with neon signatures from the fab five, and a custom photo book with signatures beside each of the characters.
If you have a child who does not meet the height requirement for a ride, or maybe just doesn't want to ride, then take advantage of rider switch. At the entrance, let the cast member know you'd like to use child swap. One adult will wait with the non-riding child. They will be given a rider swap pass so they don't have to wait in line when the other part of their party returns from the ride. Not all rides offer this, so check with cast member when entering the line.
Let Disney know of any birthdays or anniversaries you may be celebrating on your trip. We received a birthday card signed by the fab five in our hotel room and extra sweets at dinner on our daughter's birthday.
If you're visiting the Bibbidi Bobbidi Boutique, it is possible to provide your own princess dress, instead of paying for the more expensive package.
For a fun character experience, go see the only talking Mickey at Disney World! He's located in Town Square Theatre. He might even show you a card trick!
Toy Story Land officially opens in Summer 2018. A portion of Hollywood Studios is under construction for this land, so keep that in mind if you visit before the opening.