Bear Creek Mountain Resort and Conference Center is a ski resort nestled in the Lehigh Valley area.  While it began in the 1960s as a simple ski area with two trails, it blossomed into a year-round destination with 23 ski trails, seven lifts, two pools, hot tubs, and two onsite restaurants.  The Conference Center portion of the Resort hosts weddings and events throughout the year.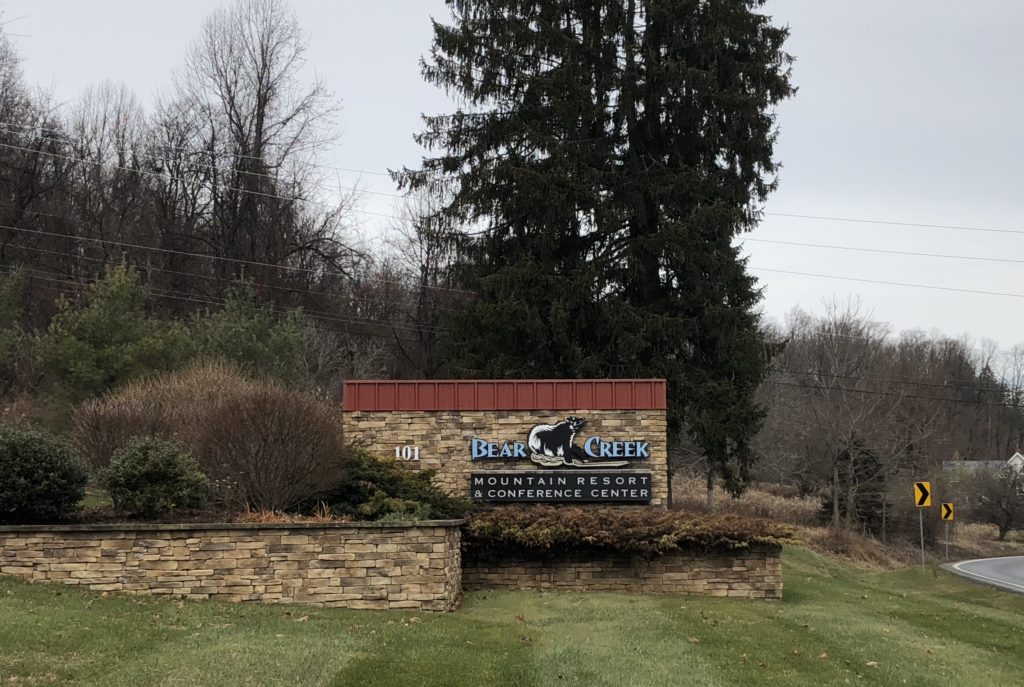 Bear Creek Resort Lobby
Our visit to Bear Creek fell right outside of ski season, but we were lucky to be able to see the snow making in progress. We arrived in the early afternoon and were greeted by a beautiful lobby decorated for the holidays. The fireplaces and comfy couches looked like a wonderful place to hang out. We quickly checked into our room and enjoyed a chocolate chip cookie which was a treat at the front desk.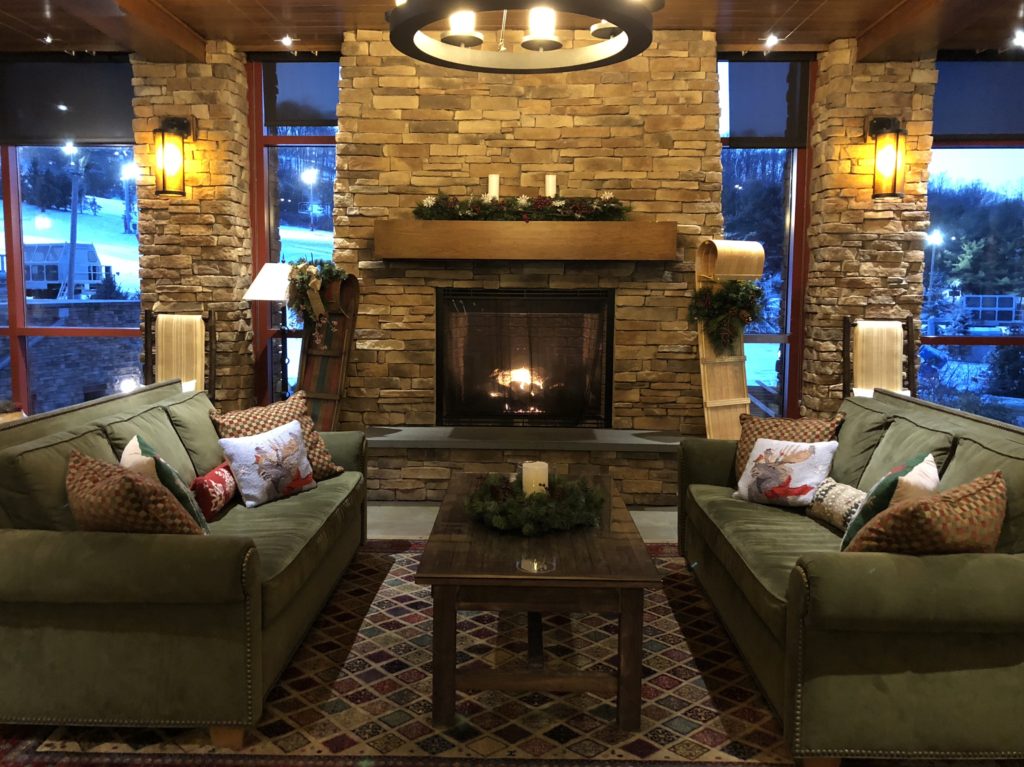 Bear Creek Resort Rooms
Rooms are available on the slope side or non-slope side of the mountain, and I'd highly recommend getting a slope-side room.  When we walked into our room, we saw the beautiful view of the mountain that was just beginning to be covered with snow.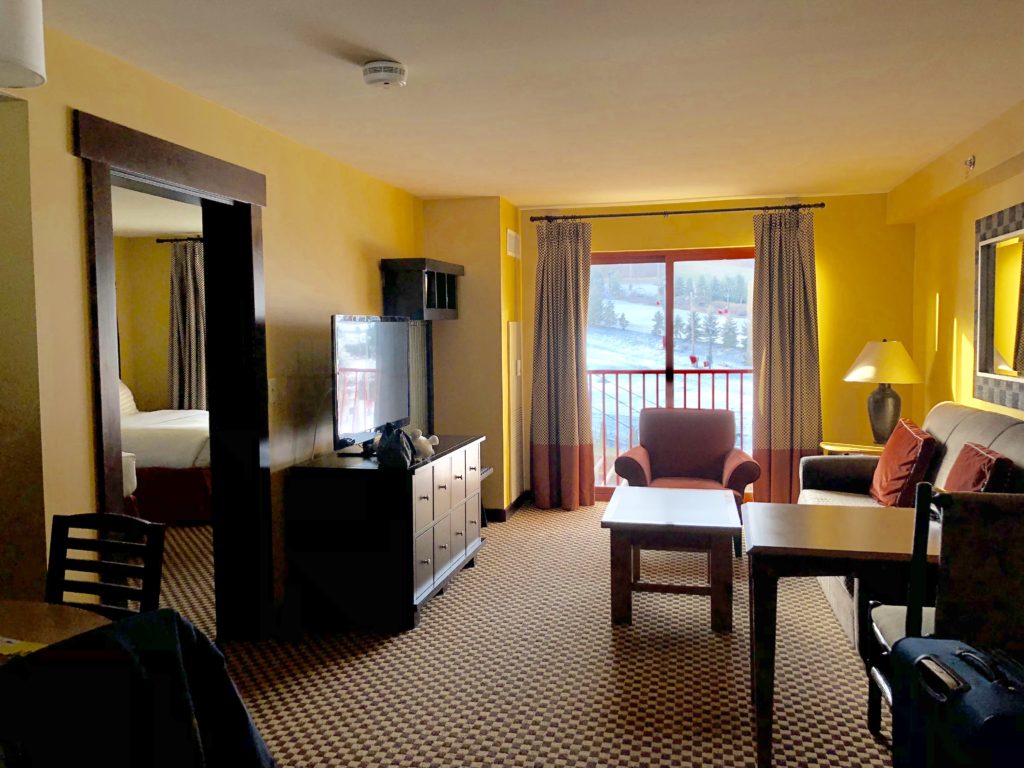 The Queen Suite room has a large living room with a table for four and a kitchen area with a counter, sink, refrigerator, and coffee maker. The living room has a sofa, chair, and coffee table. The best feature of the living room is the large sliding glass door with a beautiful view of the snow-covered mountain. You can even step outside on the balcony and take in the winter air.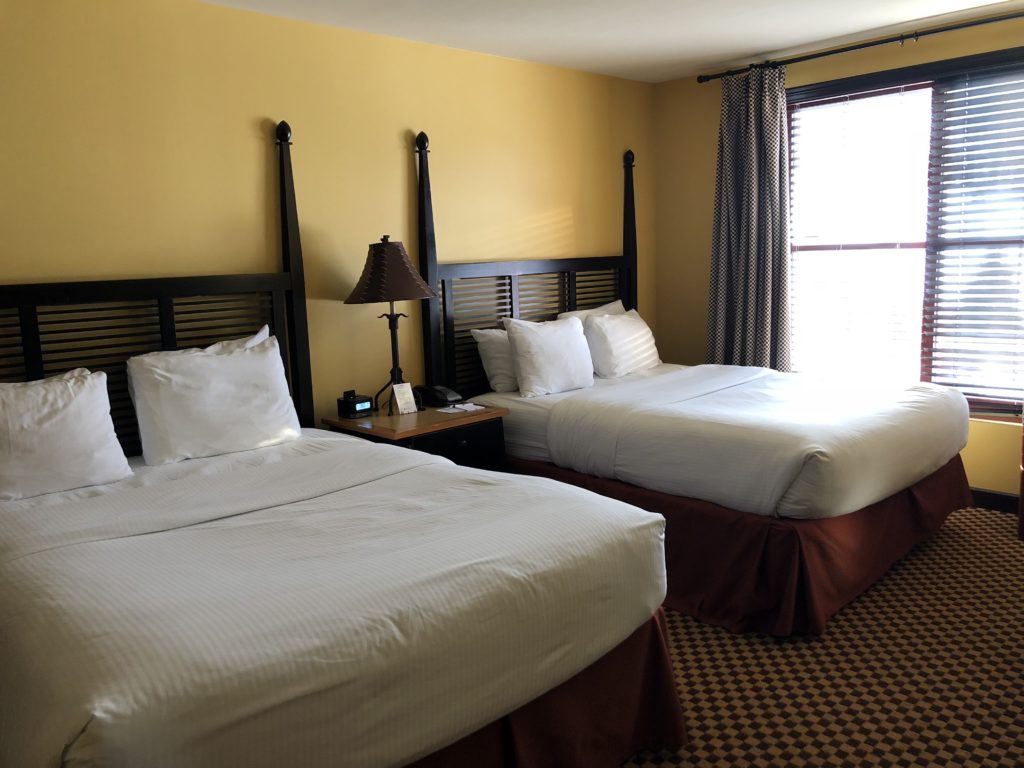 In a separate room behind a door, there's a bedroom with two queen beds. Then there's my favorite part of the whole suite: a large dressing area that is separate from the shower and bathroom! Plenty of counter space, a sink, shelving, and a place for your suitcase. This still leaves plenty of space for two people to get on their winter clothing to prepare for a full day of skiing.
Bear Creek Resort Pools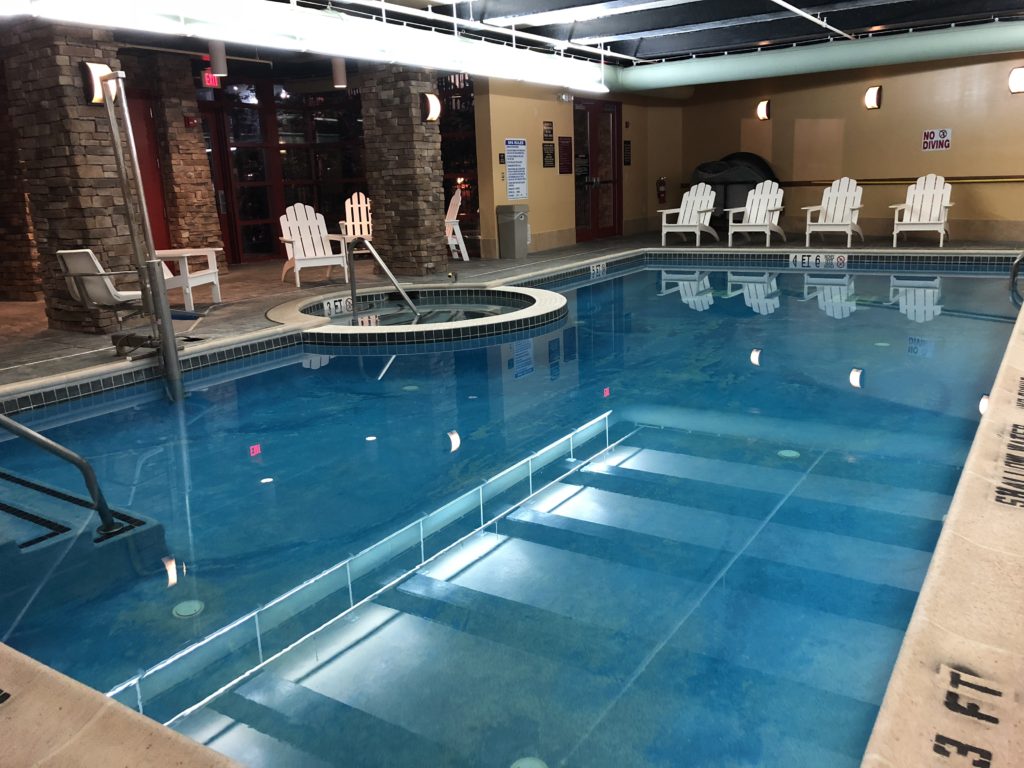 As soon as we were settled in the room, the kids wanted to visit the pool.  While they knew that Bear Creek had an indoor pool, they weren't aware that my plans were actually to swim outdoors.  We got our suits on and first headed to the indoor pool. There, the kids splashed around happily for over an hour.  There is plenty of seating around the pool, and it also includes a hot tub area.  After an hour, my youngest child was getting a bit tired.  I decided to take her to the room for a nap, while my husband took our older child to swim in the large outdoor pool.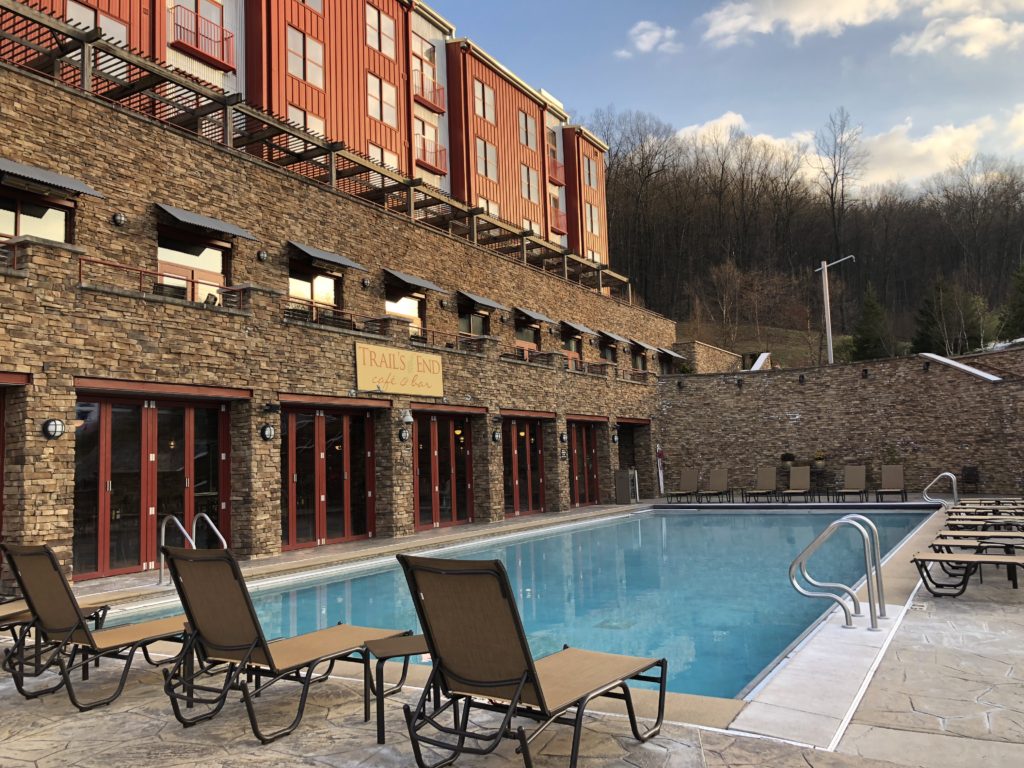 While we've experienced small hot tubs outdoors in the winter, I've never even seen a heated full-size pool at a hotel that is open in the winter. I could tell it was well-heated because of the steam coming from it. Since I took our younger child to the room for a nap, it was awesome that I could see the outdoor pool from the balcony of our room. I talked with my older child and husband as they swam. They actually spent a good amount of time out there because the water was so nice. It's a unique experience to swim outdoors while looking at a lovely mountain covered in snow. There are even outdoor fireplaces to add to the ambiance.
Bear Creek Resort Food Options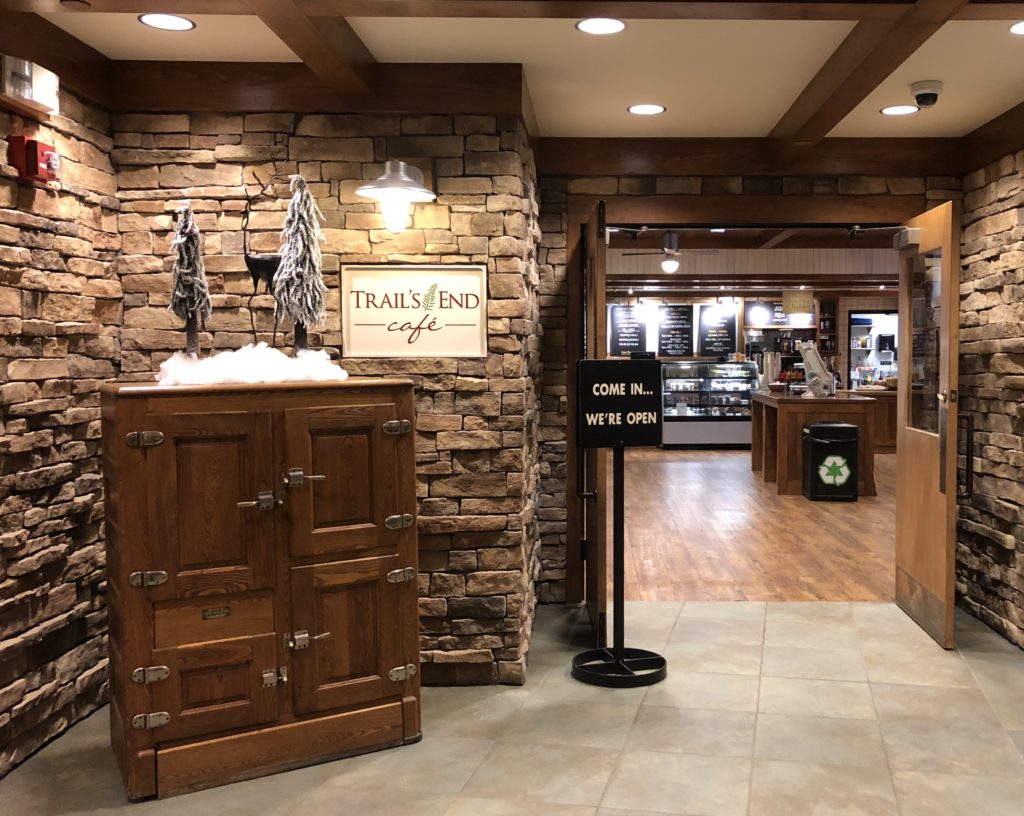 For food options, two restaurants are on site at Bear Creek Resort.  One is more casual and called "Trail's End Cafe".  It is a bistro-style restaurant with sandwich, soup and salad options.  This eatery looks out onto the outdoor pool. In the summer they have large doors that they can open.  There's also a more upscale restaurant experience called "The Grille at Bear Creek". It offers a more intimate, contemporary dining experience with a large selection of wine and craft beers.  There's also a third option for snacks and quick meals that is open during the winter season.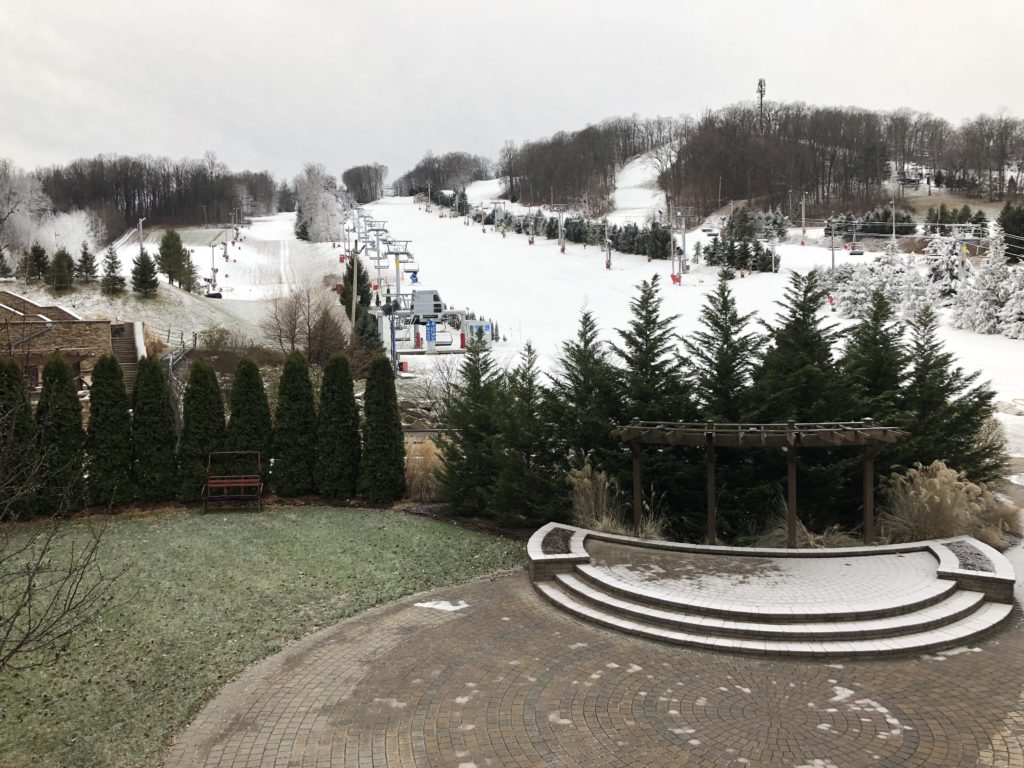 When we visited, skiing and snow tubing was not open yet, but the trails and snow tubing lanes were beginning to take shape under a blanket of white snow. It was a nice experience to have a room overlooking the trails when they began blowing snow in the evening. The noise from the snow making equipment did not bother us at all. It was so fun to see the mountain in the process of getting ready for a wonderfully fun winter season.
Most people would think of Bear Creek as a winter destination. I could tell that it would be a fabulous place to visit during the warmer months, too.  There is plenty of hiking and bike trails in the area, as well as many more attractions in Allentown, Bethlehem, and Easton.
Check out more information about Bear Creek on their website. There's also much more to do in the Lehigh Valley during your visit, including the Lehigh Valley Zoo and the Da Vinci Science Center.