Sponsored post – Super, Awesome and Amazing hosted us.  All opinions are my own.
Super, Awesome and Amazing is an indoor, active entertainment center located in the new St. James complex in Springfield, Virginia. There are two main areas of play. One area is an interactive water park with several slides, a tipping bucket, splash and spray zones. The other area of the Active Entertainment Center (AEC) is packed with physical challenges. These include clip 'n climb elements, a ropes course, a ninja warrior course, trampoline area, VR games, and multi-level play structure that doubles as a Nerf battle zone.
When arriving at the St. James sports complex, the AEC desk is located down the hallway and to the left after the main welcome desk. Admission prices for the AEC are separate from the water park and both are purchased on an hourly basis. After checking in at the desk and receiving a wristband and socks, there's a large stairway to go down into the play area. It also serves as a great overlook to see all of the fun activities to experience.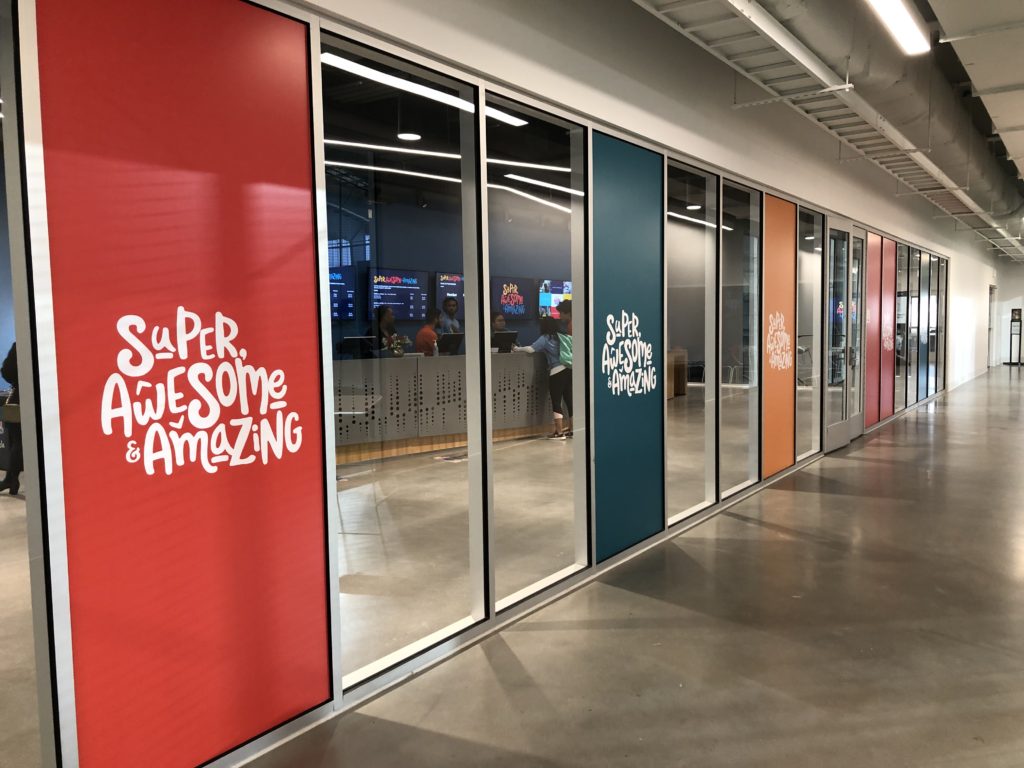 Ropes Course
A very popular section of Super, Awesome and Amazing is the ropes course. At the bottom of the steps, there's an employee available to help children and adults get into the harness. The harness allows you to stay safe and attached to the ropes course structure and lead you through the path of elements. There is a barrel crawl, stepping stones, a rope wall, and many more challenging elements.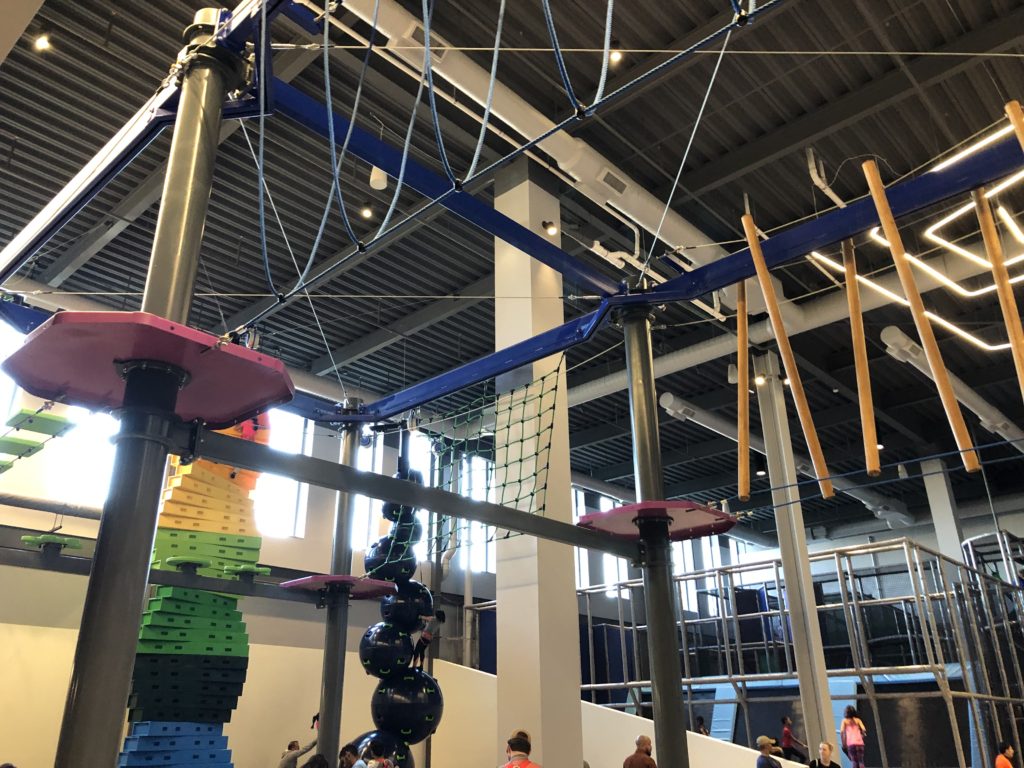 Nerf Battle Zone and Trampolines
One major section of the AEC is the multi-level climbing play structure. Before entering, kids (and adults) must have protected eye wear and it's probably a good idea to take a nerf gun, as well. Battle with your opponents inside the maze while climbing through tunnels and going down slides!
Right beside the Battle Zone are a set of trampolines. Special socks are distributed upon arrival at the front desk, so kids can enjoy bouncing off the walls! There are a set of trampolines turned at an angle so they can do just that!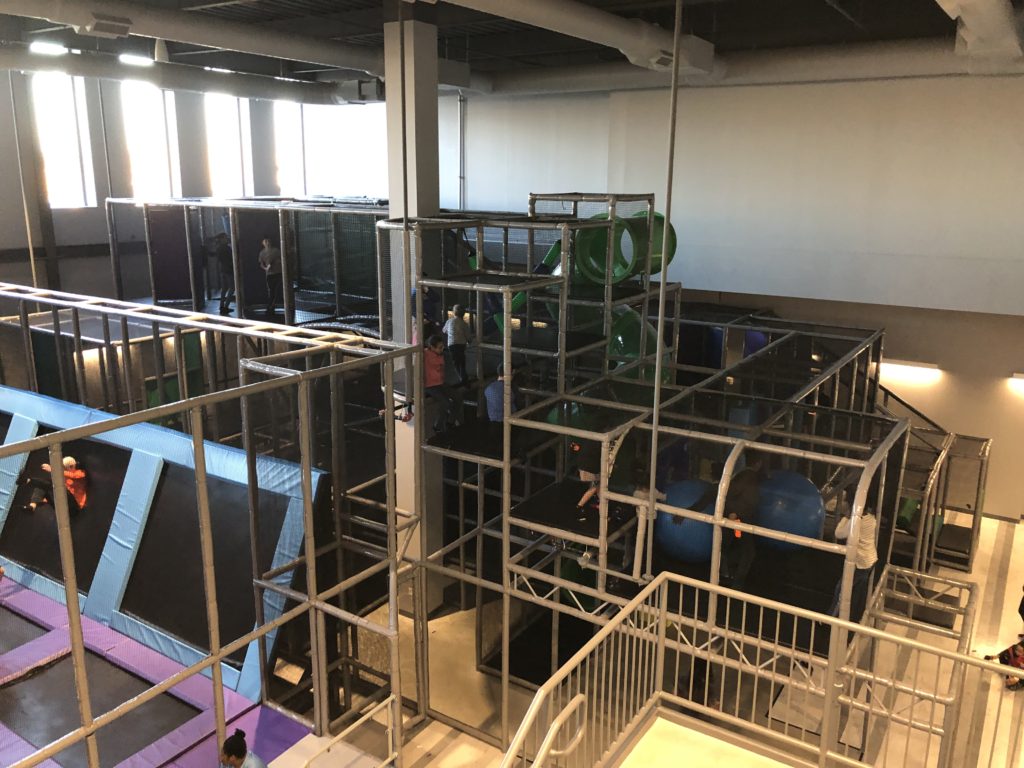 Clip 'n Climb and Warrior Course
Super, Awesome and Amazing also features three "walls" for Clip 'n Climb. A different harness is used for this climbing than with the ropes course, and an AEC staff member will also help put on the harness. There is a rainbow twist wall, which is simple enough for 4-5 year olds to make it to the top. However, it's the front side of the wall that is somewhat simple because the grips on the wall are downward. The backside of the rainbow wall can also be climbed, but it has "up grips" meaning your palms would be positioned toward the ceiling in order to grip the wall. This is quite challenging. My 7 year old who does Clip 'n Climb walls on almost a weekly basis had trouble making it even half way.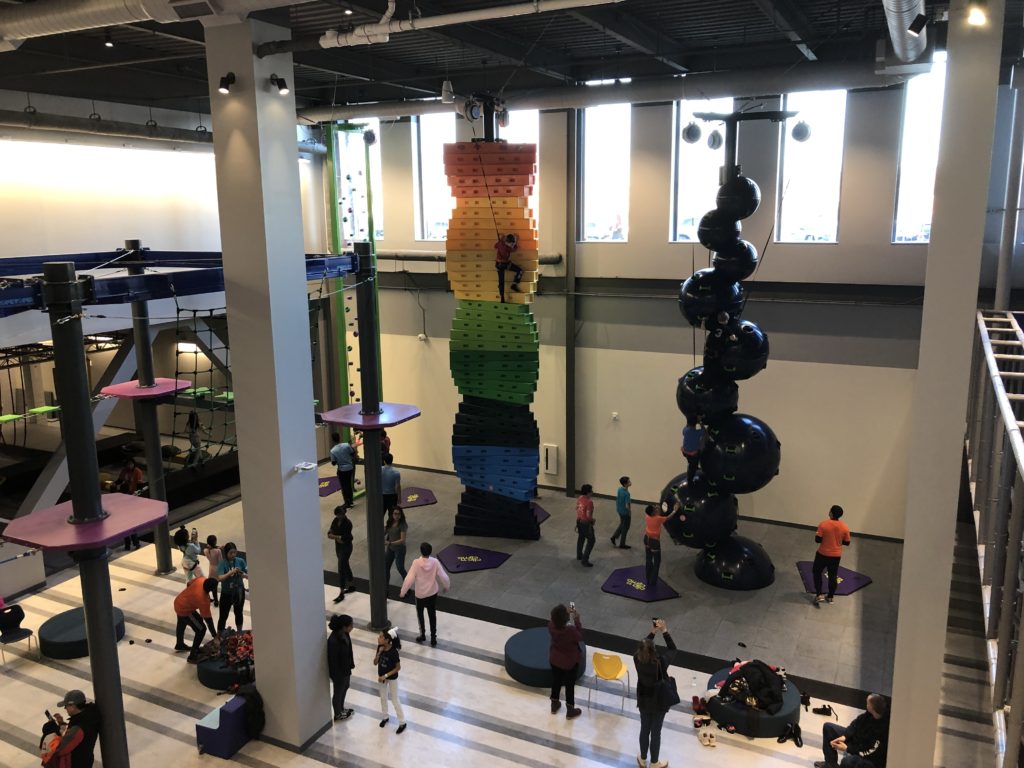 The second Clip 'n Climb wall really isn't a wall, it's a stack of balls. There are three places that can be climbed around these balls, with each side also having a different level of challenge. Some have less places to grip than others, and some are harder just because of the position of the balls. The final wall available is a see-through traditional climbing wall, which is fun because you can race a friend on the other side of the wall!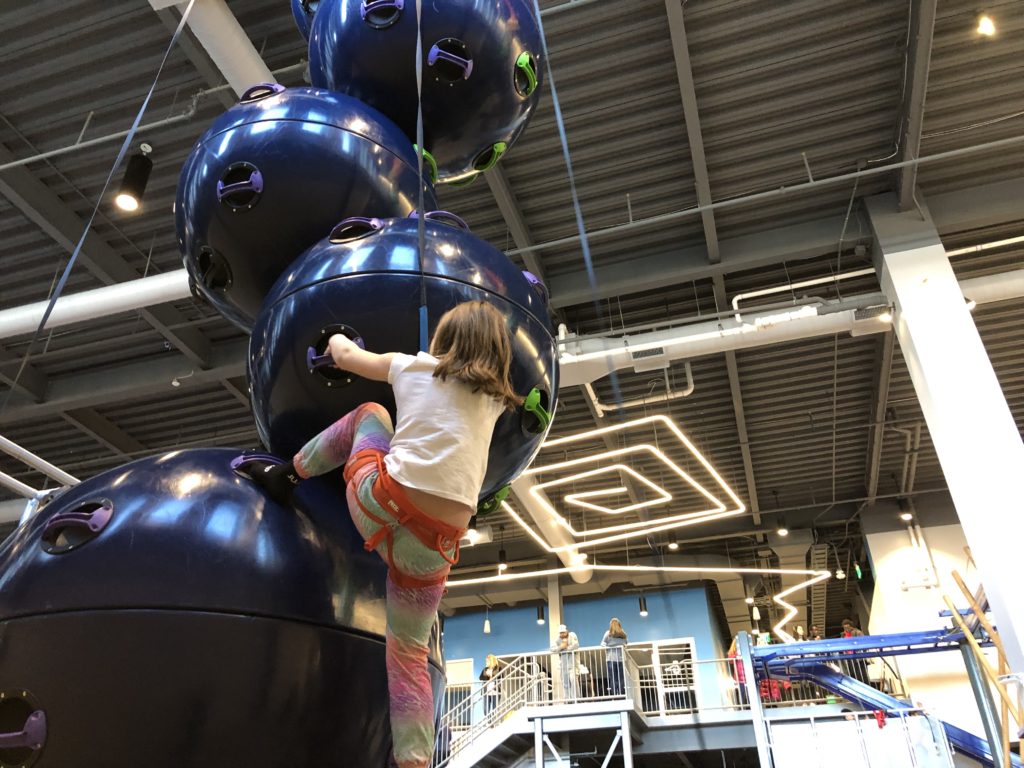 Another corner of the Active Entertainment Center is dedicated to a Ninja Warrior course. Rope swings, cheese walls, and a slant walk are just a few of the challenges that await you in the course. The course is staffed for safety to allow for only one person to be in each area of the course at a time.
Super Awesome and Amazing Water Park
The Super, Awesome and Amazing water park is located on the opposite side of the St. James sports complex. There is a check-in desk right outside the water park area, which is also close to the Olympic size pool. Admission to the water park is also an hourly rate, and the times will be noted on the wrist band. They do factor in the time it takes to change into your swim suit when determining the time period for your play.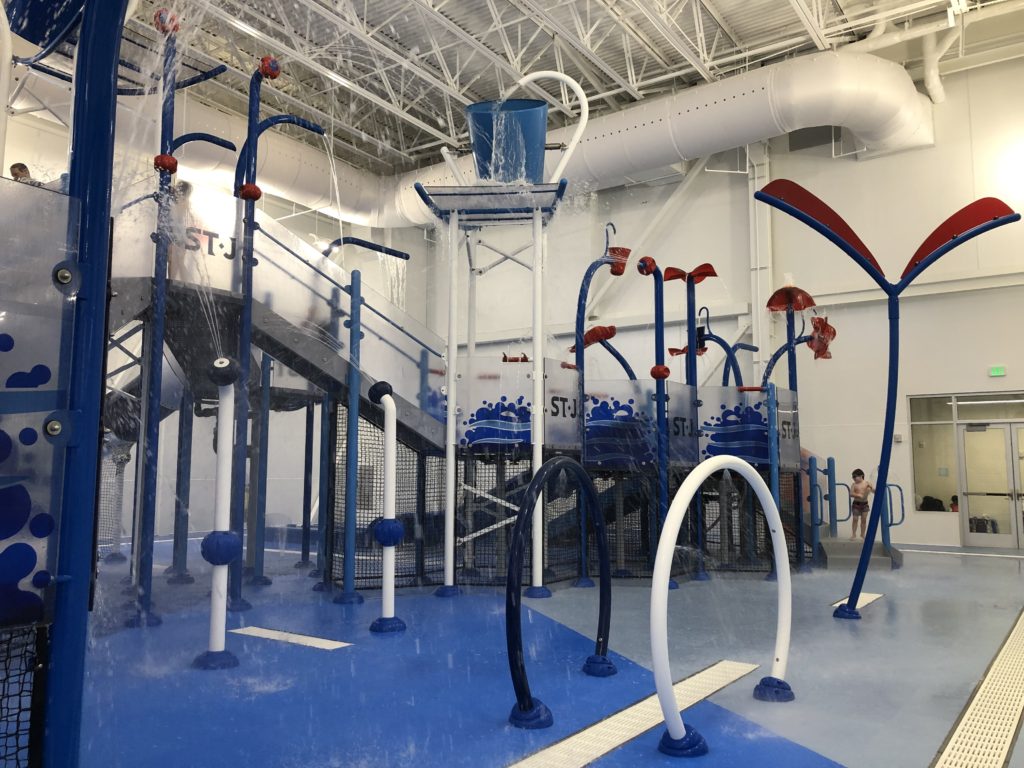 In addition to the men's and women's locker rooms, there is a separate hallway filled with family changing rooms. This allowed us to stay together as a family. Each room had a shower with bench (and shampoo and body wash!), a changing table, and of course a toilet. Follow the hallway through to the water park. There are benches and places to store any bags or other items right outside the door of the park. Inside the park also has a bench, which is a nice place to rest with the younger children when they are tired from playing.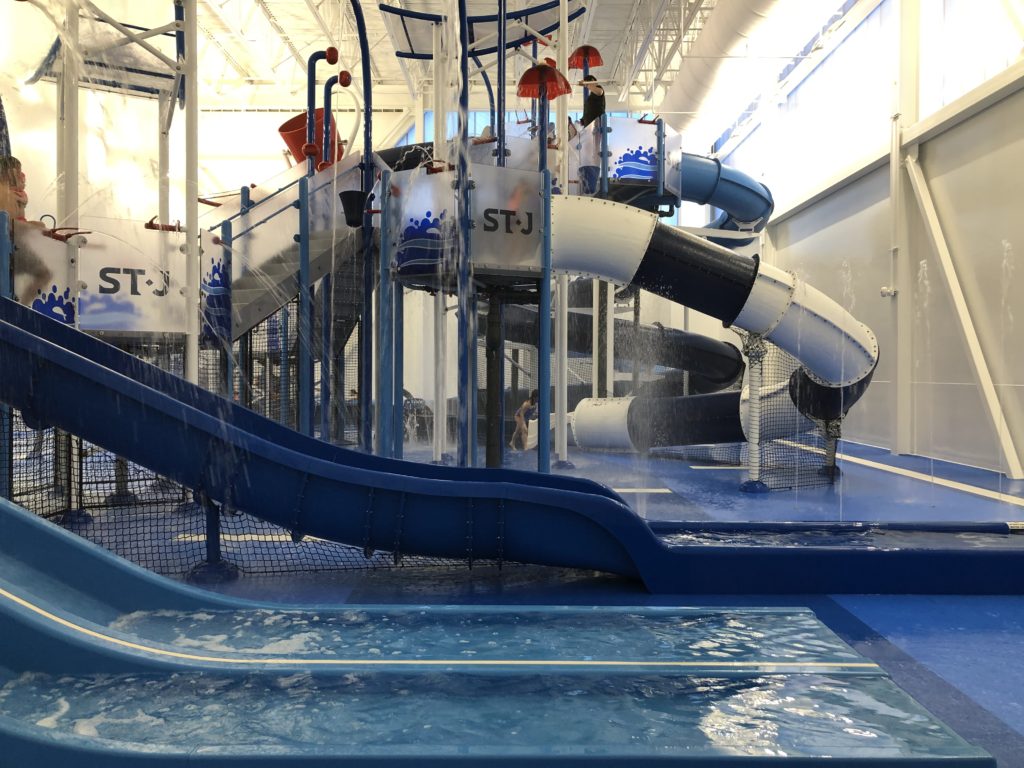 Water Park Features
Inside the water park there are tons of different spray and splash elements to enhance the water-fun. There's a giant tipping bucket and many places for kids to run through sprinklers. There are a series of slides that range from small to large, to ensure there's one to fit each age group. A pair of splashdown slides are fun for preschoolers, and there's one smaller, straight slide for a bit older children.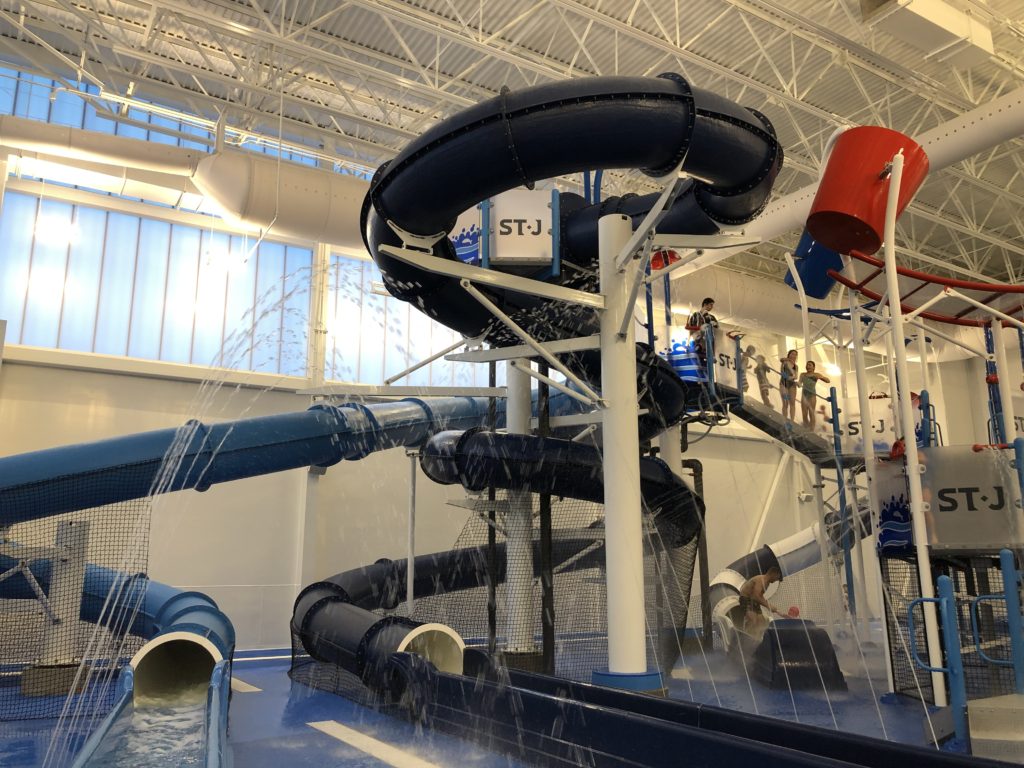 Other slides for older children include one smaller enclosed twist slide. There's also two large, enclosed twist slides with a height requirement of 48″ to ride. A water park staff member is at the top of these slides. They ensure children are the correct height and look to see if the slide is clear before the next rider.
It's easy to spend an entire day at The St. James complex enjoying Super, Awesome, and Amazing, and the many other sports and activities that the complex has to offer. Conveniently located right outside of the Washington, D.C. area, it's a place that you have to see to believe!
Sponsored post – Super, Awesome & Amazing hosted us. All opinions are my own.