Great Wolf Lodge hosted us. All opinions are my own.
Great Wolf Lodge is an indoor water park resort which has many locations across the country. This location in Scotrun is nestled in the Pocono Mountains in Northeastern Pennsylvania. While the resort has enough activities and attractions to keep kids busy during your visit, the Ponoco Mountains is also home to some beautiful hiking trails and water falls.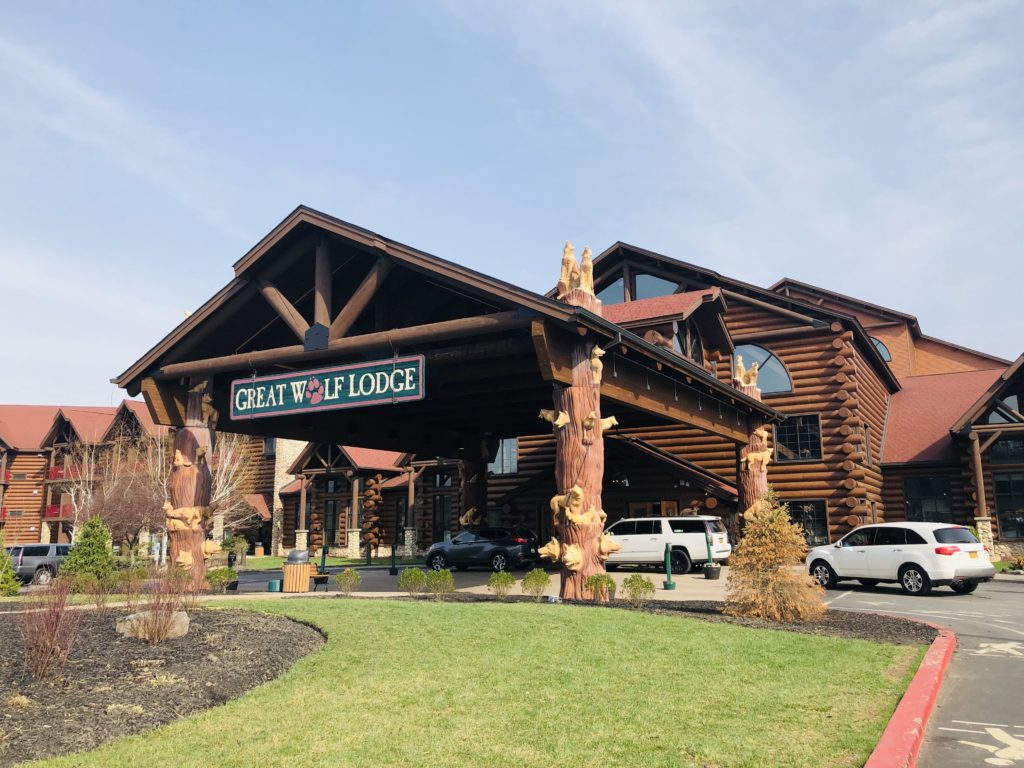 We visited Great Wolf Lodge in April as spring break was approaching. The entire lodge is wood-land themed, and the lobby has a special section for night time shows and activities. We always love the Great Wolf story times and dance parties! Also, every morning and night this display in the lobby comes to life for the Forest Friends Show.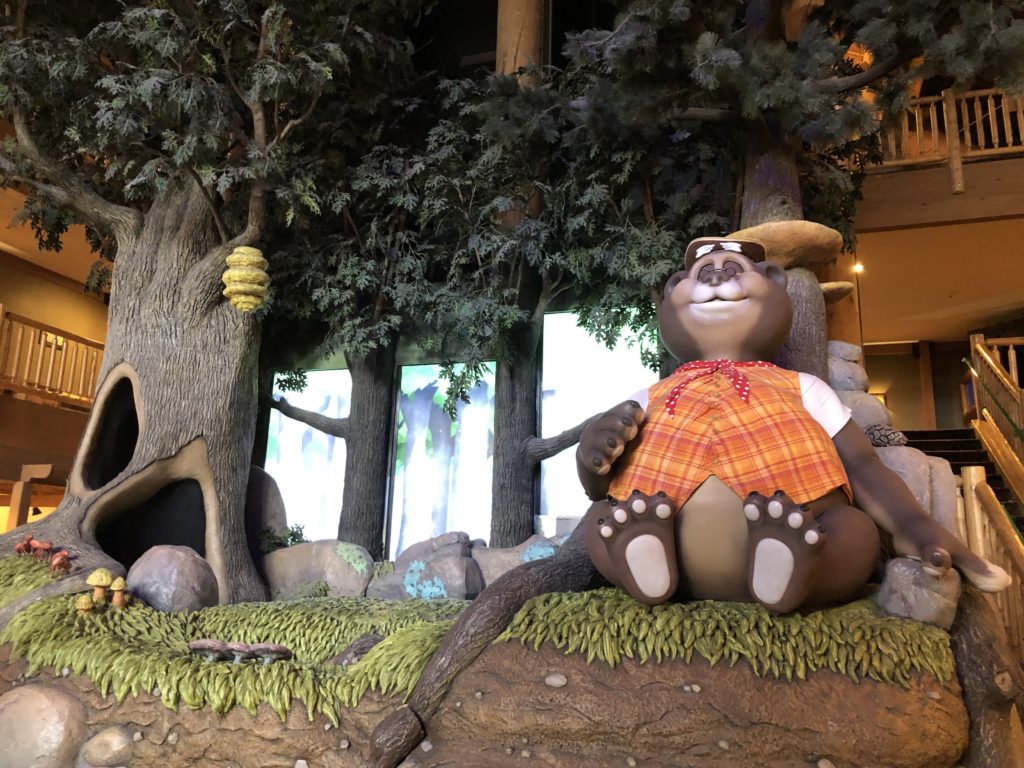 We checked in at the front desk and received our wolf ears, which are a free souvenir when you stay at Great Wolf Lodge. After putting on our wristbands, which double as keys to your room, we hit the water park. Since we have two small children, our first stop was the kiddie pool and slide area called Whooping Hollow. There are three straight and two curved slides in this area. The water at the exit of the slides is shallow, along with the entire kiddie pool. There's also some play elements in this pool, including a low basketball net.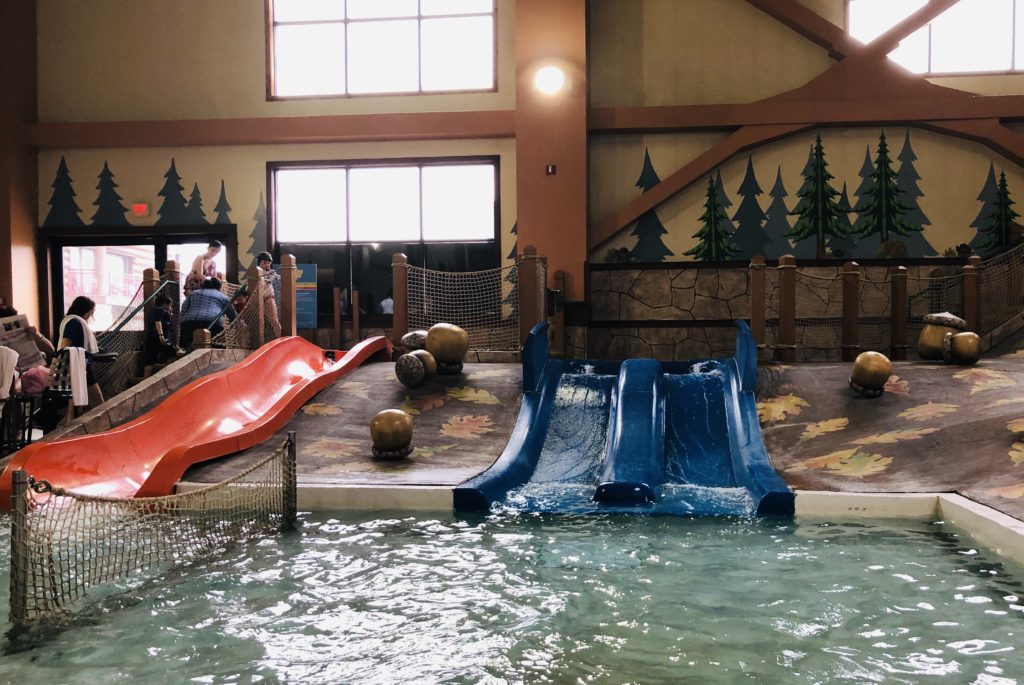 After spending a ton of time in the kid's slide area, we made our way over to Big Foot Pass. This area has two sets of lily pad walks for kids to try to navigate. The netting above the lily pads was lower than I've seen at other water parks, allowing my younger daughter to be able to reach them.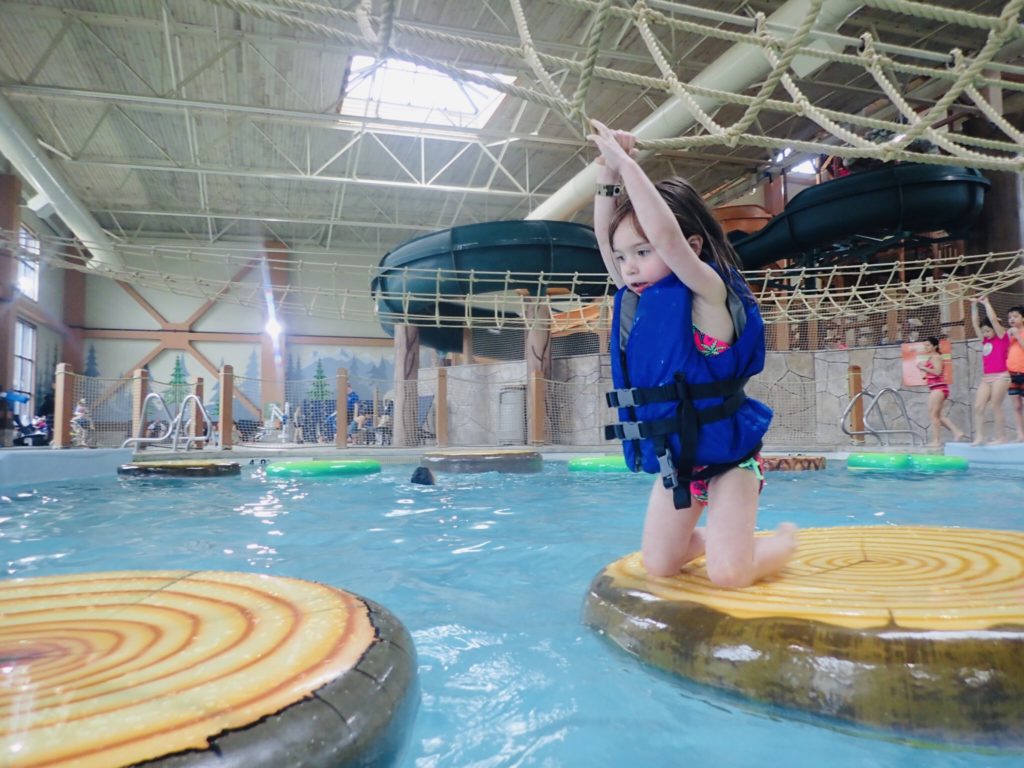 Next, we spent some time in Fort Mackenzie. This is the water fort tree house that has water slides from its upper decks, as well as many play elements and drenching buckets of water throughout. There's also a large bucket at the top that dumps a ton of water on those brave enough to stand underneath it.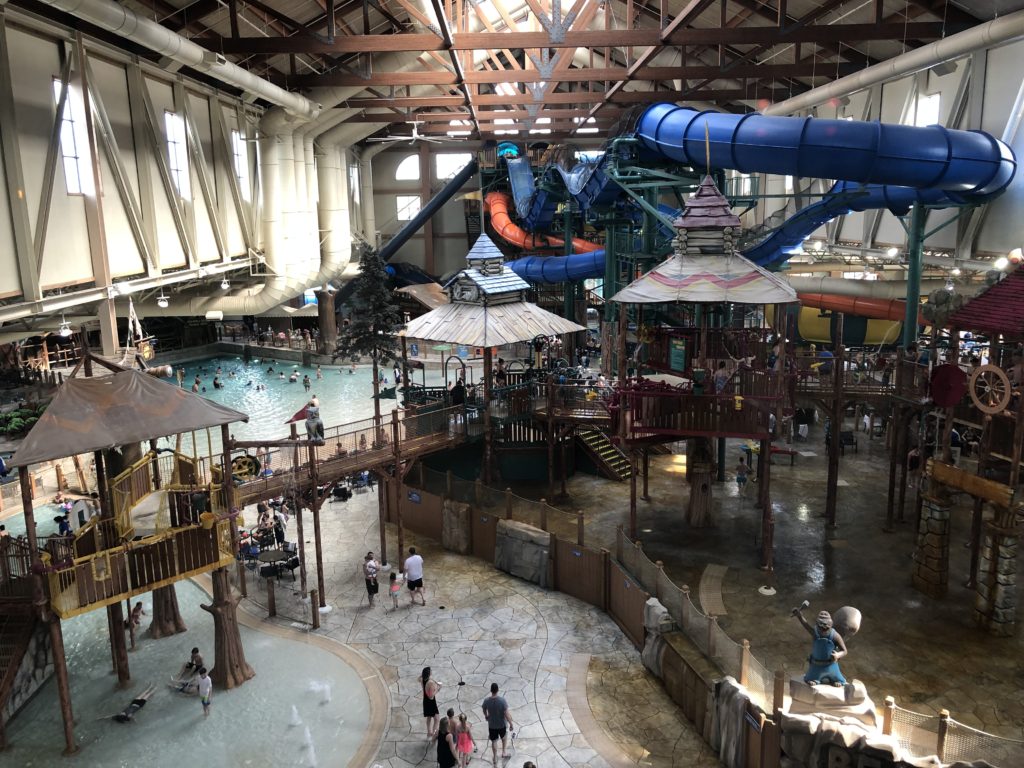 After some time in the tree fort, we made our way to the lazy river. Some of the double tubes have the center filled in, which makes it easier for the little kids to ride in the lazy river. There are also drenching buckets and other water elements in the lazy river.
Since we were visiting the water park with small children, we didn't try any of the large slides. The water coaster looks really fun though! Hopefully next trip both kids will be tall enough to ride. After many fun hours in the water park, we went to the locker room to change. We were ready to give MagiQuest a try. MagiQuest is an interactive, live-action game that uses magic wands to solve the many mysteries of the game.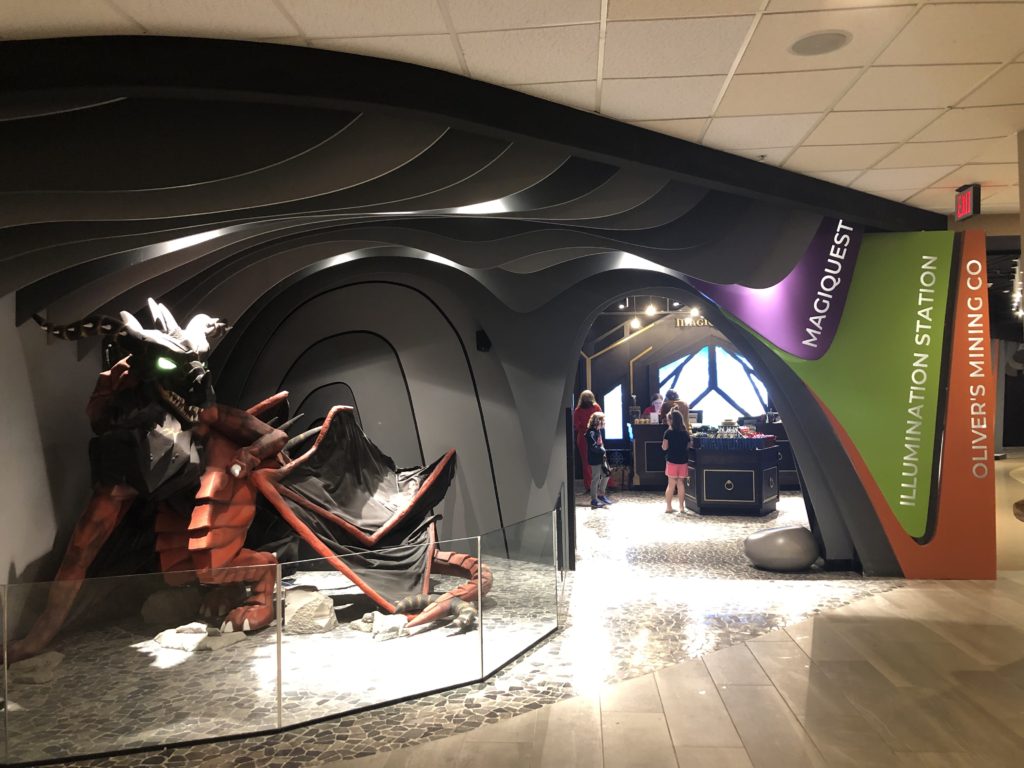 The game will keep your kids active performing several quests that will take them throughout the various floors of the Lodge. There are also hidden elements that the kids can make move with their magic wands. Once you purchase a wand, the game must be activated. Bring your wand back for your next trip to Great Wolf to activate it again!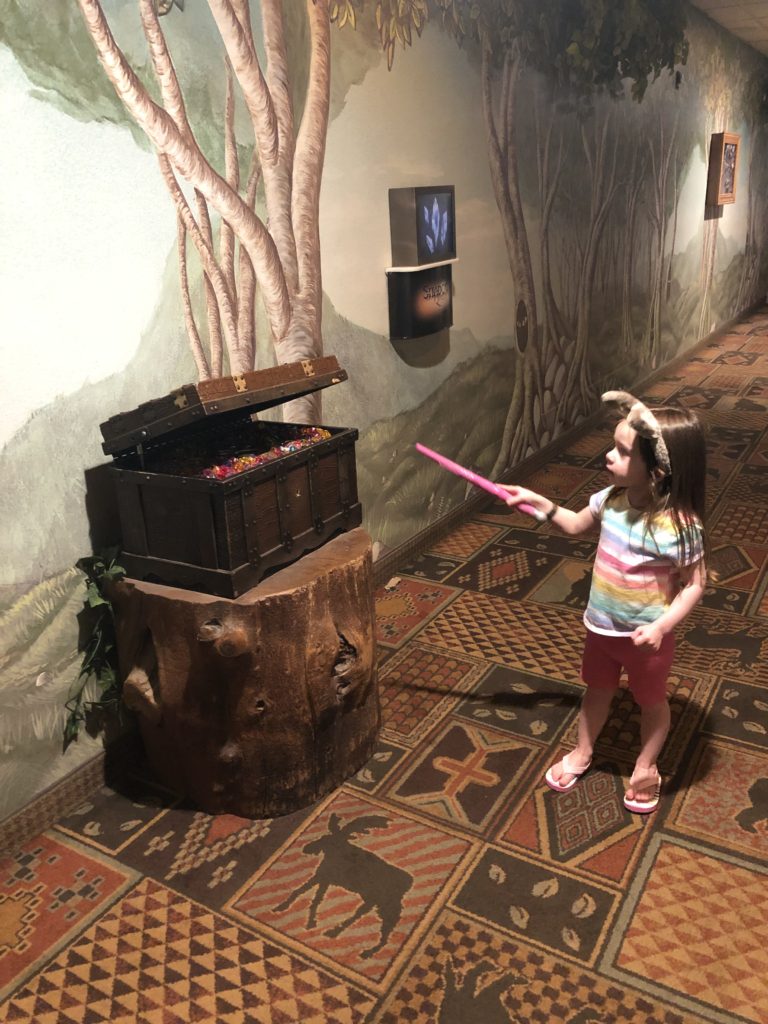 We worked up an appetite with all of our game-playing, so we had a buffet lunch at the Loose Moose Family Kitchen. The Kitchen features kid-favorites such as mac and cheese and chicken tenders. There's also a nice variety of entrees that adults would enjoy as well.
Enjoy Great Wolf Lodge with your kids by visiting Great Wolf Lodge's website to book your family vacation.
Great Wolf Lodge hosted us. All opinions are my own.