Sponsored Post – Morey's Piers hosted us. All opinions are my own.
Be sure to confirm operating hours by visiting Morey's Piers website.
Morey's Piers and Beachfront Water Parks are a family-owned series of pier amusement parks and water parks in Wildwood, New Jersey. The Morey family has operated these parks along the boardwalk for 50 years.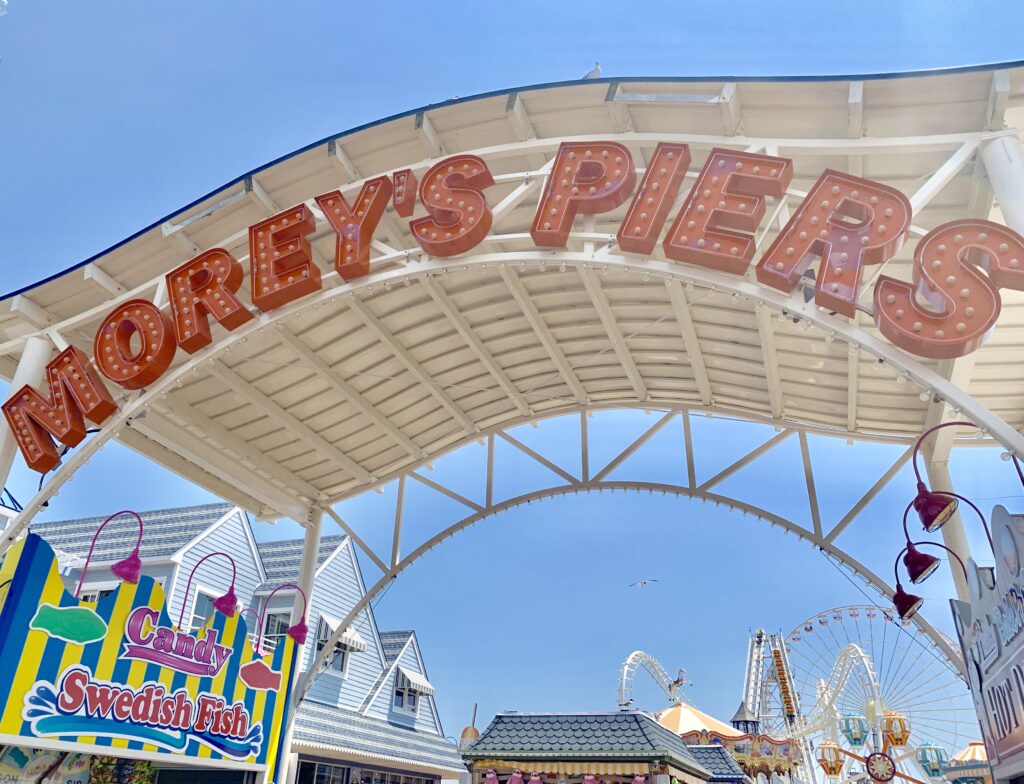 The parks consist of three piers which stretch onto the wide beaches of Wildwood, New Jersey. The piers are somewhat evenly spaced along the boardwalk. Tram cars are available for transportation from one end of the boardwalk to the other.
Two of Morey's Piers, Surfside Pier and Mariner's Pier, have dry rides and then water parks on the far end, closest to the ocean. The third pier, Adventure Pier, focuses on the high thrill rides.
Raging Waters Water Park
Raging Waters is located on Mariner's Pier. After passing through a section of dry rides, there's an entrance to the water park.
Wrist bands are available to purchase with several different admission packages. Purchase your tickets before your visit on their website.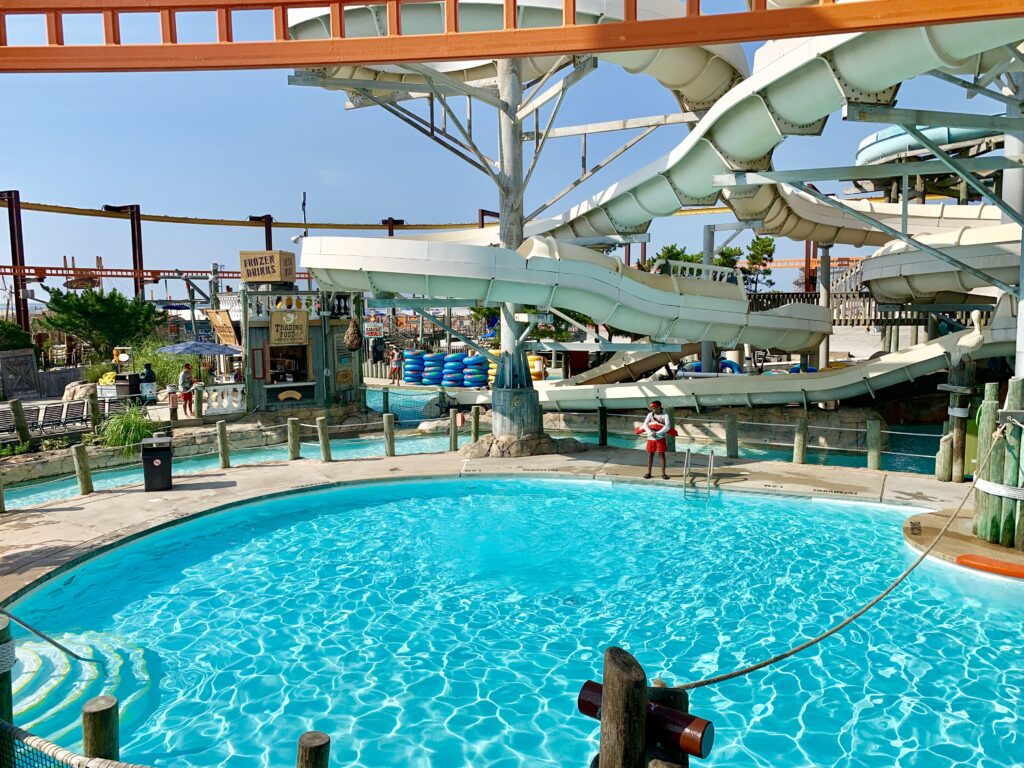 Upon entering Raging Waters, it's amazing to see how they've interlaced the water slides throughout the park. There's plenty of slides for all ages.
Kiddie Areas of Raging Waters
Starting with fun for toddlers, there's a very shallow water play area. This area includes a rope crossing, pirate ship with small slides, and a main area with two larger kids' slides. The kiddie slide complex in the back is the perfect size for toddlers to get their first taste of a water slide.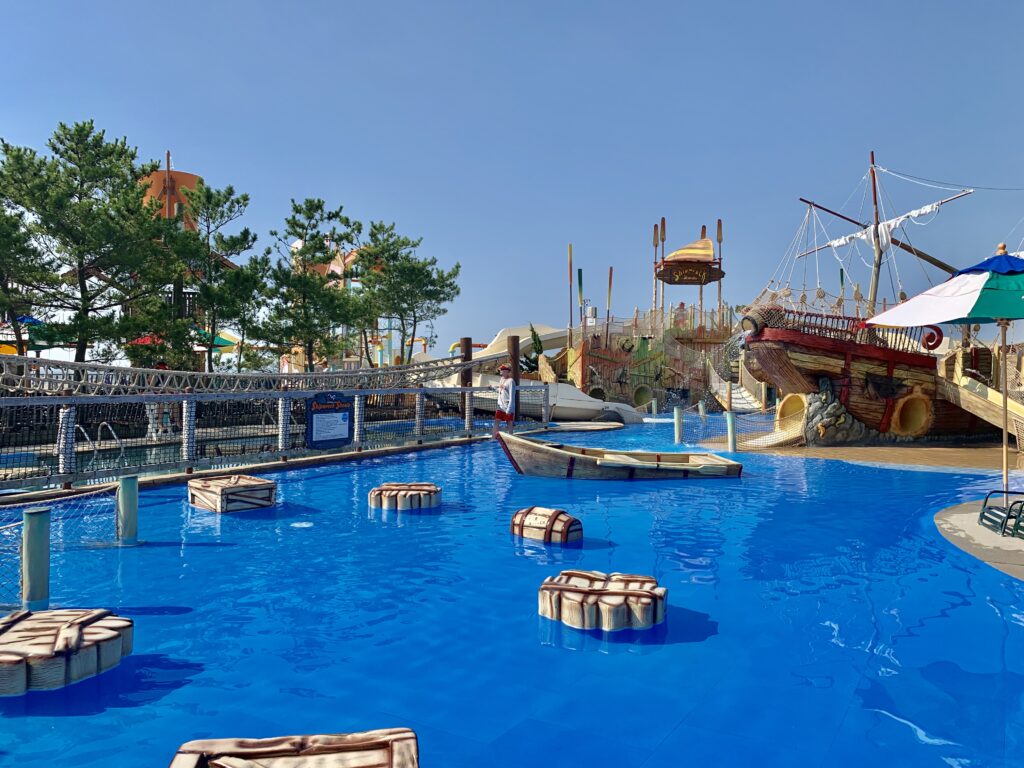 At the edge of this play area are chairs with umbrellas. We suggest sitting in this area if your children are young (toddlers to pre-schoolers) who will tend to stay in the shallow water.
Big Slides at Raging Waters
Moving on to the larger slides, one of the most unique slide complexes at Morey's Piers is called Sky Pond. It's a series of short water slides that exit into small pools or "ponds". After floating in the pond for a moment, the lifeguards will help your tube float to the next slide as you make your way to the bottom.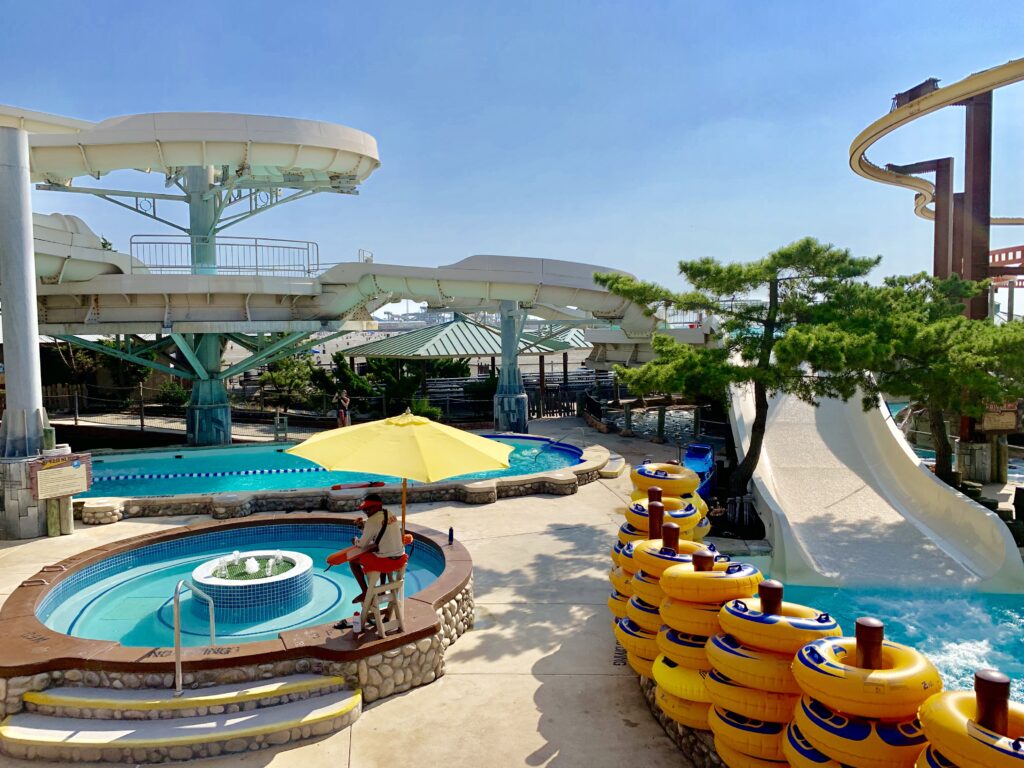 There are a couple of tube slides that are large, but have no height requirement. Morey's water parks have two sizes of tubes. The pink tubes are for children 75 lbs and under, while the blue tubes are for people who are heavier than 75 lbs.
This means young children who are brave enough to conquer the larger tube slides should use the smaller, pink tubes if they are under 75 lbs. Life jackets are available free of charge, for the little ones in the deeper water.
The high thrill slides in this water park include the double set of drop slides and the mat slides. It's a ton of fun to watch people exit the mat slides, as they skip across the water at pretty fast speeds.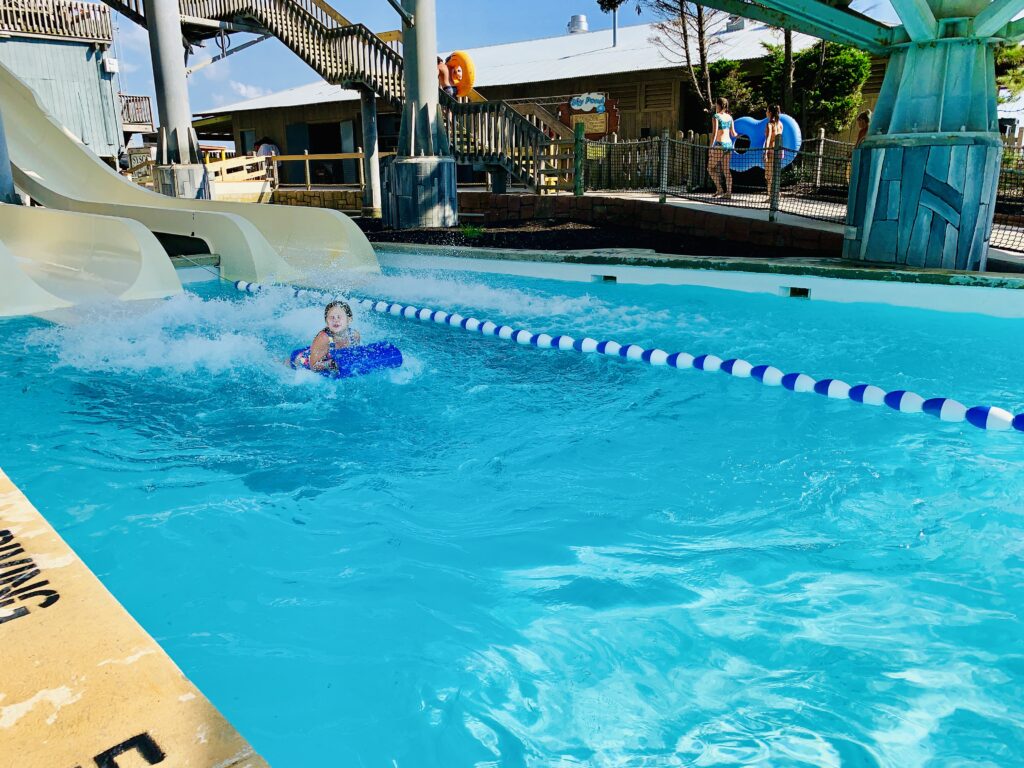 The drop slides are also fun to observe, as some people know how to make a huge splash. Others just seem surprised at the sudden drop at the end. Either way, it's fun to take photos of these slides.
Beside the drop slides is the rope swing, another unique feature of this water park. It goes far out into the water, so you can hang on a make a splash! Below the rope swing is an activity pool.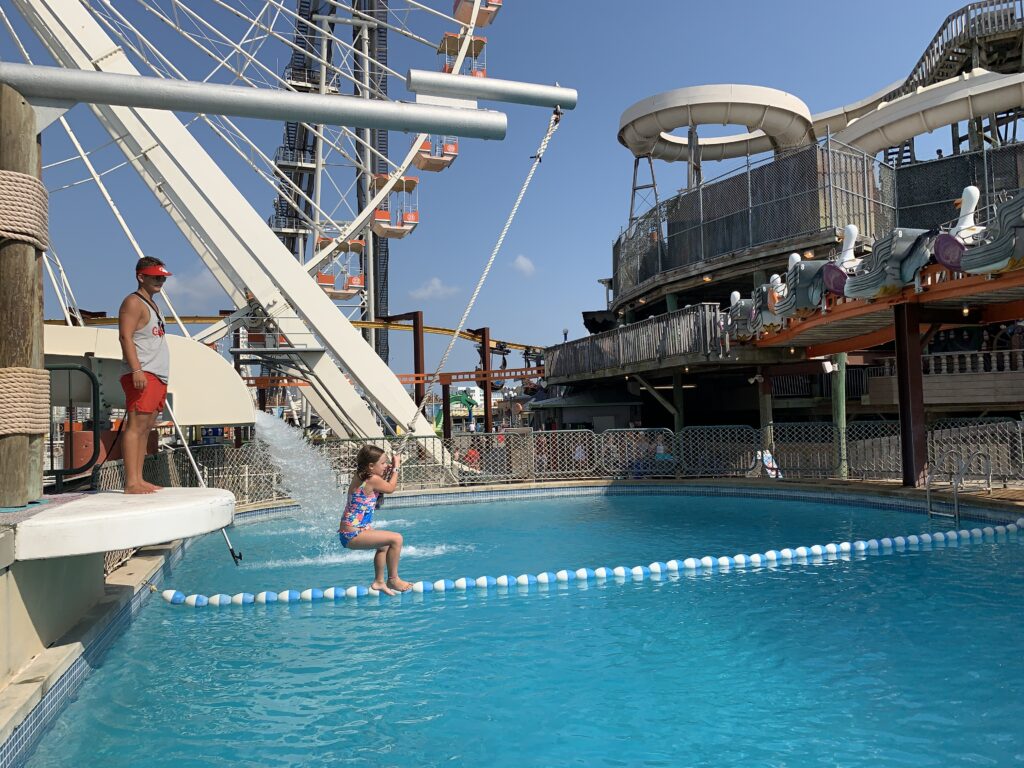 Raging Waters also has a kid's water splash play area and a lazy river. For snacks and meals, there's plenty of picnic tables available. PigDog Beach Bar is also located at the end of this pier. Continue reading for more information about the fun and food at PigDog.
Ocean Oasis Water Park
Check Morey's Piers website to confirm operating hours.
Ocean Oasis Water Park & Beach Club is located at the end of Surfside Pier. This water park boasts many different slides from Raging Waters. The only similar slides are the double drop slides, which totally deserve to be repeated.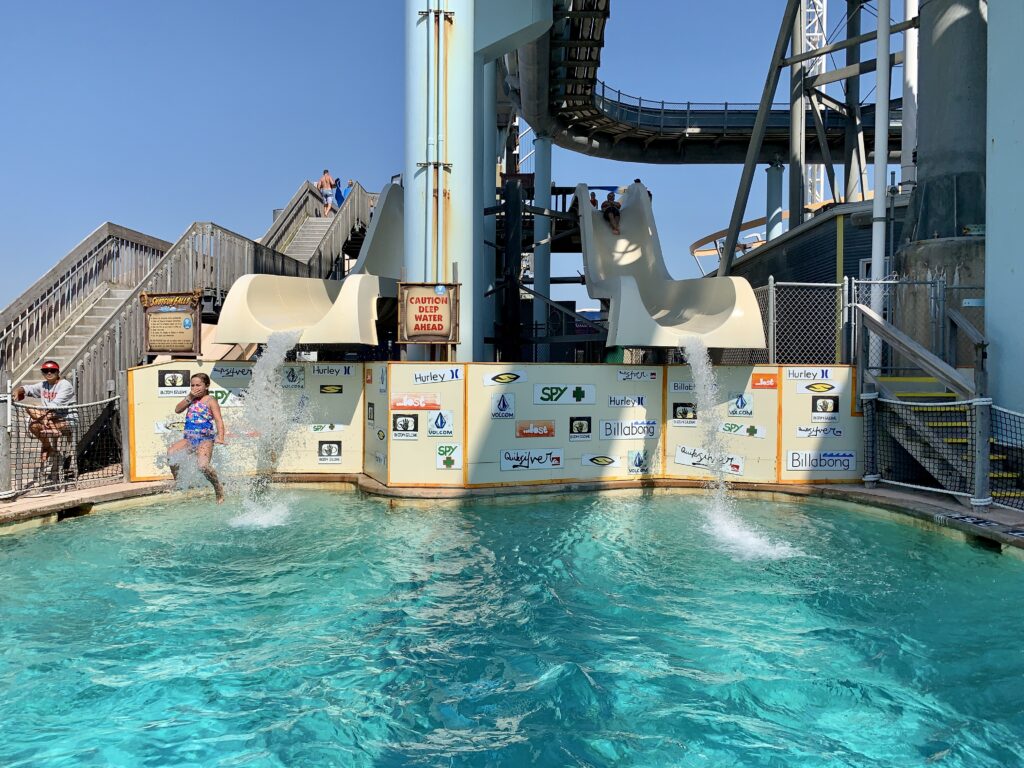 The slides at Ocean Oasis include a six-lane mat racer, tube slides, and a cliff dive slide (a body slide that has a sudden drop). There's also two mat slides, side-by-side, with hills. My daughter reported you could catch a lot of air on this mat slide. I was too chicken to go on it.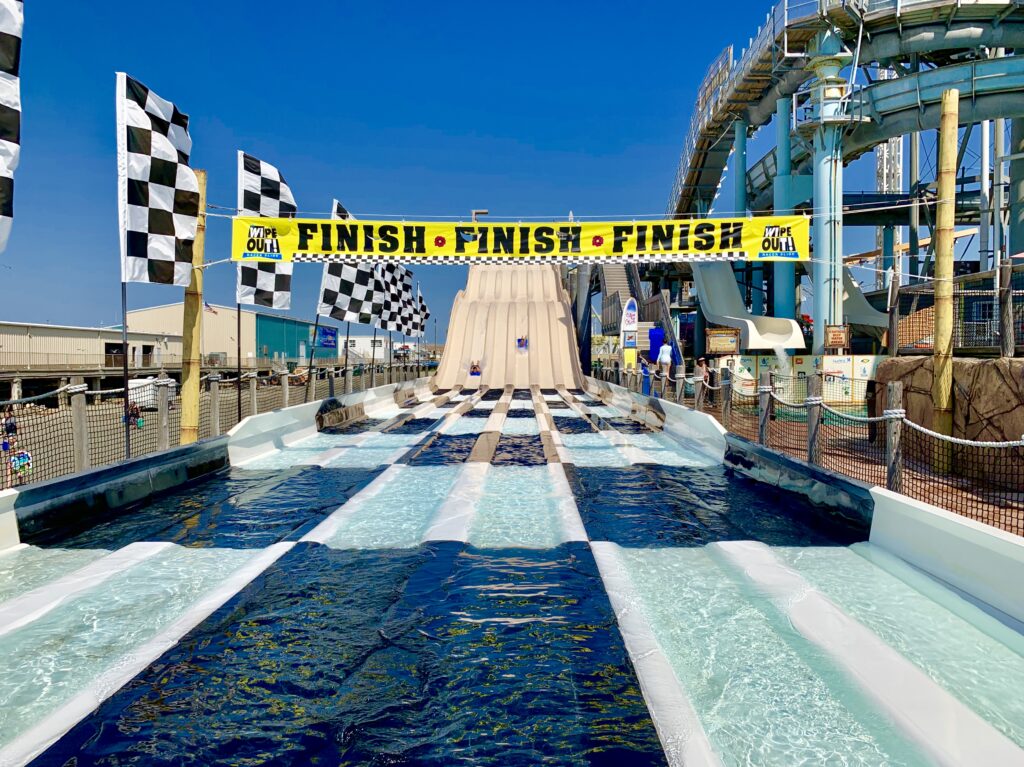 It was awesome that Surfside Pier's roller coaster was intertwined with the water park. It made for some cool views of the roller coaster.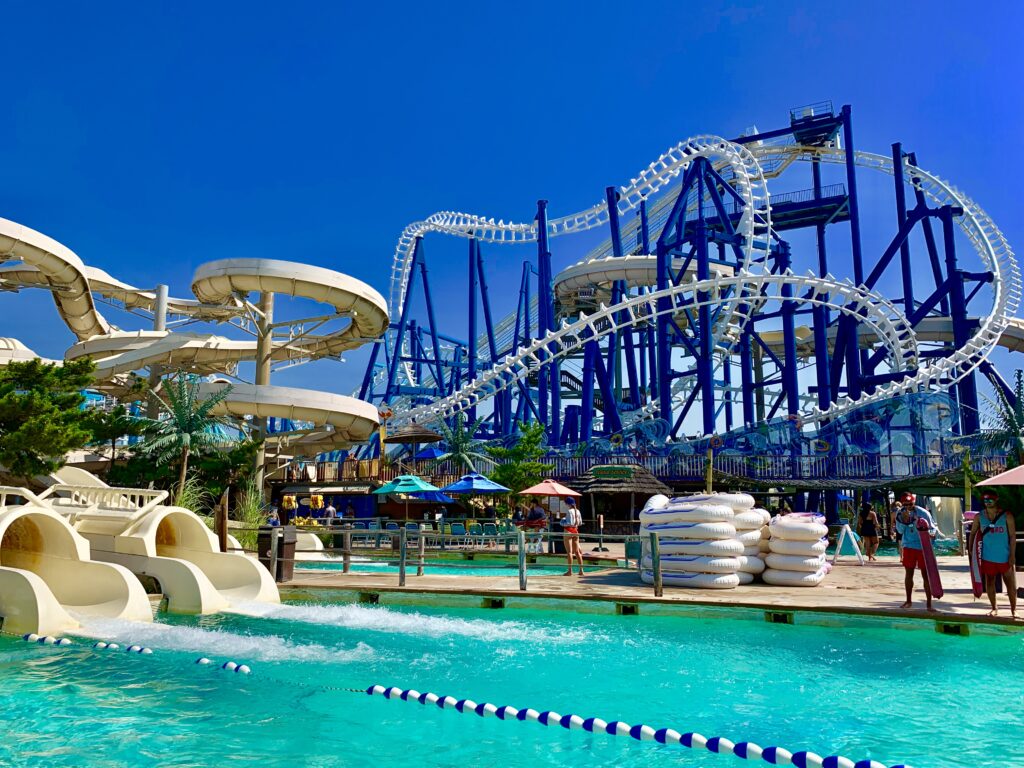 There's also a lazy river and kiddie area with long kid-friendly body slides. The kiddie slides seemed a bit longer than the Raging Waters slides. They were just fast enough for most small children to enjoy, but not be scared.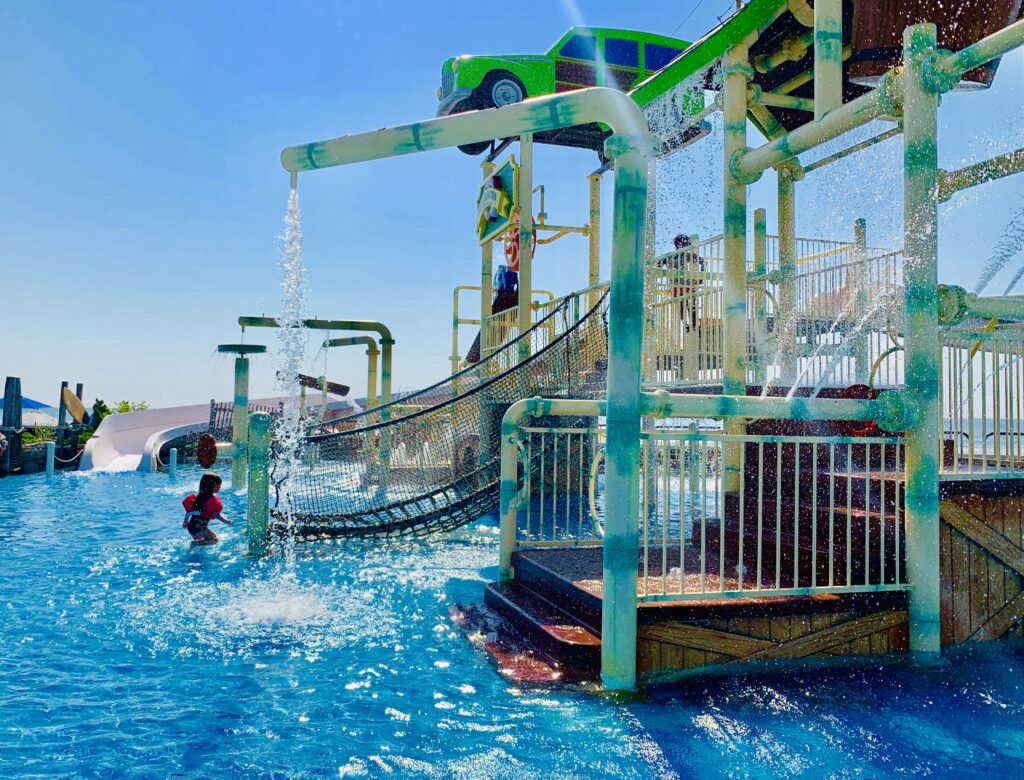 Ocean Oasis also had a nice amount of shade. We loved the hammocks under the roof where we could relax and take a break from all of the fun in the sun.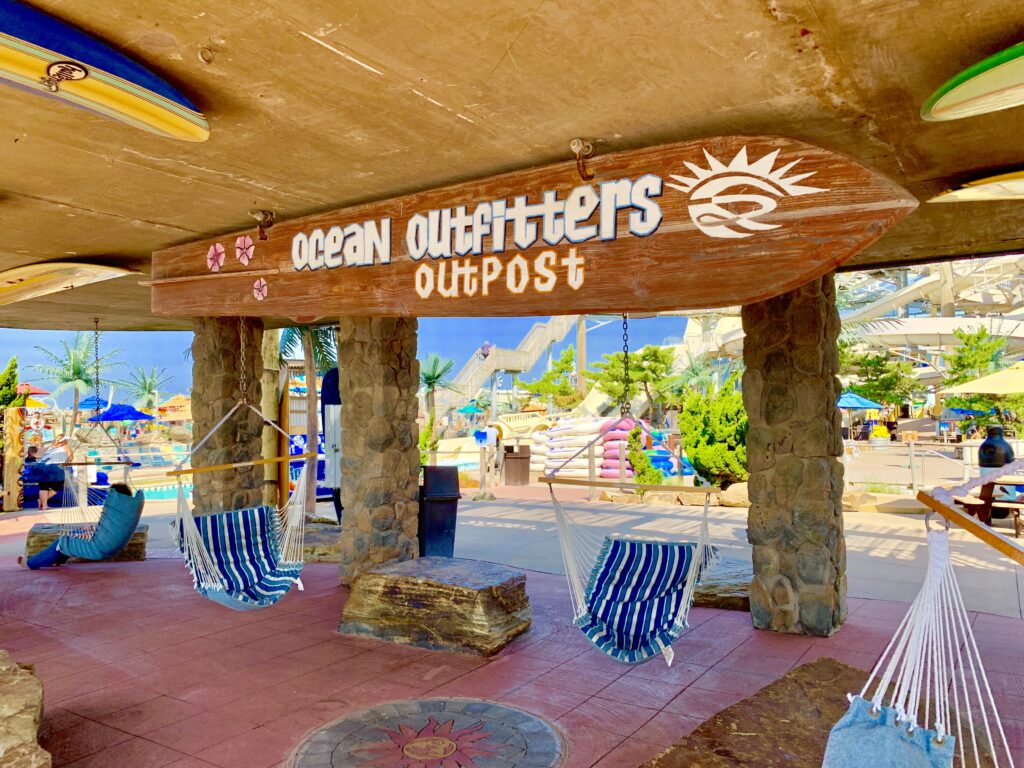 Our favorite, and most unique area of Ocean Oasis Water Park is the waterfall steps and the wide slide. Getting up to the water slide was just as fun as the water slide itself! My kids also loved that they could slide at the same time (safely separated, of course) on this wide slide.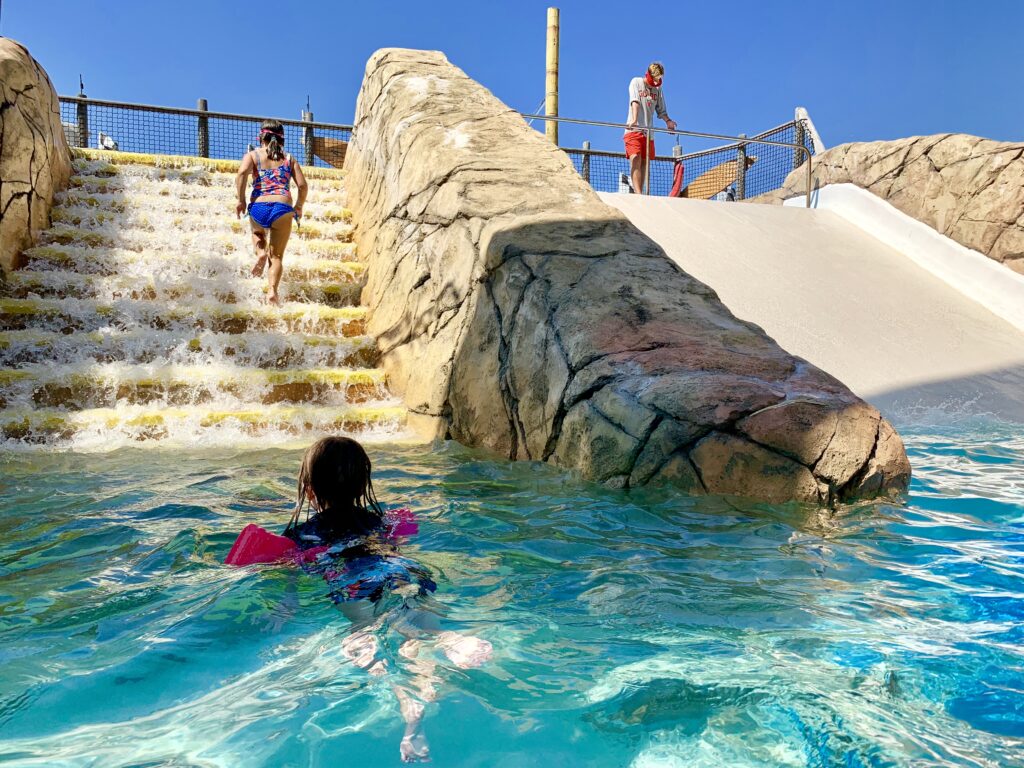 Ocean Oasis Water Park and Beach Club has food options with plenty of tables. Plus, the tables are in the shade! We also enjoyed the food at the boardwalk end of this pier, Surfside Pier.
Surfside Pier
Morey's Surfside Pier has a mix of dry rides including kiddie rides and thrill rides. There's the Great Nor'Easter roller coaster with speeds up to 50 mph. Other thrilling rides include a drop tower, swinging claw ride called "IT", and a log flume with two big drops. I proclaimed the log flume was one of the best I've ever ridden.
Along side these thrills are rides to keep the kids in your family happy. This pier also features a Rockin' Tug, Wacky Whip, and two-story carousel.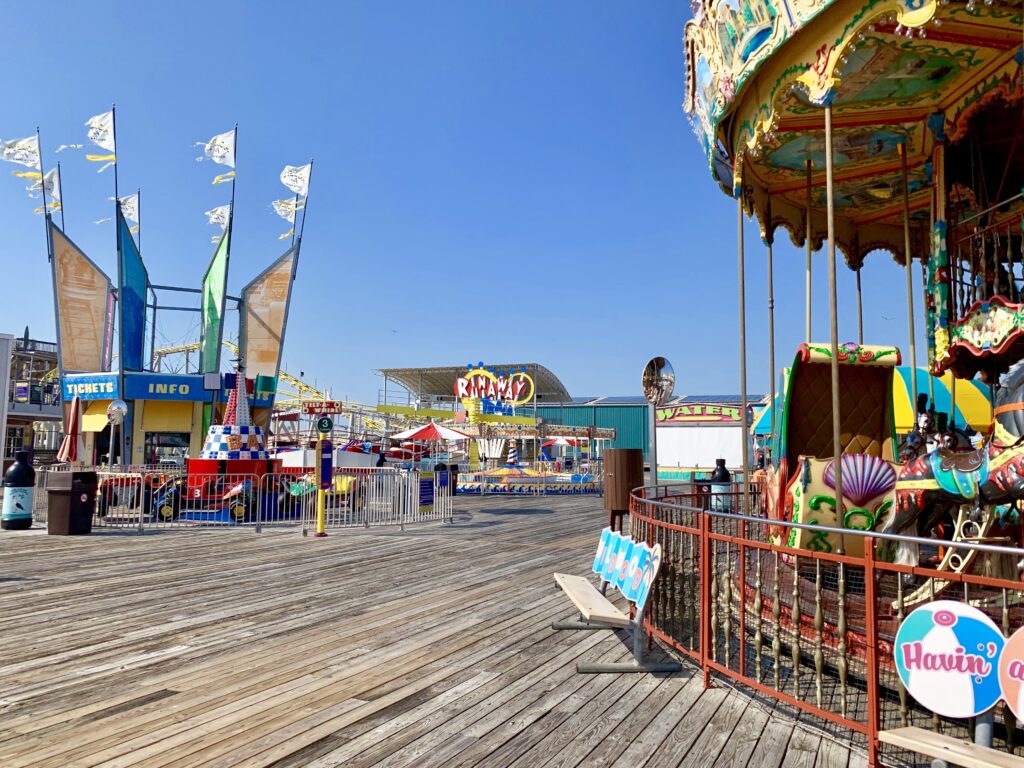 Surfside Pier is also home to the new Runaway Tram roller coaster. It looks like a lot of fun and a coaster that younger children can enjoy.
Adventure Pier
Adventure Pier is all about the thrills. This pier is home to the Great White, a massive wooden roller coaster. There's also some amazingly tall rides for those who aren't afraid of heights like the Skycoaster, Skyscraper, and Slingshot.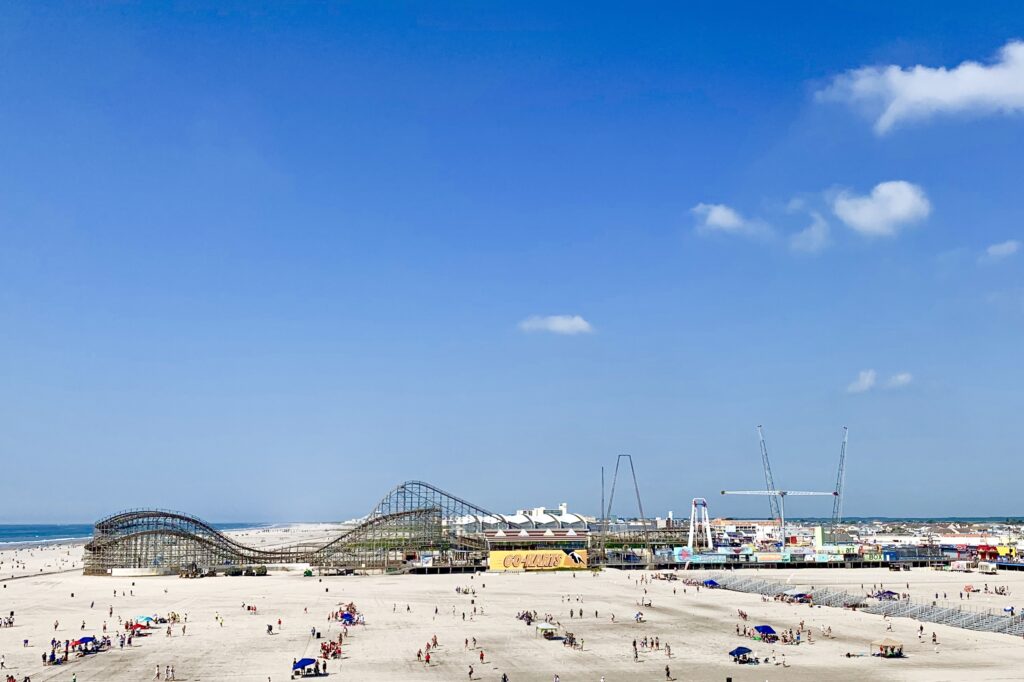 Mariner's Pier
Mariner's Pier is filled with rides. Some of the most unique being flying galleons and the seagulls. Pro tip: While the flying galleons is powered, the seagull ride has pedals to get you around the track.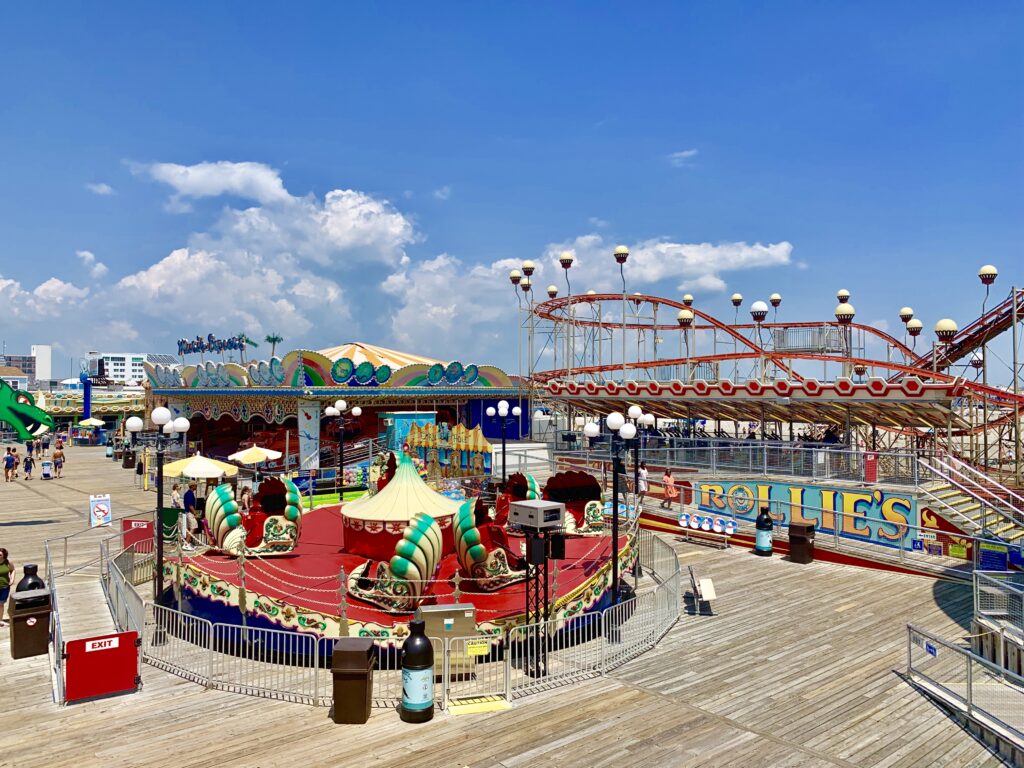 Two people are best for pedaling the seagulls. Like Surfside Pier, there is also a mix of rides for kiddies and thrill rides.
At the end of the Mariner's Pier, on the beach side of Raging Waters, is an awesome place to eat: PigDog Beach Bar. There's an actual bar overlooking the ocean, but also has picnic tables on the beach. PigDog recently received a massive expansion to better accommodate guests.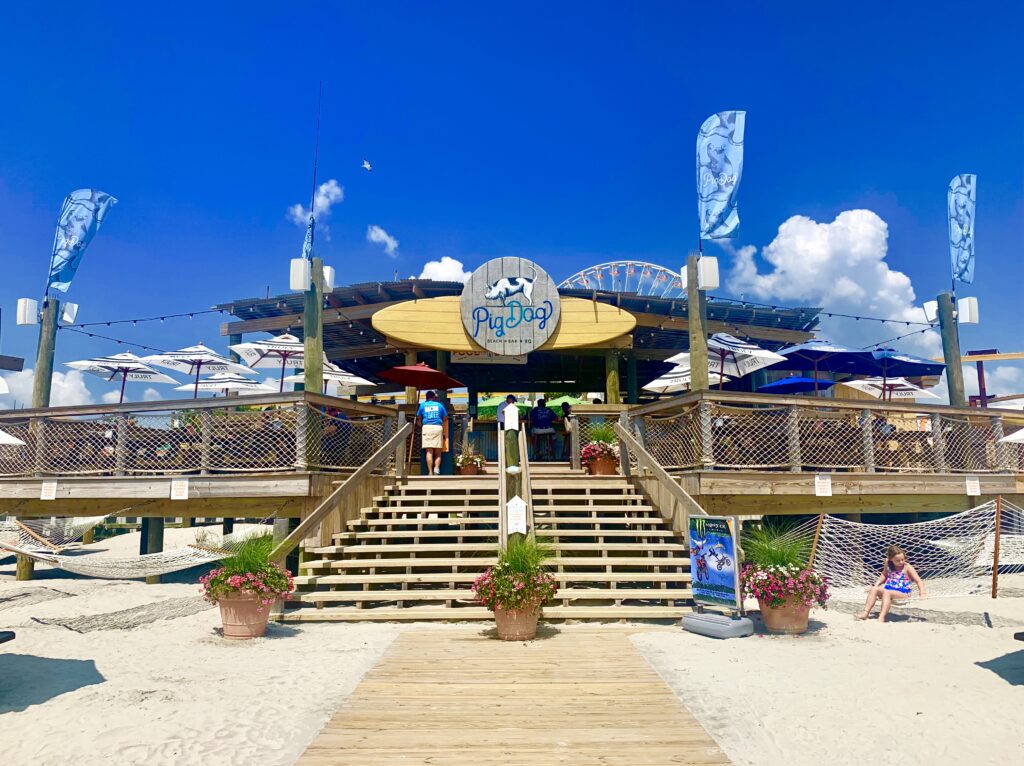 PigDog also has hammocks and games on the beach, like a huge connect four and corn hole. The kids also loved the hula hoops.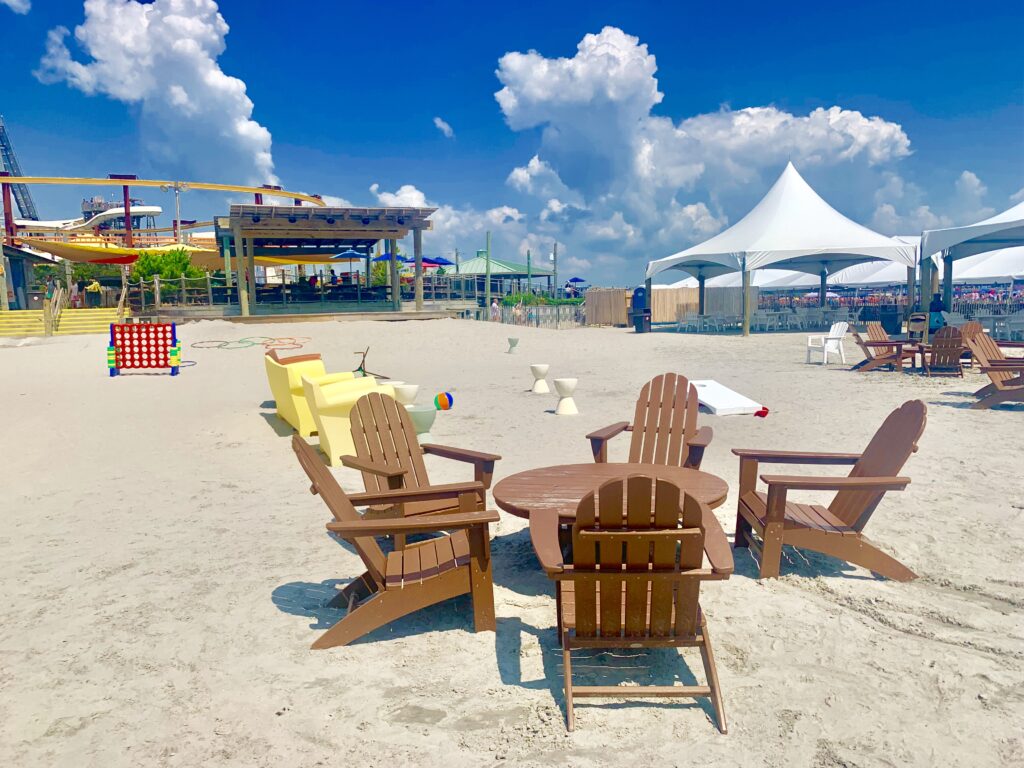 While the attractions at Morey's Piers can fill your vacation with fun and laughter, there's so much to see in Wildwood, NJ. Be sure to grab some ice cream, bike on the boardwalk, take the tram car, and fully experience everything Wildwood has to offer. More info can be found on Morey's Piers website here.
Sponsored Post – Morey's Piers hosted us. All opinions are my own.