We were hosted at the Starlux Hotel by Morey's Piers. All opinions are my own.
The Starlux Hotel is a boutique hotel in Wildwood, New Jersey. The hotel is located in the heart of Wildwood and is owned by Morey's Piers. It's themed as a 1960s retro hotel, but with a modern vibe.
Location
The Starlux is close to the famous Wildwoods sign with the beach balls. It's a quick, half-block walk from the hotel to the Wildwoods sign, beach, and boardwalk.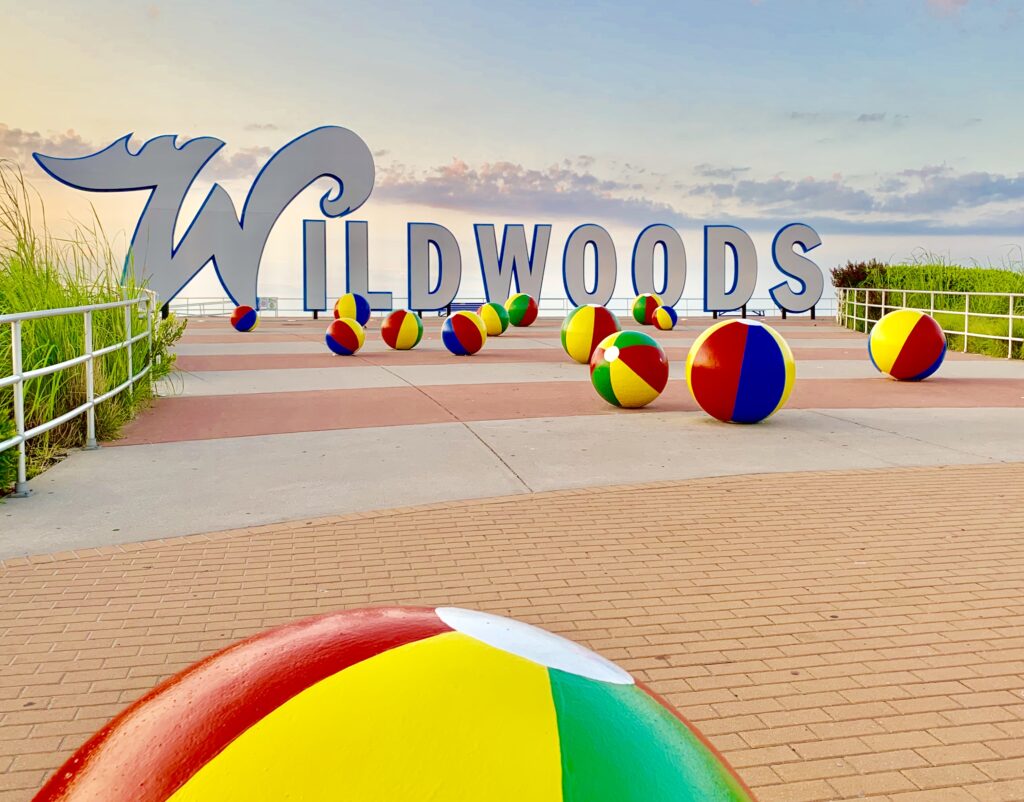 Plus, the hotel is conveniently located beside The Starlux Mini Golf course and a Kohr Bros' ice cream stand. There's also an awesome place to hang out after a round of mini golf and some ice cream. The area has chairs, beach games, and a fire pit.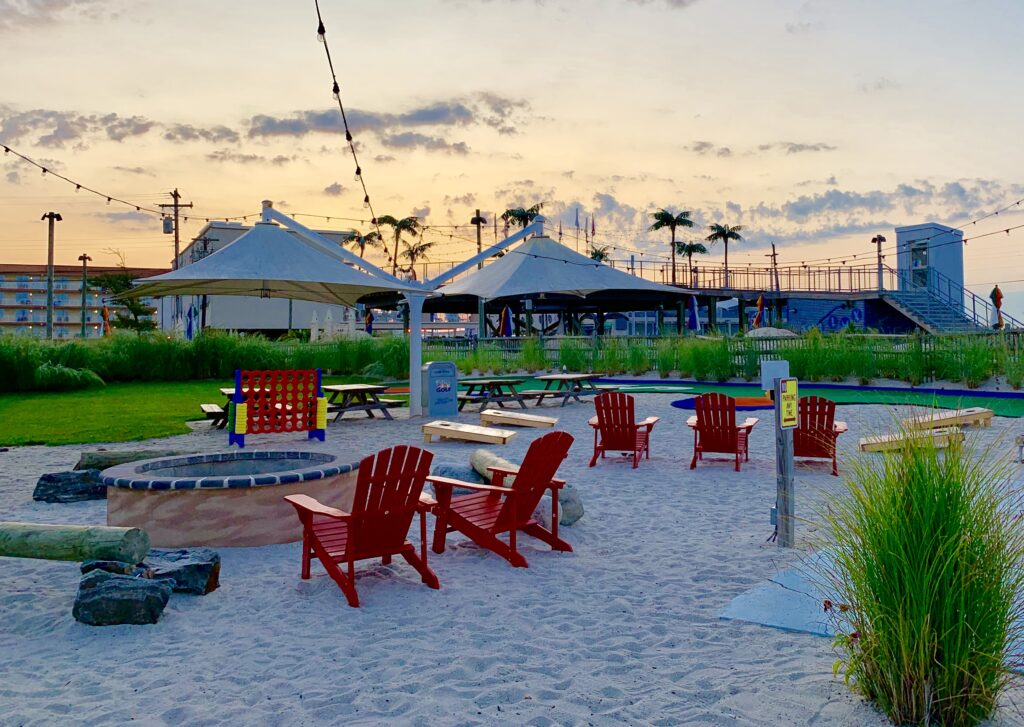 Rooms
Our accommodations were a suite with two queen beds on the 4th floor, which is the highest floor of the hotel. There's a shared balcony with some seating out side the door. Inside, there's a living area and a kitchenette with refrigerator, microwave, and sink.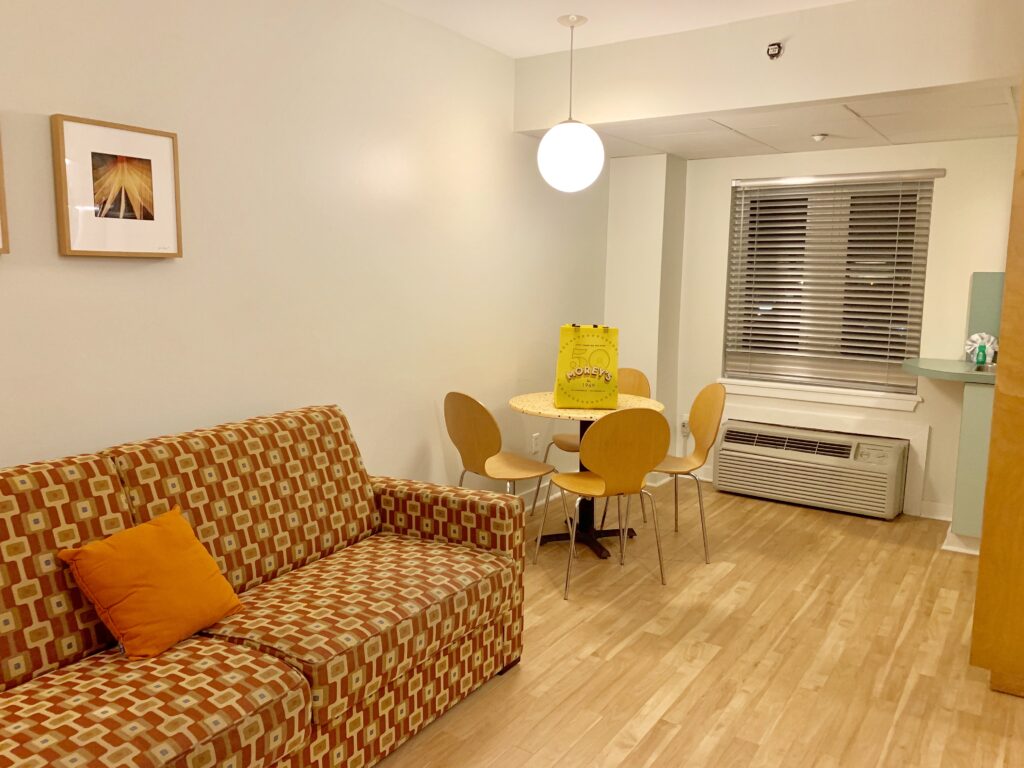 The bedroom has a door separating it from the living area. There are two queen beds and an attached bathroom. The bathroom was quite spacious with lots of storage spots.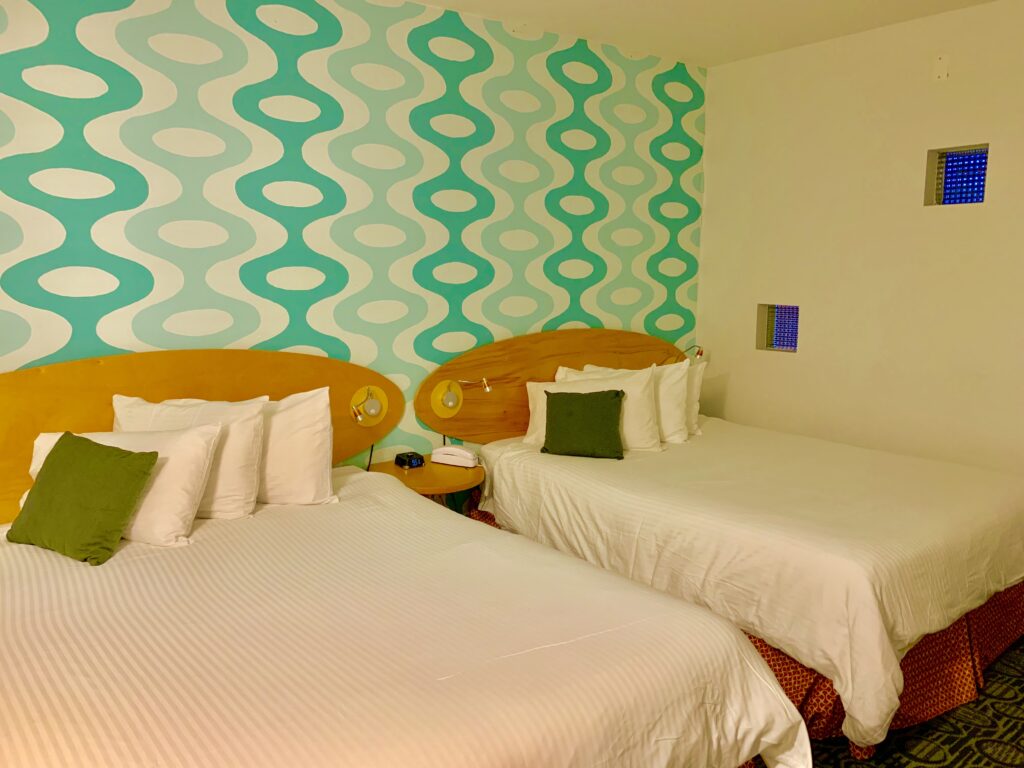 While we only stayed for two days, I could easily see how this room would have been perfectly fine for a longer stay at the beach. There was plenty of space for a family of four to spread out. The kitchen table was great for breakfasts and snacks between outings.
Retro touches were throughout the room, like the lava lamp and surf board headboards. There were also two really cool tiny windows in the bedroom.
Breakfast
The hotel offers a free continental breakfast for its overnight guests. Each morning, we'd head down and collect some donuts, bagels, and pastries for our family and take them up to our room on a tray. In the mornings, they also serve coffee and juices. It's a great way to get your day going with a bite to eat.
Starlux Hotel Pool
The pool continues the retro, doo-wop theme, and includes a nice-sized hot tub.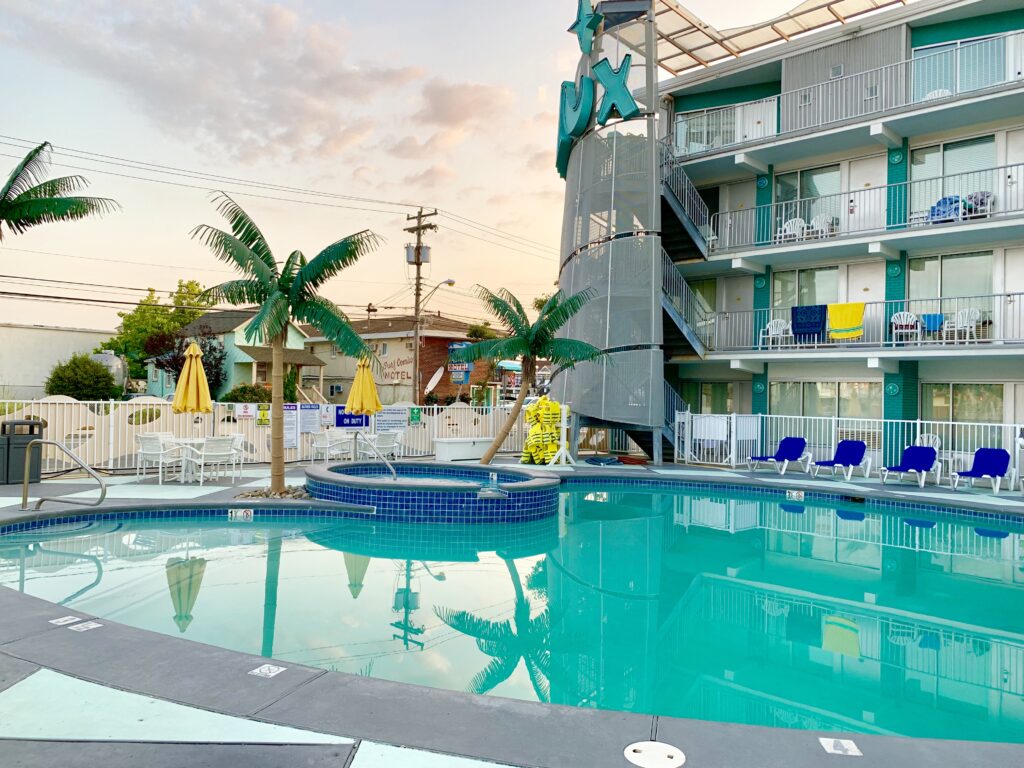 The Starlux seems to pride itself on providing amenities to guests, as the pool has noodles, beach balls, and other little toys available. Life jackets are also provided for non-swimming guests.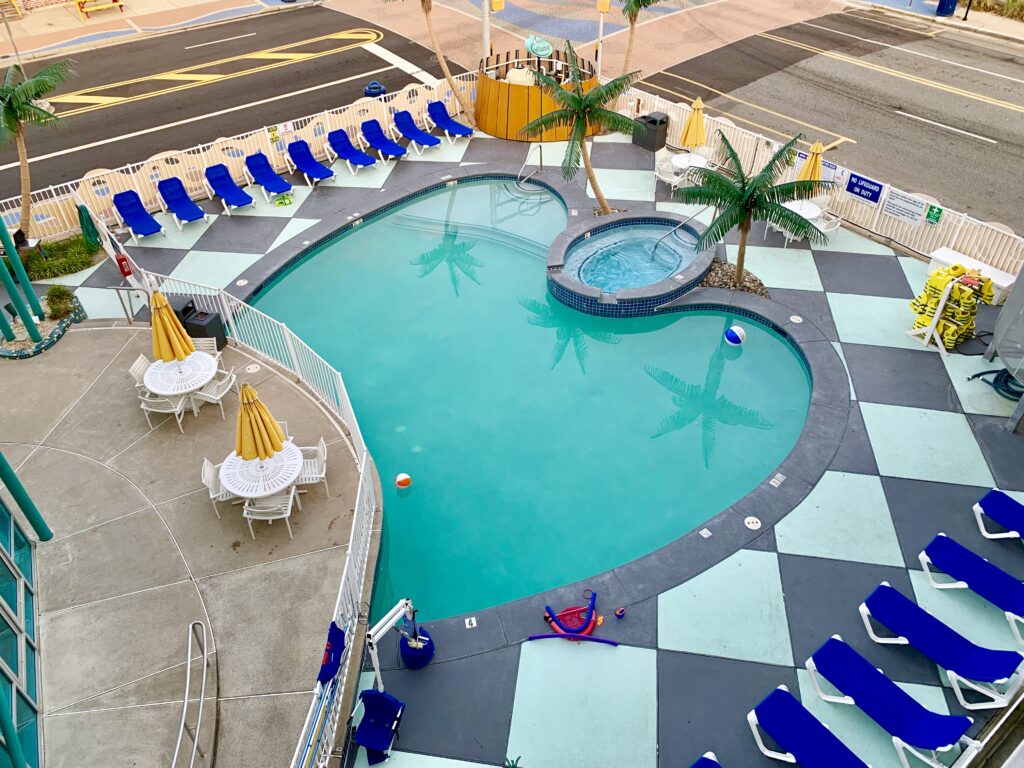 Lounge
The Starlux Hotel also features a lounge as a hang out for their guests. There's board games, a tv, and even a fire place to enjoy during the colder months. The lounge walls are mostly glass windows, and I bet it's amazing to be in there when it's snowing or raining.
Surrounding the outside of the lounge are tables and chairs, which serve as great spots to eat your ice cream or some take out food you've ordered.
Tip: There's also grills by these tables. When we visited another family was grilling a really fancy meal.
Bikes & More
Riding bikes on the boardwalk in the morning is a popular activity. The Starlux Hotel makes this an easy endeavor by providing bikes to their overnights guests for no additional fee. You can stop at the front desk to fill out a quick rental form. They even provide helmets!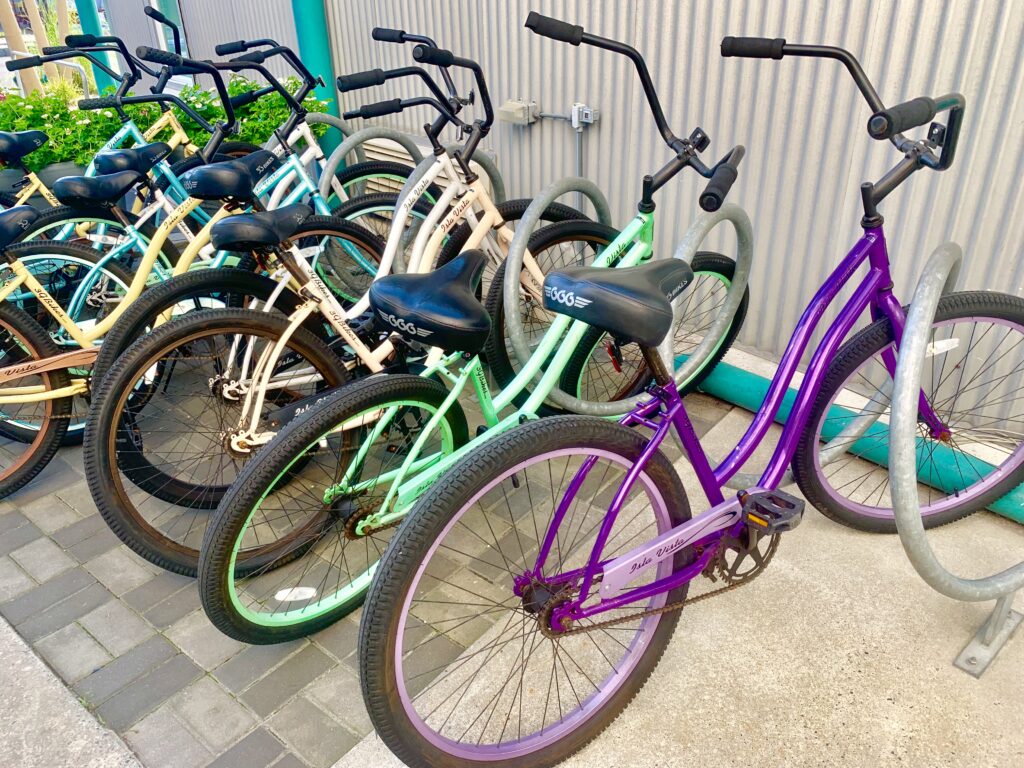 Most of the bikes are adult-sized bikes, but they do have a handful of kids bikes. There's also a bike or two with a child seat attached. Keep in mind you'll want to ride bikes fairly early in the morning to ensure the bikes you need are available.
Bike rentals are for one hour, so there's also a good chance someone will return one soon if they don't have any available.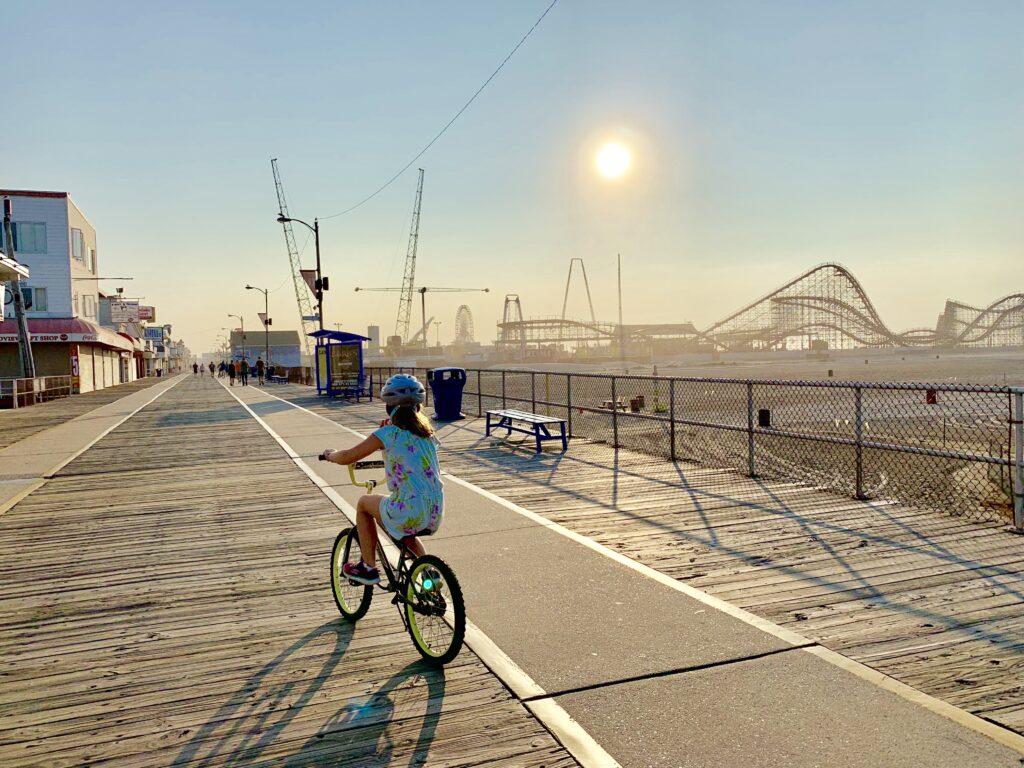 Also provided by the hotel are boogie boards, beach chairs, and sand toys. It was very nice not to have to these items, as they take up so much space in the car. When we were heading to the beach, we just asked at the front desk and grabbed what we needed.
Mini Golf
Next door to the hotel is The Starlux mini golf course. It is one of the coolest mini golf courses I have ever seen. The ambiance at night around this course is really fun and inviting.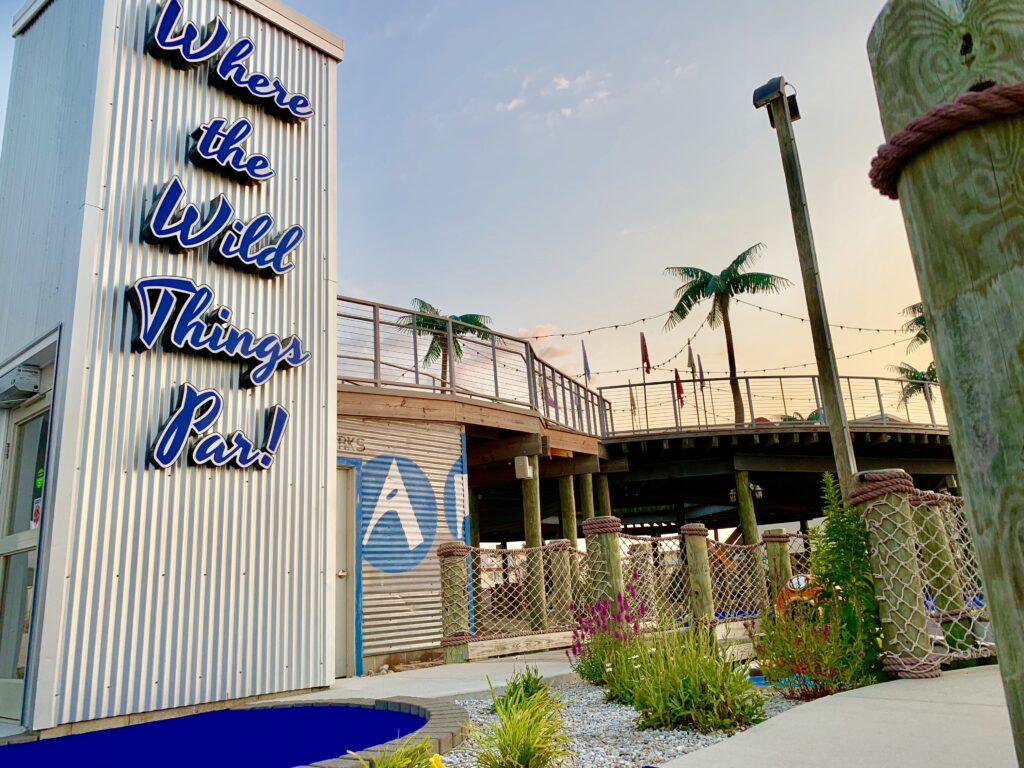 After golfing, there's ice cream, a fire pit, putting greens, picnic tables, and corn hole to enjoy. The nighttime lighting in this nice area is awesome to enjoy with your family.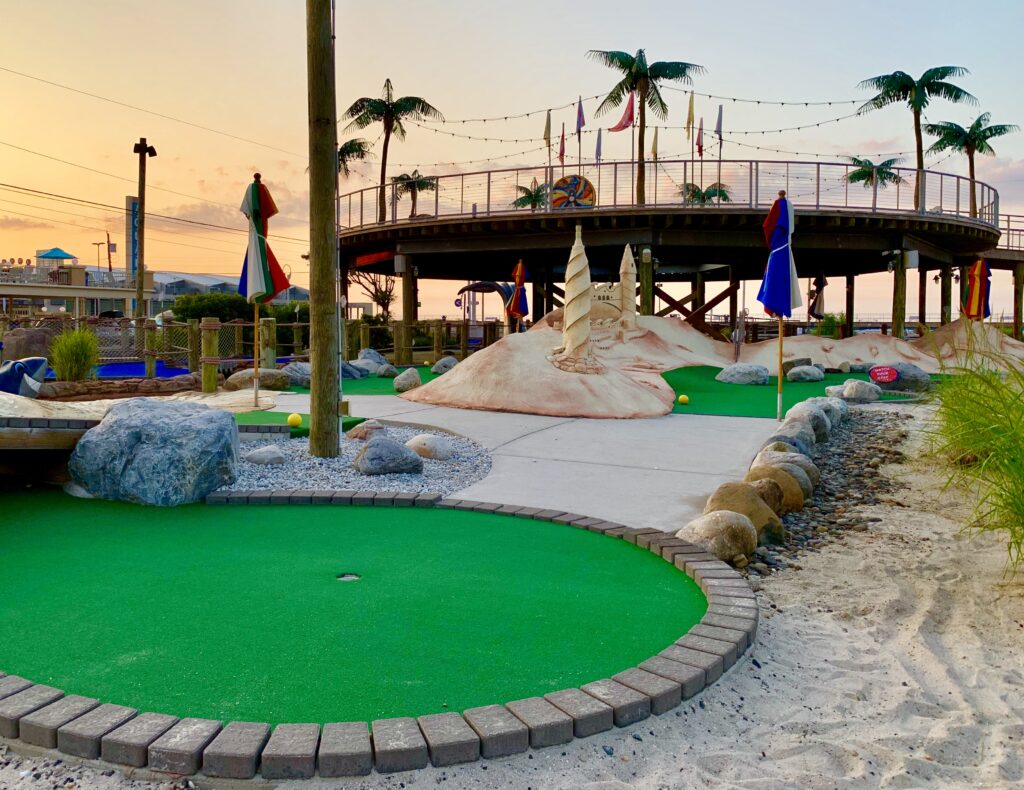 Tips for Visiting The Starlux Hotel
If you have any questions during your stay, find Bob at the front desk. We asked him for some tips for parking further north of the boardwalk, and his advice saved us $20 in parking fees.
There's an outside shower to the right of the main entrance to the hotel for washing the sand from your feet and to clean the beach toys that you borrowed from the hotel.
To save money on food, use the grills and tables by the pool to enjoy a meal with your family.
Take advantage of the hotel's amenities including the bikes, sand toys, boogie boards, and beach chairs. It's less to pack into the car!
After breakfast, the juice machine dispenses filtered water. We'd fill up our water bottles with ice from the ice machine near our room, and then get the water from the juice machine downstairs.
Be sure to visit Morey's Piers during your visit! More information about Morey's Piers is available here.
We were hosted by Morey's Piers. All opinions are my own.