Sponsored Post – Royal Caribbean provided us with a complimentary all access tour. All opinions are my own.
Cruising has become one of our favorite ways to see the world. We get to stay in the same room (cabin) every night. Therefore, mom only has to unpack once! Each night we're transported to a different, lovely island to enjoy that day.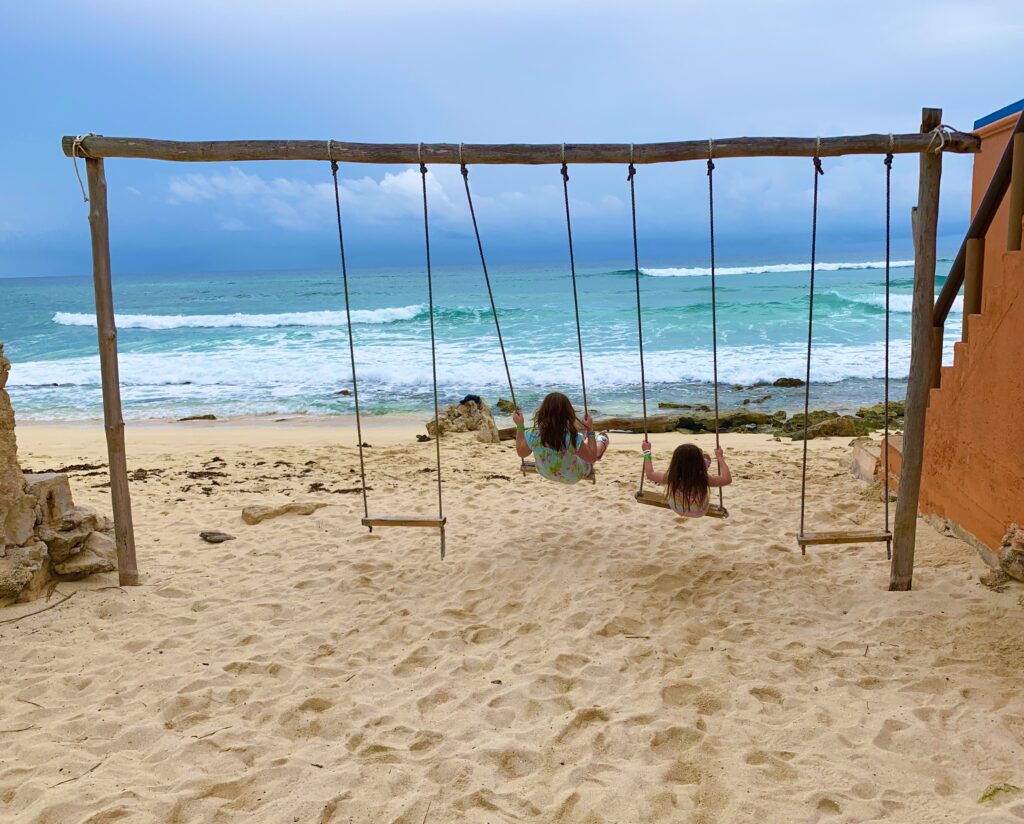 The kids don't realize that they're traveling hundreds of miles a day like they would if they were strapped (trapped) in a car. Instead of only having the choice of coloring books or screens, they have a giant ship, packed with activities, to explore on travel (at sea) days.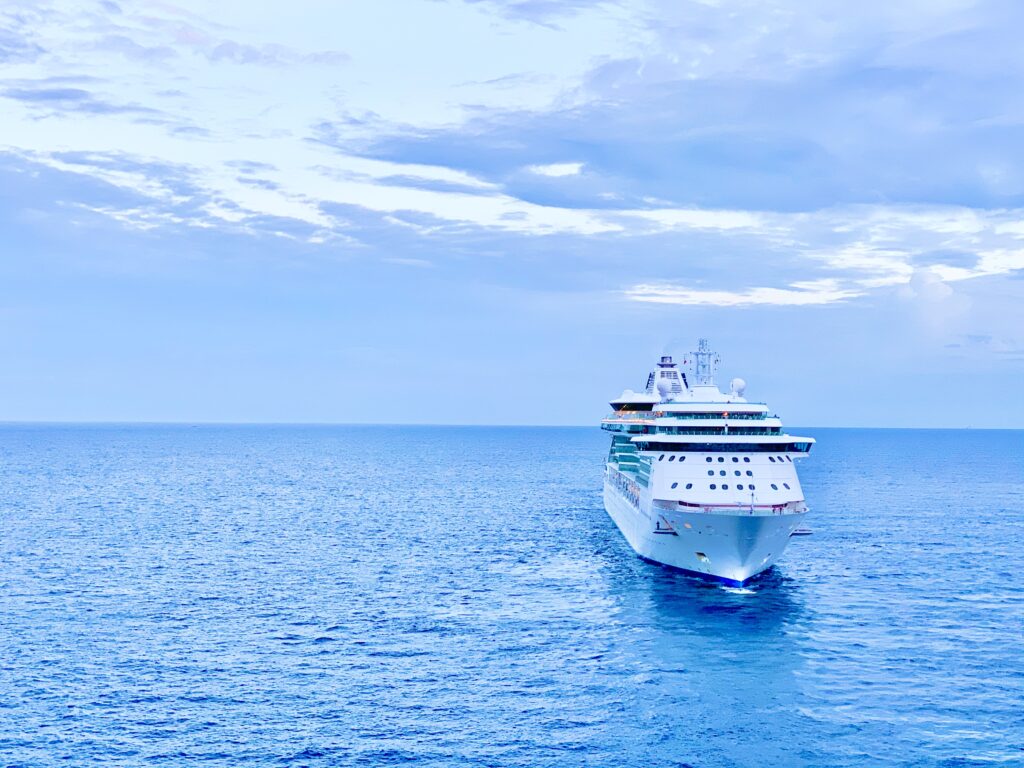 In case you need more convincing, here are seven reasons to take your kids on a Royal Caribbean cruise:
Royal Caribbean's Adventure Ocean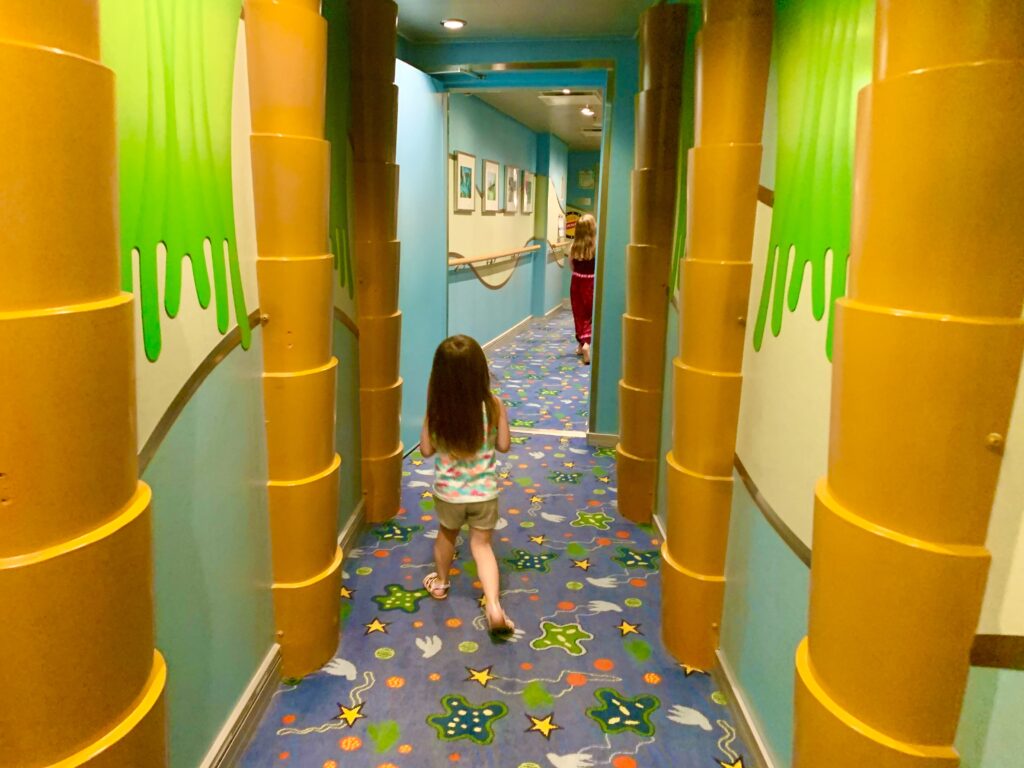 Adventure Ocean is the kids' club available on most Royal Caribbean ships. It features different themes of activities each day, including painting, crafts, games, and movies. This allows for quiet date nights for parents or some relaxing by the adult pool.

Cruising is one of the only vacations with kids where I actually feel like I'm getting a vacation. When my kids go to Adventure Ocean (and they ask to go all the time because they have so much fun), then it's my time to nap on a lounge chair on an upper deck.

Adventure Ocean is for children ages 3 and older, and your child must be potty trained. The Royal Babies and Tots Nursery is also available for babies and toddlers on some ships. Each day, the cruise compass (activities list) includes the theme at Adventure Ocean that day. The kids can pick and choose which times they'd like to attend, depending on the activities offered.

For young children, satellite phones can be given to parents in cause the nursery needs to contact you. On a few occasions, we'd let the baby nap in the nursery while we relaxed by the pool, and they would call when she woke up.

Pools and Water Slides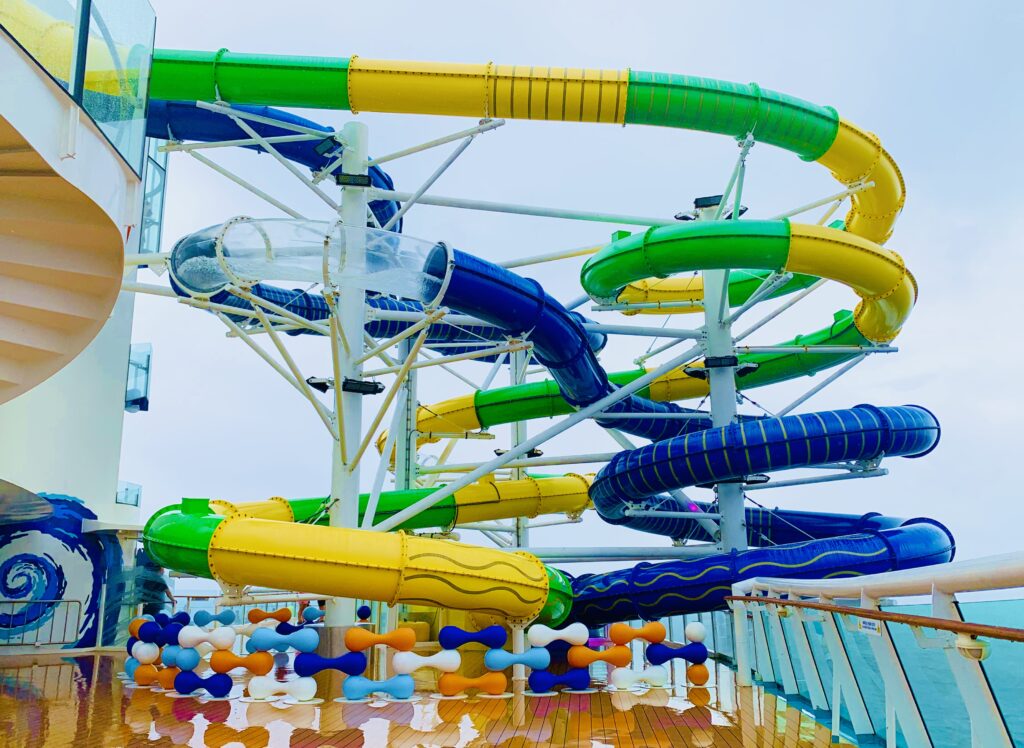 Every ship in the Royal Caribbean fleet includes a pool. With recent ship amplifications (renovations), many of the larger ships also feature water slides. Not to mention the ships with mini-water parks, FlowRiders, and even baby splash pads.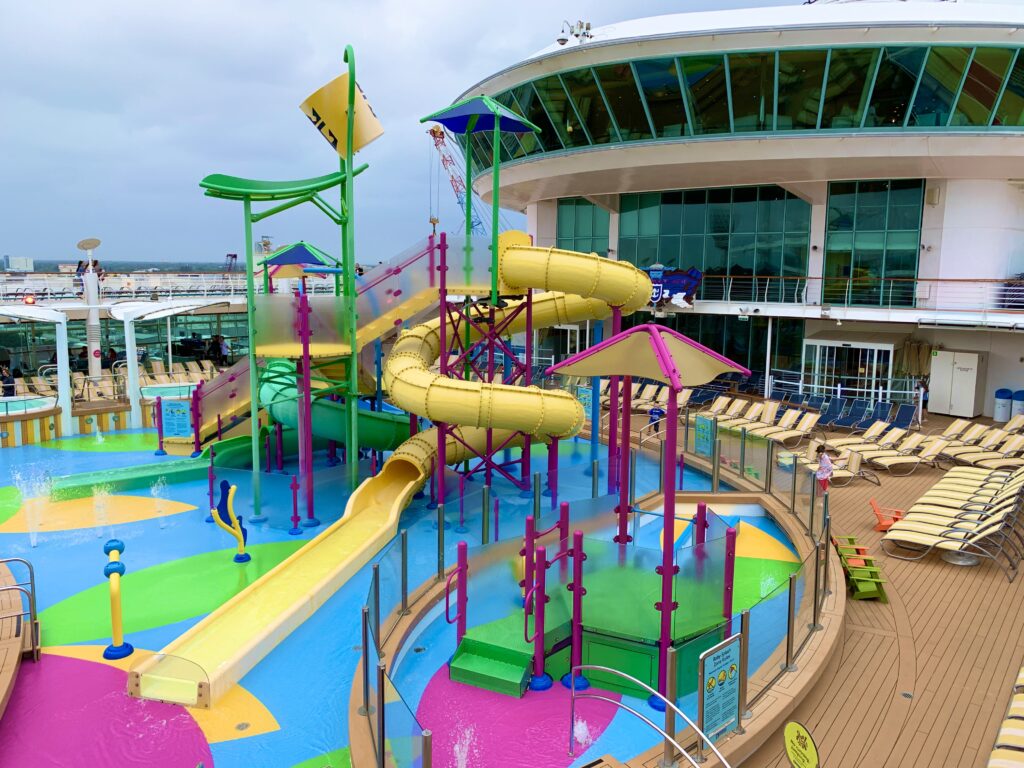 My kids love the water, so just a dip in the swimming pool is thrilling to them. The water parks and water slides take it to the next level. My oldest child is very adventurous. She loves going on a water slide 14 decks above the ocean.
Take note that cruise ships only allow potty trained children in the main pools. Some of the larger ships feature baby splash pads where children in swim diapers may play.
Kid-Friendly Excursions
Royal Caribbean offers excursions at each port. You can choose to go on one of their pre-planned excursions (at an additional cost) or explore the port on your own.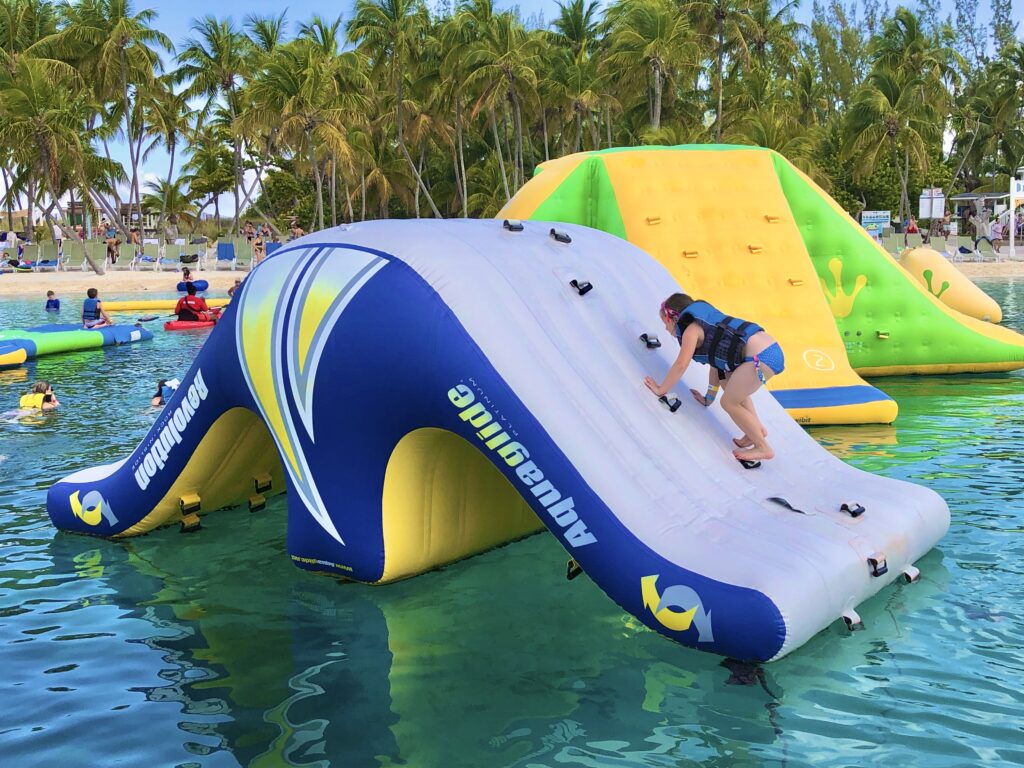 The Royal Caribbean excursion options make it easy to determine which excursions will be appropriate for your kids. In addition to listing the minimum age to participate, it also lists how rigorous the excursion will be. This takes into account the amount of walking, swimming, or even climbing needed to participate in the excursion.
The detailed description of excursions also helps when you are taking a trip with multiple generations of your family.
Shows and Movies
Throughout the afternoon and evening hours, a wide-variety of stage shows, movies, and performances are available on the ship. Many of these are great for children, such as the movies shown on the pool deck, ice skating shows, and even major acrobatics shows in the Aqua Theater (on larger ships).
Food, Food, and More Food
My kids love to eat. And there is no shortage of food on a Royal Caribbean cruise. The Windjammer is buffet dining that is open for hours surrounding each meal time. There is a really wide variety of food to choose from.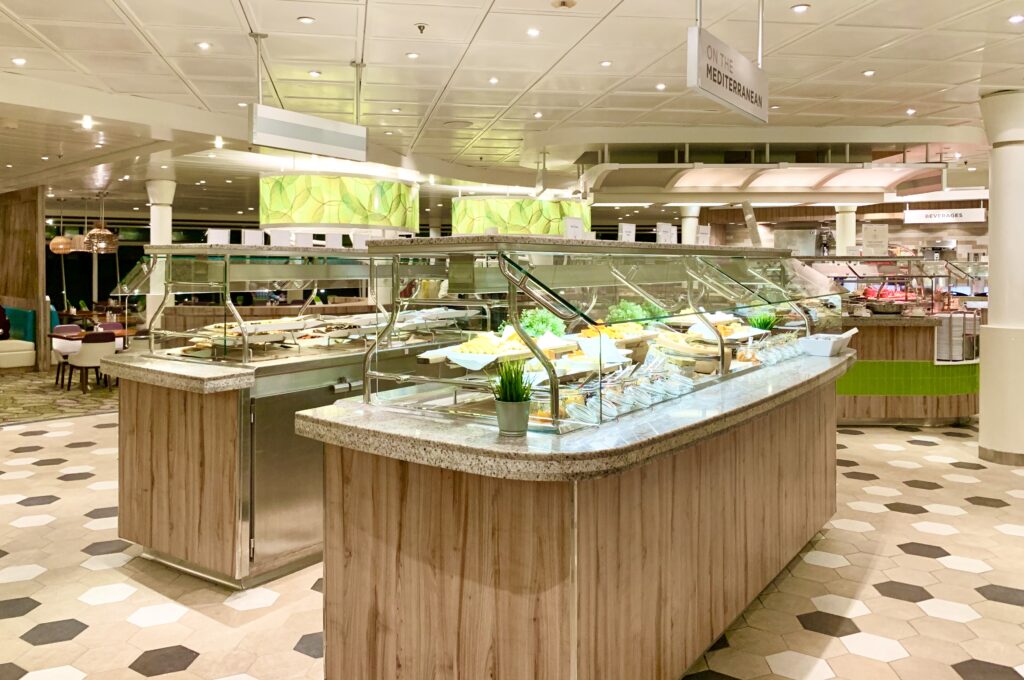 My kids especially like that they have dishes of plain pasta (with all kinds of sauces available). My kids don't appreciate sauces yet, so the fact that they can get pasta plain is a big hit. There's American cuisine staples available at every meal, usually including french fries, hamburgers, hot dogs, and lunch meat. Even picky eaters should find plenty to fill their tummies.
In the Royal Promenade, pizza, sandwiches, cookies, and other yummy desserts are available at almost every hour of the day. This is the place to go if your kids get hungry between meals (which somehow happens).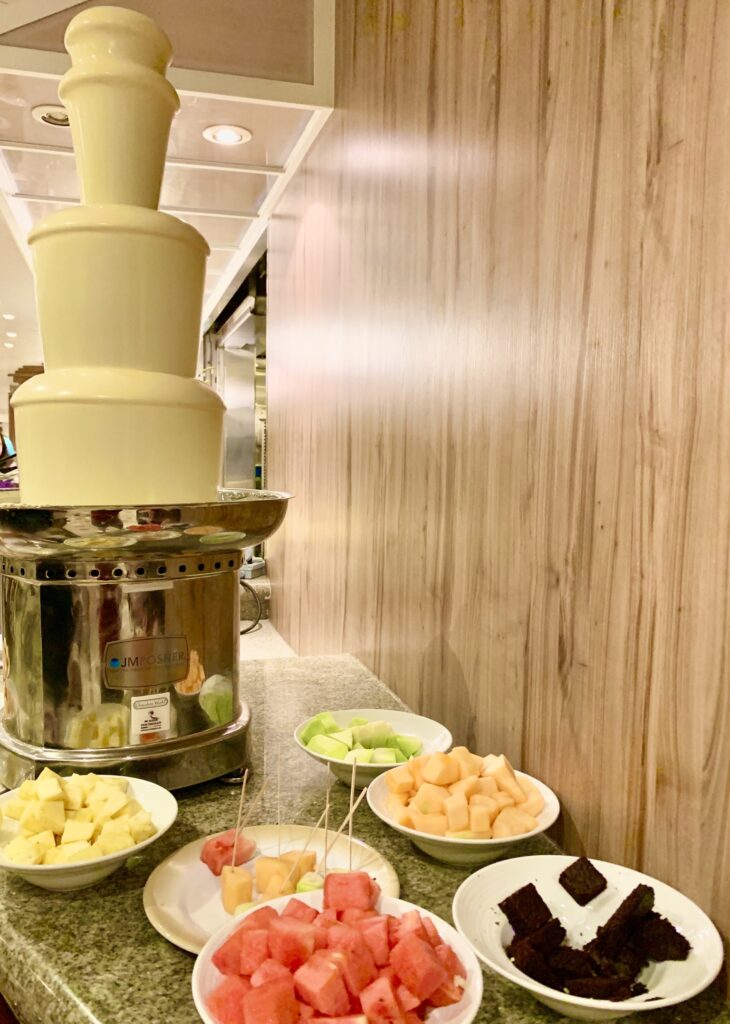 Our favorite food night on a cruise is the "fountain" night. We've experienced a chocolate fountain and a vanilla fountain on each of our cruises at dinner, during the last night at sea. There's so many yummy foods to dip into the fountain: brownies, marshmallows, fruits, and more!
The kids also enjoy the ice cream cones available on the pool deck as a treat. Some evenings, the Windjammer even offers an ice cream bar with plenty of toppings that you can choose for yourself.
Perfect Day at CocoCay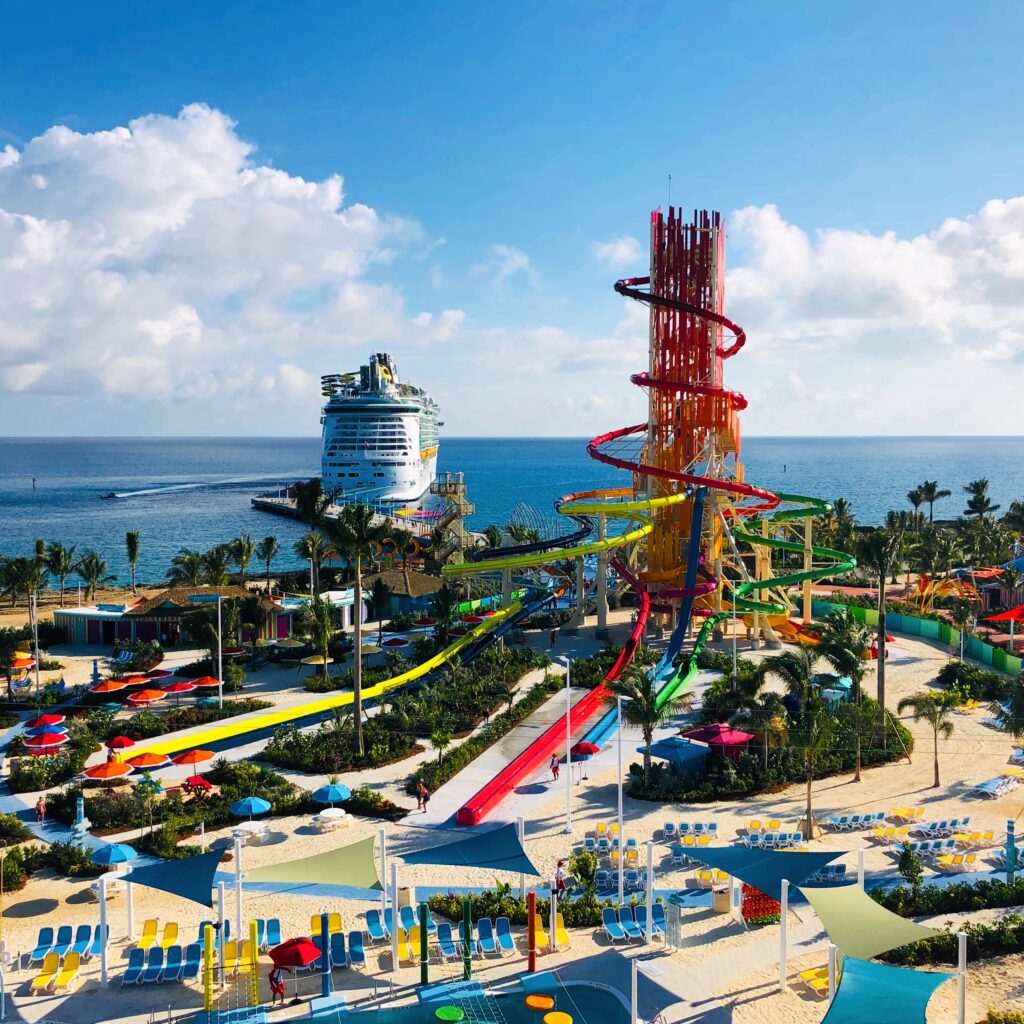 While most cruise lines have private islands, Royal Caribbean has taken their private island to the next level. CocoCay was recently revamped, adding several fun water slide areas of kids, as well as a full blown thrills water park.
If you're looking for a more relaxing day at CocoCay, there's a Chill Island and South beach, which is much more laid back. Read more about this amazing island here.
All Access Tours
I love it when our vacations are educational. Especially when the educational opportunities are unique and exciting. We've found this on a Royal Caribbean ship with their All Access Tour. This tour allows children ages 6 and older and adults the opportunity to see the intricate details of how to run the ship.
During the tour, we got to see restricted and amazing areas of the ship, such as the control room and the bridge. We also learned how the food is prepared, how the laundry is cleaned, and how the well-oiled machine of the main dining room works.
Now, you can head to Royal Caribbean's website to see one of the best reasons to cruise Royal Caribbean with kids – Kids Sail Free promotions pop up a few times a year.
Sponsored Post – Royal Caribbean provided us with a complimentary all access tour. All opinions are my own.