Blandair Regional Park is located in Columbia, Maryland not far from the Mall in Columbia. The park runs along Oakland Mills Road, and in its final phase it will be 300 acres. The park's main attraction is its sports fields, but we visited primarily to check out the challenge course and new playground, Laura's Place.
Blandair Park Challenge Course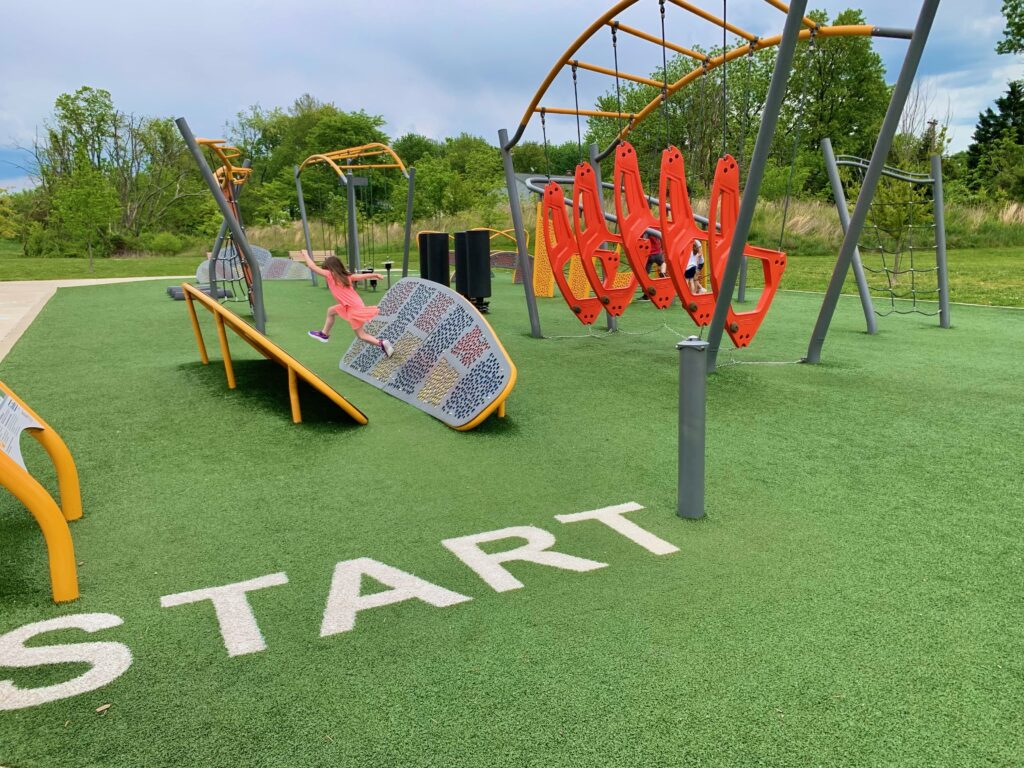 The challenge course is easily accessible and close to a large parking lot. There is also a restroom building within a short walking distance to the course.
While we've visited several indoor challenge courses at places like SkyZone, this is the first outdoor challenge course that we've found. Since it's located within a public park, it's free to use!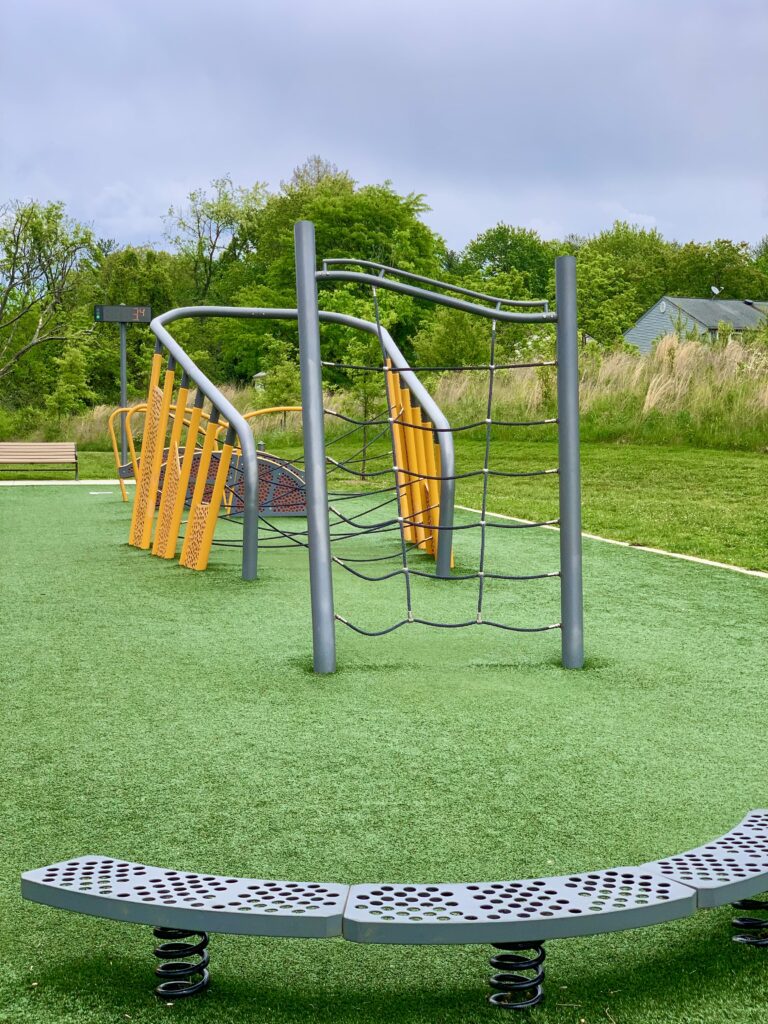 At the beginning of the course, there is a button to start the timer. There are three lanes to the course, each lane contains about three or four elements to conquer. Most of the elements seemed appropriate for ages 5 and up. Some are a bit high, so they may require assistance from an adult.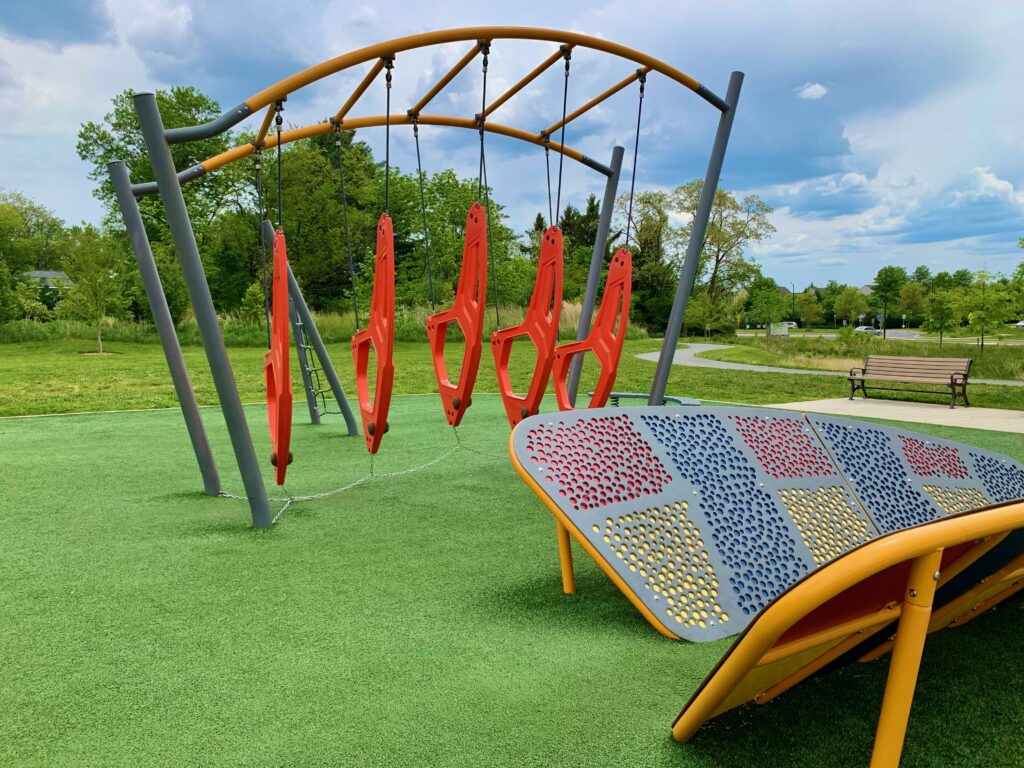 This park is large, and there's another playground structure on the other side of the park. There's also paved walking trails to enjoy.
Blandair Park North – Laura's Place
The new playground is located in the Blandair Park North Area. This Blandair Park North also includes restrooms, a pavilion, and some specialty courts.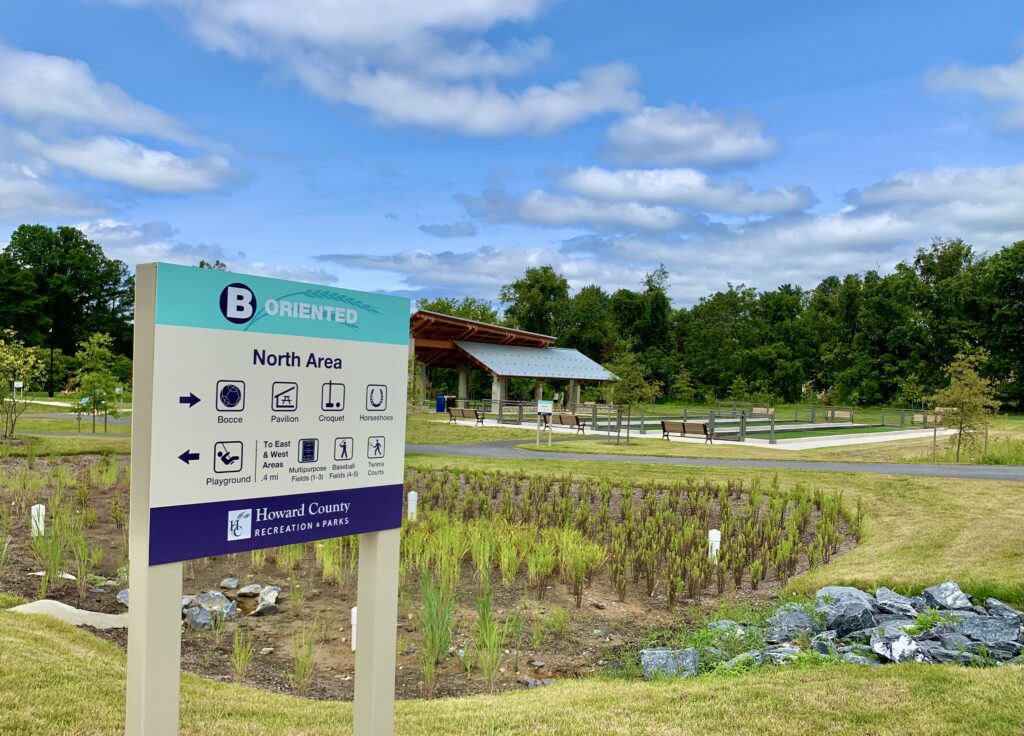 The new playground in the North Area is called Laura's Place. Laura worked for Howard County Recreation & Parks for 34 years and was an important part of the Therapeutic Recreation program. Read more about Laura and the dedication of this playground here.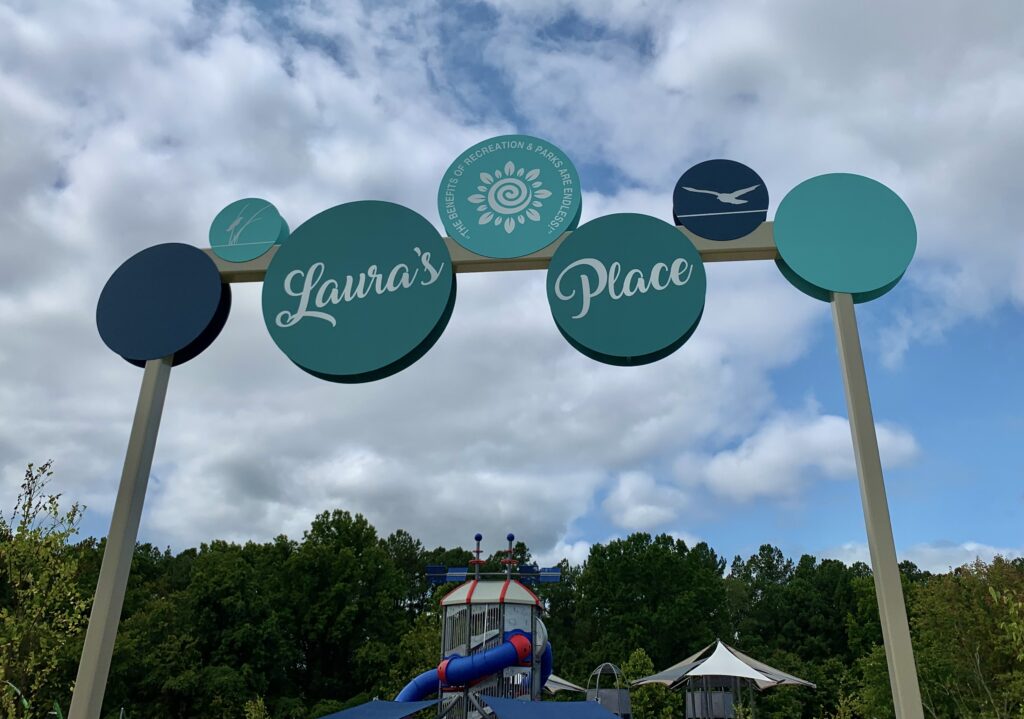 This playground is fully enclosed with a fence. It even includes a double gate system at the front of the playground. The playground is very large, with areas dedicated to certain age groups.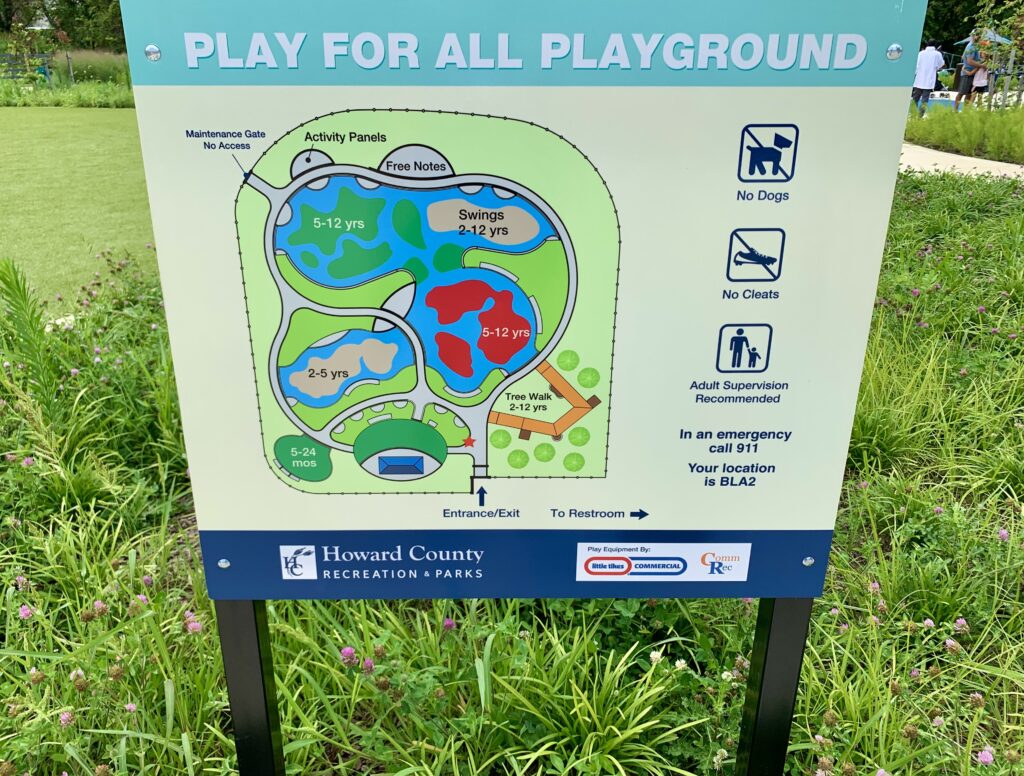 The main center area features this awesomely big play structure with many slides.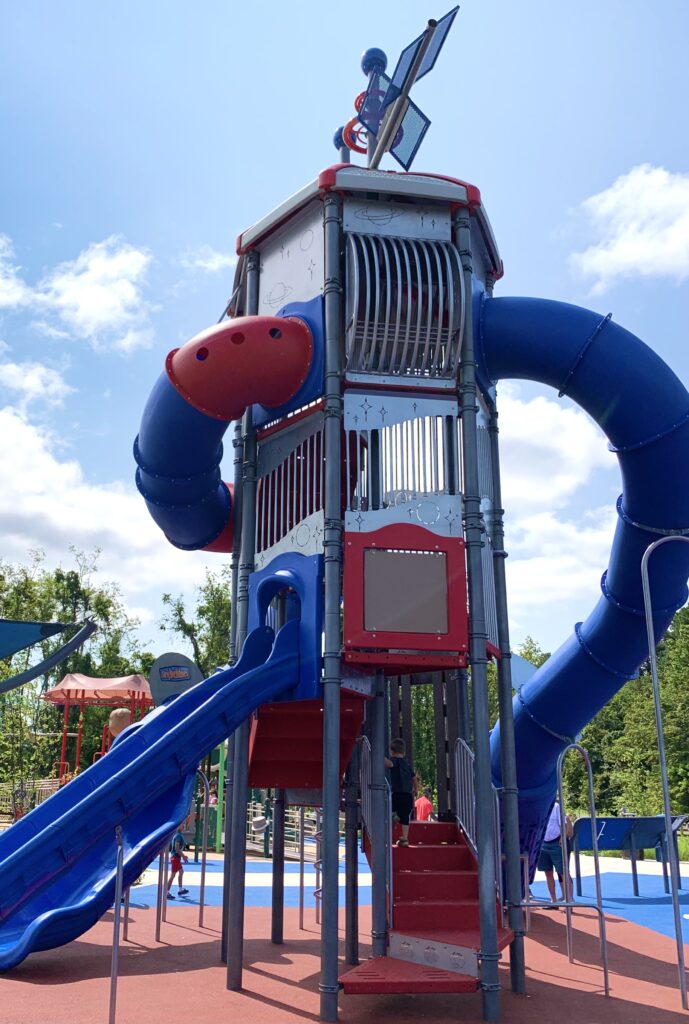 There's also a dinosaur area where kids can play on fossils and enjoy the dinosaur-themed play structures.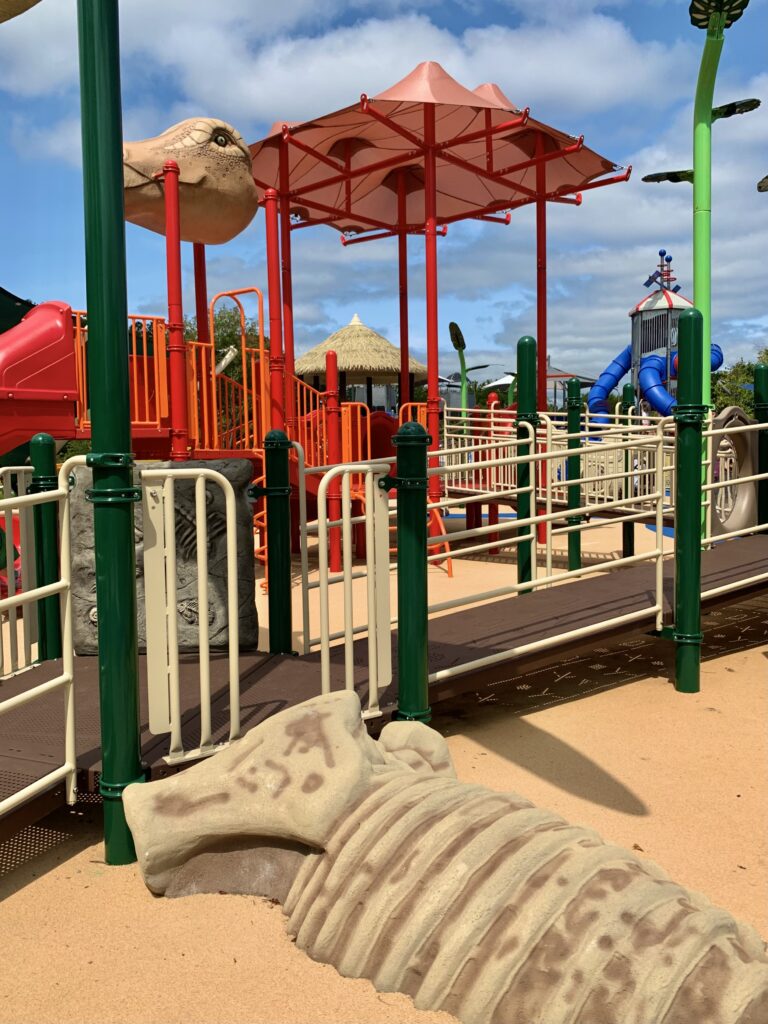 For smaller children, there's a farm-themed area. This area also has some neat shade structures, including one shaped like a butterfly.
There is a large restroom building located directly beside the playground.
Keep in mind that this new area of Blandair park can get quite busy. We visited on a Sunday morning, and even though the parking lot is large, it was almost full.
More Amazing Parks in Maryland
Here's a list of other awesome parks to visit in Maryland.
And another list of awesome parks in the Washington, DC area.