Sponsored posted – Jellystone Park Chincoteague Island hosted us. All opinions are my own.
Yogi Bear's Jellystone ParkTM Chincoteague Island is a camping and vacation destination in Chincoteague Island, Virginia. It is located only a few miles from Assateague Island National Seashore, home of the famous Chincoteague ponies.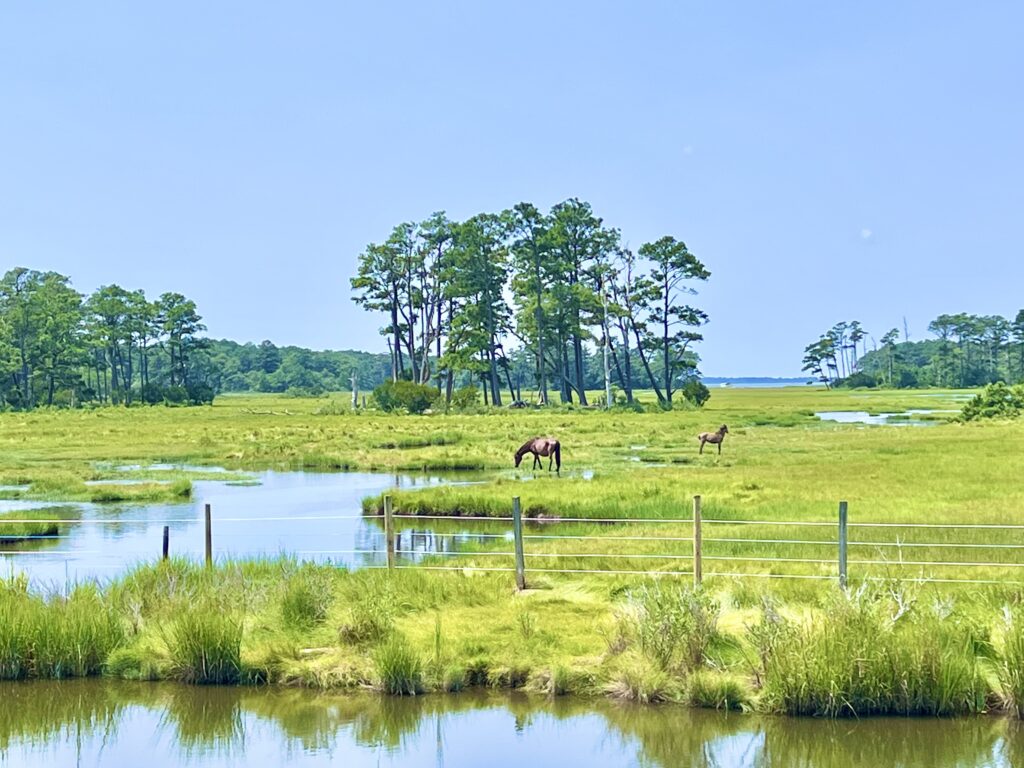 This camping destination became a Jellystone Park Camp-Resort recently, and features themed weekends, a water park next door, swimming pool, jumping pillow, kayak rentals, and more!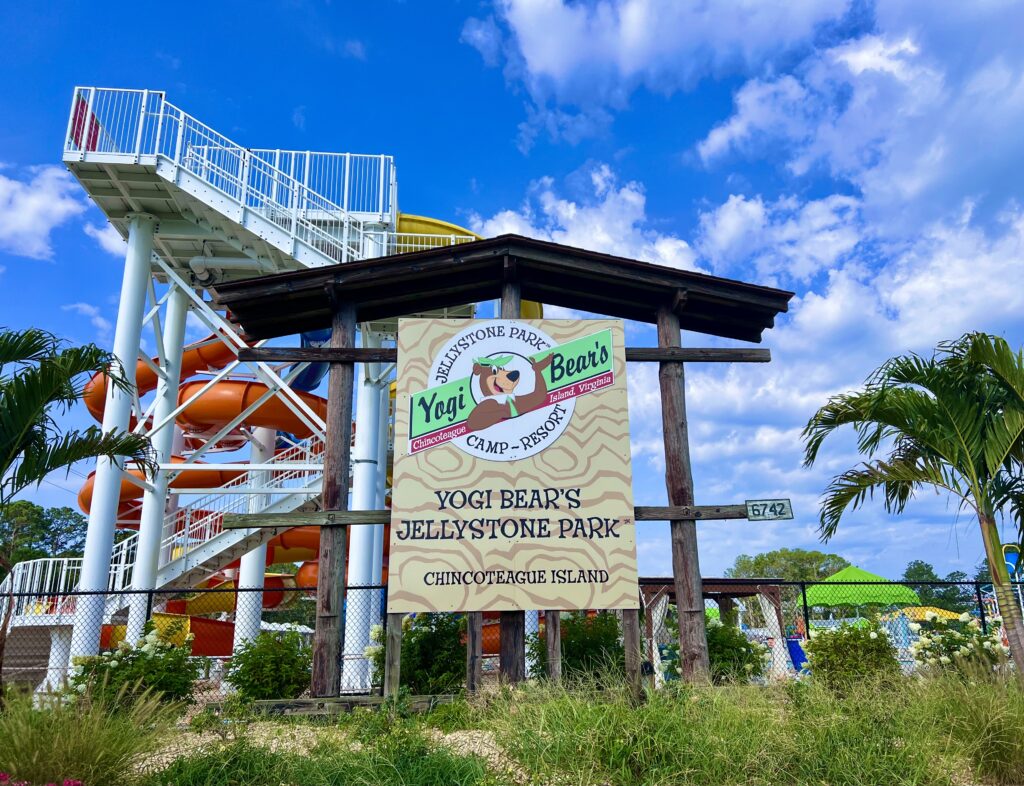 Jellystone Park Chincoteague Island Accommodations
There are several options for accommodations when staying at Jellystone Park Chincoteague Island. Of course, there is tent camping and rental spaces for RVs. In addition to the traditional options, cabins, rental RVs, and safari tents for glamping are also available.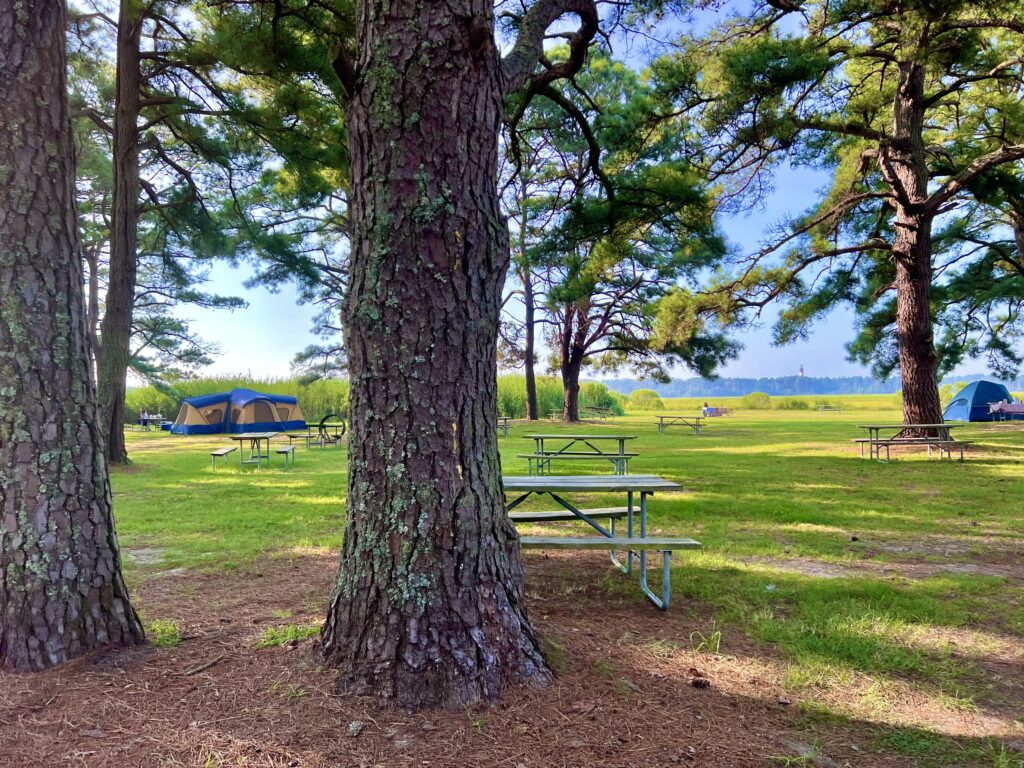 Glamping is a newer concept, where large, furnished tents are provided for the guests. The tents include beds (with mattresses) and electricity. The accommodations are still a bit primitive, so you can get the camping experience without setting up your own tent.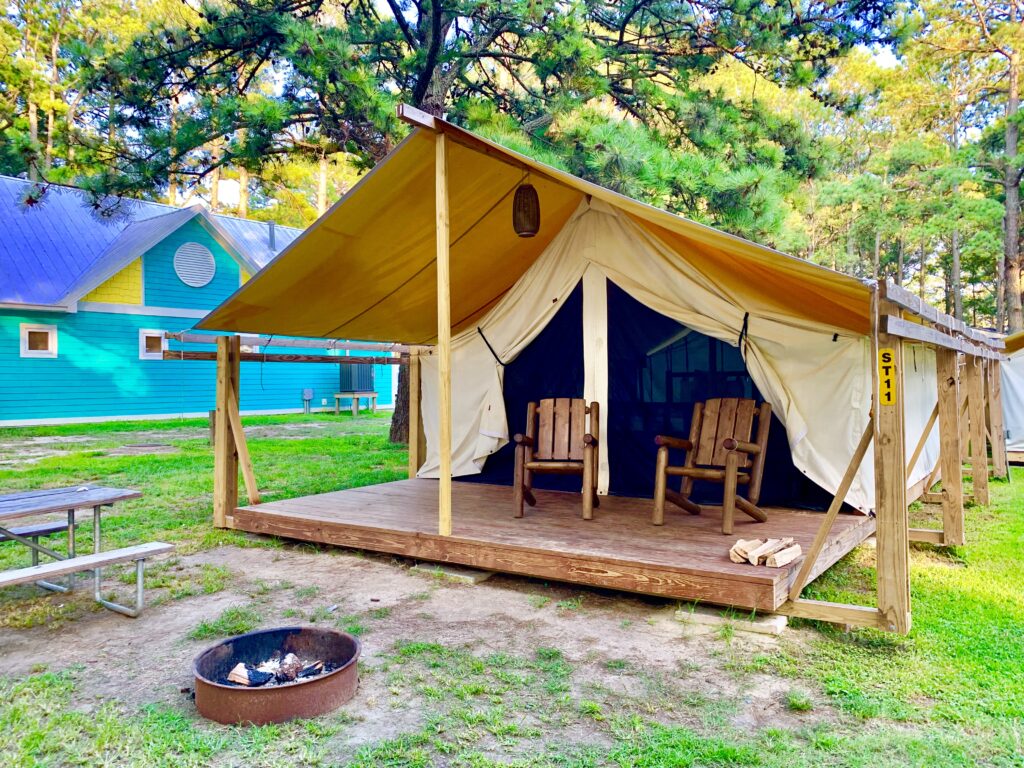 A safari tent could be a good way to slowly introduce your child to regular tent camping. The glamping tents looked very cute and comfy and include two double beds and a futon.
For accommodations without bathrooms, the resort has bathhouses open 24/7. Since we were in a deluxe cabin we had our own bathroom inside the cabin, but I peeked in the bathrooms. They looked nice and well maintained.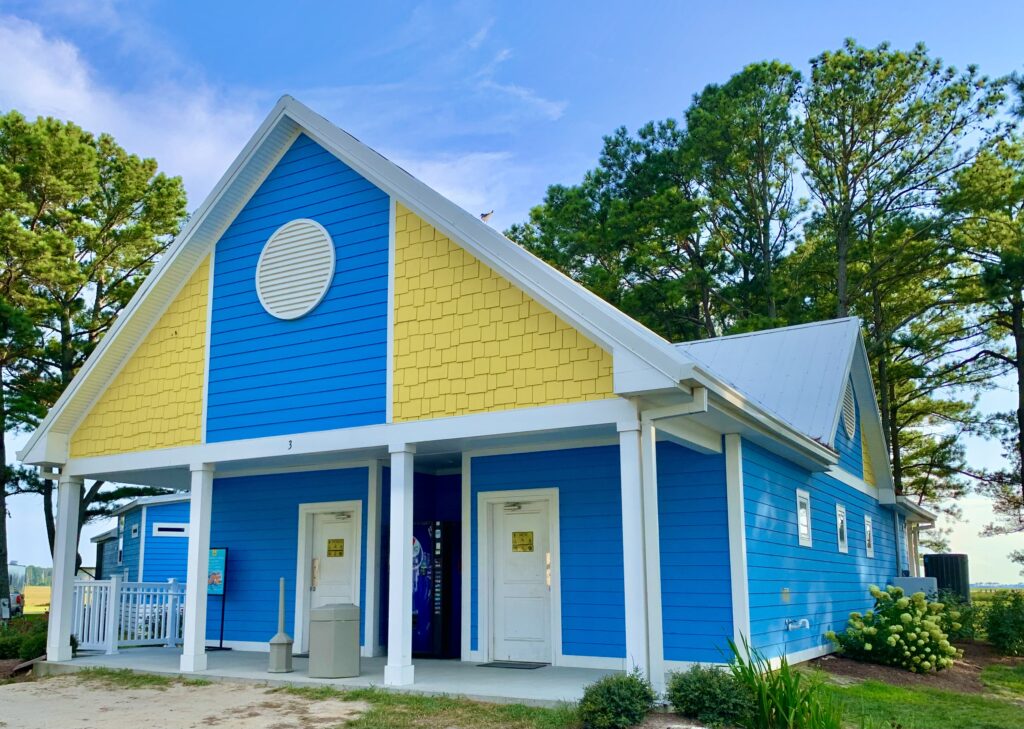 Cabins
A few types of cabins are available to choose at the resort. Deluxe cabins include two bedrooms. One bedroom has a queen bed, while the other has bunk beds.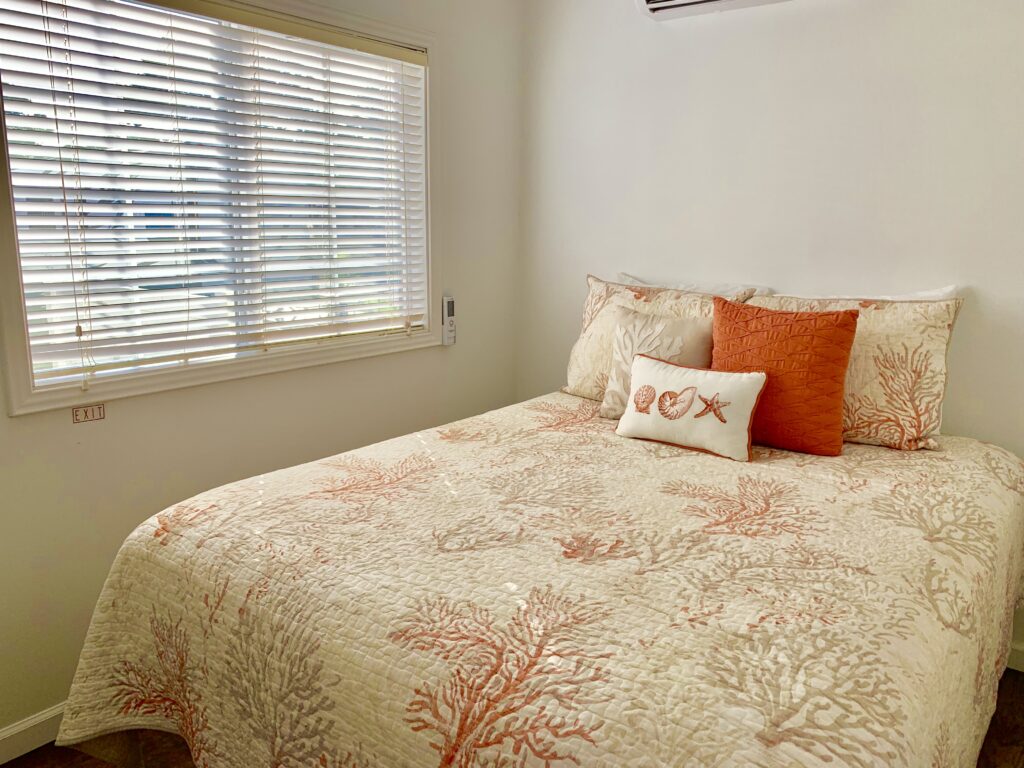 The cabin also features pretty much a full kitchen, as some of the cabins have a full stove and others have two burners. Two TVs are in the cabin, one in the living area and one in the master bedroom.
There's a kitchen table and a sofa. Linens are provided for the bedrooms, and towels are provided for the bathroom.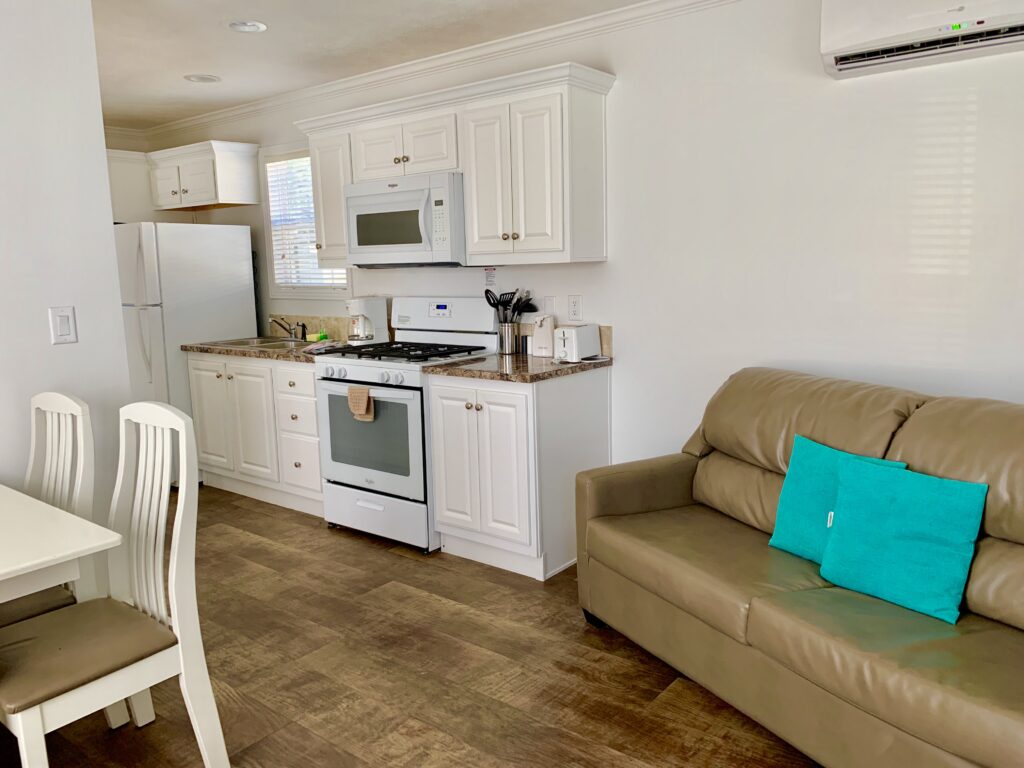 My favorite feature of the cabins was the screened porch. It is a great place to enjoy the sights and sounds of the resort, while being protected from the sun and bugs.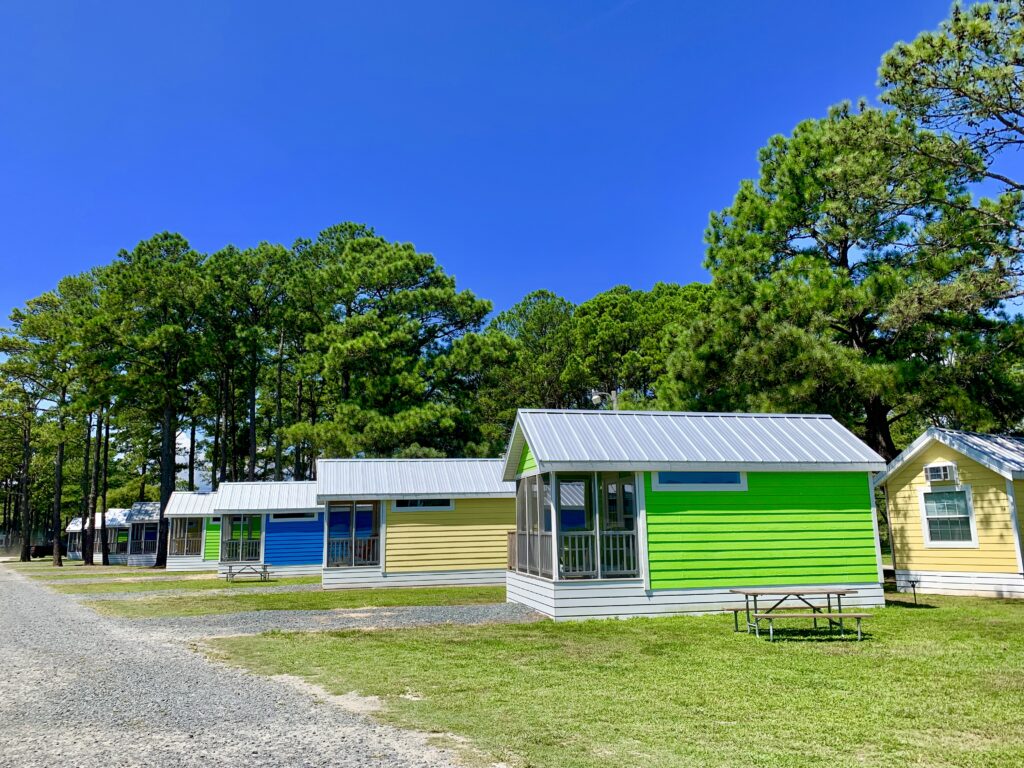 Each deluxe cabin also has a patio with table and chairs, a charcoal grill, and some cabins have a chimenea. Island Bungalows, pictured above, have picnic tables.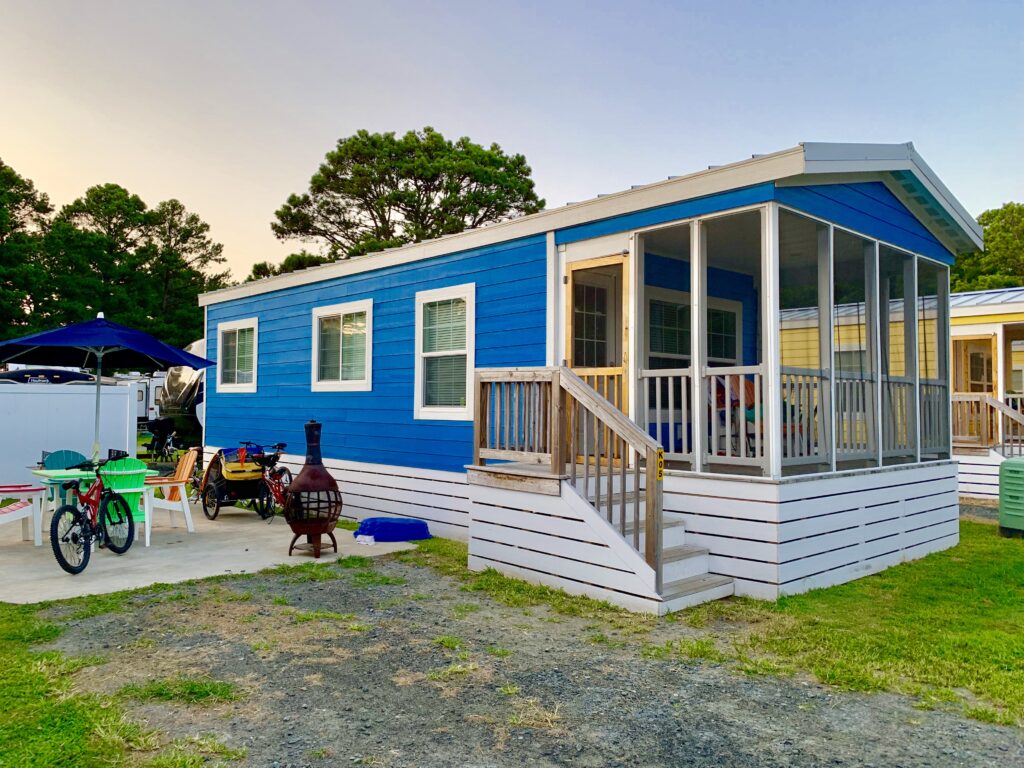 Activities
Activities are available each day in the Activity Center located in the same building as the Ranger Station and Welcome Center. Each weekend has a theme, and the activities are centered around that theme. When we visited there was painting, glitter tattoos, and make-your-own journal.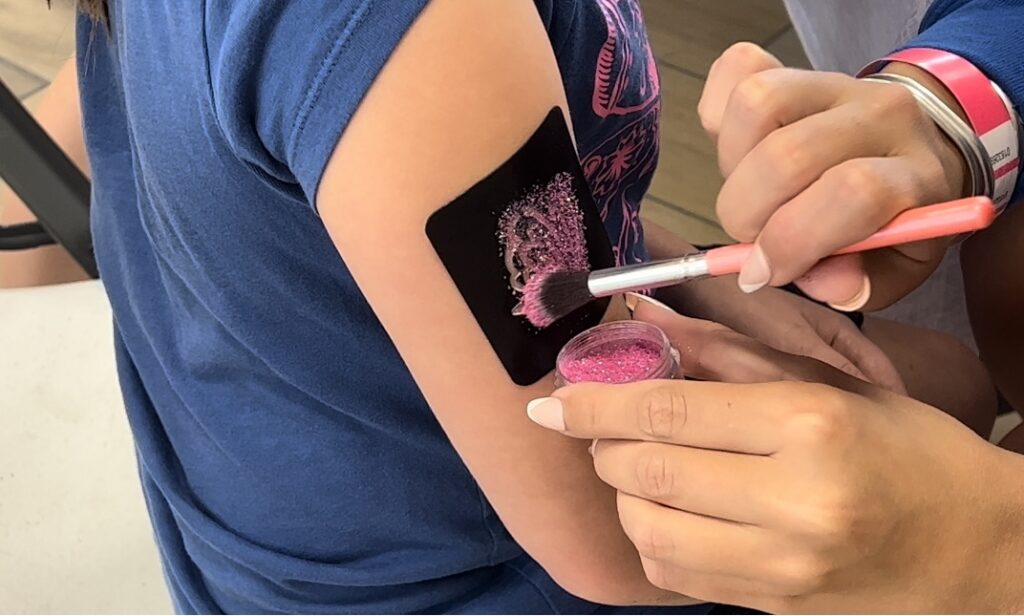 There's also a kid's club when parents can drop off their kids for supervised fun during certain hours of the morning and early afternoon. Evenings at the Camp-Resort can feature live music, water gun battles, games, and more.
Attractions
For kids, there's a playground with swings, and slides close to the entrance of the resort. Another favorite attraction is the large jumping pillow located beside the playground.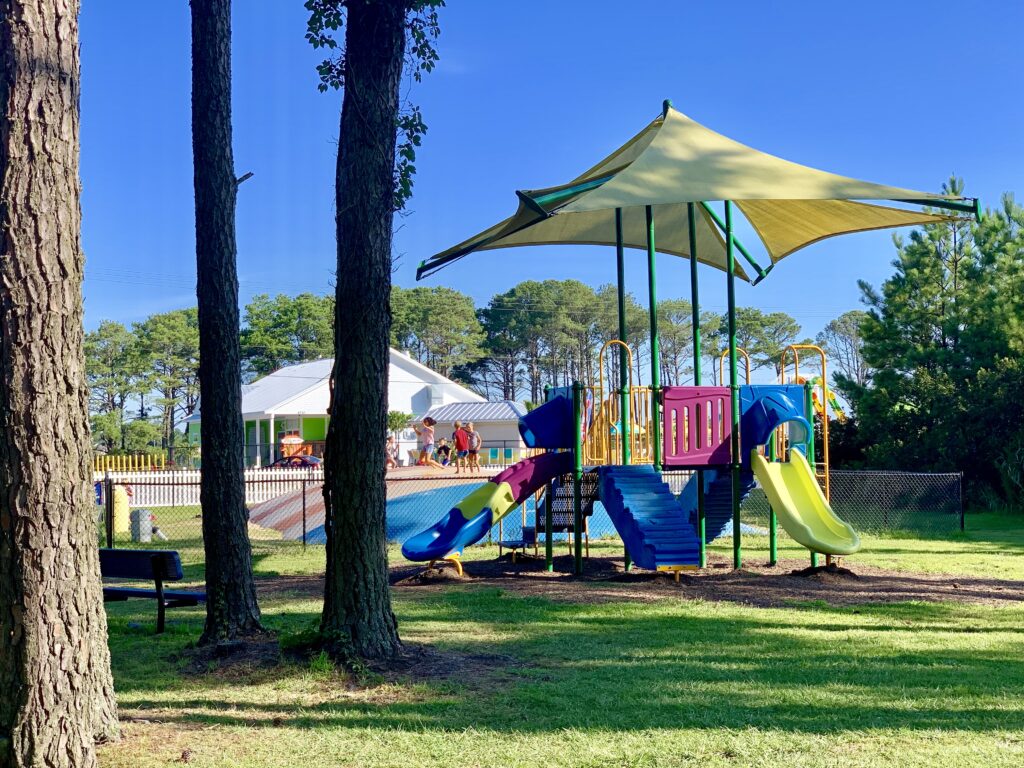 The resort also has a swimming pool. The pool is surrounded by shade umbrellas and chairs. It's close to the Ranger Station, so restrooms are nearby. The pool is approximately three feet deep to six feet deep.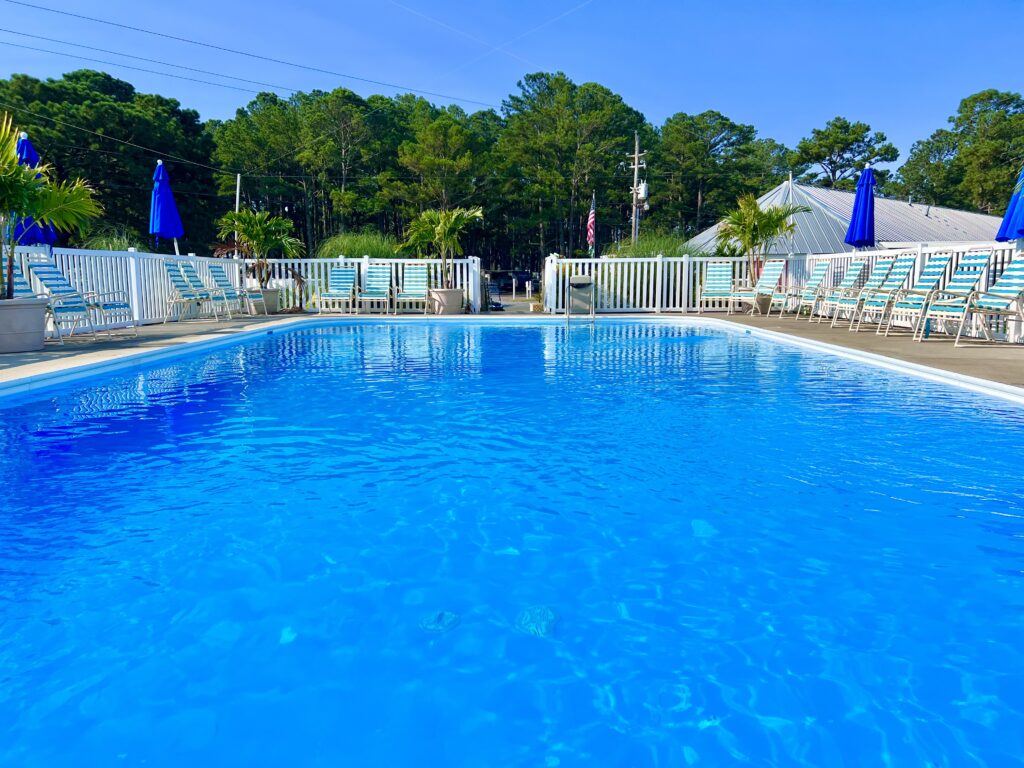 Bikes, kayaks, and golf carts are available to rent at the resort. The golf carts must be driven by someone 16 years or older. They are a great way to get around the large resort.
A beautiful dock sits along the water and is the kayak launch site. The water is also surrounded by picnic tables and a large firepit.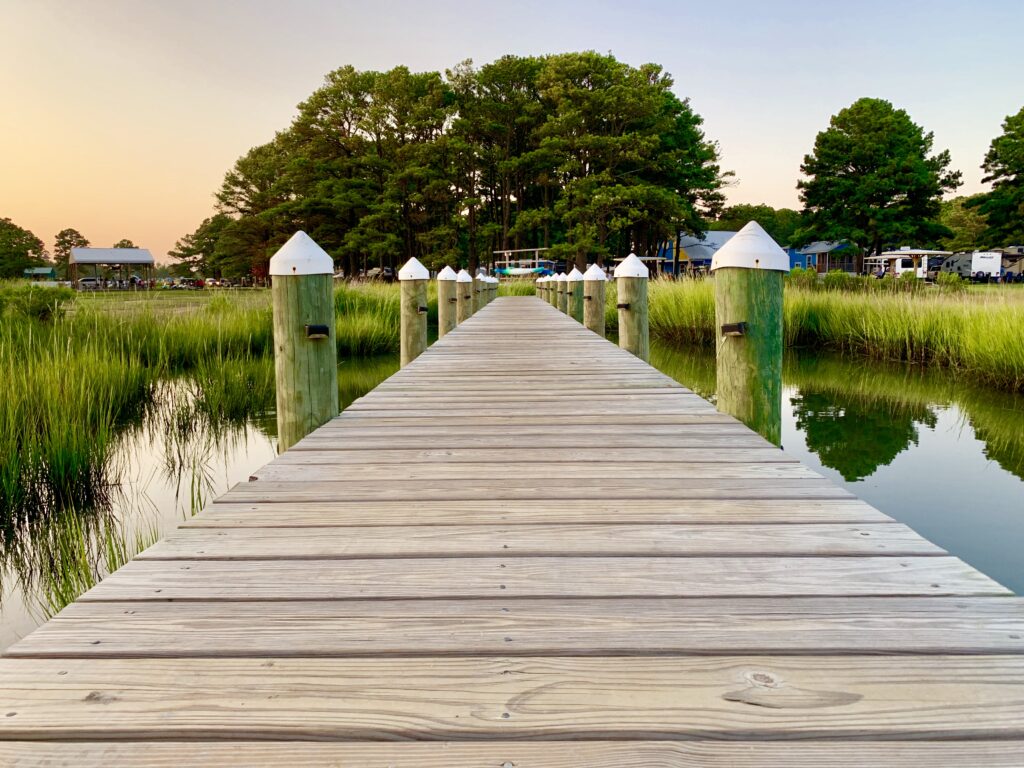 We often walked out onto the dock to enjoy the view of the water and the Assateague lighthouse. Tent spaces are available along this area, and they have an amazing view.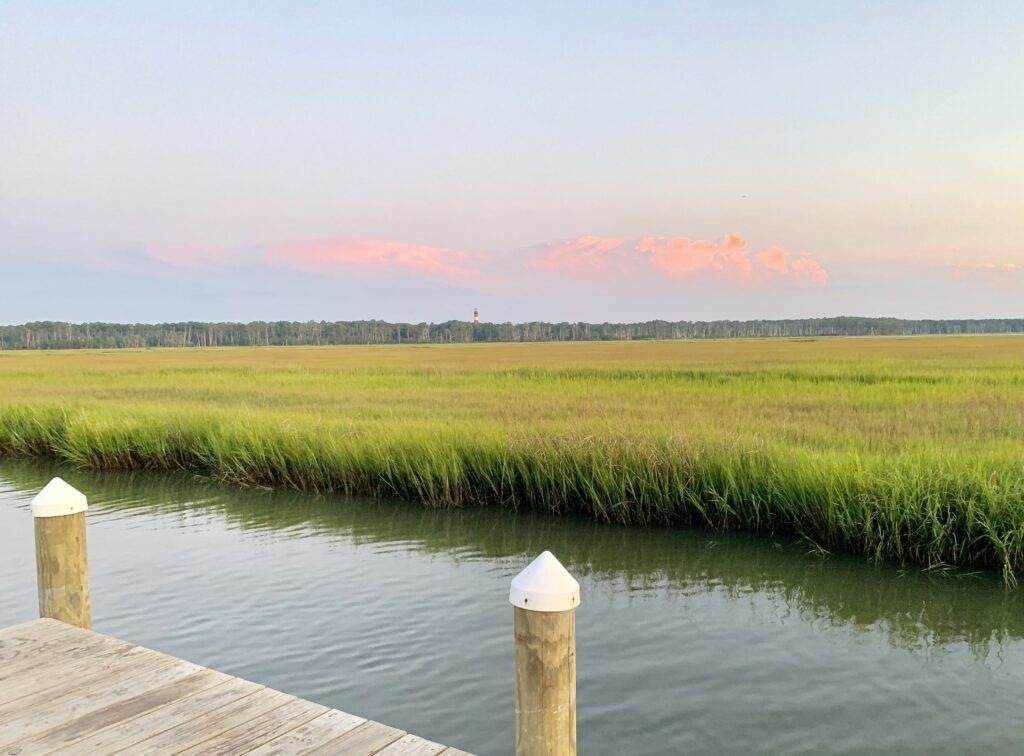 Of course, a highlight of a Chincoteague Island vacation is a trip to the water park. A short walk from the resort, Maui Jack's water park includes three body slides, two speed slides, a lazy river and a kiddie slide and splash structure.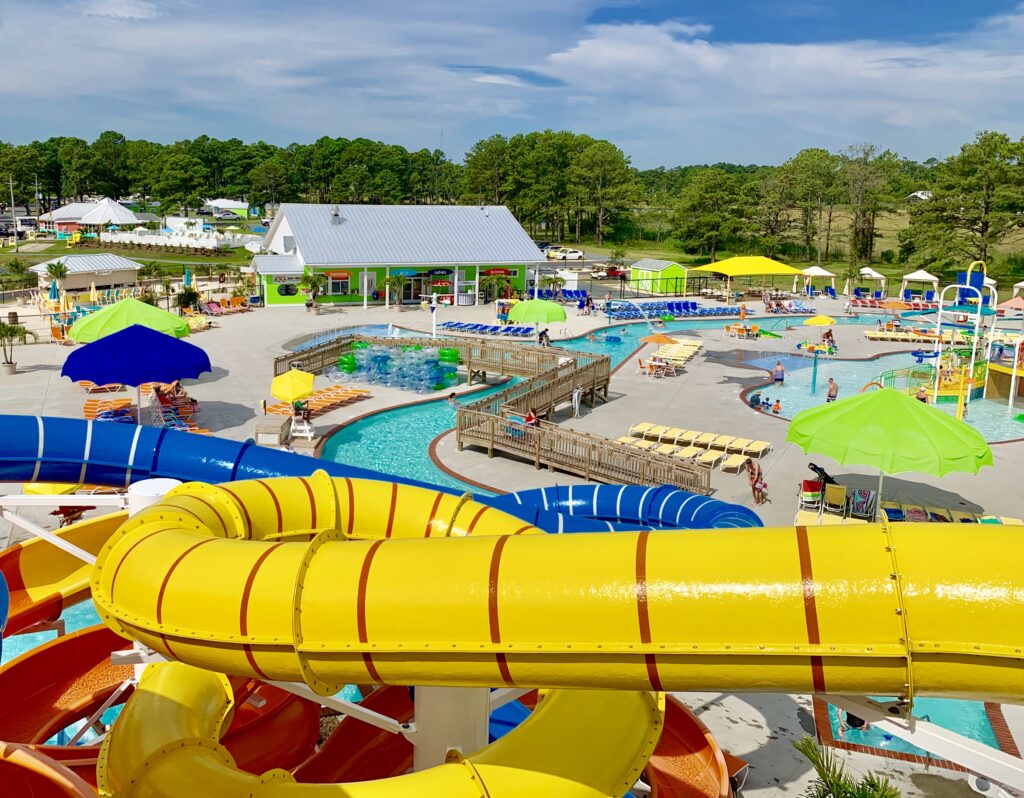 Food and Restaurants
Onsite, Keko's Bar and Grill is available for adult beverages, snacks, pizza, and more. It's attached to the water park, but admission to the water park is not required to grab a bite to eat and enjoy the beach games and atmosphere.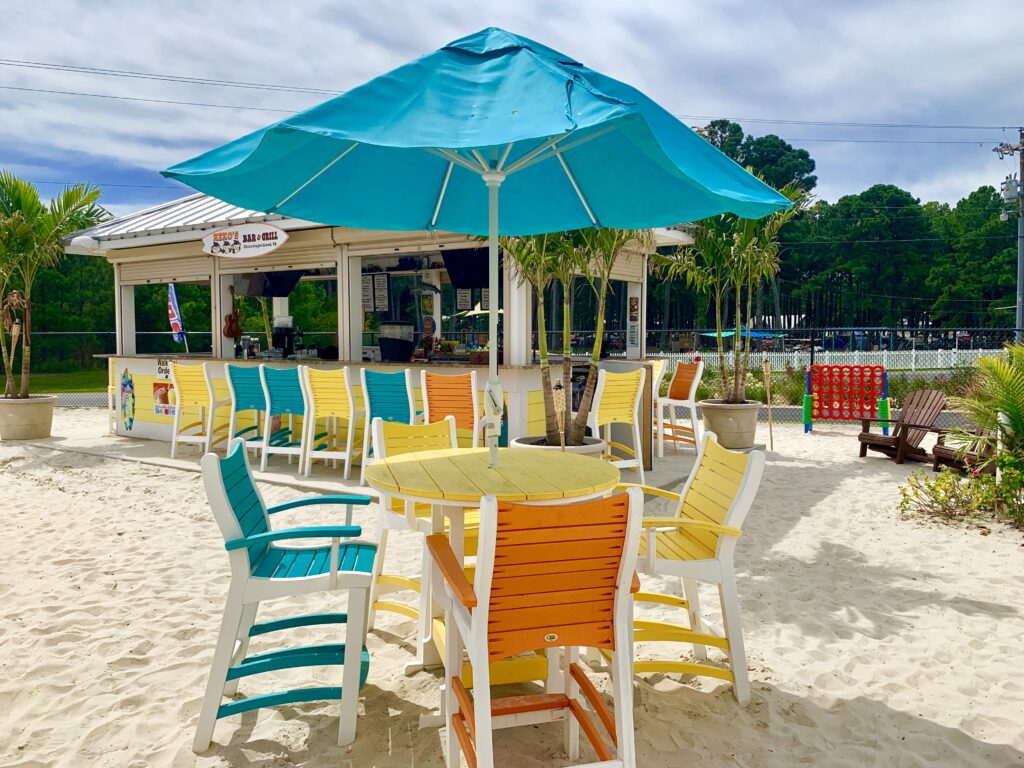 Chincoteague Island has a wide variety of eateries. While a few traditional restaurants dot the main road through town, food trucks and laid back causal eateries are more of a staple in town.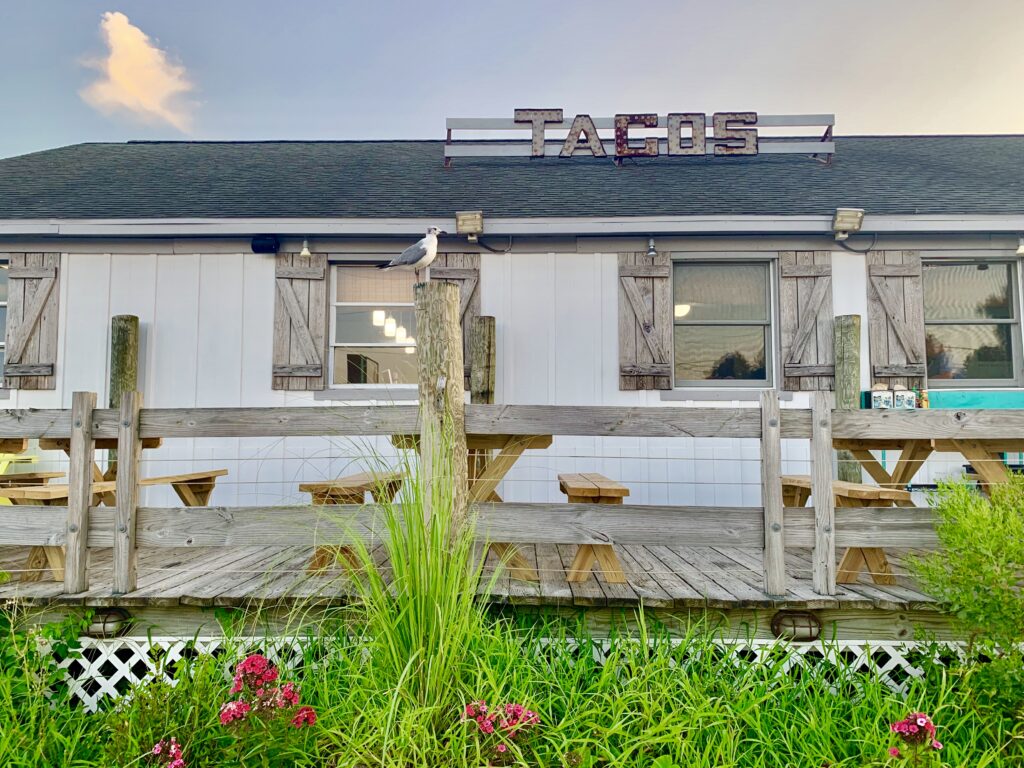 Eating at picnic tables with your feet in the sand is typical in Chincoteague Island. Several food trucks line the main road right beside Jellystone Park. The atmosphere and decor is very unique and inviting.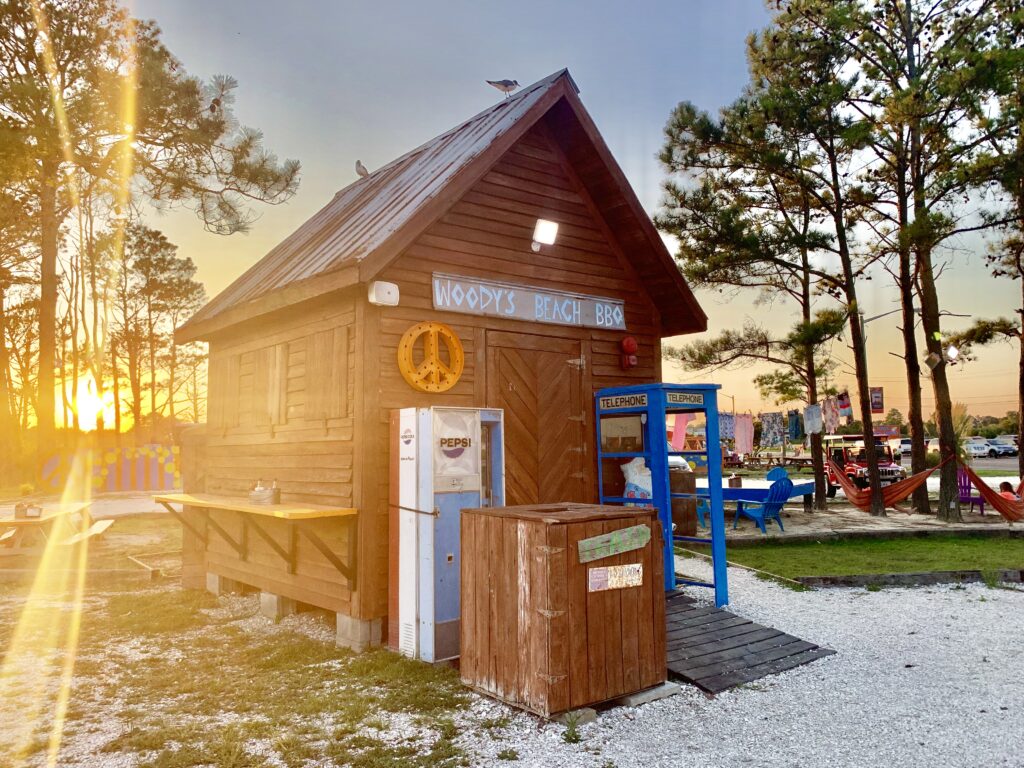 Tips for Visiting Jellystone Park Chincoteague Island
If you'd like to rent a golf cart for transportation around the resort, be sure to reserve it ahead of time. The golf carts are popular, and the selection is limited.
Explore the food truck and eatery options on the island. Tacos, BBQ, and Build Your Own Cookie are some favorites.
Bring ingredients for s'mores, cause there's plenty of opportunities to indulge in this camping treat.
If you have a 4th grader in your family, get a Every Kid Outdoors pass which will cover the entrance fee to Assateague Island National Seashore.
The Assateague Island lighthouse has limited hours, so check their website before venturing down the path. It's not a long walk to the lighthouse from the parking lot, but bring bug spray.
Scooters or buggies are available from rental places along the main road, and it makes for a fun mode of transportation around the island.
Jellystone Park Chincoteague Island Discount
Check out this discount provided for Been There Done That with Kids readers by Jellystone Park.
The discount is 15% off a 3 night stay or longer at Jellystone Park Chincoteague Island during 2023 season // Use the Code: 23BNTHERE
T&C: Three (3) night stay or longer required. Reservations required. New reservations only. Subject to standard policies, including site deposits. Subject to availability at time of booking. Not valid with other discounts or promotions. Blackout dates apply. Other terms and conditions may apply.
Sponsored posted – Jellystone Park Chincoteague Island hosted us. All opinions are my own.