Rocking Horse Ranch is an all-inclusive resort located in eastern New York state. The resort features many kid-friendly activities in both the summer and the winter.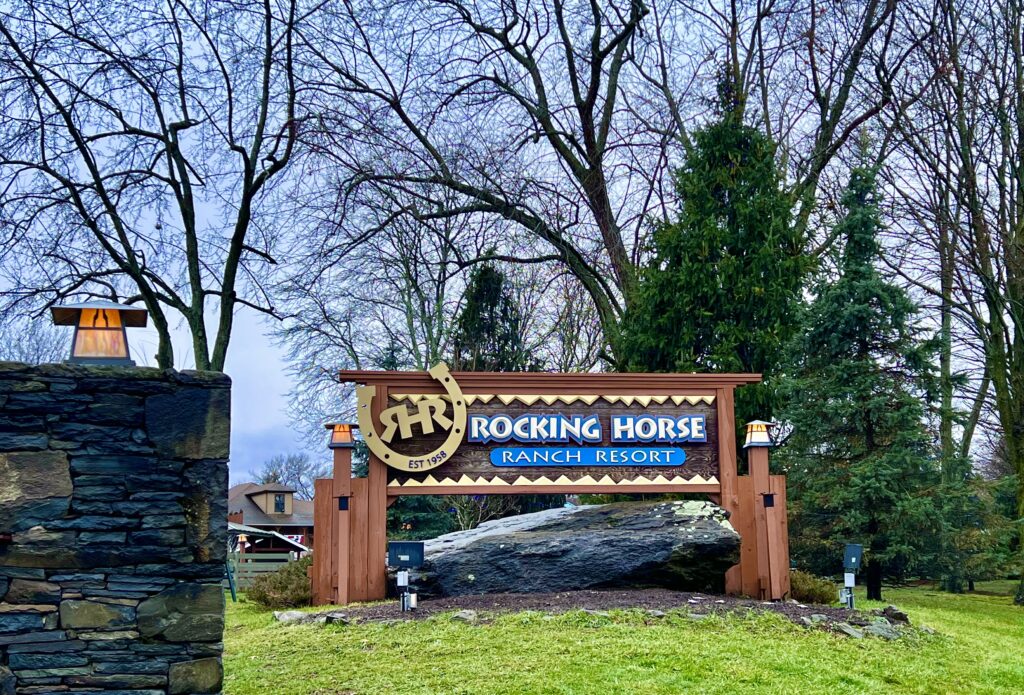 Since it's an all-inclusive resort, meals and activities are included in the cost of your stay.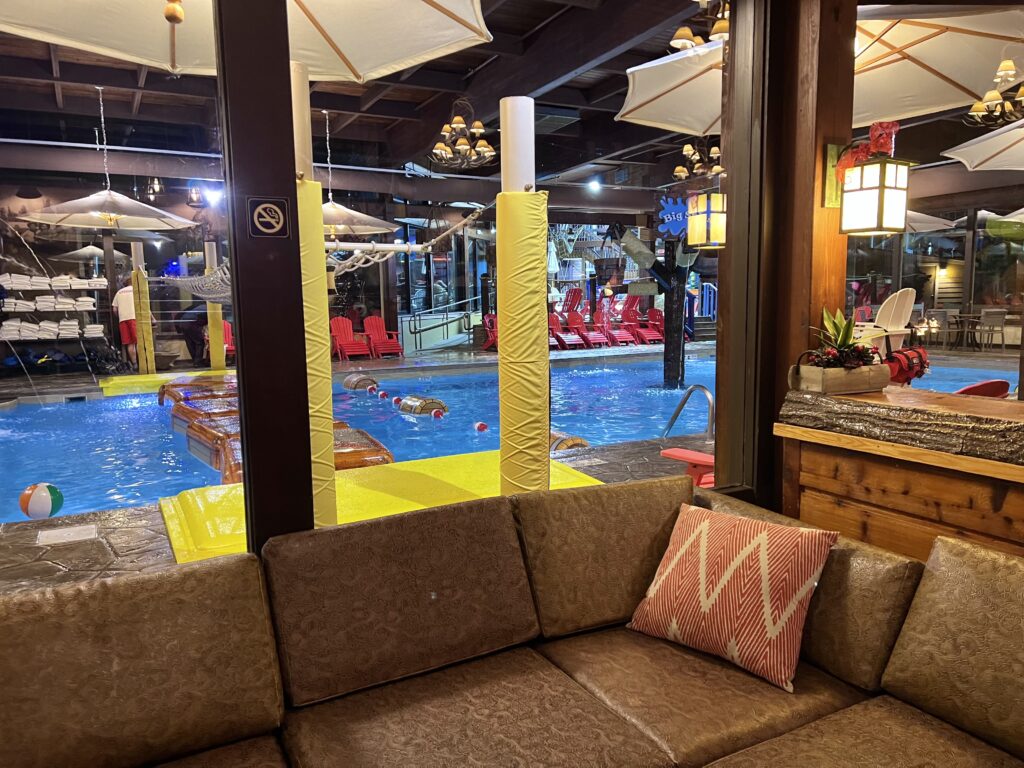 Rocking Horse Ranch Winter Activities
Activities available at the Ranch specifically in the winter include snow tubing, skiing (bunny slope only), and ice skating (real ice). However, activities vary with the temperature and weather.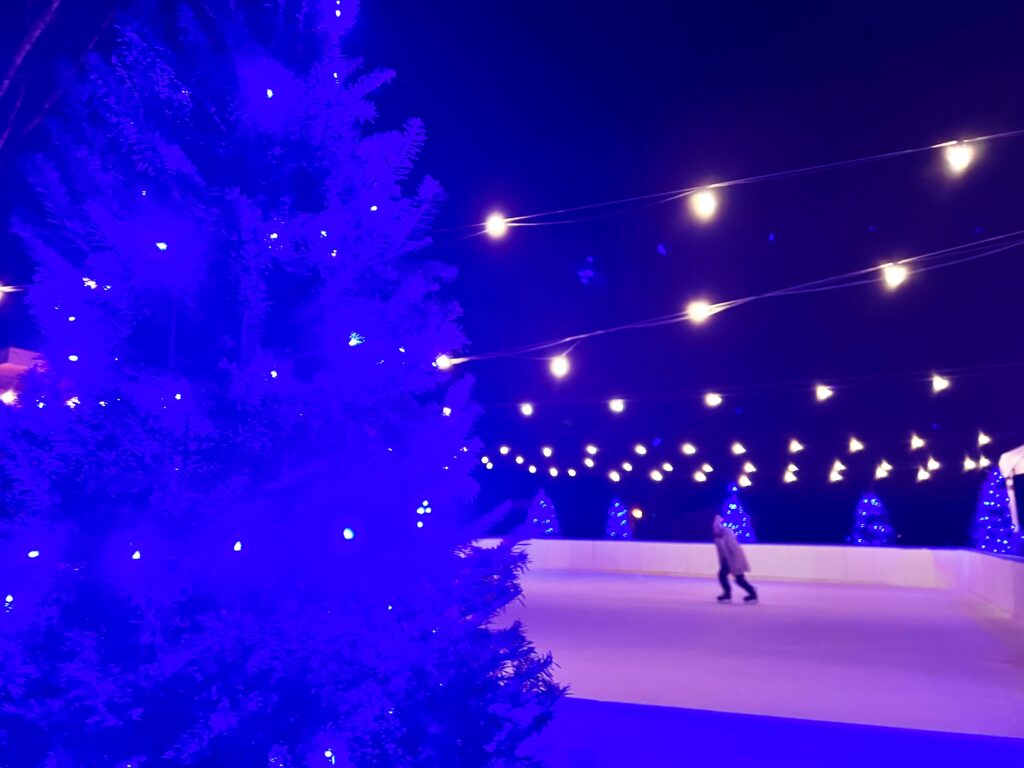 Ice skate rentals are available at their outdoor ice rink. There are also tents and fire pits close to the ice to try to stay warm while watching your kids skate.
Rentals are also available for skiing, so they provide ski boots, skis and helmets. These can be picked up and fitted at the ski shop. They do not provide poles.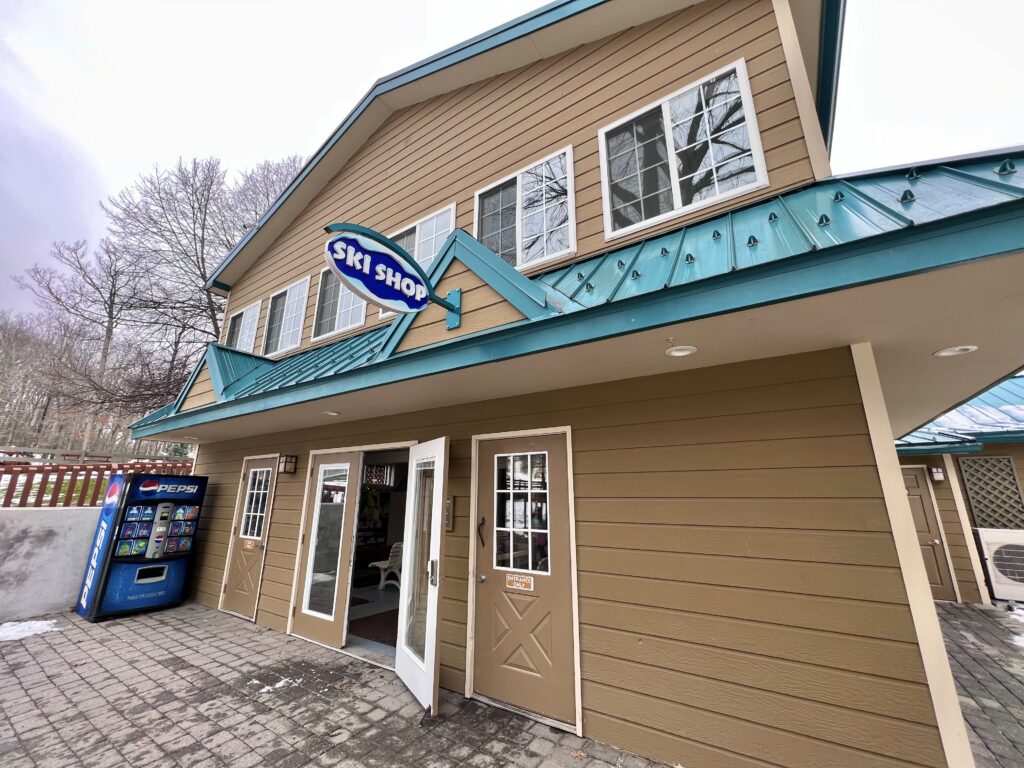 Just tell the ski shop staff your shoe size, and they'll handle the rest. They will even keep your shoes for you.
Reservations for ski lessons are not needed. After getting your skis, head up to the bunny slope, where staff in red jackets will be available to help.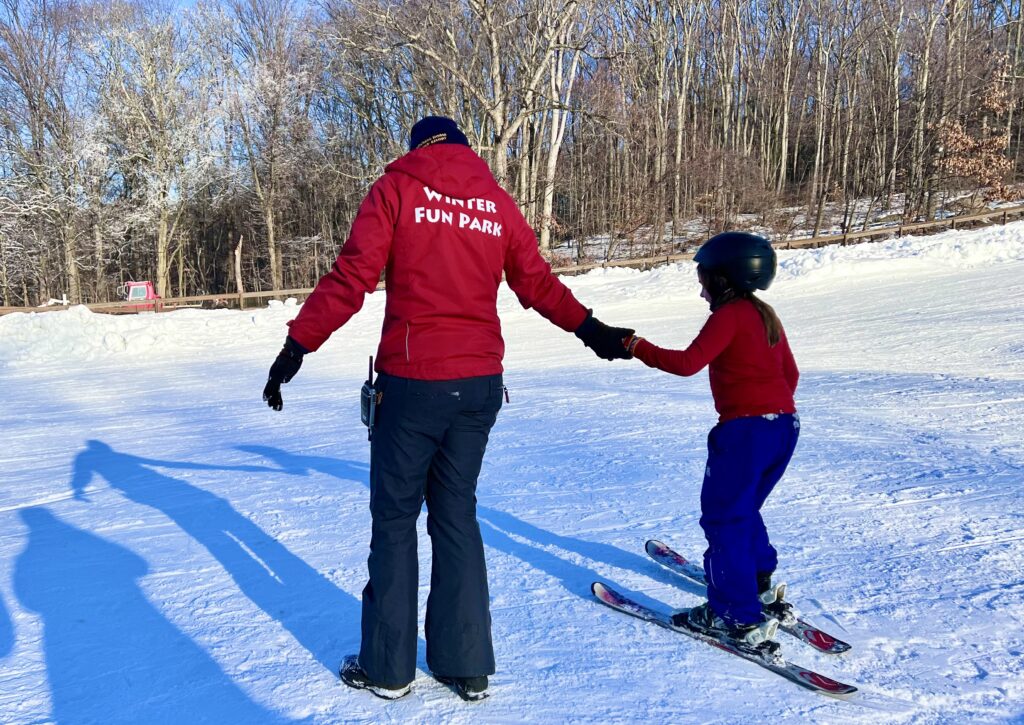 Note that the ski hill closes in the late afternoon (check the daily schedule for exact time).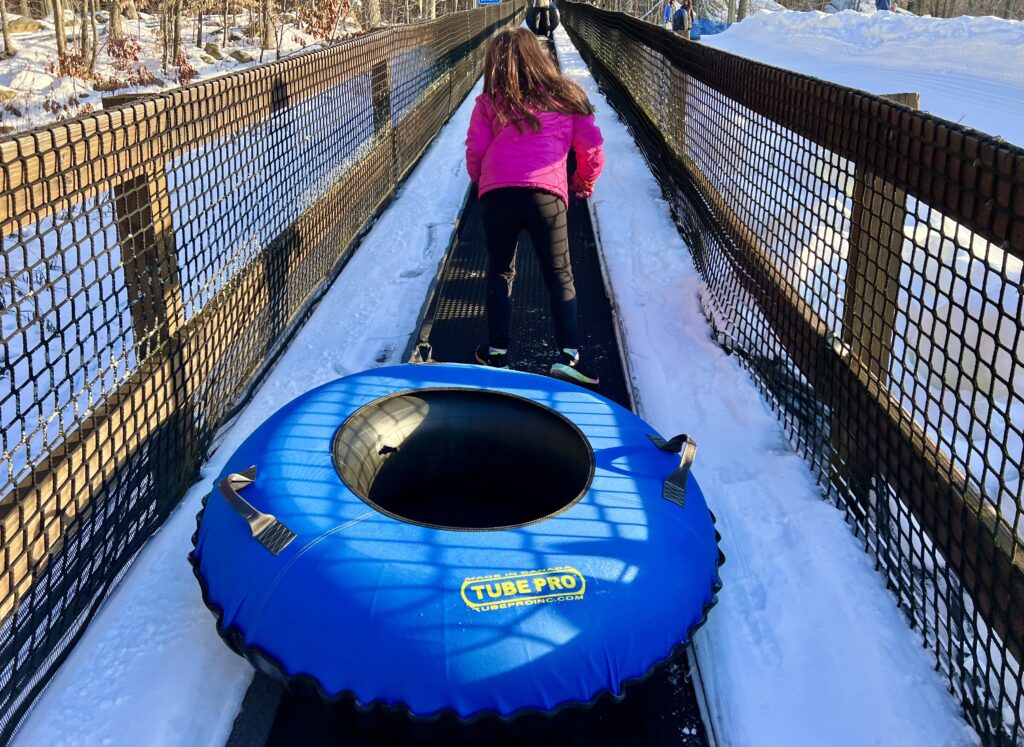 Snow tubing is another activity usually available during the day in the winter. A magic carpet goes to the top of the hill, and ramps provide a fun stop at the end. There are some nights when snow tubing is open late. Note that at night, they may be blowing snow.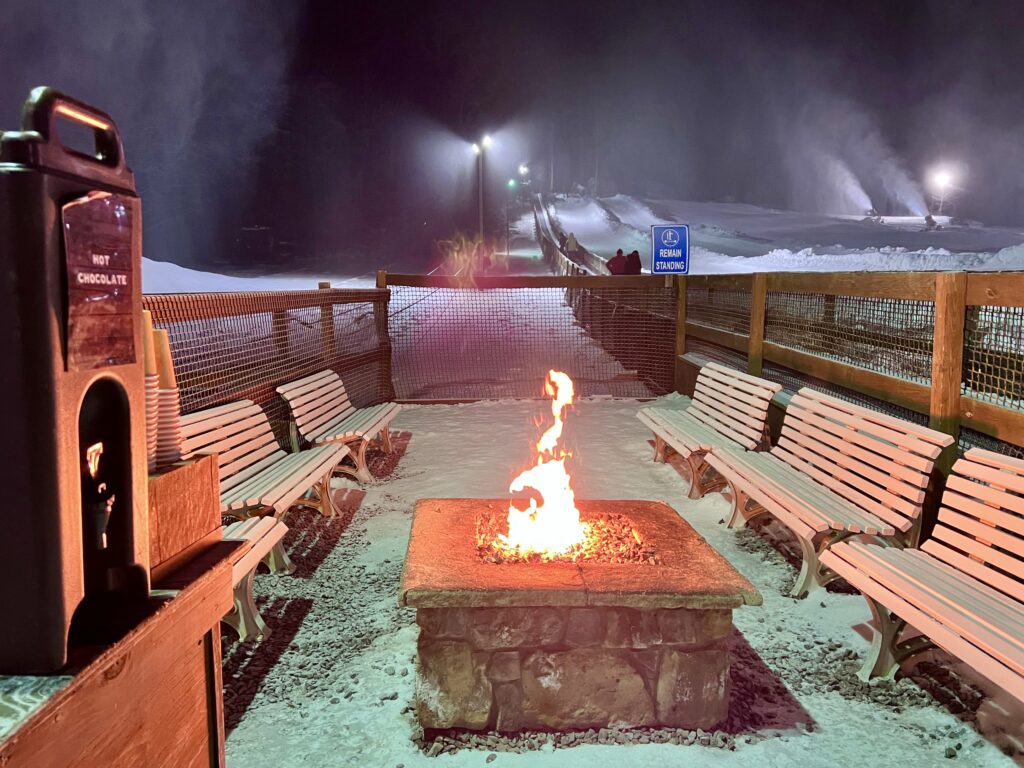 Keep warm around the fire pit and by drinking some hot chocolate available beside the magic carpet.
Rocking Horse Ranch Summer Activities
The Ranch has a lake on the property for boating and water sports. One of the most popular activities during the summer are banana boat rides on the lake. There's also outdoor water slides and mountain tubing during the warmer months.
During all seasons of the year, there are several horseback rides per day, as long as it's not icy. You must sign up for a particular horseback riding time each day. You can also ride "standby" if you do not have reservations. They provide riding helmets.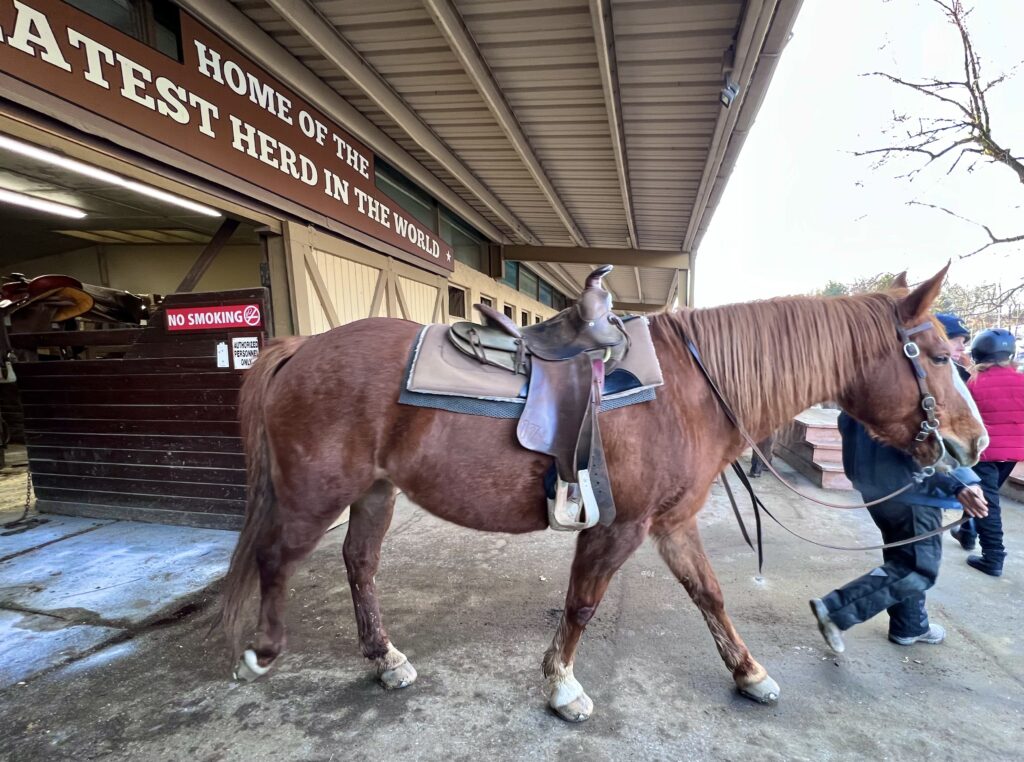 The horses are well trained, so there's not too many instructions needed. Also, staff are available on their own horses to give you any pointers or help if you need it. The ride, from start to finish, lasts around an hour. Kids must be 7 years old and over 48 inches tall to go on a horseback ride. Younger kids can go on shorter pony rides available at certain times of the day.
Indoor Activities
The Ranch has many indoor activities during all times of the year. There are two duckpin bowling lanes, ping pong tables, laser tag, a small indoor water park, and an arcade (additional cost).
There are also daily trivia games, and other activities including bingo.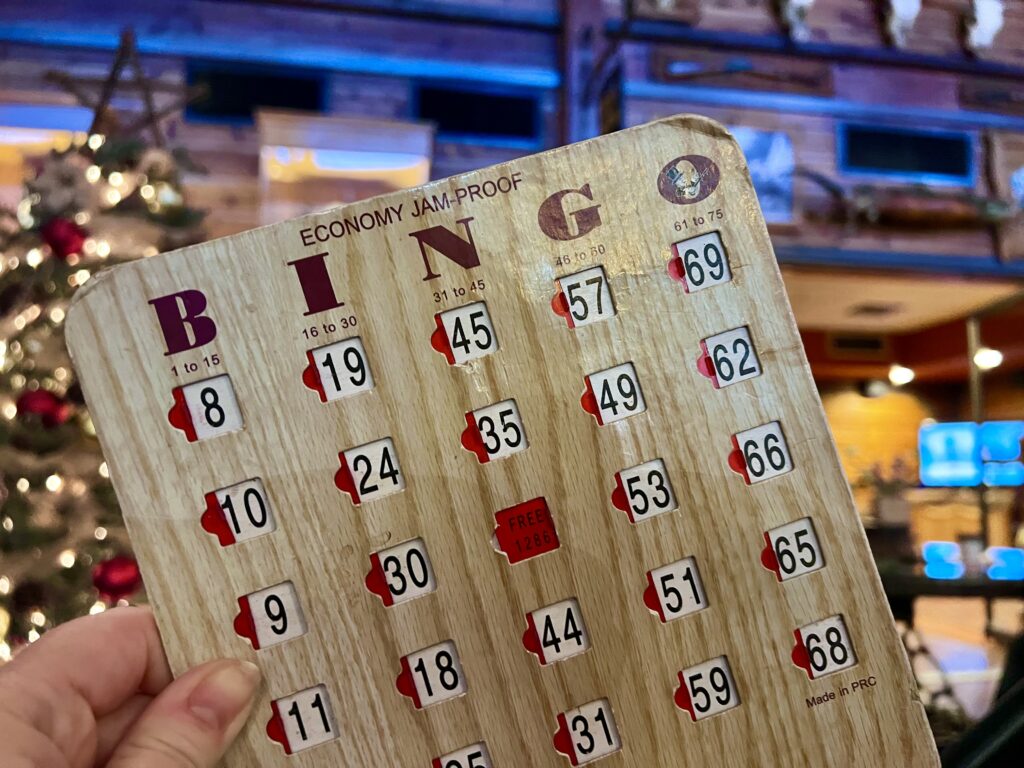 The indoor water park consists of an activity pool with baskets, beach balls and a rope walk. There's also a toddler area with two side-by-side slides.
The indoor water park also features a bigger body slide that starts inside the building, exits (it's enclosed) and then splashing down back inside the water park.
A recent addition to the indoor water park is Eldorado Springs, an indoor / outdoor, large heated pool.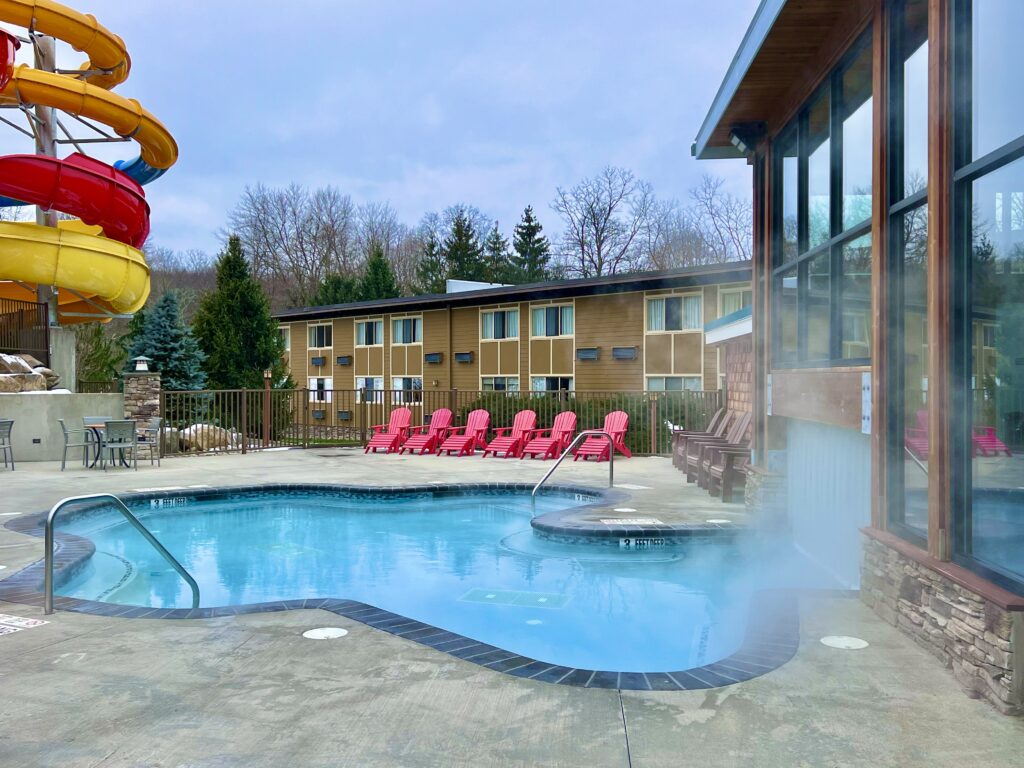 What to Pack for Rocking Horse Ranch
When visiting in any season, be sure to pack swim suits. It's easy to forgot about this, especially in the winter. Also during the winter, be sure to pack snow gear (snow pants, gloves, hats, coats, etc.) and tall socks. Socks are needed for the ski boots and ice skates. Hand warmers are also a good idea in the winter.
In the summer, be sure to pack sandals and close-toed shoes. Close-toed shoes are needed for horseback riding.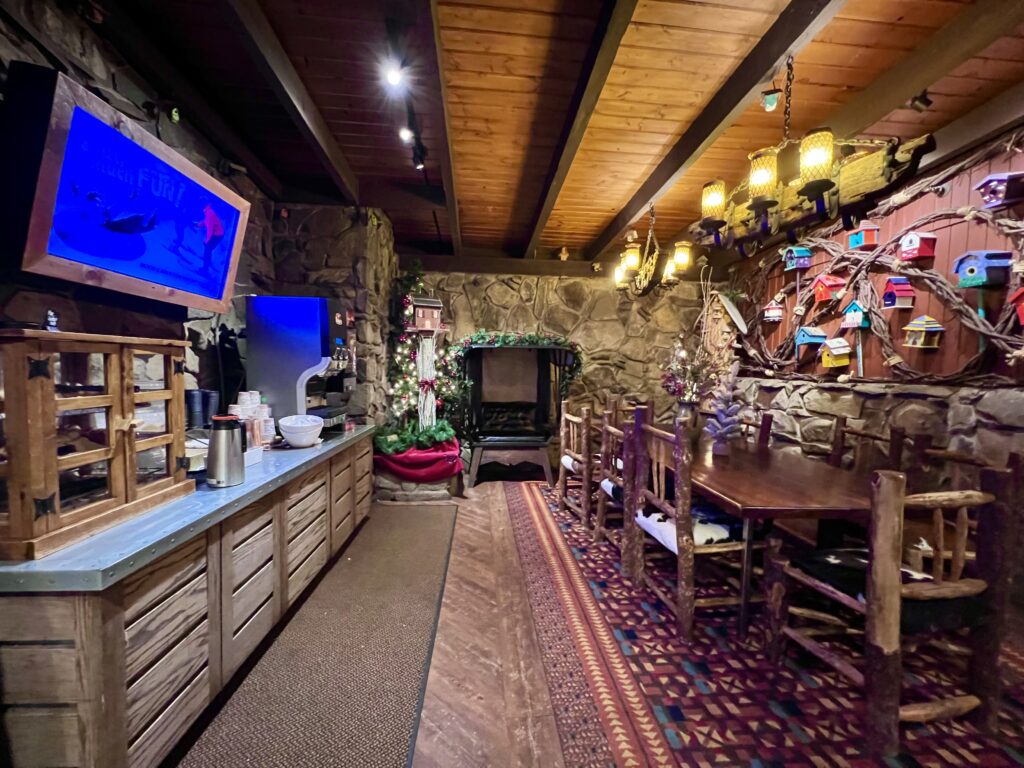 Since breakfast and lunch are buffet, and dinner has generously-plated portions, plus and there's a chef's tasting in the afternoon, bringing extra food is probably not necessary. If you have kids who like particular snacks, you may want to have them on hand. Between meal times, drinks are available, as well as a pastry or coffee cake option in a small room off the main lobby.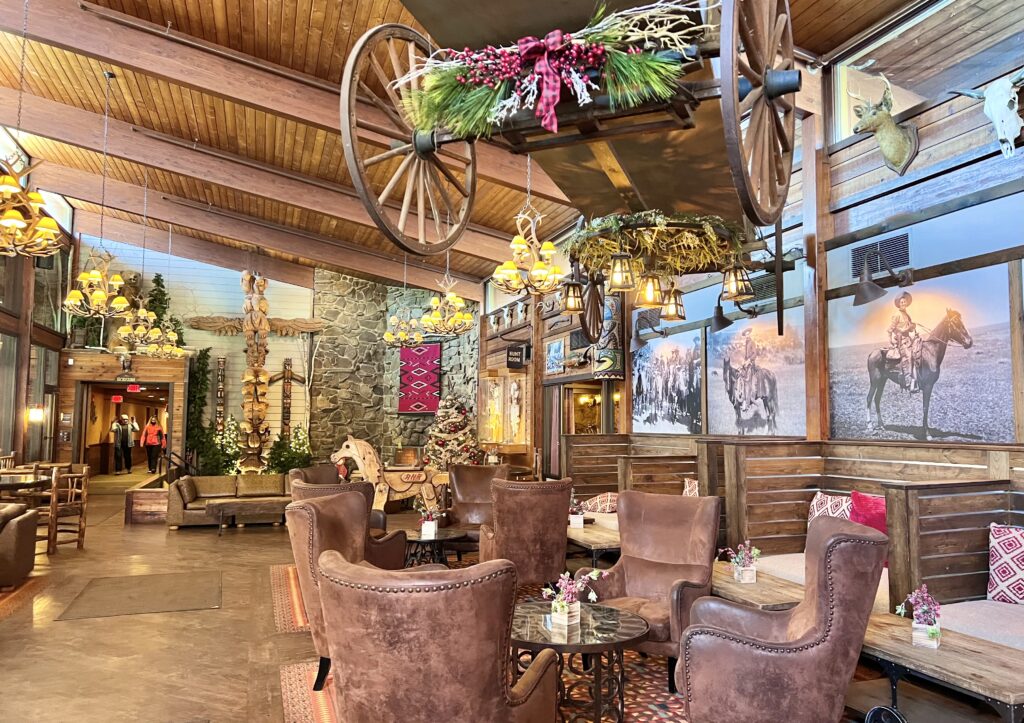 Rocking Horse Ranch Daily Schedule
The daily schedule for the Ranch becomes available at the front desk the evening before, around 6:30 PM. There are also many QR codes posted around the Ranch which link to the schedule for the day. It may be easiest to take a photo of the schedule to refer to it throughout the day.
Rocking Horse Ranch Meals
On the day of arrival, dinner is the first meal included with your stay. If you arrive early, it's possible to pay additional for lunch. However, there's also a daily chef's tasting, typically around 3 PM. If arriving in the early afternoon, the chef's tasting may be enough to keep belly's full until dinner.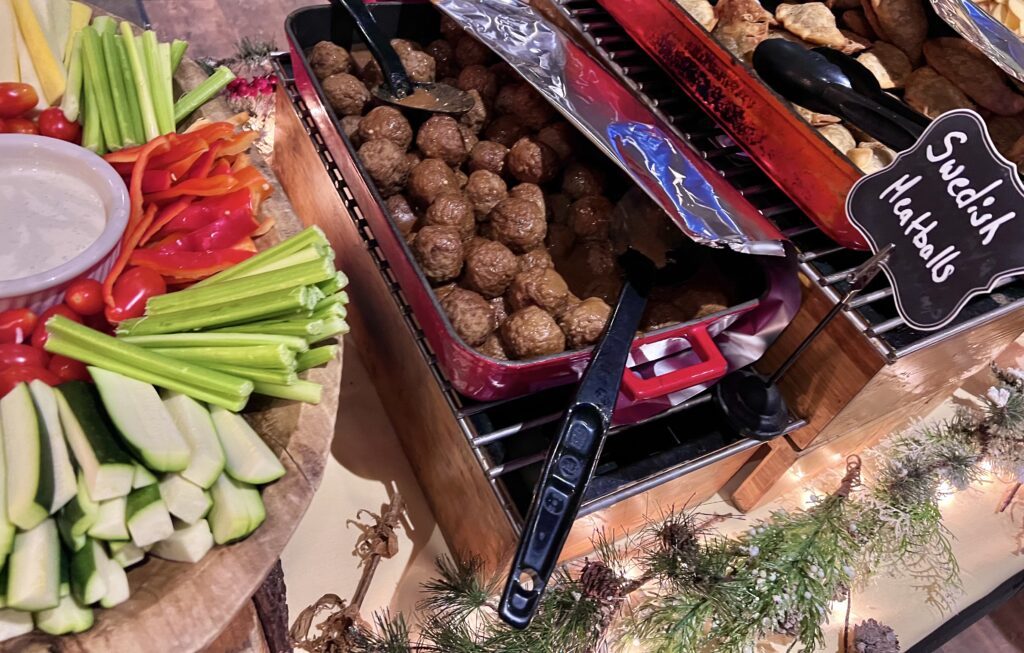 The nightly dinner is a plated meal with a menu of about five or seven dishes to choose. There's appetizers, daily soup, and salad to try as well. The plated dinner can arrive extremely fast.
Breakfast is a buffet with egg dishes available from the kitchen upon request. Drinks are available from the juice and soda machines, but hot chocolate and coffee can be ordered.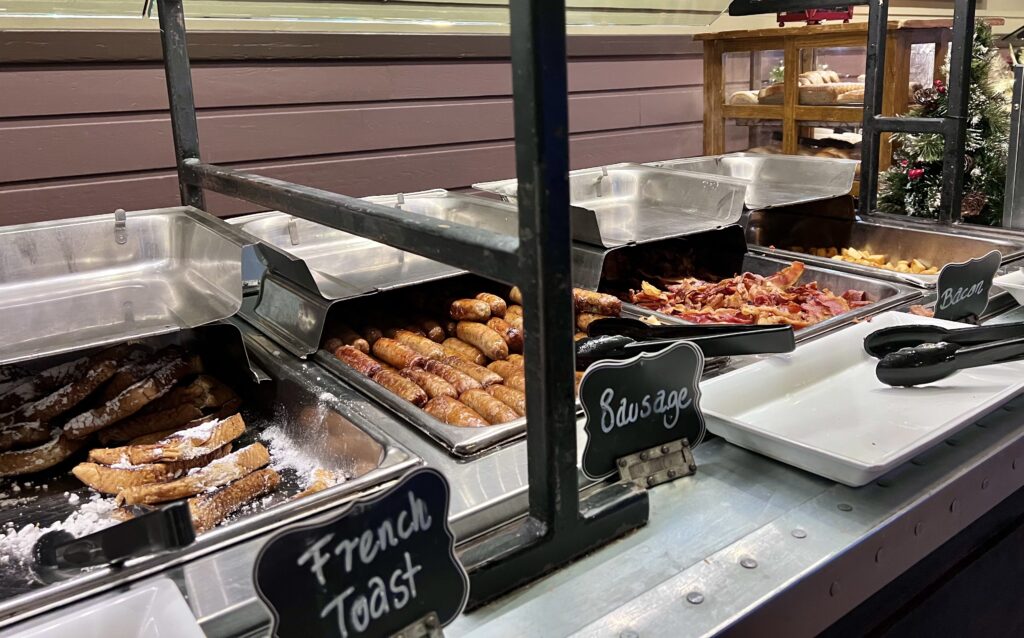 Lunch is also a buffet. There's a large salad bar, as well as kid-friendly hot foods. There's also an ice cream machine available at lunch and dinner, plus a dessert bar at dinner.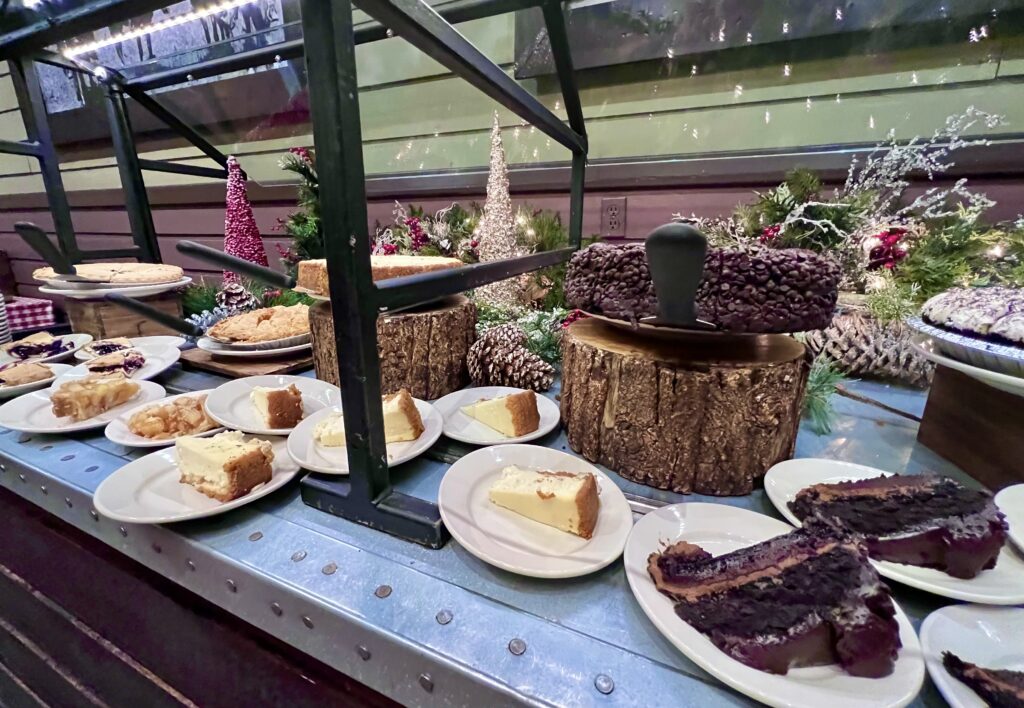 Resort Rooms
There are a few room types to choose from, as well as the ability to stay in the main building or a smaller building right beside the main building.
Tips for Visiting Rocking Horse Ranch
Dinner reservations must be made for a certain time. Be sure to strategically plan your dinner time around the late afternoon and evening activities. The nightly dinner menu can be found online, to give plenty of time to decide your choices.
Horseback riding also needs to be scheduled, unless riding standby. Sign up for your riding time in the lobby in front of the gift shop. We choose the earliest time, since it was before the ski hill opened. That way we didn't miss any of the ski time while we were horseback riding.
The ping pong tables are tucked into a corner of the lower level. Don't miss them if your family likes ping pong.
Participate in the trivia games, as Buckaroo Bucks could be won. They are good for purchasing items in the gift shop.
Looking for more things to do in New York State?
Check out this list of fun things to do in New York.