Right outside of Reading, in Wyomissing, Pennsylvania, is The Works. Housed in an old industrial plant, the building has been completely renovated into an entertainment and restaurant complex. The main reason for our visit on a mid-December Saturday afternoon was for Ballocity, which is a multi-level playset full of things to climb, slides, and ball canons (the balls are very soft). When we arrived slightly before 11:30, it had just opened. I thought it might be busy on a Saturday, but it didn't get overwhelmingly crowded while we were there. The wristbands for Ballocity are purchased on the first floor, in the game room area. Ballocity has a small toddler area for children 2 years old and under and a large section for older children. There is a staff member stationed at the entrance of Ballocity, who checked wristbands and made sure children were of the appropriate age for the toddler area. It's difficult to see into Ballocity, and therefore hard to know the exact whereabouts of your child. To help with this, there are cameras inside Ballocity that are broadcast on TVs in a lobby with tables. Also, Ballocity only has one exit, so your child would have to walk past the tables to get out of the area. Restrooms are closeby, for those last minute potty emergencies.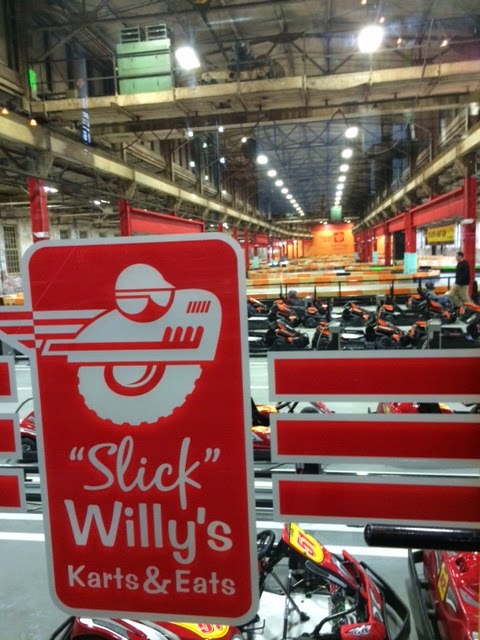 The gameroom on the first floor had a wide variety of games, some that I have never seen before. Two games that we were excited about were the four-way air hockey table and the huge connect-four game. There's even a small bowling alley and an interactive dark ride. A separate area houses go carts, called "Slick" Willy's Karts, and a snack bar. I got a small drink at the snack bar and had access to unlimited refills while we were there.
Before we left, we sneaked a peek into the restaurant, which wasn't open yet on that day. We also could not resist one of the huge cookies at the small bake shop near the main door. Next time, maybe we'll try the go carts.
Things to remember:
1. Bring socks for Ballocity.
2. Dress the kids in layers if it is cold outside, so when they get hot playing in Ballocity they can easily adjust their amount of clothing.
3. Bring a book or iPad! You might actually get a few minutes to relax while the kids play.