Sky Zone is an indoor trampoline park franchise.  They have locations in many countries and states.  Recently, two Sky Zones opened in Central Pennsylvania.  One location is in Lancaster and another, that we visited this week, is in Mechanicsburg (Harrisburg area).  I've also been to the one in Lancaster, and it looked very similar to Mechanicsburg Sky Zone.  There were just slight variation in the layout of the trampolines.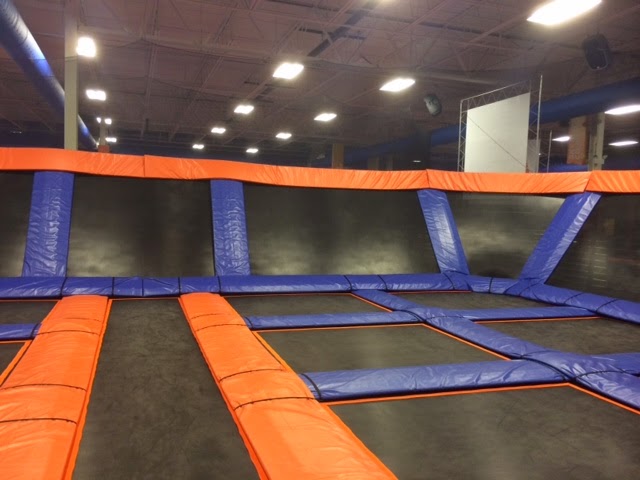 Regular Trampoline Court
We visited on a Wednesday evening.  It is possible to make reservations online, but I called that morning and was told that they usually are not busy on Wednesday evenings.  Sky Zone recently offered a GroupOn deal, and I figured the middle of the week would be the best bet to avoid the increased GroupOn crowds.  When we arrived around 6:30, it was not busy.  Waivers can be filled out online in advance, or there are several touch screen kiosks to fill it out onsite.  Take note that you need your driver's license number for the waiver.  When we visited in Lancaster I left my wallet in the car and had to go back outside to get it.  After the waiver is filled out, it's pretty simple.  The bouncers get a sticker with the time frame they've paid for printed on it.  Sky socks are included in the price and must be worn.  They are fairly nice socks with rubber on the bottom.  They have sizes from toddler to adult.
At this point we were ready to bounce.  The majority of the bouncers were on the dodge ball court, which I knew we wouldn't be visited by our 3-year-old and 10-year-old bouncers.  We started on a regular bounce court.  The Sky Zone staff member directed the kids which side to bounce on.  I am guessing that adults and older kids were kept to one side, while the smaller kids were on the other.  The kids bounced happily for about 10 minutes, until the 10-year-old left the court because she needed to rest already.  It must be a real workout!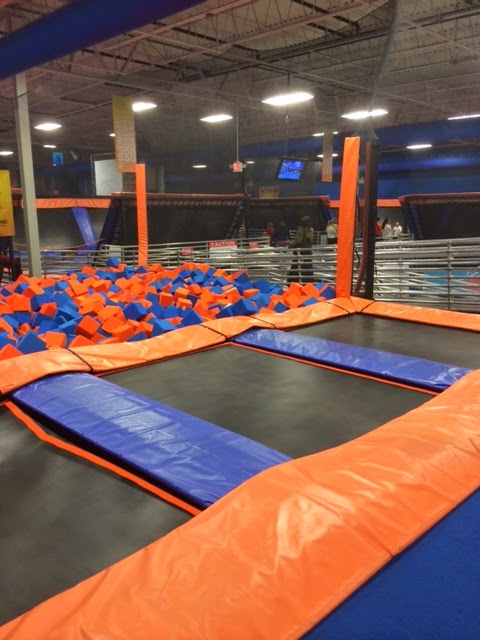 Pit Trampolines
Next, we headed over to the pits.  At the Mechanicsburg Sky Zone there are three trampolines to bounce into a pit of foam.  The kids had a lot of fun doing this, though the 3-year-old barely made it very far into the pit.  Those younger than three may need some assistance to get out of the pit.  Adults should make sure their keys and/or wallet is not in their pockets!  I can't imagine fishing it out of the pit.
Slam Dunk Court
We spent the rest of the hour going between regular bouncing, the pit, and a slam dunk basketball court.  We got some reasonably priced ($1) Popsicles at their small snack bar while the kids took a break.  There was also pizza, Icees, and soda.  One hour of bouncing was more than enough for us, as it was a very tiring activity for the kids.
Things to Remember:
1.  Fill out the waiver prior to arriving to save time.
2.  Groupons have been available in the past.  Check for one for your Sky Zone.
3.  The socks are yours to keep.  Though, we managed to lose one of each of ours…oh well.