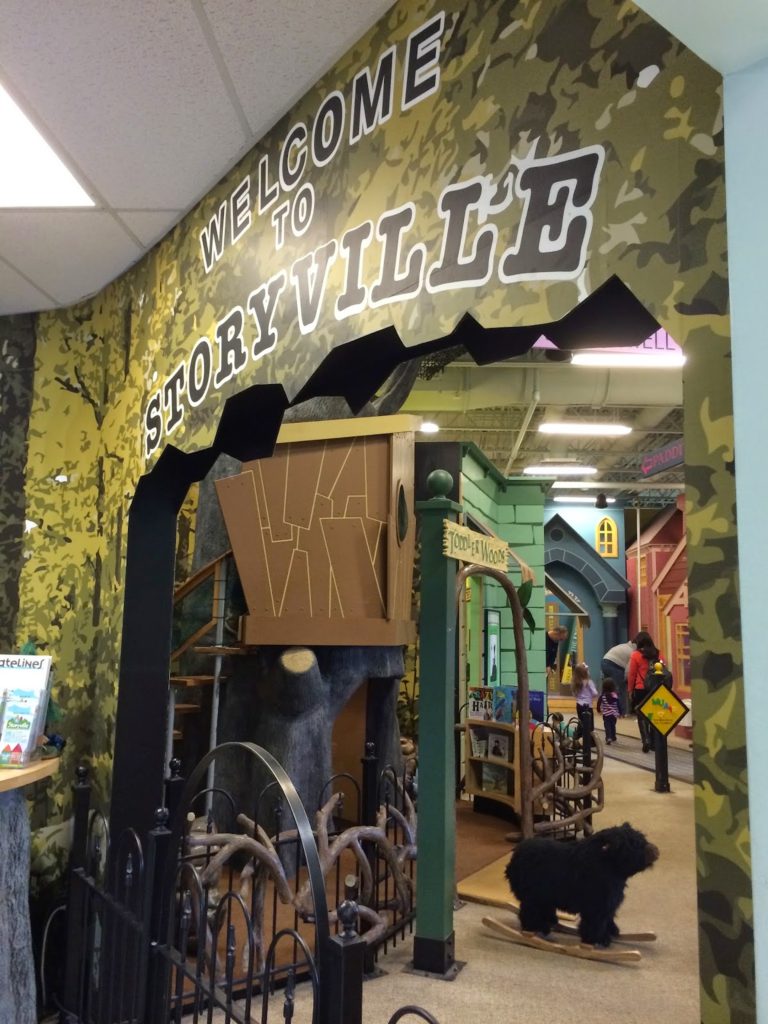 Storyville is located in the Woodlawn and Rosedale branches of the Baltimore County Public Library. It is a kid-sized village where children age five and under can interact with specially designed elements that foster early learning and literacy skills. We visited Storyville in Woodlawn on a rainy Saturday around noon.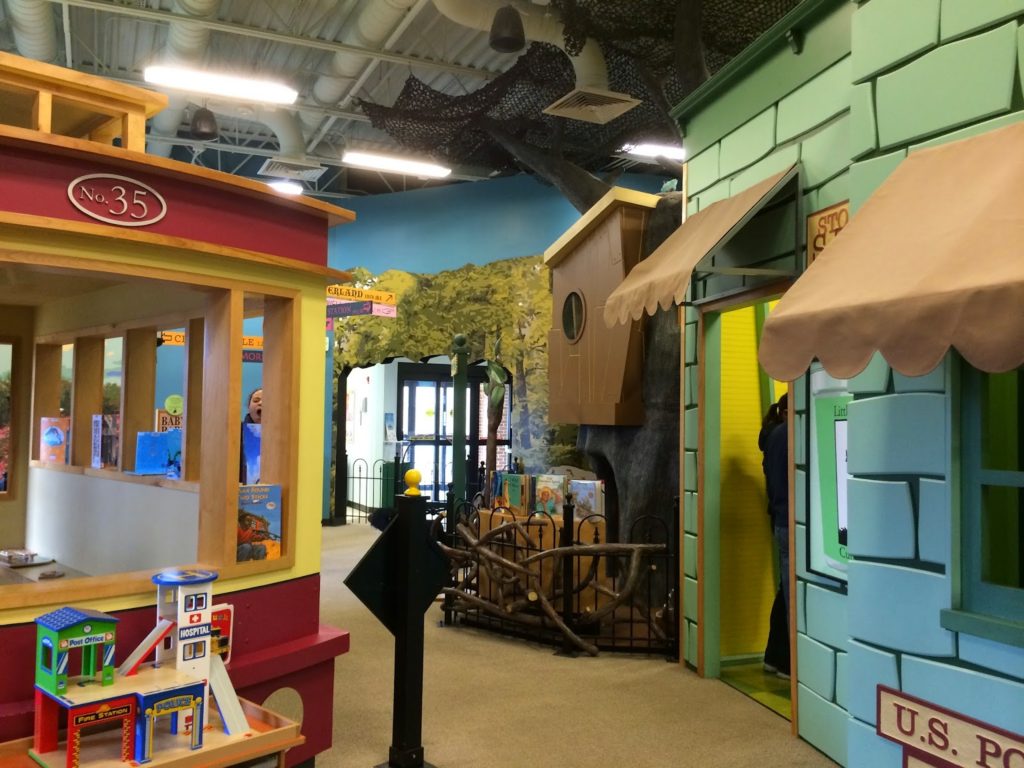 The Woodlawn branch is close to I-695 at the Security Blvd exit. The entrance to the Storyville parking lot is actually before the library when coming from I-695, so watch for a sign that says "Storyville". If you miss it and turn into the library parking lot, you can walk through the library to the entrance of Storyville, which is in the back corner of the main library area. At the entrance to the village, there are two family bathrooms, a water fountain, and an area to hang coats.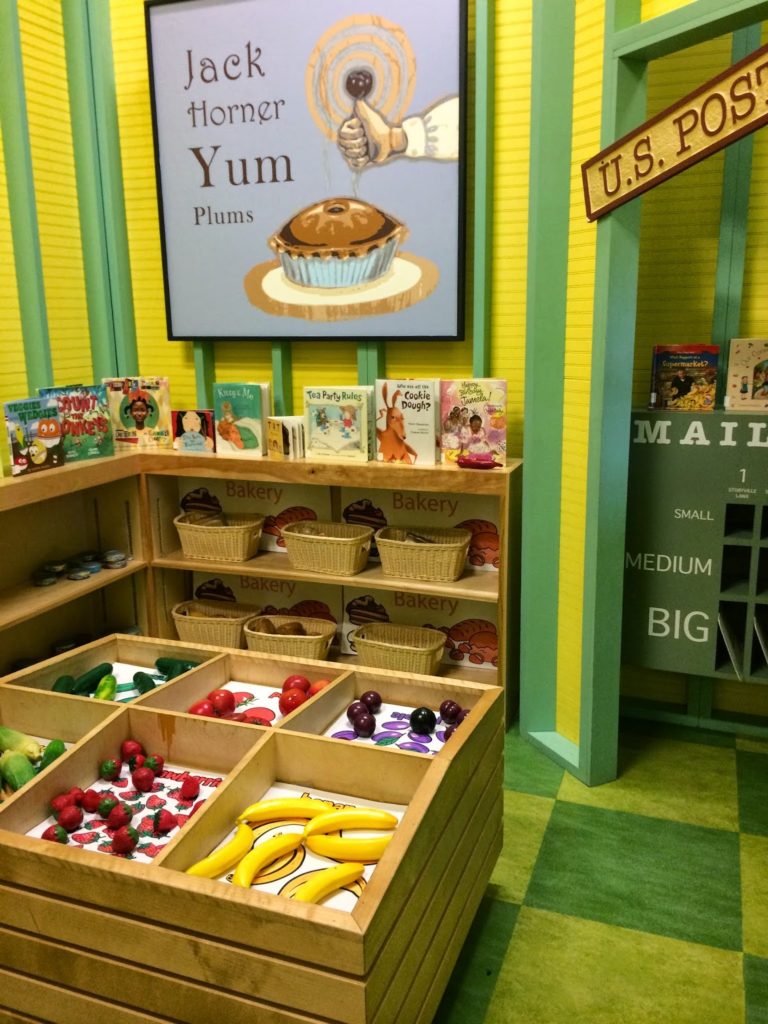 Grocery Store
At the front desk, you're asked for the first names of the people in your group, and then you are assigned one badge per group for one person to wear throughout the visit. This is to keep track of how many people are inside the village, as they do have a maximum capacity. When we entered, the 3-year-old went directly to the grocery store, which had a lot of fruits, vegetables, types of dairy, and meats to add to a basket and then check out with cash registers. We were in this area for quite some time before she went exploring the other rooms.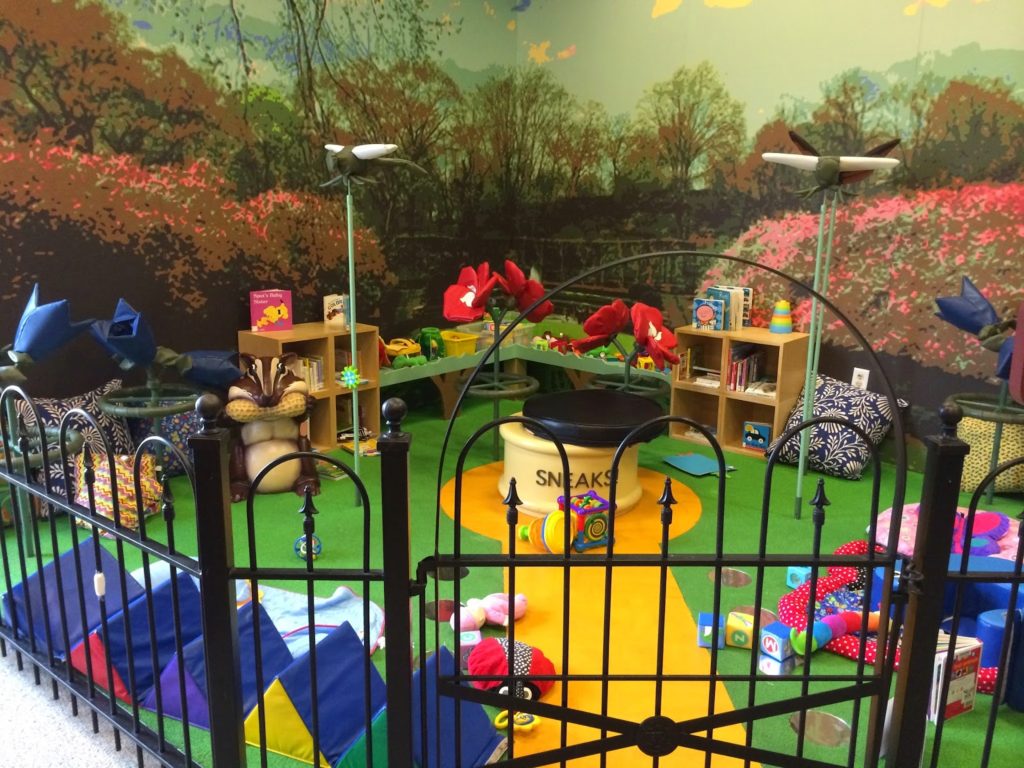 Separate Play Area for Babies
Other rooms include a dress up area with stage, post office, construction zone with Lego table, library, house with upstairs loft and kitchen, trolley, puppet show theater, and forest. There's also a separate play area for babies. The kitchen was a big hit with the 3-year-old. She loved the pretend kitchen sink, refrigerator, and all of the play bowls, cups, and food. This was the most crowded room, since all the kids seemed to enjoy it.
In the back of Storyville, there is a small, traditional library space lined with books and some comfy places to sit and read. We took notice to some backpacks along the wall in this area that were filled with books. Each backpack was for a certain topic, such as "animals" or "things that move", and they could be checked out of the library as a package to learn more about that topic.
Storyville is free of charge for children and adults, and a great place to spend an hour or two learning and playing at the same time.
Things to Remember:
1. Storyville has a maximum capacity with a wait list, so you may want to call ahead to see how busy they are on a particular day.
2. Only children 5 and under can play in Storyville, so make arrangements for older children.