York City Ice Arena is located near Bob Hoffman Memorial Park on Vander Avenue in York City. It is also across the street from the roller skating rink, Roll 'R' Way and sits beside York Catholic High School. The ice rink opened in 2001 and boasts twin NHL-sized sheets of ice, a hockey pro shop, and a second level that overlooks the ice.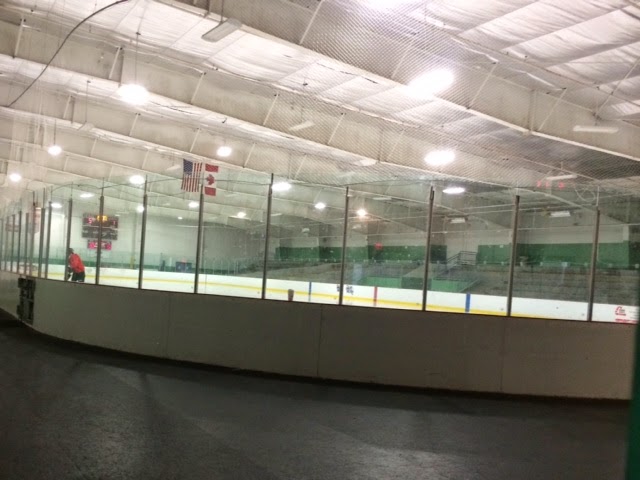 One of the two sheets of ice at York City Ice Arena
I attended an afternoon public skate session to try out ice skating with my 3-year-old. We arrived just after the 1:30 session started and quickly checked in and got our wrist bands. My daughter got rental skates and it took a good 10 minutes to get her skates on, my skates on, and her helmet on. I wanted her to try some skating without holding on to me, and I felt that a helmet would make it a much safer activity. I also took my time lacing her skates, as the tightness of her skates is important to help her balance and control.
We headed out onto the ice and made our way slowly around the perimeter, holding onto the wall. The session was well attended for a weekday afternoon, but I assume it was busier than usual since it was a school holiday. After a few slow laps, the little one got up the confidence to let go of my hand and made some of her first few glides by herself. We didn't stay much longer than that, as her pants started to get wet from falling so much. She seemed to have a good time, though, and we even got information on learn to skate lessons.
Things to remember:
1. Gloves are a great idea…especially for those who may fall often.
2. Stay to watch the Zamboni. Your child may enjoy watching this large machine resurface the ice.
3. Weekday afternoon, less crowded, sessions may be better for a new skater.
4. Lace those skates tight! That will help your child have more control on the ice.