Entrance to Kids Castle
Kids Castle is located within Central Park in Doylestown, Pennsylvania.  Doylestown is directly north of Philadephia and about two hours from the York / Harrisburg area.  Central Park is a large park with all the usual park elements: soccer fields, playgrounds, a walking trail, and pavilions.  When pulling into the parking lot, it's easy to spot the most popular feature of the park.  A short walk down a paved trail takes you to Kids Castle, a huge wooden play structure with eight stories of labyrinth-like passages.
Portions of the Kids Castle play area are undergoing renovation, but it doesn't affect the main play structure of the Castle.  We arrived around 11 AM on a cool Sunday morning.  It had rained the night before, so a lot of the steps to the Castle were wet and slippery.  We quickly realized that the passages inside were perfect for kids, but there were places that adults would have difficultly fitting.  There is a path around the perimeter of the inside that is tallest and best for adults.  Further in, there are chutes that even a 3-year-old would need to crouch down to enter.  Throughout, there is themed artwork to look at on the interior and exterior of the Castle.
One corner has a popular "elevator" which takes kids, one at a time, down to the lower level.  The other favorite feature is the three story twisted tube slides.  I even saw some adults who managed to fit themselves down the very twisted slide.  While it is easy to lose your child in the complex passages of the Castle, there is a fence around the play area, making it easier to know that your child hasn't left the immediate area of the playground.  We solved this issue by having our 3-year-old yell out a window down to us from time to time.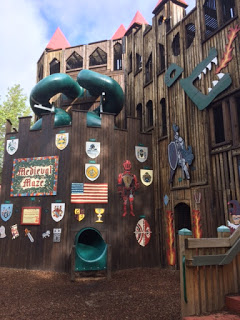 Two twist tube slides
Even though we arrived fairly early on a Sunday morning, the playground quickly became busier as it got closer to mid-day.  There is plenty of seating around the Castle, but on this particular day most of the seats were still wet from the rain.  There is not much shade, so plan accordingly if it's a hot day.  There is a water fountain nearby, but it's a few minute walk over to a pavilion that also houses the restrooms.
Overall, Kids Castle is unlike any other play structure I've seen.  While it isn't that old – built in 1997 – a project is already underway to improve it and "save" it.  More play structures, such as a pirate ship, were recently added to the grounds.
Things to Remember:
1.  If you enter the address of the park, 425 Wells Road, into your GPS, it will most likely take you into a neighborhood.  Using "Central Park" or "Doylestown Township Municipal Building" for GPS directions that will most likely lead you to the park entrance.
2.  The restrooms are a bit of a walk on the other side of the parking lot, in a pavilion near the soccer fields.  We asked our 3-year-old if she had to go often, to avoid an emergency.
3.  Since it's easy to get lost within the structure, prepare your child beforehand with where to meet you if you get separated.