Go 'N Bananas is a new family fun center in Lancaster, Pennsylvania. It is located close to Route 30, right off Dillerville Road. If coming from Route 30 on Manheim Pike, it is best to pass Dillerville Road and turn right onto Garfield Ave after Sheetz. We visited only a few days after their grand opening, on a Tuesday during the late morning.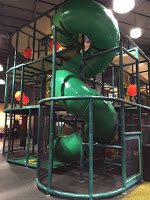 Ballocity tube slide
When arriving, you check in at the desk and purchase the activity package that fits your needs – or your child's wants! We chose the Monkey Toddler pass which includes play time in Ballocity, the Toddler Zone, and a $5 game card. The three level Ballocity structure is the first thing you see as you enter. It has two twisting tube slides that start on the third level, as well as three regular side-by-side slides for racing. There are plenty of balls to be thrown, shot out of cannons, or dumped from the large overhead bucket. To get to the higher levels, children must climb up using the angled netting. If needed, you can assist younger children, but the structure is meant for those 12 years and younger. There are cubies for shoes – make sure you bring socks!
Next, we went to the arcade area to spend our $5 game card. It looked as though most of the games were 50 cents and up. Some were as much as $2 to play. The games are all modern and very interactive. My 4-year-old played basketball, a soccer-style kicking game, skee ball, a candy pick up machine, among others. The $5 was spent pretty quickly though. The game card is also used to accumulate tickets, and we turned in our tickets for a slinky-style bracelet.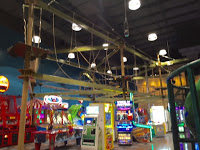 Arcade and ropes course
While we didn't take advantage of the other attractions, there are many other things to do at Go 'N
Bananas. There is laser tag, a toddler zone with soft climbing toys, two bowling lanes, spinning bumper cars, and an overhead ropes course. The overhead ropes course looks challenging and fun for those that do not have a fear of heights. In addition to these places to play, there is a cafe with Hershey's ice cream, sodas, and many other offerings. I also noticed about four birthday party rooms.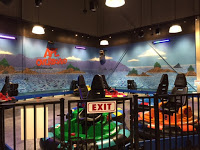 Spinning bumper cars
Things to Remember:
1. There is only one entrance / exit to Ballocity, so it is easiest to find a seat near there to keep track of your child/ren.
2. You can keep your game card and any remaining tickets on it by registering your card at the kiosk in the game area.