The KidsPlace is a special section for children 5 years and younger in the Harsco Science Center. The Science Center is part of the even larger Whitaker Center, which also boasts an IMAX theatre. The Whitaker Center is in downtown Harrisburg, with limited on street parking or you may park in the nearby Walnut Street garage. Parking on street is free on Sundays; during other parking times there is a fee, as well as a fee to park in the garage. When arriving at the Center, proceed up-stairs to the ticket desk for admission into the Science Center. There is also a small gift shop on this level.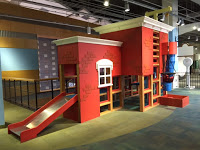 Cityscape with Slide
Immediately upon entering the Science Center there are a few kid-friendly exhibits, as well as the gated entrance for the KidsPlace. The KidsPlace contains several exhibits, perfect for the 5 and under crowd. The first exhibit is a cityscape with slide and pulley system to bring play bricks to the second level of the play structure. Across the room is a padded play area for toddlers and a play market with plenty of play food and a place for a cashier to "check-out" the groceries.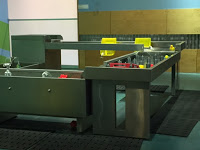 Waterworks
Next is a water works area with two baby seats for the
smallest visitors to sit in the water play area to splash around. There are water proof bibs available to help clothes stay dry. Even if the kids get a bit too wet from the water, there are hand dryers to help dry their clothes. The favorite exhibit on the day we visited seemed to be the ambulance, complete with lights and siren sounds.
After spending at least an hour in the KidsPlace, we ventured downstairs to other kid-friendly exhibits. There was a place to design your own race car with the several different sizes and shapes of cars, and then the cars can be raced down a ramp. It even tells you the speed of your car. You can also make paper airplanes and fly them using a special launchpad to see which design goes the furthest.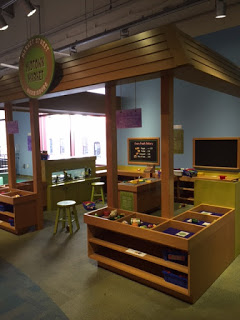 The Market in KidsPlace
The bottom floor contains the hurricane chamber, simulating wind speeds of over 100 miles per hour! This floor also houses any special exhibits that there may be at different times. When we visited, there was a Christmas tree display and several hand crank train cars for kids to ride around a track. We ended our day at the Whitaker Center by riding these trains and looking at the special Christmas light display.
Things to Remember:
1. In case your child splashes around a bit too much in the water works area, it may be a good idea to bring a change of clothes.
2. Check the Whitaker Center website for any special exhibits that may be there during your visit.
3. Go on a Sunday to take advantage of the free on street parking.