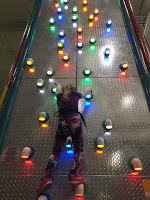 We visited Spooky Nook Sports in Manheim, PA on a Monday in the early afternoon. It was the week after Christmas, so they had special holiday extended hours for Clip 'n Climb while the kids were out of school. I called ahead to make sure that my 4 year old met the weight and age restrictions for climbing. Luckily she did, because I had already shown her photos of the climbing walls, and she was very excited. I also checked to make sure they didn't have a full session at the time we were going. It sounded like it was a popular activity for groups to do, so it can fill up at certain hours. We used the specific GPS address at the bottom of their web page to navigate to this part of central Pennsylvania that we've never been to before. The parking lot for Spooky Nook is humongous, just like the size of the building. We found a fairly close spot and entered the building.
Clip 'n Climb is immediately to your right when using the main entrance of Spooky Nook. Everyone climbing during that time checked in at the top of the hour. They then did a quick tutorial of how to clip your children and other safety instructions. It takes a few times clipping on to fully get how to twist and unlatch the clip, but it became easy quickly. Everyone spread out to find a wall that they wanted to climb, and even though our hour session was busy, we hardly ever waited for a wall.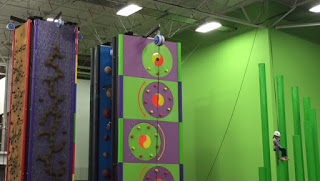 Some walls were definitely harder than others, and my four year old quickly found ones that she was particularly good at and could make it close to the top. Several walls have different ways in which they can be climbed to make them easier or more difficult depending on your climbing skills. In addition to walls, there is one climb that is several tubes, arranged like steps, that can be walked up. On this climb, a staff member must help you. My four year old tried to do the tube steps, but they were just too far apart for her to step from one to the other. I saw several older children accomplish this climb fairly easily.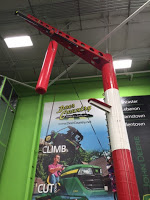 Leap of Faith
There is also what they call the "leap of faith". On this equipment, you climb up a pole and then stand on a small platform. There is a punching bag that you jump out and grab on to. They can move the bag closer if your child can not make the full leap. This one also requires special help from the staff, and it has a special cost associated with it in addition to paying by the half hour or hour for the wall climbing.
My four year old climbed for a half hour and that seemed to be plenty before her arms got tired. Older children in our group stayed for the full hour. We took a break and crossed the hall to the food court. We purchased some nachos and drinks at the snack bar and settled in to a large seating area where we could still watch the climbing. After that, we explored the rest of the building a bit. We stopped at the arcade and also watched a few sports games on the large indoor courts.
Things to Remember:
1. Call ahead to make reservations for your climbing time. Also, ask about age and weight restrictions, if you have concerns.
2. Have your child wear really comfortable clothes and shoes.
3. Make sure they visit the restroom before their climbing time. Since it's limited amount of time, you don't want to waste it in the restroom.