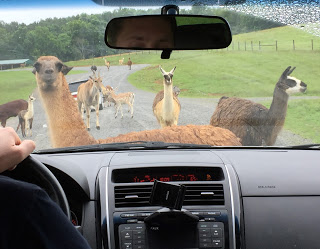 Drive-thru Safari and Animal Feeding
Virginia Safari Park is located in Natural Bridge, Virginia.  It is very close to interstate 81, and there are plenty of signs along the highway, leading to the Park.  When arriving, admission is charged as you pull in.  You can also purchase buckets of animal feed and sticks to feed the budgies at this entrance.  We had a long ride to get there, so while we were waiting in line to pay, I took the kids into the gift shop to use the restroom.  We hopped back in the car just in time to start the Safari.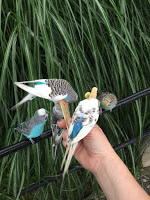 Budgies eating in the Aviary
There is an option to feed from a wagon, but we chose to go through the Safari in our own car.  This can be very messy, but full of laughs and fun!  The animals are very smart, some will stand in front of your car to get you to stop, while others will approach the windows from the side looking for food.  We arrived fairly close to opening, and the animals were very interactive and hungry.  The 4-year-old and 8-year-old kids we had along for the trip were having fun and laughing the whole time.  The animals will eat right out of the food buckets, but be careful because they can take the bucket right out of your hand.
During the Safari, we saw and fed many animals, including ostriches, llamas, deer, elk, pot-bellied pigs, and many more.  The drive-thru portion took about an hour.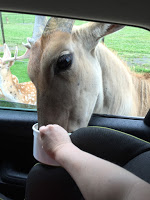 Then, we parked our car and walked through the Village.  This portion had a kangaroo pen where you could feed and pet the kangaroos, a place to feed giraffes (they ate special food) and goats, a penguin pen, and the aviary.  If you like birds, the aviary is full of colorful parakeets that land right on your arms, shoulders, hands, and anywhere they can!  They loved the feed that we brought in, and it was a very unique and fun experience.
Things to Remember:
1.  Ask for extra buckets at the cashier.  Then, use the extra buckets to put a smaller amount of feed in to offer to the animals.  They will most likely eat all that is offered and you'll run out of food quickly if you offer full buckets.
2.  Your car will need to be vacuumed after the Safari, as the animals are not neat eaters!
3.  Arrive close to opening, so the animals are hungry and active.