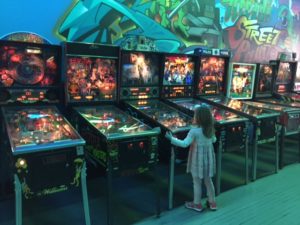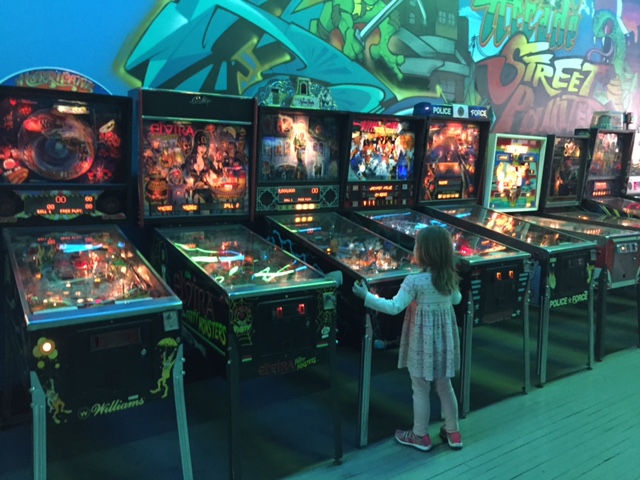 Enjoy a blast from the past when you take a trip to Timeline Arcade in York or Hanover, Pennsylvania. Filled with retro arcade games, and even home entertainment systems, Timeline Arcade is a great place to introduce your children to the games you loved as a kid. We headed to the Arcade on a warm Saturday afternoon in February with a 12 year old, 5 year old, and 1 year old in tow. The arcade is in downtown York, located along the main drag on Market Street. We found on street parking and walked around the corner to the arcade.
This arcade doesn't require tokens or quarters, it is play as much as you want and pay by the hour. After checking in at the front desk, we started playing. My 5 year old is a big fan of skeeball, so she headed directly there. My husband made a beeline for a four player Teenage Mutant Ninja Turtles game, which he declared as rare and awesome. I explored a bit and was happy to see some of my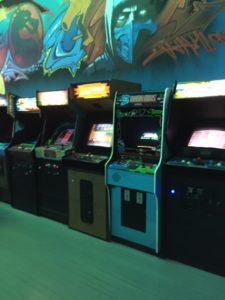 favorite classics: Pac Man, Duck Hunt, Tetris, and Galaga. There is also a long wall filled with pinball machines, which is when I realized that my 5 year old had never played one before. It took a good ten minutes to explain the pinball process to her, but she eventually got it and spent some time perfecting her use of the flippers.
After the pinball games, we headed over to a very old bowling game that my daughter really enjoyed. The bowling ball was very small, and she had an easy time rolling the ball down the lane. Before we left, I also made sure the kids got a chance to play Mario Brothers on the Super NES, since we don't have that system at home, and I wanted them to get a taste of what I spent so much time playing as a kid. After leaving, we visited some other great shops in downtown York, including a BBQ restaurant and soap company.
Things to Remember:
There are two parking garages within walking distance if you can't find on street parking. On street parking is free after 3 PM on Saturdays.
If you're bringing a baby or toddler you may want to wear them so your hands are free to game.
Food isn't available onsite, but there are places to eat across the street.