I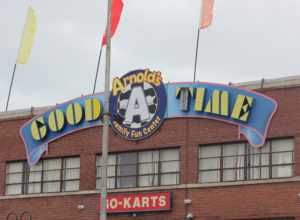 f the weather isn't cooperating in one way or another (snow, heat, rain, etc.), Arnold's Family Fun Center has you covered.  Literally, it has an amusement park under a roof.  It is in a building, safe from the elements.  When we visited, it was a particularly cold winter day.  We hoped to get our fix for an amusement park before the outdoor ones opened for the Spring.  We made the trip via the turnpike and after taking some back roads, we arrived at Arnold's large building.  Even from the outside, I didn't appreciate how big the building was until we walked inside.
Arnold's has several different packages of games and activities.  It depends on how long you want to play and how much you want to do.  There is an unlimited package to play all day, and there's other packages that scale down to one turn on most rides and 1,000 points in game credit (equivalent to $10).  We chose to do the smaller package, and got one ride on the kiddie go karts, one ride on the frog hopper, one carousel ride, unlimited bounce house play, and 1,000 game credits.  We immediately headed to the go karts, because that's my oldest daughter's favorite activity.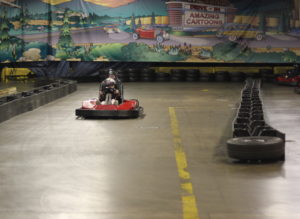 There are three sets of go karts (I told you the building was big).  There are small karts for the 3 to 6 year old crowd, then bigger ones for 6 to 11 years old.  For adults, there is a go kart track that was very large for an indoor track and had several turns.  My daughter loved the go karts for her age, and they went fairly fast while still feeling safe.  Next, we played a few arcade games.  These aren't just the small stand up machines, these arcade games are the largest I have ever seen.  There's a crazy air hockey game, one of those large connect four games, tons of large pick up machines, and many, many more.  Toward the back, the games become more geared toward the younger crowd.  They are more simple and have some of the ride-on machines.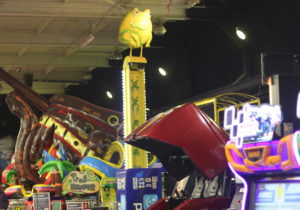 After games, we did bounce houses and then the frog hopper.  The bounce houses were big, and a bit different than the ones I typically see.  Finally, my daughter took a ride on the carousel to round out her package's activities.  We explored the rest of the building a bit, as there is also bowling, bumper cars. krazy kars, black-light mini golf, and two laser tag arenas.  Before we left, we checked out the cafe where they serve grab and go food, in addition to the cafe, there's also a sit down restaurant on premises.  So much to do under one roof!
Things to remember:
 Where socks if your kids want to use the bounce houses.
 Purchase activity packages for the best savings.
 Watch the height requirements for the rides and go karts, so you purchase the right package for your kids.