Friendship Center is becoming Friendship YMCA and slated to reopen in January 2021. Check their website for details about their reopening.
We were looking f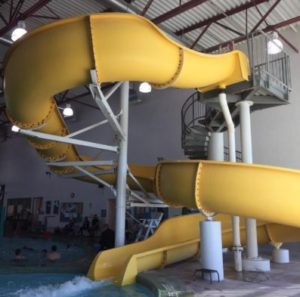 or some water-fun, so I was happy to find that the Friendship Center in Lower Paxton Township has a water slide and some water play elements.  We headed north on 83 to Harrisburg, and easily found the Center which is located a few miles from the highway.  We paid the daily guest fee to enter for two adults and one child.  They did not charge for our one-year-old to enter.  There's also an option to get a membership, if you plan to be a frequent visitor of the Friendship Center.  All of the membership and day pass options may change as they become Friendship YMCA.  Check their website for details.
We chose to use their family locker room, as we usually take advantage of these when they are available.  There are lockers available in the family locker room with keys can be borrowed from the front desk.  You must leave some sort of collateral at the desk, so we left our car keys in exchange for the locker key.  The family locker room has a set of changing rooms and showers, as well as one bathroom.  It was a decent size, but using the regular men's and women's locker rooms may have been a roomier choice.  We quickly changed and headed to the pool.
There are two pools and a hot tub.  One pool has lap lanes and the other is a warm water pool geared toward kids.  The warm water pool also contains the big water slide.  There were swimming lessons in progress when we first arrived, so the slide was not in use.  After a few minutes, the swimming lessons ended and the lifeguards opened the water slide.  I did not see a height requirement for the slide.  The water is about 3-4 fee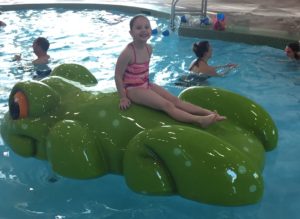 t deep at the exit of the slide, so you would need to be able to swim a few feet to the ladder.  The pool also has a few water sprayers, a zero depth entry area, and a smaller frog slide.
We played in the pool for almost two hours before my five-year-old got tired.  The one-year-old cycled between sitting on the bench with me and playing in the warm water pool.  My five-year-old gave the lap pool a try and swam some laps with my husband.  There's plenty of seating around the pool, as well as some tables and benches.  I even spotted a few lounge chairs by a set of windows.
We were just there for swimming, but with the daily guest pass, there are other gym activities that we could have taken advantage of.  We headed home with two tired kids, who had some water fun to hold them over until we can enjoy the pools outside.