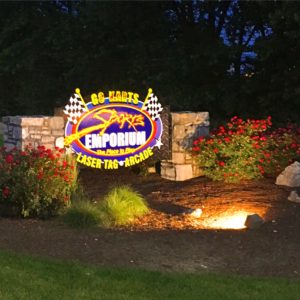 Sponsored Post – Cumberland Valley Visitors Bureau sponsored our trip to Carlisle Sports Emporium.  All opinions are my own.
Carlisle Sports Emporium is located close to Interstate 81 in Carlisle, Pennsylvania.  We visited on a weekend evening in the summer during our weekend trip to the Cumberland Valley.  The Sports Emporium is a large complex that includes a huge arcade, three Go-Kart tracks, roller rink, batting cages, laser tag, rock climbing wall, mini golf, and a laser maze.  There are several packages to choose from that bundle the activities into a one price offer.  Usually the packages also include a game card loaded with a particular amount.  We decided to have my five-year-old try the rookie Go Karts.  Then, she also raced on the fast outdoor track as a passenger.  We also loaded a game card, because the arcade games looked like a lot of fun.
We played in the arcade first, and my daughter enjoyed the wide range of games they had to offer.  There was even a giant pick-up machine.  We didn't play it, but it was really fun to watch other families play.  I played a few rounds of ski ball, while the kids settled in on a pick up machine that had rolls of tickets in it.  My daughter had a lot of luck at this machine.  She won hundreds of tickets that were loaded onto her game card.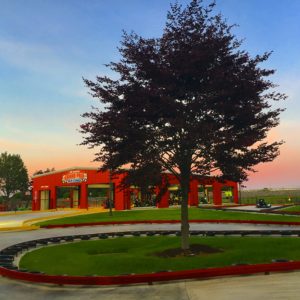 Next, we headed to the Go Karts, as this is one of the few places we've been to that allow younger kids to race a smaller version of a Go Kart.  My five-year-old loved it and was able to easily drive the car around the track.  After this experience, she wanted to go even faster, so we headed outside to the Grand Prix track.  My husband drove, and she was the passenger.  The track looked curvy and fun, and they had a great time.
After our Go Kart and arcade experience, it was getting cooler outside.  We decided to check out the mini golf course which was quite impressive.  There were very large structures on the course, as well as a nice water feature running through it.  It was getting close to dusk, and there was also some nice lighting on the course.  I made a note to visit this mini golf course again, once my kids were old enough to trust them with a putter.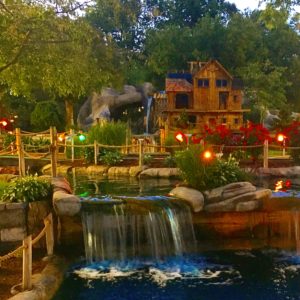 We headed inside to turn in our tickets.  My daughter got a few toys to take home from her tickets she won at the arcade.  While she was picking toys I noticed that the snack bar had a ton of different flavors of Slush Puppies.  This icy drink reminds me of my childhood, and I can't help but get one every time I see it.  The snack bar staff even let my daughter mix a bunch of flavors for hers, since she wanted to experiment.  We each chose a slushie for the drive back to our resort for the evening.
Sponsored Post – Cumberland Valley Visitors Bureau sponsored our trip to Carlisle Sports Emporium.  All opinions are my own.