Sponsored post – Kennywood hosted us in exchange for this blog post. All opinions are my own.
Special Kennywood ticket discount for my blog readers at the end of this post!
On a beautiful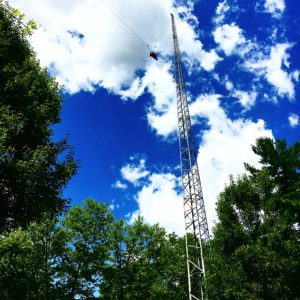 Sunday morning, we headed to Kennywood, an amusement park right outside of Pittsburgh, Pennsylvania. We pulled into the parking lot early, and easily got a parking space by the front gate. You can choose from preferred parking for $7 or free parking in an upper lot that is accessed by escalator. There's even a chairlift to get to a further away parking lot, but it wasn't operational the day we visited.
We got to the gate right in time for opening, and explored the park a bit as the rides open a half hour after the gates. Our first ride of the day was the Kangaroo. It's my five-year-old daughter's favorite ride in the park. It's a simple flat circular ride that hops of a ledge like a kangaroo once each time around the circle. It has some nice airtime, and my daughter erupts in giggles at each hop. Our next ride was another popular classic, the Jack Rabbit coaster. Built in 1921, it has a unique layout and is a great starter coaster for kids.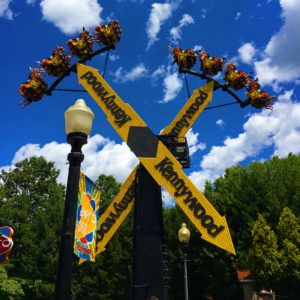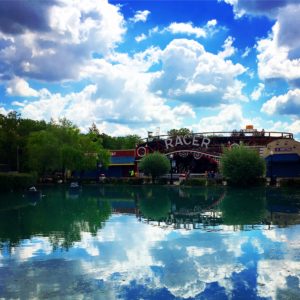 Next up was the Sky Coaster. There is an additional charge for this sky-high ride, and an appointment can be made so there is no waiting in line. My brave five year old loves Sky Coasters, but has never been on the one at Kennywood, which over their beautiful lake. We learned after she rode it that it was 30 feet higher than the one she rode at another park. She loved it, and is still talking about it days later.
Next, we took my daughter to get her face painted, as she saw many other kids in the park with their faces painted and they looked so good! "Life's a Beach" does face art, hair wraps, glitter tattoos, and henna tattoos at the park. Their artists are extremely talented. It was an easy choice to go with Wonder Woman for my daughter's face paint, and she loved it. If the paint gets a little messed up through the day, they even touch it for you!
Another thrill ride rounded out our morning, Aero, and then we headed for some Potato Patch fries and chicken tenders. Kennywood is known for their fries! After lunch, we went to the larger coasters to switch off riding while one kid rested and the other napped on her stroller. A great mix of coasters, we did Thunderbolt (another classic), Sky Rocket (launch coaster), Phantom's Revenge (tall and fast), Racer (a side-by-side racing coaster) and Exterminator (indoor spinning wild mouse with a great theme). The only one of these coaster's my five-year-old was tall enough to ride was Exterminator. The dark ride was a bit scary for her, and for me! I think we'll wait a few years until she gets on that one again.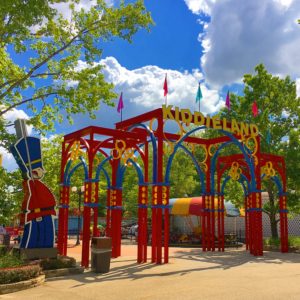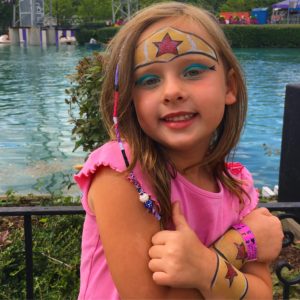 We headed toward the tunnel to leave, but played a few games on the way out. The restrooms outside the gates were closed on the day that we were there, so be sure to stop before exiting the park. Since we parked close to the gate it was an easy walk to our car, and we had two exhausted kids who went right to sleep for the ride home!
Sponsored post – Kennywood hosted us in exchange for this blog post. All opinions are my own.
Special discount to my blog readers from Kennywood!
Link to purchase tickets: https://www.kennywood.com/summerblogreader18/?promocode=BeenThereDoneThat18