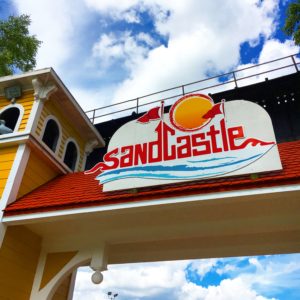 Sponsored post – Sandcastle hosted us in exchange for this blog post.  All opinions are my own.
Special Sandcastle ticket discount for my blog readers at the end of this post!
Sandcastle is a water park located next to the new water front area in Pittsburgh.  We picked a beautiful day at the end of June for our visit.  It was our first visit to Sandcastle, and we easily found the park.  We went through the gate on the end where Wet Willies Water Works is located.  Later, we realized the main entrance was on the other side of the park, but we were happy we parked where we did, because that is where we spent the most time.
We quickly changed into our swim suits and started playing in Wet Willies Water Works.  The pool around Wet Willies had a sloped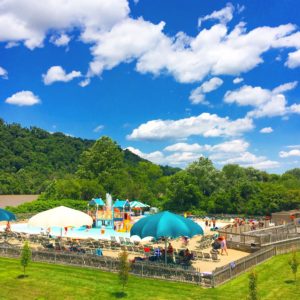 entrance, and we could walk around around it without going over my 18-month-olds head.  My five-year-old enjoyed the tunnel and twist slides, while my younger daughter splashed around.  We stayed there for quite a while, but were drawn away by my husband's promise to try out the tallest slide in the park, Lightning Express.  Lightning Express is a 6-foot high tower with three slides.  Two of the slides have a bit more of a gentle slope, while the middle yellow slide is an 85-foot free fall slide.  My husband was brave enough to try it, and he said it was quite a thrill!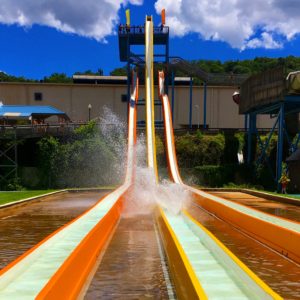 After we watched him slide, we explored the rest of the park a bit.  The large water slides require children to be at least 48″ barefoot, and neither of my kids qualified for that.  My husband and I took turns trying out the slides.  The Tubers Tower slide was fun, fast, and my husband really enjoyed the Boardwalk Blaster (a unique short slide with a free fall at the end).  Once we were finished with the slides we took a break in the lazy river.  My youngest daughter settled into a tube with me, and it was a very relaxing ride!   The lazy river weaved throughout the park, and my daughter sat still on a tube for the entire trip!  Went we exited the river, we  headed to the Mushroom pool and swam there for quite some time.  By this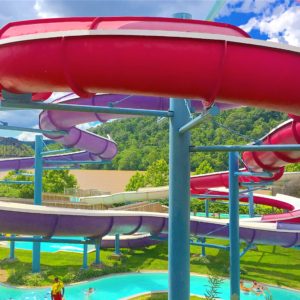 time my daughter was getting a bit tired, so we decided to end our day.  We walked by the wave pool on the way out, and it looked really nice with large waves.  My husband was nice enough to go get our car and move it to the main entrance, so we didn't have to take the kids back through the park.
Keep in mind that Sandcastle has plenty of food options, including Chick-Fil-A and Pizza Hut!  Lots of people had spread out on the grass and w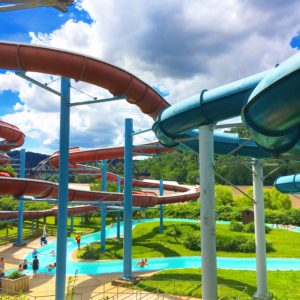 ere picnicking while taking a break from swimming.  It was nice that there was plenty of grass, as well as lounge chairs to relax.
Things to Remember:
 Think about strategy for which side of Sandcastle you will park on.  Will you spend more time in the wave pool?  Go to the main entrance.  Have little kids that love Wet Willie's water works?  Park on the other side.
Bring flip flops or water shoes for walking on the side walks on hot days.
Remember that the major slides require children to be 48″ barefoot.  My daughter is almost 48″ in shoes, but not close at all barefoot.  We told her before we entered the park, so she knew what she could expect to be able to ride.
Sponsored post – Sandcastle hosted us in exchange for this blog post.  All opinions are my own.
Special discount to my blog readers from Sandcastle!
Link to purchase tickets: Click here
Promocode: BeenThereDoneThatSBlog17