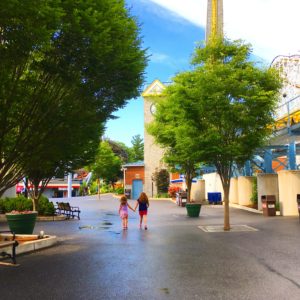 This is my plan, and I've followed it during many visits this summer.  It takes advantage of the 9 AM Sweet Start for season pass holders and guests of an official Hersheypark resort during the summer season.  Those entering at 10 AM can also follow this plan, though some additional waits may be expected.  Hope you enjoy your day, and this helps you get more rides in less time!
Enter the park as soon as gates open and immediately take the path on your right at the stroller rental.  Follow path as it comes out in The Hollow beside the Skyrush queue.
In the Hollow, ride Comet, Looper, Skyrush, and Wave Swinger, as desired if during Sweet Start.  If it is after 10 AM, ride each once and proceed to step 4.
Walk up the hill beside Comet to ride Reese's Extreme Cup Challenge and Fender Bender while waiting for the gate to open at 10 AM for entry into the rest of the park.
After park opens at 10 AM, immediately ride Fahrenheit and / or Laff Trakk
From Laff Trakk, walk across the path to the changing areas beside the water slides.  Prepare for the water park in the changing area and then ride the water slides (Breaker's Edge, Whitecap Racer, Hydro, Pipeline, etc) then go to East Coast Waterworks (purple slide first if desired), then other water park attractions including Tidal Force, Wave Pool, and Lazy River.
Eat lunch in water park while drying off (Decades, Dispatch Pizza)
Change back into dry clothes and work from the back of the park, forward by riding Lightening Racer, Wild Mouse, and Wild Cat.
Continue walking back through the park riding Sidewinder, Storm Runner, Trailblazer, then then walk up the hill to enter Kissing Tower Hill.
Experience Kissing Tower Hill by riding the Triple Towers, Kissing Tower, Coal Cracker, and Antique Cars (the antique car line moves rather slow, so skip it if the line is long).
Kissing Tower Hill is also a nice area to take a break in the arcade or play some games (season pass BOGO game vouchers available at the Guest Services building in Kissing Tower Hill).
If interested in visiting ZooAmerica, the entrance is in this area.
Walk back to The Hollow to exit the park.  If your party wants to stay longer, walk through Founder's Circle on your way out, riding the Carousel and Starship America.  If you're ready to leave, take the path by Skyrush to the park gates.
Go to Chocolate World and end your day with the Factory Tour Ride and some ice cream.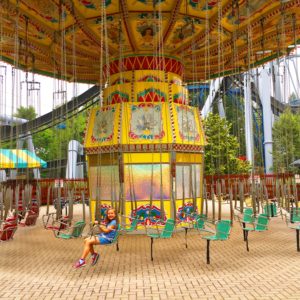 I hope you have a Hersheypark Happy day!