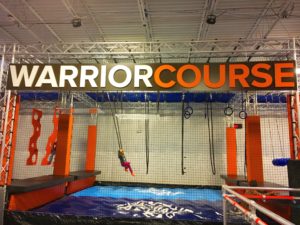 Sky Zone is an indoor trampoline park with locations across the country and the world.  We visited the Sky Zone, this Timonium trampoline park on a weekend during the holiday season.  It's easy to find, just one block off York Road.  We purchased a Groupon for our visit, which included two, one-hour jump sessions.  We handed in our Groupon at the front desk and received stickers for the kids to wear with jump time on it.
Next, we headed to the trampoline area, which was separated by the age of the jumper.  For the smallest toddlers, there was a netting between them.  After jumping for a bit, the kids headed to the Warrior Course.  There were two courses to use, one was obviously easier than the other.  The children lined up at the easy one, and if they fell onto the soft matting below, they'd just walk to the next area continue the course.  In addition to this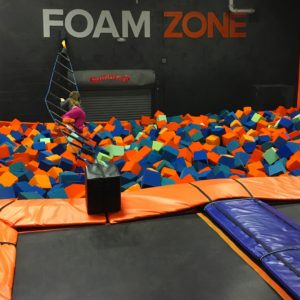 challenge, there are two different size warped walls.  If you make it to the top, you can slide down a fireman's pole.  There's also a ladder over a foam pit.  My daughter loved both of these.  The ladder reminded her of the games at amusement parks that require you to climb a ladder to win a prize.
Other areas of this Sky Zone included Dodgeball courts (two, grouped by age), basketball dunk courts, and a foam jump pit.  After playing for our one hour sessions, we enjoyed some slushies and popcorn from the snack bar.  One hour of jumping really helps with releasing some of that unlimited energy of childhood!
Things to Remember:
Bring your Sky Socks if this isn't your first time jumping.
Wear comfortable clothes to jump.
Sky Zones typically offer toddler times for jumping just with the little ones!