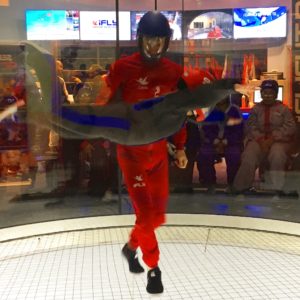 iFly is located in the White Marsh area near Baltimore, not far from I-695.  We often notice the unique iFly buildings as we're traveling along the highway near Baltimore and Philadelphia (there's also a location in King of Prussia).  It's been on our list to try for a while, so we were excited to try it.  When we arrived on a late Saturday afternoon, it was quite busy.  Flight times are booked in advance.  While they were letting a few people be added to already booked parties, their schedule usually fills especially on weekends.  Before booking, make sure you qualify to fly by checking out the requirements on their website.
We decided on Wednesday to take our six-year-old daughter to fly that weekend.  I checked the schedule that day, and there were only about three flight times still available for Saturday.  Be sure to book far in advance, especially if there is a certain time you want to fly.  Our arrival time was 4pm.  We got there around 3:50pm.  The training class for our flight group didn't start until 4:30pm.  In the meantime, we watched a group fly, took photos, and looked at their merchandise.  At 4:30pm, an instructor called those with 4 PM flight times into the classroom.  The classroom is small, but several non-flying parents were able to fit in among the 12 flyers.
There was a half hour for instruction and to suit up.  We watched a short instructional video.  Then the instructor reiterated the important points and reviewed the hand signals that they would use.  It's very loud inside the flight chamber.  This makes hand signals were important to communicate proper body position.  After everyone felt comfortable with the information, we headed out to the main area to put on the jumpsuits, goggles, and helmets.   I paid additional for my daughter to use a full-face helmet instead of the regular helmet and goggles.  I thought it would be more comfortable for her than air hitting her face, plus she had a very loose tooth that I was seriously concerned would fall out if high winds hit it!
Before flying, ensure that your shoes are tightly laced and you take your jewelry off.  There are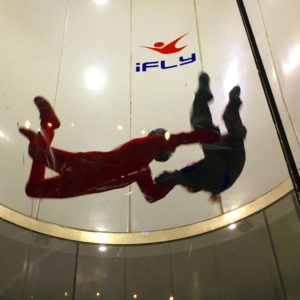 lockers available for your valuables.  If everyone in your party is flying and not able to hold items for you.  During our flight time, one person's shoe did come off in the flight chamber.  It disappeared into the top of the chamber.  At the end of the flight they turned the wind off.  The shoe came back down with no problems or damage!
The flyers line up and sit on a bench on the outside of the tunnel, and go in one at a time to fly for a minute.  Each flyer gets to do this twice.  If you pay additional for a higher flight, they take the flyer high (maybe 20-25 feet higher) during the second flight.  For both low and high flights, an instructor is with you the entire time inside the tunnel.  They help the flyer stay in position.  If you're doing well and flying steady, they let you go.  If you're body position isn't exactly correct, they keep hold of you to make sure you are safe.
iFly can provide photos and video of your flight.  I was able to stand right in front of the flight chamber and get photos and video.  The only issue is that there is a bit of a glare in the photos since it's through very thick glass.  My daughter loved the flights.  She wasn't as steady flying as the adults and older children, but she was definitely able to get the full experience.
Things to Remember:
Book way in advance!  Times fill up fast, so if you're thinking about it, book sooner than later.
Leave any jewelry at home and wear shoes that are very tight on your feet.
Relax and enjoy the flight.  Some people were nervous at first, but as the flight continued they relaxed and started smiling!
Make sure you meet the age and health requirements to fly before you go!
Plan to be there for at least an hour and a half for the full experience.