Sponsored post – I-Drive 360 hosted us.  All opinions are my own.
I-Drive 360 is an entertainment complex along International Drive (hence, I-Drive) in Orlando, Florida.  It is in the midst of the many family-friendly attractions in Orlando, making it a convenient attraction to add to your itinerary when visiting the area during your Florida vacation.  We arrived at I-Drive 360 on a Thursday morning and spent almost six hours enjoying all of the interesting and varied attractions.  My favorite part about I-Drive 360 was that my six-year-old daughter was actually learning while having fun.  Every place we visited had educational value to it, even though our day still felt totally focused on fun.
We visited the following four main attractions at I-Drive 360, but there is so much more to do.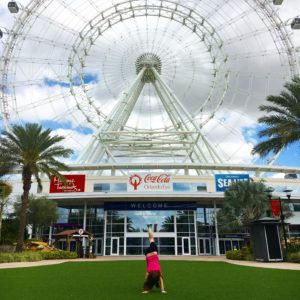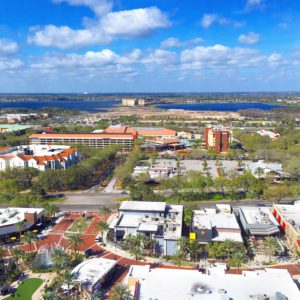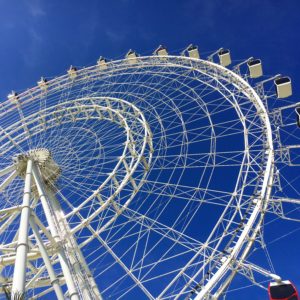 Coca-Cola Orlando Eye – The Orlando Eye is a great way to take in the sights of Orlando and beyond.  We quickly boarded and stepped into a spacious cabin that would take us 400 feet in the air!  There were three of us in the cabin, and there was plenty of space.  There's a small seat in the center, but you'll want to be standing next to the glass, taking in the view.  Before boarding, my six-year-old daughter was given a sheet with a scavenger hunt of places she could search for while riding the Eye.  She quickly started checking them off, and it was a great game to play to be sure we were catching all of the cool things to see.  My favorites were seeing Spaceship Earth at Epcot (it looked so small!) and the volcano from the new Universal water park.
The Orlando Eye moves very slowly; it almost feels like you're not moving.  Even though I have a slight fear of heights, I had no problem in this enclosed cabin.  I think I was just too fascinated with the view to care how high we were ascending.  Since it moves so slowly, there's plenty of time to take in everything.  I immediately wanted to take a ride at night, especially when there are fireworks in the area!  We also talked about the ability to see rockets launching from Kennedy Space Center.  So cool!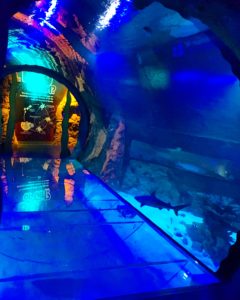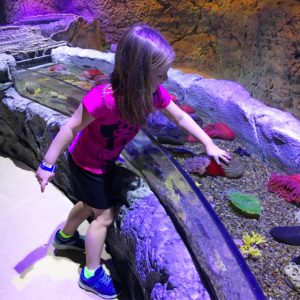 SEA LIFE Aquarium Orlando – We're big fans of aquariums, and I was excited to visit this one!  It's a beautiful new aquarium with large displays featuring more than 5,000 underwater creatures.  As you walk through the attraction, you enter the different areas of the sea.  My favorite part is the 360-degree tunnel.  Seeing the fish all around you makes you feel immersed in their surroundings.  I must admit, my daughter was a bit nervous to walk on the transparent floor.  She had no problem with the height of the Orlando eye, but to walk right above some enormous fish and other sea life took some bravery.
My daughter had two favorite parts of the aquarium.  The first was the dive show.  We watched two divers swim in the tank and talk about the sea life surrounding them.  My daughter got to ask the diver a question, and the diver swam up to her.  They put their hands together on the glass to acknowledge that they were talking to each other (see photo above).  It was such a cute moment for her!  Her other favorite part was the touch tank.  We spent a long time touching all of the different coral and starfish.  The water was quite cold, but we enjoyed learning how each of the sea creatures actually felt.  There was an attendant at the touch tank to give us details on each creature and ensure that we handled them properly.  Before leaving, we checked out the small gift shop.  My daughter also got a reward for stopping at each of the stations inside the aquarium and using their stamp to fill out her scavenger hunt card.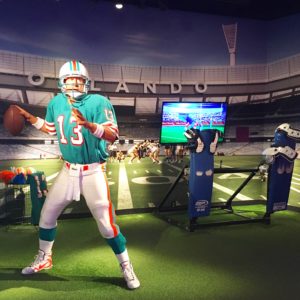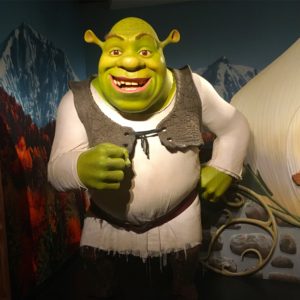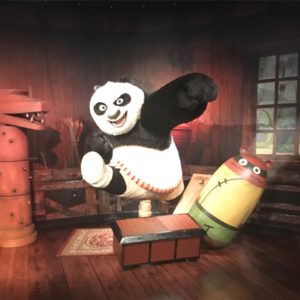 Madame Tussands – I've heard of wax museums before, but I'd never had the chance to go to one.  I thought we'd walk around, look at the wax figures, and read some interesting facts about the people.  I didn't realized we'd spend hours in there, collapsing in giggles, and taking over 100 photos!  We started slow, posing with some historical figures and learning who they were and what they did to become famous.  Then, we quickly realized there were extra props, clothing, and accessories that we could use to dress up and pose for the photos.  That's when the fun began.  We were sports pros standing next to Dan Marino and Derek Jeter.  Then we quickly changed into movie stars, rubbing elbows with Will Smith, Brad Pitt, and Samuel Jackson.  My daughter glammed up for these photos, putting on some shades and a feather boa.  She had so much fun!
Next came our favorite part, the movie scenes.  Grease, Kung Foo Panda, Shrek, Hunger Games, and more.  We became a part of the movies.  The ET part was hilarious, and I'll warn about the sound affects at the Jurassic Park exhibit.  I have a photo of my daughter starting to pose with the dinosaur, but she's in the process of running away when she heard it roar!  We laughed so hard at the results of that photo.  Be sure to check out this attraction.  It totally took me by surprise at the amount of fun it provided us!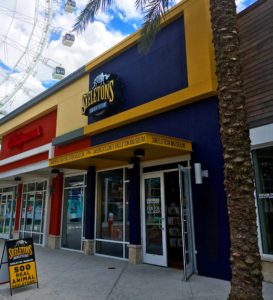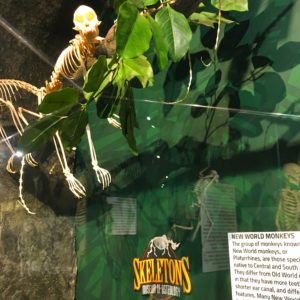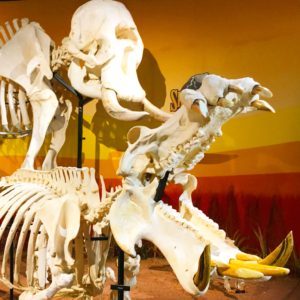 SKELETONS: Museum of Osteology – Our last attraction of the day was amazing!  This museum features over 40 exhibits of 500 animal skeletons.  We learned so much as we slowly made our way through the exhibits that feature a wide-variety of animals.  I loved this museum because of the educational value of it, and the fact that my daughter didn't even realize how much she was learning.  Similar to the Orlando Eye and SEA LIFE Aquarium, we were provided with a scavenger hunt worksheet when we entered.  My six-year-old enjoyed trying to find each animal on the sheet and seeing what its skeleton looks like.  My goal while walking through the displays was to find the tiniest skeleton.  A hummingbird was one of the smallest, and it is a good example of how small and delicate some of the skeletons are at the museum.  From the smallest, to the largest like the elephant and hippo, the skeletons were amazing.
Since our visit, my daughter has mentioned so many of the facts about the skeletons and the animals we learned about.  With some of the skeletons taking over 500 hours to prepare for display, it's so impressive that they have hundreds of them.  Be sure to check out this museum while in Orlando, because there are only two of its kind in the United States.  The gift shop even has souvenirs to purchase – tiny bones and skulls to remind you of this cool museum.
In addition to these four attractions, there are also stores and a wide variety of places to eat within I-Drive 360.  It's also possible to stay at a hotel within walking distance, which lets you have easy access to food and entertainment whenever you need it during your vacation.
Have fun on your next trip to Orlando!
Sponsored post – I-Drive 360 hosted us.  All opinions are my own.