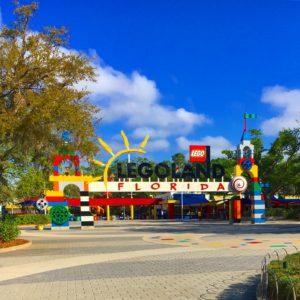 Sponsored post – Legoland hosted us.  All opinions are my own.
Legoland is a LEGO-themed amusement park in Winter Haven, Florida.  It is located approximately one hour from the Orlando airport, and has two on-site hotel options, the Legoland Hotel and the Beach Retreat.  The amusement park includes a water park, several roller coasters, various kids' rides, and shows.  Their headline show features water skiing, and is a throw back to an old Cypress Gardens tradition.  Cypress Gardens was a botanical garden / theme park which occupied the property before Legoland was built in 2011.
Legoland is an obvious destination for kids who enjoy playing with LEGOs.  The park has rides for all heights and ages and each ride ties back to the LEGO theme.  From the Duplo area for young toddlers to an inverted roller coaster for older children 44″ and taller, there is something for every child to enjoy.  Check out my reasons to visit Legoland below:
Convenience of staying on site:  Whether you choose the Legoland Hotel right beside the park, or the Beach Retreat across the street, it's a huge convenience and keeps the Lego-loving fun going.  If staying at the Legoland Hotel, you can enjoy having your room within easy walking distance of the amusement park and a separate security entrance to the park.  There's plenty of places to play in the hotel, and of course, a pool.  The other option is the new Beach Retreat, which has playgrounds, a pool, and a sandy area for play.  A shuttle is provided to the amusement park, or you can choose to drive your car to the park.  Show your Beach Retreat confirmation at the parking booth, and you'll receive free preferred parking at Legoland.
Solar panels:  Great for the environment, but also great for you!  A portion of the amusement park and hotel parking lot is shaded by the panels.  We were in the park all day in 80 degree temperatures, and when we got in our car it wasn't even hot!  It's also great protection from those frequent Florida rain showers.
Entertain the kids in line:  Legoland seems to understand that kids get tired of waiting in lines.  So, at the park gates there's a Lego wall to keep the kid's attention while they wait for the park to open.  In the queue for several of the most popular rides, there are Lego tables where the kids can play while the adults hold their place in line.  The entrance to the play area is at the end of the queue, and when the adults reach the front of the line, the kids can use an exit of the play area to reach them.  Even though we visited on a non-busy day, it was a wonderful feature I think more parks should implement.
Toddler play areas near bigger attractions:  If you have a toddler and an older child, you know how difficult it can be to keep the toddler entertained while the older child enjoys a more thrilling ride.  At Legoland, they take this into consideration and have play areas for toddlers set up right beside these larger rides.  For example, at Flight School (an inverted coaster for 44″ height and up), there is an indoor, air-conditioned play area for toddlers right beside the ride!  I saw several other rides that had these play areas nearby.  How perfect to entertain both children at the same time!
Unique Shows:  There are a variety of shows available throughout the day, but don't miss the water ski show at Pirate's Cove.  We've seen a ton of amusement park shows through the years, but this one is so original and entertaining.  It's also nostalgic to know that they've held water skiing shows in this location ever since the original amusement park at this location, Cypress Gardens over 50 years ago.
Mini Figures & Trading:  For an inexpensive souvenir, check out the Mini Figure Marketplace.  Kids can use their creativity to create three mini figures for $9.99.  Then, if they'd like, they can trade mini figures with park staff who have them on their badges.  You can even bring your own mini figures from home to trade.
Free Breakfast!  Your stay at either the Legoland Hotel or the Beach Retreat includes a free buffet breakfast.  It's not just a continental breakfast either, it's a buffet including meats, fruits, danishes, and eggs.  Our breakfast was delicious and was a great start to a long day in the park.
I hope you are your Lego-loving kids enjoy a trip to Legoland soon!
Sponsored post – Legoland hosted us.  All opinions are my own.