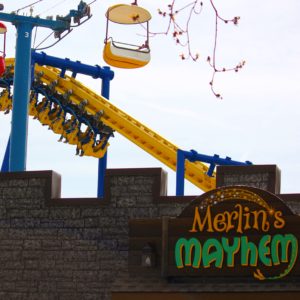 Sponsored post: Been There Done That with Kids is a member of the Dutch Wonderland Summer Blogger program.  All opinions about Merlin's Mayhem are my own.
It's time for some mayhem!  Merlin's Mayhem, the new roller coaster at Dutch Wonderland will open this season.  It's the park's first suspended roller coaster.
Merlin Mayhem's Story
Mayhem is a dragon who Merlin found when he was just an egg.  Once Mayhem hatched, they became best friends.  Because of the mischief that Mayhem causes, Merlin thought his dragon's name was very fitting.  Mayhem is a very friendly dragon who learned many tricks from Merlin, including how to fly!  One day, Mayhem disappeared into the sky as Merlin performed a magic trick.  Now, Merlin needs your help.   Join Merlin in his magical journey to find his best friend!
The Ride
Entering the station, there's castle theming and videos of Merlin explaining the story of Mayhem.  It appears as though you're outside the castle walls, and once you are ready to board the coaster, you enter the castle.  The coaster station includes doors which swing open to reveal the coaster, which is a nice touch.  Even the lose articles storage bins are castle-themed.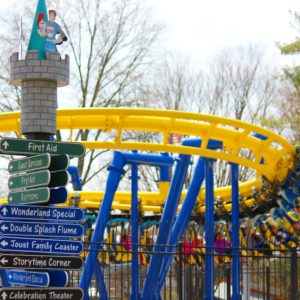 The coaster seats have on-board audio, which provides hints and encouragement from Merlin throughout the ride.  The coaster boasts two helix turns along with many other twists and dips.  At its tallest point, it towers 60 feet high, and inlucdes other theming elements like a tunnel and fog.  All riders must be 39″ to ride with an adult and 48″ to ride alone.
The coaster was built on the land where the the Sunoco Turnpike once stood.  The turnpike was relocated to Exploration Island in 2014.  Therefore, no rides were removed for the addition of the coaster.
My Opinion on Merlin's Mayhem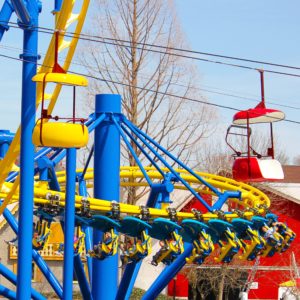 I've ridden coasters all over the country ranging from hyper coasters, to mine trains, to kiddie coasters.  My favorite type of coaster is suspended, so I'm partial to the coaster style of Merlin's Mayhem.
My first ride on Merlin's Mayhem was in the front seat, and I must say it was faster and crazier than I thought it would be.  I expected it to be kiddie-coaster slow, but it actually had a nice, fast speed!  In my opinion, this coaster is fast enough give adults a bit of a thrill, but not too fast to scare kids.  The height is great too, as it peaks not much taller than the Sky Ride.  If your child is not afraid of heights while riding Sky Ride, it's a good indication that they'll be comfortable with the height of Merlin's Mayhem.
Watching even the littlest kids as they boarded the coaster, they did have a bit of apprehension, however all I saw were smiles once the ride was over.
Sponsored post: Been There Done That with Kids is a member of the Dutch Wonderland Summer Blogger program.  All opinions are my own.