Sponsored post – Busch Gardens Williamsburg hosted us.  All opinions are my own.
B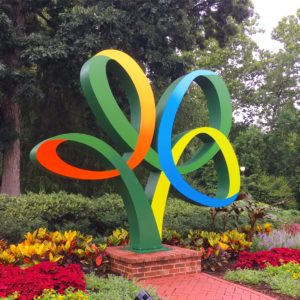 usch Gardens Williamsburg in Virginia is an amusement park themed around various European countries.  The park is known for its lush and beautiful landscaping, world-class thrill rides, and delicious food.  We visited on a Friday during June, and while the weather was rainy, we were still able to enjoy all of what Busch Gardens has to offer.
Rides
Upon entering the park, we immediately entered the country of England and ahead was the first thrill ride, Loch Ness Monster.  This coaster is celebrating its 40th anniversary this year, so be sure to ride it!  Its uniqueness comes from its interlocking loops.  It's a fun coaster, though not the most thrilling one in the park.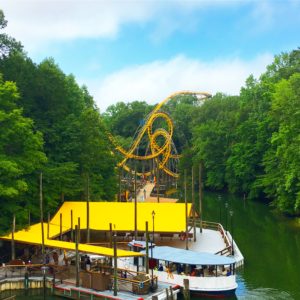 Invadr is a new family coaster in the park, and has excellent themeing in the France area.  It's the park's only wooden coaster, and it moves pretty fast even though it doesn't seem like it would be the most thrilling coaster.  My six-year-old loved it!
Alpengeist, Griffon, and Apollo's Chariot are the coasters aimed at the thrill seekers.  Griffon pauses for a moment before its 205 foot tall, 90 degree drop.  It then hits its max speed of 71 miles per hour.  So cool!  My other favorite part of Griffon is the splash down, however you don't get wet one bit.  Alpengeist is a steel inverted coaster and boasts being the world's tallest inverted coaster.  Finally, Apollo's Chariot is a smooth, fast ride.  Unfortunately, Verbolten, the park's newer steel launch coaster was closed on and off during the day, and we didn't get to ride it.
Food
We visit dozens of amusement parks each year, and we're not used to looking forward to eating the food.  At Busch Gardens, we couldn't wait to head into the German section of the park and try the German food in Das Festhaus.  We were also pleasantly surprised by the way they handled the entrance into the food court area.  They only let a certain amount of people in at a time, and they directed us to a particular food line.  It felt very orderly, in an area that could easily be overwhelmed by people if it were a crowded day.  We were also able to enjoy our food in the air conditioned building which was nicely themed.  They have shows on the stage in the middle, but unfortunately we didn't time it right.
Countries feature signature foods, and while we didn't get to try every type of food available we were greeted by wonderful smells every time we entered a new area.  My favorite smells were upon entering Italy and walking by Marco Polo's Marketplace.
Busch Gardens Kids Attractions
Busch Gardens has some kiddie rides spread throughout the park.  As the adults and older children enjoyed the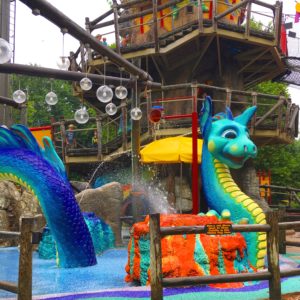 roller coasters, we were often able to find a ride nearby that the younger children in our group could ride.  There are two concentrated kiddie areas of the park, the colorful Land of Dragons and Sesame Street Forest of Fun.  Land of Dragons includes a tree house structure for the kids to climb, as well as four rides (boats, dragons, ladybugs, and a small ferris wheel)  Tip: If it's a hot day, and your children enjoy splash parks, bring a change of clothes for visiting Land of Dragons.  There's a cute water spray area there.
Sesame Street Forest of Fun is an easy walk from the front gates of the park with several rides and play areas for the kids, as well as Sesame Street characters!  The area opens at 11 AM, and includes dance parties, arts and crafts, games, and more.  The kids can enjoy Grover's Alpine Express, the kiddie coaster for the park, as well as a small drop tower, water ride, and a spinning ride.
Transportation
While the park is huge, luckily they have two main modes of transportation to get around the park.  The first is the train, which mostly goes around the parameter of the park with stops in several villages.  The other option is the skyride, which has one way trips between England, Germany, and France.  Since the park is so large, making it fun to get from one place to another is such a great idea.
Tips
The villages of Busch Gardens open at various times.  Check your map for that day's opening times.  It seemed like most people worked their way counter clockwise around the park (people tend to walk to their right when entering), so starting in Italy and working your way around clockwise may be to your benefit.
Invadr is the new family coaster in the park, and very popular.  Try to get to the back of the park to ride it early in the day.
If it's a hot day, Roman Rapids and Escape of Pompeii are great ways to cool off (you will get wet)!

If you have children who are not tall enough for the roller coasters, use the "child swap" option.  One adult gets in line while the other waits at the exit.  Note that you can't bring the child through the line, like at some other parks.  Have the adult with the child wait at the exit to perform the swap.
Sponsored post – Busch Gardens Williamsburg hosted us.  All opinions are my own.