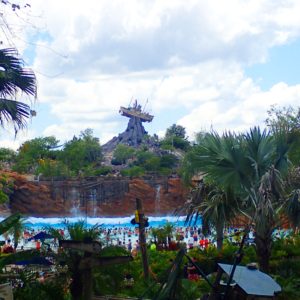 When planning a trip to Disney, it seems as though some may overlook Disney's two water parks in the excitement of visiting the four main parks. However, especially in the heat of a Florida summer, Disney's water parks can bring much needed relief from the hot climate, as well as a ton of fun. If you're finding yourself in a position to have to choose which of these two water parks to visit, rest assured that you really can't go wrong. Both water parks have a wide-variety of water rides, fun themeing, and are overall amazing. If you'd still like help with choosing, here's some main things to consider.
Wave Pools
Typhoon Lagoon's wave pool is like nothing you've experienced before in a water park. The waves reach approximately 6 feet high, so high that they even offer surfing lessons when the park is not open to the public. The waves are powerful, yet fun, and the wave pool is gigantic.
Blizzard Beach's wave pool is more of a "bobbing waves" pool, and much smaller. There are tubes that you can float in to ride the more relaxing waves.
Water Coasters
Typhoon Lagoon has three different shoots of water coasters, each with a slightly different ride. Tip: the slide on the left (Banana Blaster) typically has the shortest line. The water propels the raft up inclines and gives you a splash on the back that feels rather good.
Blizzard Beach unfortunately does not have any water coasters.
Kids Area
Typhoon Lagoon has two small slides on the side of the wave pool (be careful, because the tides from the large waves make it to the bottom of these slides) and a large kiddie area called Ketchakiddee Creek, for those children 48 inches and under. Ketchakiddee Creek has a small tube slide that was a big hit with the toddlers. Tiny tubes and a slide that moved just fast enough speed made for some big smiles.
Blizzard Beach has two kid's areas. One that caters to toddlers and those kids under 48 inches, Tike's Peak, and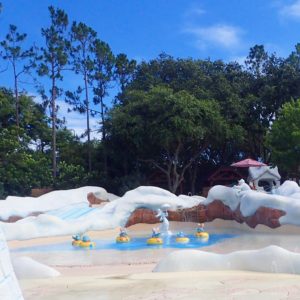 another area for pre-teens called Ski Patrol. Tike's Peak has three major slide areas (one is a triple slide), and a smaller slide structure in the back. Tip: The small slide structure is shaded with chairs near it. Since it doesn't have any standing water, you may get a chance to sit down and relax while watching your kids! Ski Patrol has two short tube slides, a tunnel slide, an obstacle course area, and a rare zip line with a splash into the water at the end.
Slides
Typhoon Lagoon had two family raft slides that even toddlers can ride, but they are both rather short. The newest family slide, Miss Adventure Falls, allows riders to sit in the tube to ride to the top of the slide. I really appreciated this, since Blizzard Beach includes a lot of stair climbing (however you can take the ski lift at Blizzard Beach). The body slides are fun and the more thrilling ride of Humunga Kowabunga packed a pretty big punch.
Blizzard Beach has two tube slides (one open and one enclosed), a mat racer and a mat slalom-type slide. If you're looking for a big thrill, Blizzard Beach has it with Slush Gusher and Summit Plummet. These are major drop slides, one with a hump, and one straight down. To me, these are the two biggest thrill rides in all of Disney World. I'm too scared to do them. The family raft slide at Blizzard Beach was very fun and long. There aren't any water curtains, just some fun splashes along the way, making it a great starter raft ride for toddlers. At the end of this raft slide, there's a great family photo opportunity.
Lazy River
Typhoon Lagoon and Blizzard Beach both have the same concept for a lazy river that surrounds the park. In both parks, we used it as a form of transportation. Blizzard Beach had a really cool (or should I say cold) cave which the lazy river ran through, and maybe a bit cooler themeing (pun intended).
Shade and Lounge Chairs
Blizzard Beach seemed to have a lot more shade than Typhoon Lagoon, and there were lots of beach chairs left at mid-day that were available in the shade. Beach chairs in the shade were snapped up quickly at Typhoon Lagoon.
Characters
Typhoon Lagoon has photos with Lilo and Stitch (they rotate for separate photos), while Blizzard Beach has Goofy in swim attire.
Overall
Blizzard Beach had a bit more attractions and slides for kids, plus some big slides for the thrill seekers. Typhoon Lagoon had the fun water coasters. With two small children, I lean toward Blizzard Beach for an experience the whole family can enjoy. From thrill rides to kids slides, Blizzard Beach has it all. However, Typhoon Lagoon's wave pool is unmatched! Hopefully, these descriptions will help you find the perfect Disney water park for your family!