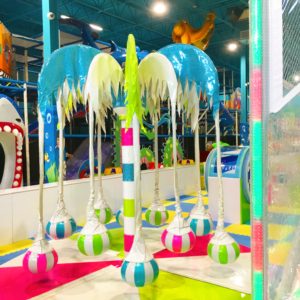 Hyper Kidz is an indoor play space in Columbia, Maryland which is on the southwest side of Baltimore.  It opened in February 2018 and was born out of the need for a place for kids to play indoors.  During the cold winter months, rainy spring days, and hot summers, kids still want to run, climb, and play.  Now they can all year long at Hyper Kidz!
Arrival
We arrived on a Thursday morning at opening and quickly took our shoes off to head into this colorful, fun area.  We filled out the waiver online, so the check-in process was smooth.  Hyper Kidz is open seven days a week, with pricing by age group for unlimited play.  There are three main areas of play, separated by age group.
Play Areas
The largest is the multi-story play area that is for children ages 3 to 13.  Kids can crawl their way through four levels of this maze, and find trampolines, slides, and an area to play with balls.  We loved the slide which had different video game scenes being projected onto it and the tall, four lane, slide that was very fast.
The next play area is for children ages 2 to 7 and includes a three-lane slide into a ball pit, a palm tree hanging limbs to swing on, a balloon area, and more.  This area has counters and seating surrounding it, so with only one entrance and exit, parents can sit around the parameter and watch their child play.  For those children under than 2 and under, there's an infant and toddler play area with a soft foam climbing structure, lighthouse slide, and water bed for infants to sit on and play with the fish underneath.
Dance Floor
The center of Hyper Kidz has an interactive dance floor!  When we visited on a Thursday morning, they announced a dance party and the kids joined Boomerang, the Hyper Kidz mascot on the dance floor.  They dimmed the lights, and the dance floor glowed while a bubble blower added some bubbles to the fun.  Boomerang interacted and danced with the children.
Tips for Visiting
Especially during flip flop weather, remember to bring socks.  They are required to play at Hyper Kidz.  If you forget them, they are available for purchase.
Busiest times at Hyper Kidz tend to be weekdays after 4 PM and weekends, so be sure to call or check their Facebook page to ensure they haven't reached capacity.
To save time at check-in, sign their waiver on their website.
Have Fun!
We spent almost two hours at Hyper Kidz and would have stayed longer if we didn't have another commitment that day.  Hyper Kidz sells snacks, so if your child gets hungry there are several options for food.