Sponsored post – Strasburg Rail Road hosted us at Day Out With Thomas.  All opinions are my own.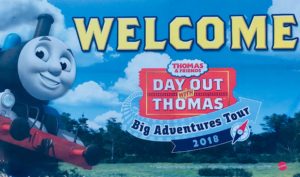 Thomas is visiting Strasburg Rail Road Saturday, June 22nd through Sunday, June 30th, 2019.  He'll be back again for select dates in September 2019 and for additional dates in October 2019!  We visited Thomas in 2018 and this was our experience.
Arrival
The event has grown in the past few years, and they now use their regular parking lot for the activities tents.  Therefore, when you arrive, watch for signs to direct you to parking.  Since we arrived for one of the first trains, we parked in a grass lot that was a short walk to the railroad.  Later in the day, we noticed people being bused in from a parking lot further away.  Depending on your child, this may actually add to the fun, because my kids absolutely love riding on a school bus.  Be sure to bring a stroller that rolls easily over grass and / or collapses to get on the bus.  We were sure to bring the diaper bag, since a walk or ride back to the car would take some time.
Thomas Ride
Our number one tip is to book a ticket to ride with Thomas early in the day.  It was the part the kids were most excited about,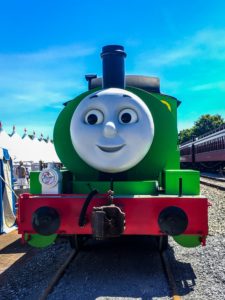 so we were then able to relax and enjoy all of the activities for the reminder of the day.  Get in line to board the train in plenty of time before your ride.  If you have the chance, choose the line to the right, as it has benches and a bit more shade along the line.  We didn't wait long, and quickly chose to board at the end of the train in an open air car.  The cool breeze during the ride felt great.  You can prepare your child by telling them you'll ride about 10 minutes down the track and then ride back.  You even pass a lot of beautiful Lancaster County farm land and the Red Caboose Motel.
Snacks
As the kids got hungry, we headed to the snack tent where a soft pretzel held them over until we could get lunch.  It was a nice size and was pretty good.  They had some drinks and some delicious looking cookies too.  If you need more than a snack, there's also the Trackside Cafe.
Photos
Photographers are available on the train, at the photos with Thomas and Percy, and Sir Topham Hatt.  They give you a slip of paper at each stop to identify your photos if you'd like to purchase them.  I was also able to take my own photos too.  We got off of the Thomas ride and went straight to photos with Thomas and Percy.  Since we were at the back of the train, we were near the back of the line for photos, and Thomas and Percy both left on their excursions before we could get photos.  Thankfully, they let us know that we could get out of line to use the bathroom or play for a few minutes while the trains were in motion, and we returned to the exit gate and they let us right in for photos.
Activities
There are tons of activities to enjoy in addition to the train ride.  My two-year-old's favorite was the small ride-on Thomas engines (Power Wheels) that go around a track.  There is also a Thomas temporary tattoo station, lots of train tables, Thomas coloring book activities, digital experiences on iPads, a large Thomas store area, and hand crank trains.  Percy and Thomas took off down the track every half hour or so, and each time it was fun to wave to the people on board.  Thankfully, most activities were under large tents so we were in the shade.
Overall
Remember to bring sunscreen.  Even though most activities and photo lines are under a tent, we were still in the sun for a bit.  Even though this is a well-attended event, we didn't really feel crowded at the beginning of the day.  It seemed to get a bit busier as it got later in the day, so you may want to schedule an early visit.
Tickets
Tickets for Day Out With Thomas can be purchased on the Strasburg Rail Road website.
Sponsored post – Strasburg Rail Road hosted us at Day Out With Thomas.  All opinions are my own.