Fabby-Do is a creative boutique for children, located in downtown Doylestown, Pennsylvania.  The boutique just reopened, as it relocated from a smaller location downtown.  Now, the boutique has plenty of space for birthday parties, Fabby-Do TV (more on that later), plenty of arts & crafts stations, as well as parking in the back of the building (and on street parking for the Fabby-Do bus!)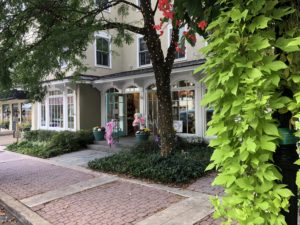 We arrived at Fabby-Do on a cloudy but warm Saturday afternoon, looking to do a craft with my six-year-old.  The new location is very welcoming.  There are large beautiful windows in the front, which showcase their carousel horse.  Note:  This horse is the perfect photo backdrop for your freshly made-up princess.  Kids can even sit on it!  Since the weather was nice that day, the door was wide open so we could see the colorful, vintage goodness that awaited us inside.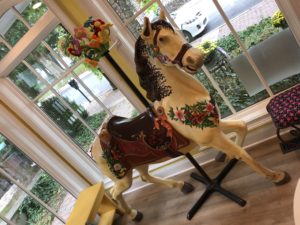 We were greet by Robin, the owner.  She explained the different packages that Fabby-Do has to offer.  There's a wide variety of activities to choose from.  It took a bit for my six-year-old to take in all of the options.  There are three major categories of crafts and activities: Dazzle Design, Fabrication Fascination, and Dream Extreme.  Dazzle Design includes unique options like lip balm design and bath candy design.  Fabrication Fascination is more of a traditional arts and crafts option like spin art, painting plaster, sand art, and t-shirt design.  The deluxe packages in Dream Extreme include some dress up options like "Fancy Fairy", "Precious Princess", and "Rock Star" just to name a few.  Makeup design, nail painting, hair extensions or temporary tattoos can be added to a child's Dream Extreme choice.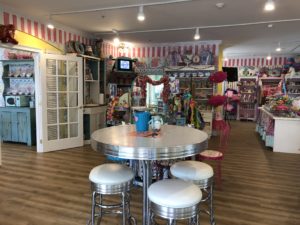 After weighing all of the fabulous options, we decided on the create-your-own sand art in a jar shaped like a heart, and a ceramic bear to paint.  The boutiques packages include all the necessary accessories.  So, even though she choose to do a sand craft, she was able to embellish the jar with ribbons and beads.  Fabby-Do is a creative kid's paradise, because there are so many options for adding to their craft.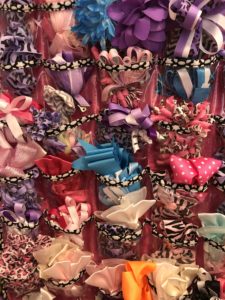 After finishing both crafts (it took well over an hour), we explored Fabby-Do and learned more about the store.   The colorful store features vintage furniture, and even a jukebox playing music to set the tone.  There's a bakery case filled with plush donuts, many craft tables, and two birthday party or group event rooms that are attached to the main store.  It is immediately evident that thought went into every single item and display in the store.  Even the microwave looks vintage!  My favorite part was the hand drawn, then printed wall paper that was created by the owner.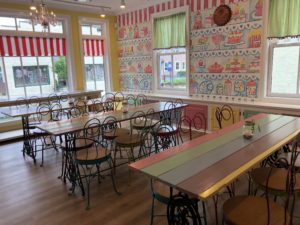 Once a child has completed a craft, they have the opportunity to talk about it in the Fabby-Do TV studio.  This part is completely optional, as some children love to do it, while others chose not to do it.  The studio is  can make a kid feel like a TV star.  It's a great way to top off your visit to Fabby-Do!