Sponsored post – Hershey Entertainment and Resorts Company hosted us at the Hersheypark and Sweet Lights. All opinions are my own.
If you think "Hersheypark Happy" is only a phrase used during the summer, then you haven't experienced holiday fun in Hershey.  Starting in late November, the park and surrounding town transform into a Christmas wonderland.  What could be sweeter than a holiday adventure in Chocolate town?
Hersheypark
The Christmas Candylane season at Hersheypark begins right before Thanksgiving and runs through the first of the year. Most of the park's beloved rides, and even a few rollercoasters, are open during Candylane. SooperdooperLooper, Wild Mouse, LaffTrakk, and Sidewinder are some of our favorite rides during Candylane. Of course, kiddie and family rides are open, too. In total, over 45 rides are available during Candylane, including 40 for children (weather permitting).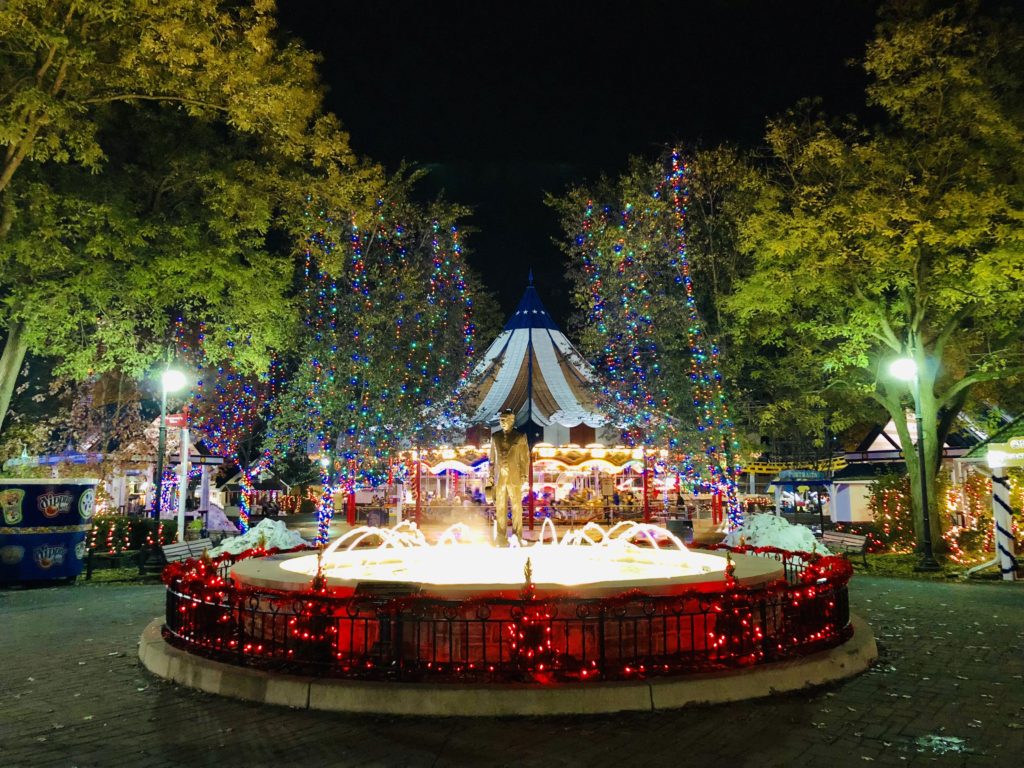 Some rides even have extra special holiday light decorations for the Candylane season. The Dry Gulch Railroad has holiday lights displays everywhere you look along its tracks, making it a family favorite ride. Twin Turnpike has a nice "drive-through" light display, and LaffTrak even has special lighting. This indoor fun house spinning coaster has sparkling Christmas trees inside its building, giving it a festive feeling.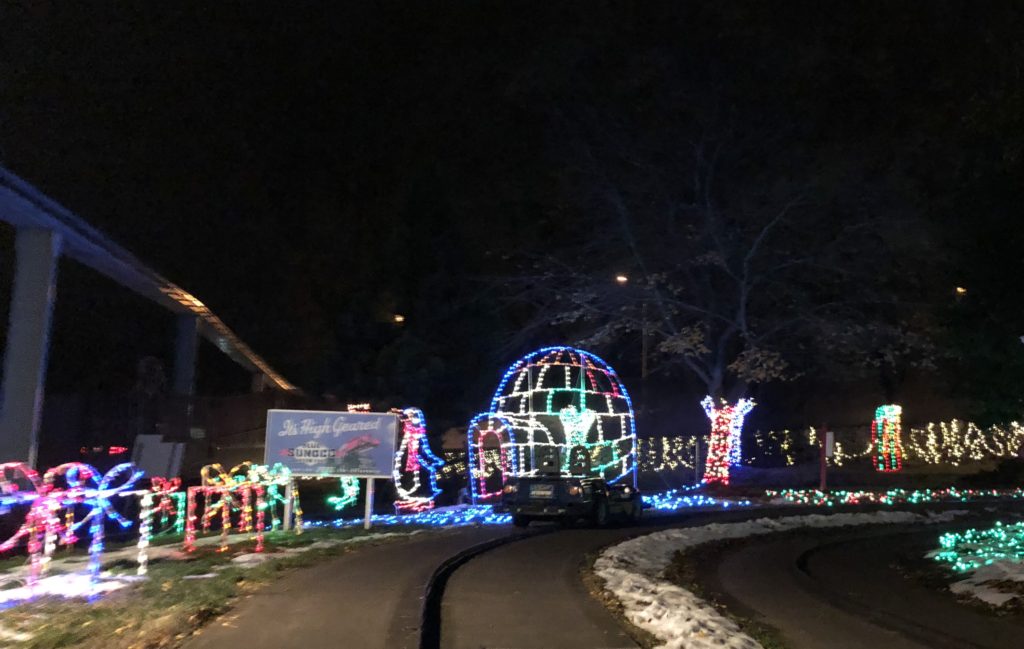 Rides aren't the only holiday-related activity during Candylane. Visits with Santa are available is a specially-themed Santa's workshop area of the Overlook arcade. Photos with Santa are available for purchase, and he has a sweet treat for each child when they visit to tell him their Christmas wishes. There's also photo opportunities right outside of Santa's work shop, with a sleigh full of goodies.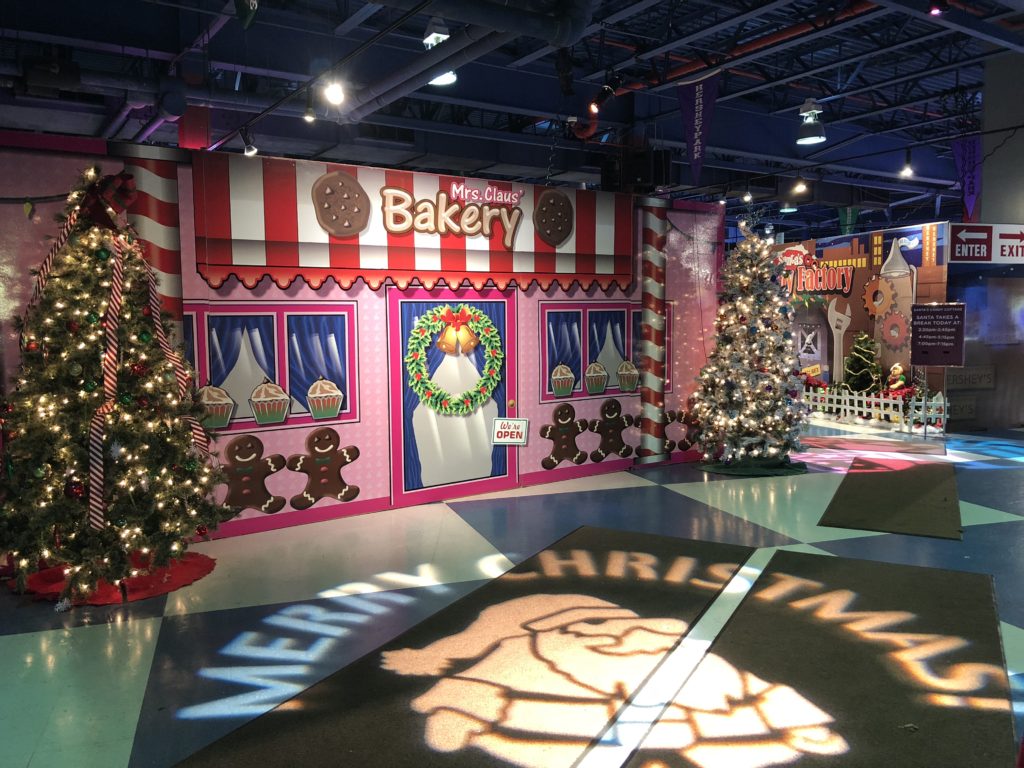 The holiday season isn't complete without a sighting of Santa's famous reindeer. They are special guests at Hersheypark during the holidays, and luckily ZooAmerica staff are on hand to care for them. They are also available to answer those burning questions your children may have about how they make that important flight.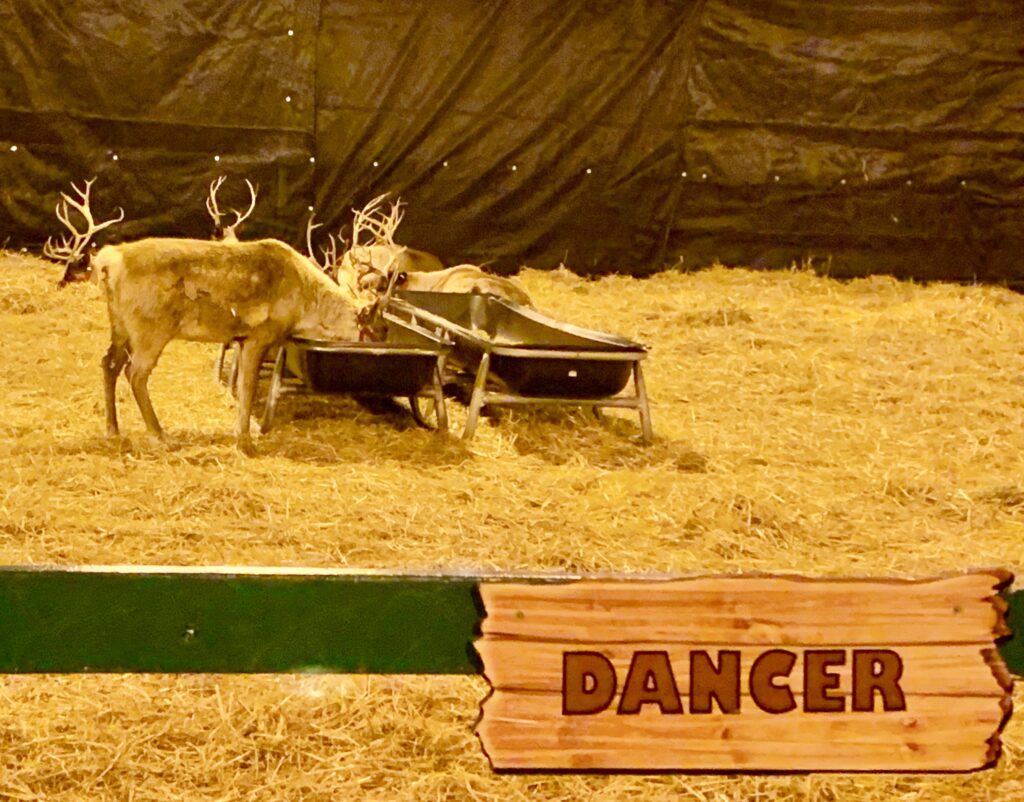 Nearby the reindeer, there's a seasonal ice skating rink. Rental skates are available to enjoy this classic winter activity. The surface isn't actually ice, so it makes it a bit easier for those young skaters who may be trying it for the first time.
The most popular place in the park twice an hour is The Hollow (area with Comet and sooperdooperLooper). In the Hollow, the N.O.E.L. light show plays at the top of the hour and on the half hour. It features lights timed to classic holiday music. Tip: Try to time your rides on Skyview or Wave Swinger to be during the light show. It's even more exciting to see it from a higher vantage point!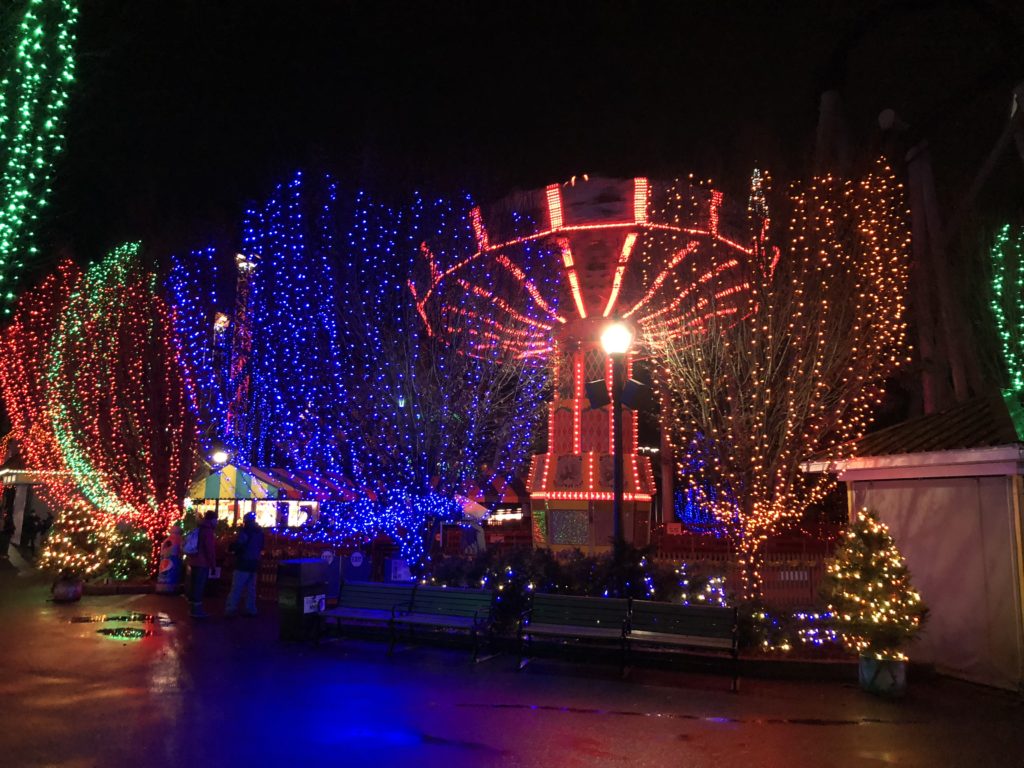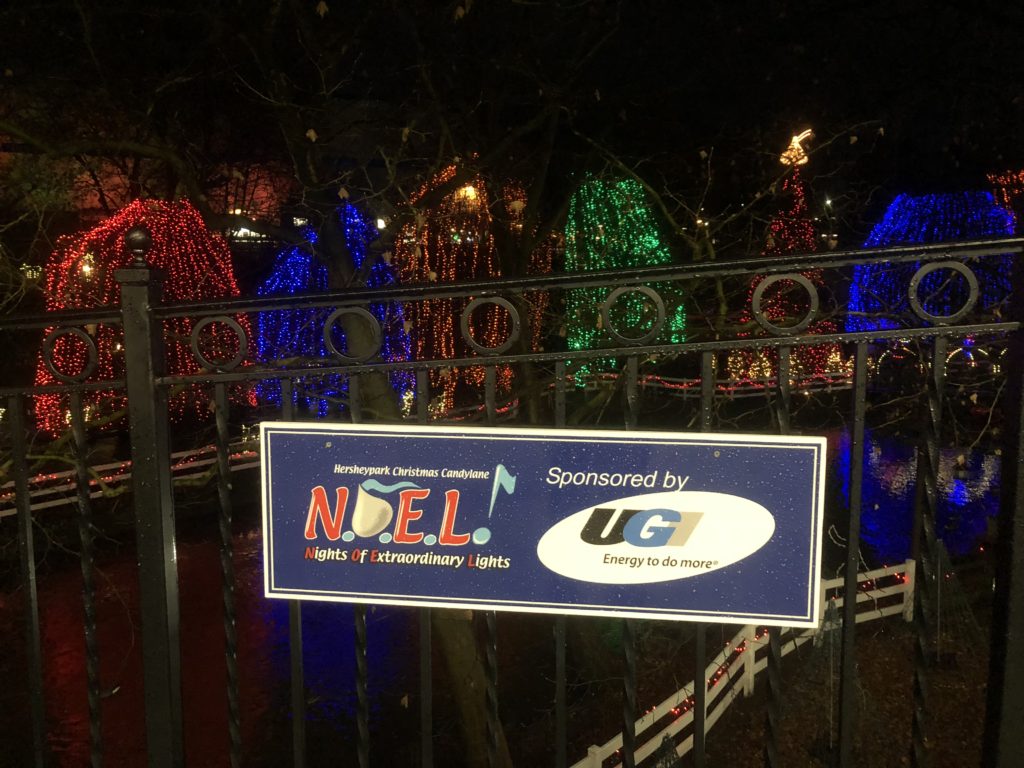 The evening at Christmas Candylane isn't complete without attending a show in the Chevrolet Music Box Theatre.  Show times are available on a sign outside the theatre.  They can also be found in the Hersheypark mobile app.  We had a three, seven, and eleven year old along with us to watch the show.  Each one of them enjoyed it and didn't get restless at all during the half hour performance.  It was the perfect ending to a wonderful, holiday-filled evening at Hersheypark.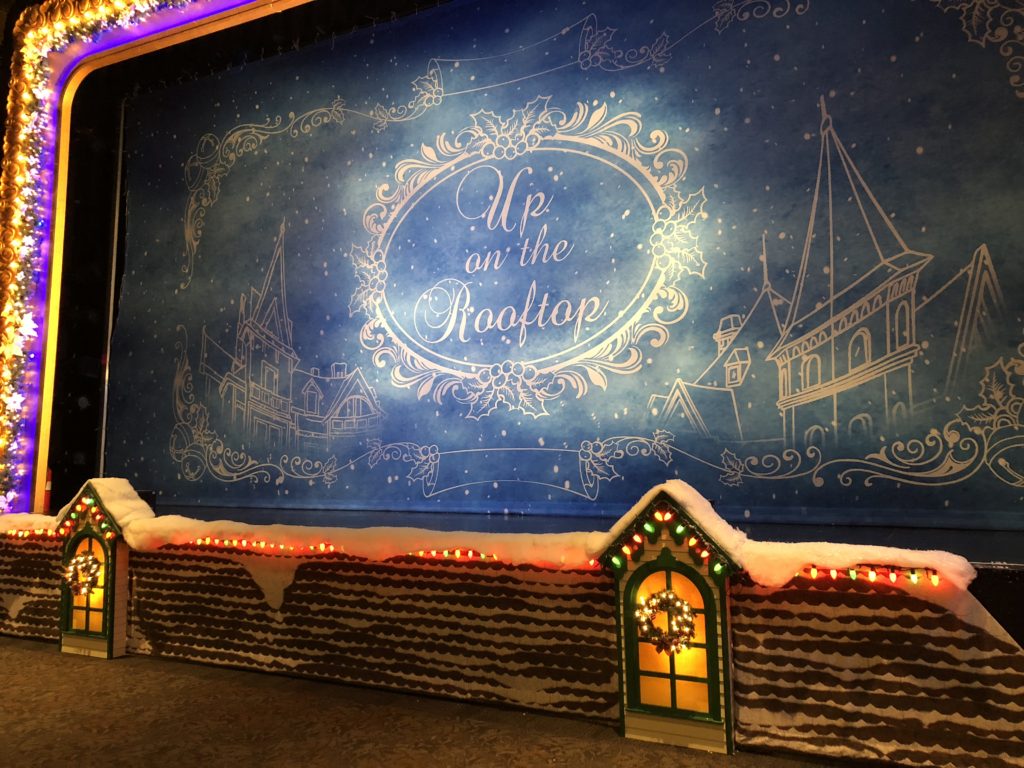 Hershey Sweet Lights
There's even more holiday fun in Hershey in addition to Hersheypark. There are many other family-friendly attractions in the town. During the holiday season, Sweet Lights is one of those other destinations you can't miss. Located just a mile or so from Hersheypark, Sweet Lights is a drive-through holiday light attraction.
The Sweet Lights ticket booth will supply you with special glasses which make the lights twinkle with snowflake images. Turn your car's radio to the station designated on the signs and enjoy watching the lights that are timed to the festive music. The archway with the small trees is particularly fun to watch as they seem to dance in time to the music.
The first portion of the drive includes classic lights from the twelve days of Christmas, Santa's workshop, and his reindeer. After that, the driveway winds through a wooded area with cute creatures. Last is fairy tale forest which includes all of the favorite fairy tales from childhood.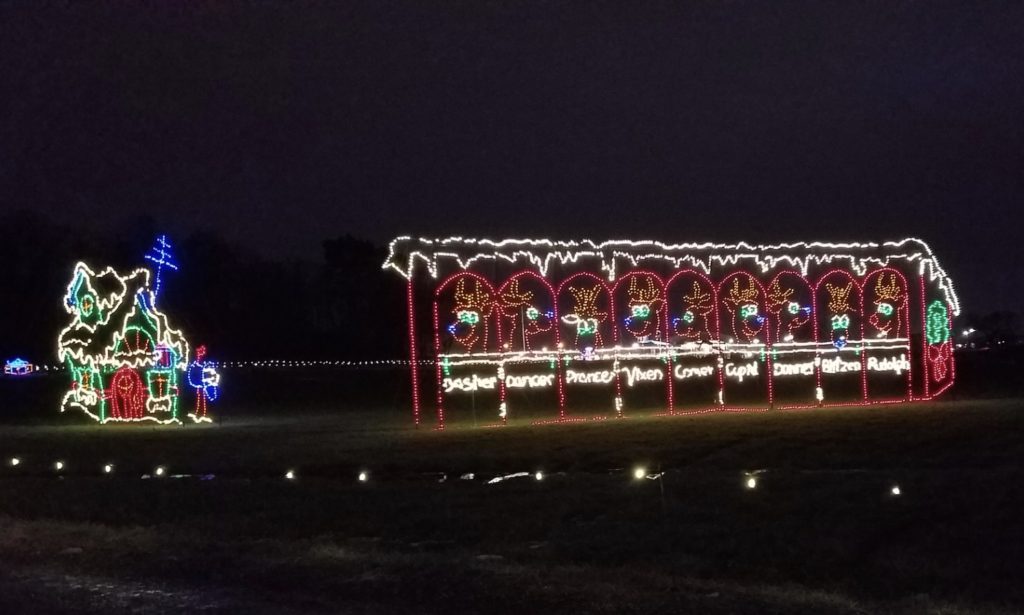 The Sweet Lights attraction is designed with children in mind, as there are a couple of places along the path that you can exit, if needed. Our tradition includes purchasing cookies at Chocolate World, and then enjoying them as we drive through Sweet Lights. The sweet-smelling kettle corn from Hersheypark would also be a fun treat to munch on while looking at the lights.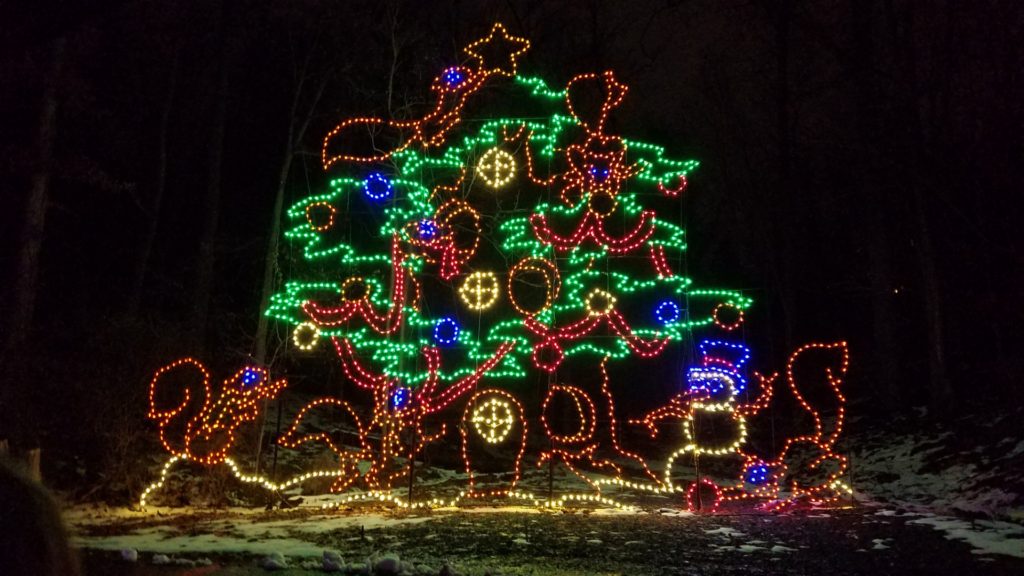 If you are looking for even more holiday fun during your trip to Hershey, visit Hershey Gardens, ZooAmerica, The Hershey Story museum, and Chocolate World!
Sponsored post – Hershey Entertainment and Resorts Company hosted us at the Hersheypark and Sweet Lights. All opinions are my own.