Sponsored post – Royal Caribbean International provided us with VIP status and onboard credit in exchange for this post. All opinions are my own.
Royal Caribbean International is known for their amazing cruise ships, but now they took the private island escape to the next level with their recently unveiled "Perfect Day at CocoCay". CocoCay is an island located in the Bahamas exclusive to Royal Caribbean. Perfect Day at CocoCay opened the majority of their new island features in May 2019 with the final phase, Coco Beach Club, slated to open in December 2019.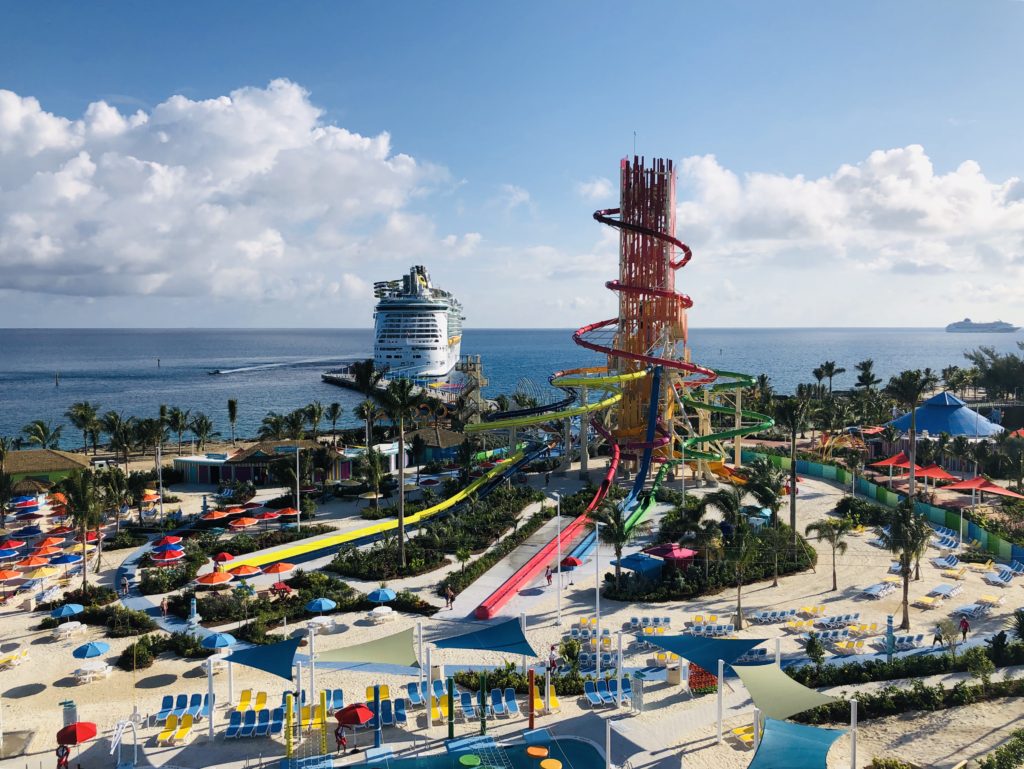 We visited Perfect Day at CocoCay during its opening week in May. This post includes our experiences and tips for the day. Please keep in mind that things may change once the island renovation is complete.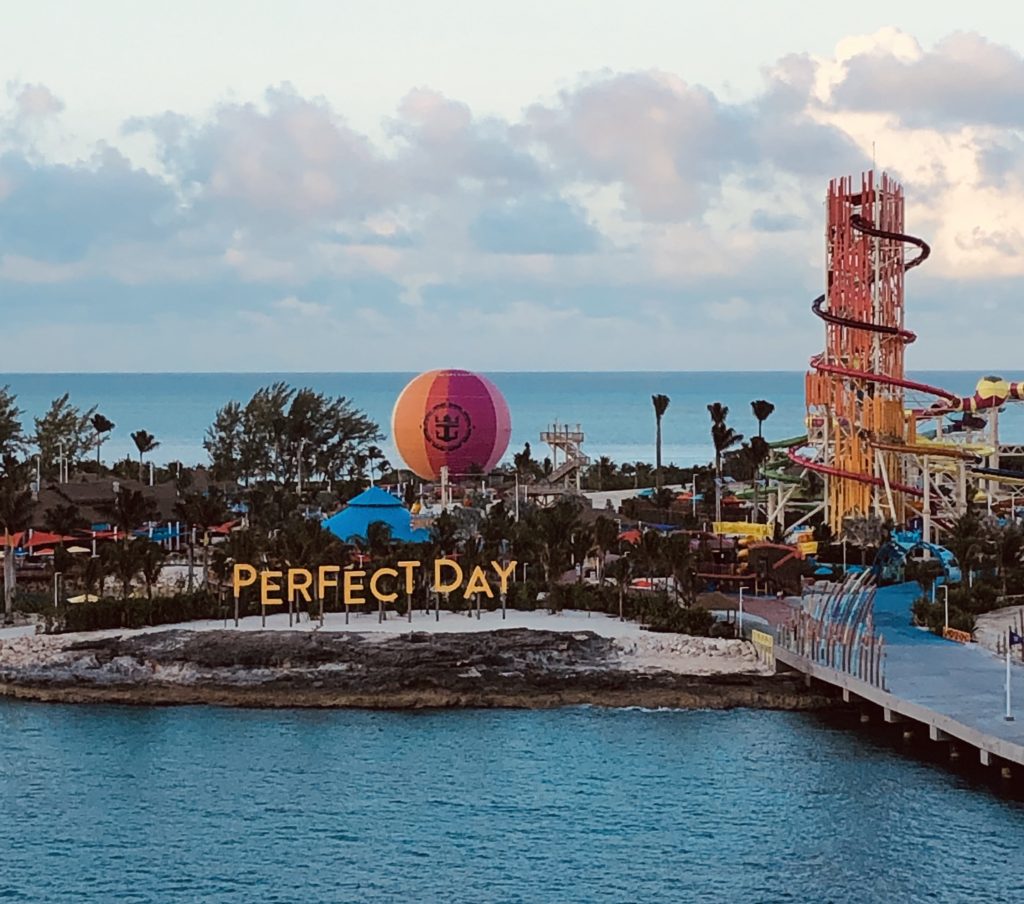 Upon exiting the ship we were greeted by a pirate and a colorful walkway. The walk from the cruise ship to the island is not extremely long. For smaller children, you may want to consider taking a stroller, as there are many paved walkways. However, my 3-year-old managed to walk it without a problem.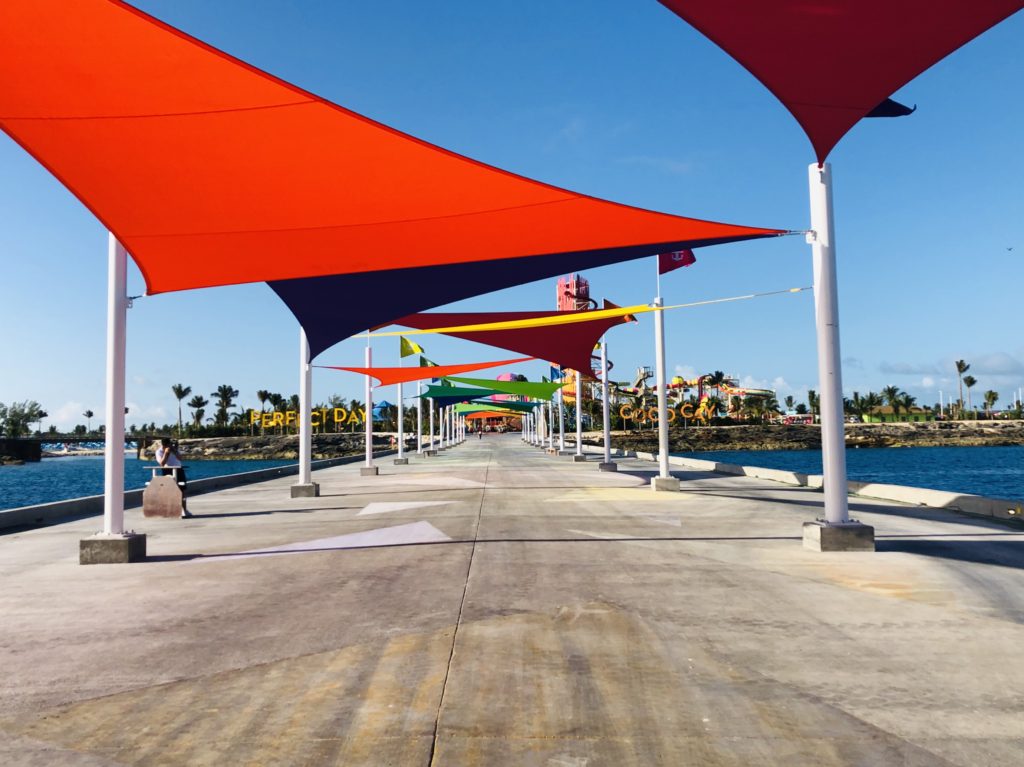 Captain Jill's Galleon
As we stepped onto the island, there were musicians and dancers welcoming us. The children's play ship is the first attraction you encounter, which is Captain Jill's Galleon. It is a ship with many water cannons, as well as three slides. All slides start from on top of the ship; two of them from an upper deck which has stairs and/or a ladder to climb to get to them. The slides seemed to be meant for the toddler / preschool / young child age-group. My 3 year old and 7 year old handled the climbing and stairs fine. We noticed several lifeguards stationed throughout the ship, and one was catching kids at the bottom of the blue slide.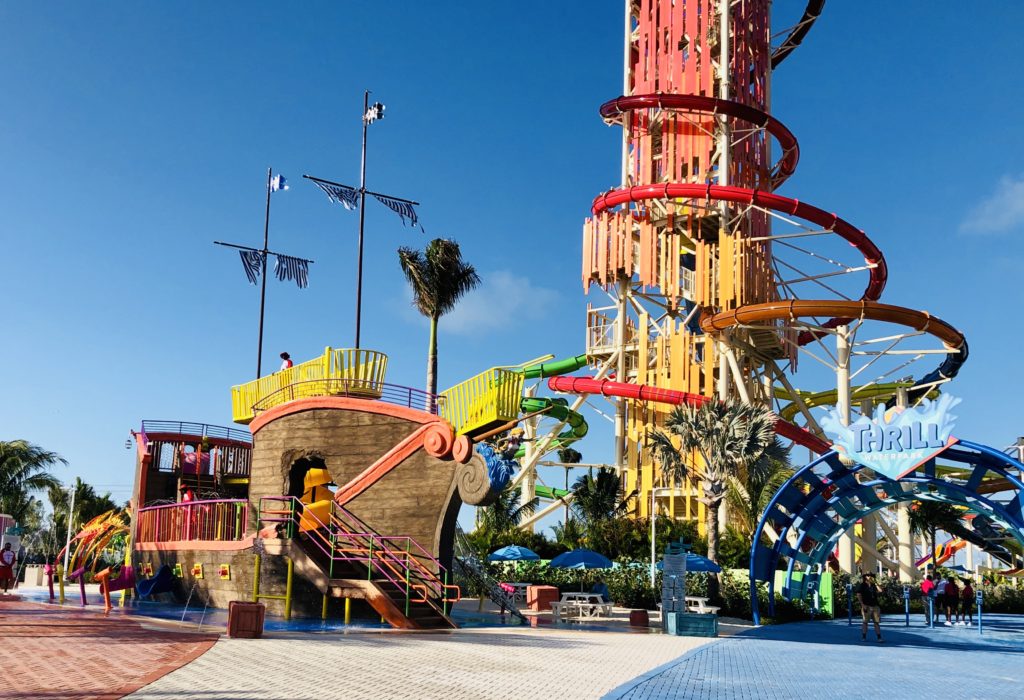 Captain Jill's Galleon is located outside of the water park, meaning there is no extra fee for this play area. Tip: The water cannons seemed to have an unlimited turning radius and had a decent spray range. We noticed people using the walkway by the Galleon were often unsuspecting of the spray. Some of whom were fully dressed and not in swimwear yet. Keep this in mind when walking by the Galleon! If I'm looking to stay dry at a water park, I pay attention to the wetness of the ground as an indicator if it's possible to get sprayed where I am standing or walking.
Splashaway Bay
Continuing on the path by the Galleon heading toward the back of the island is another complimentary children's play area called Splashaway Bay. This is a multi-level water play structure with two tipping buckets.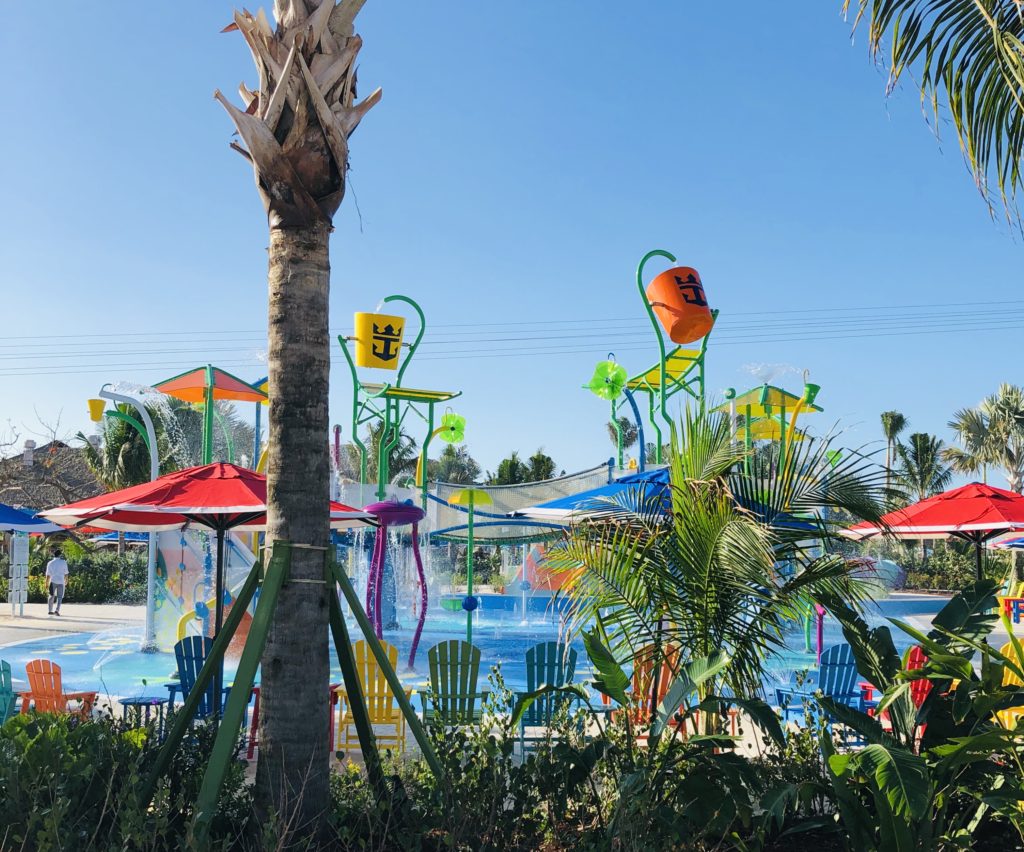 Also included in Splashaway Bay are five small water slides. One water slide is wide and straight, another is straight but split into three narrower slides, and there is a curved tunnel slide. All are body slides emptying into a shallow pool. Note that lifeguards were not letting kids swim in the slide pool area, as it is intended just for exiting the slides. The Splashaway Bay area also has chairs and umbrellas for shade surrounding some of the play area.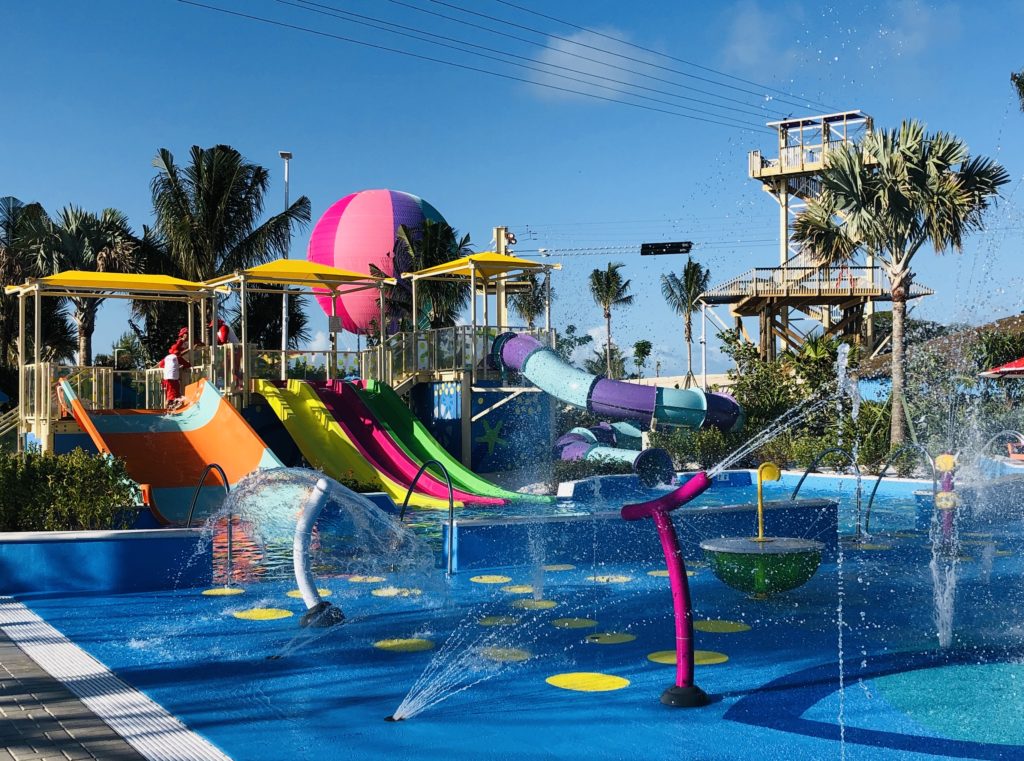 Skipper's Grill
Conveniently located right beside Splashaway Bay is one of the main eateries on the island, Skipper's Grill. When we visited, Skippers had a variety of salads, make-your-own-taco ingredients with choice of meats, lots of sandwich options, and many grilled selections like hot dogs and hamburgers. Fresh fruit was also available, along with brownies, cookies and ice cream for dessert. There were various drink options, similar to those offered on the ship. This eatery also included restrooms.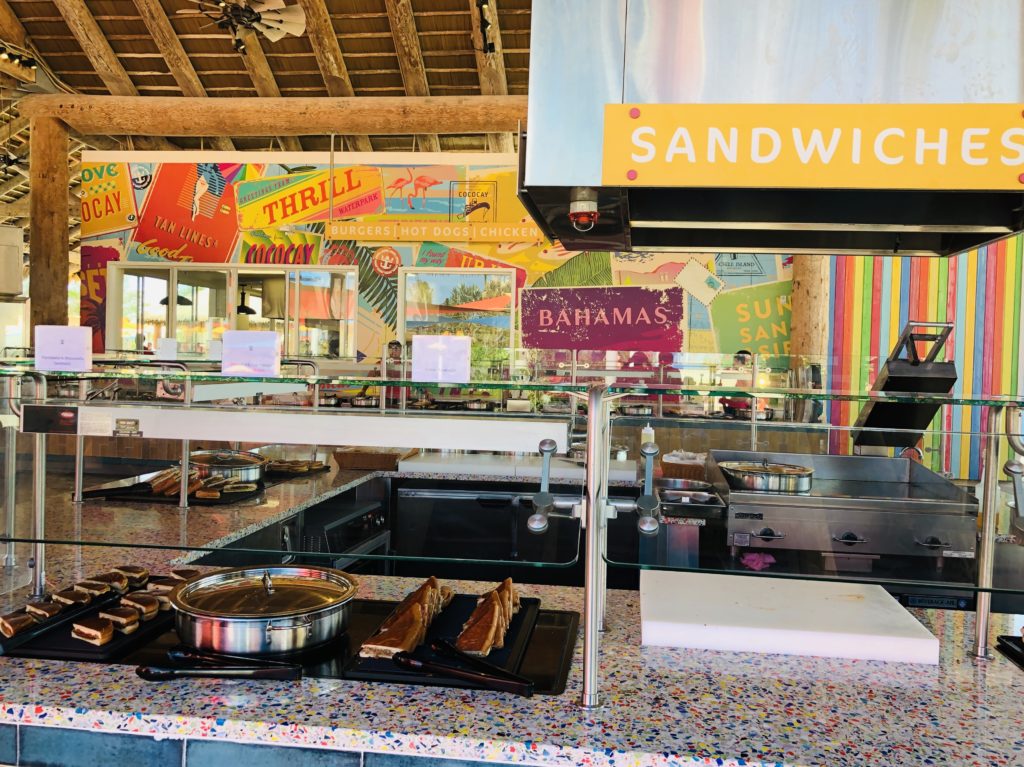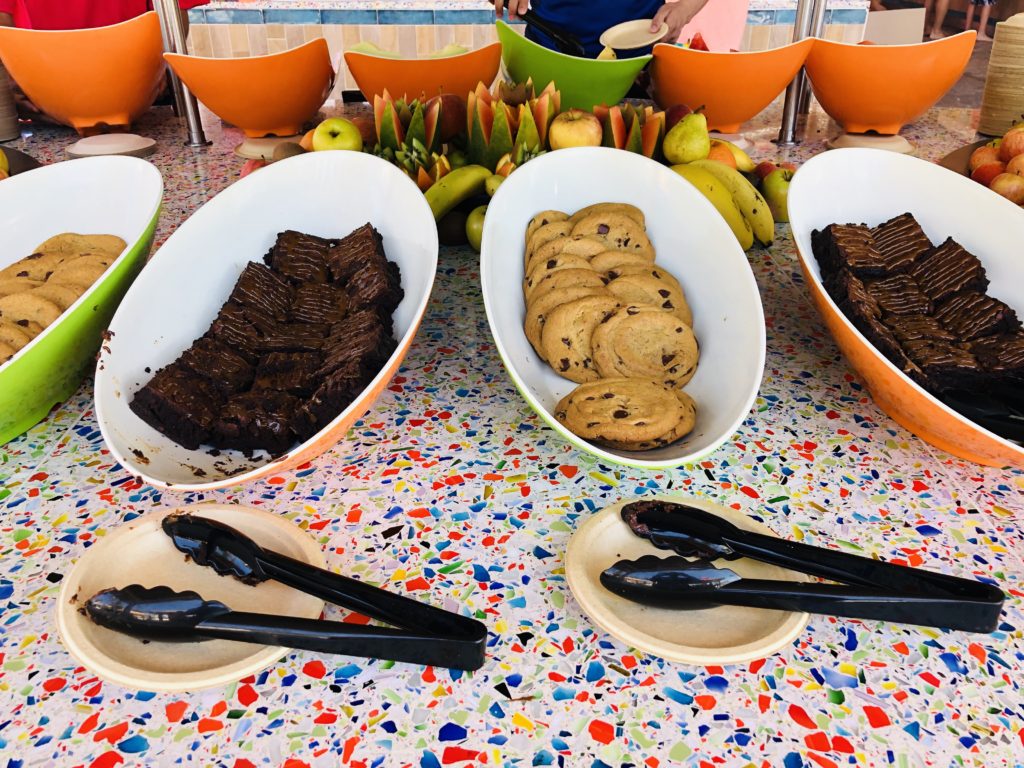 Oasis Lagoon
Continuing toward the back of the island from Skipper's Grill is Oasis Lagoon, another complimentary area. This is the Caribbean's largest freshwater pool. There is a zero-depth entry with water spray fountains, and various coves to hang out in with lush landscaping all around.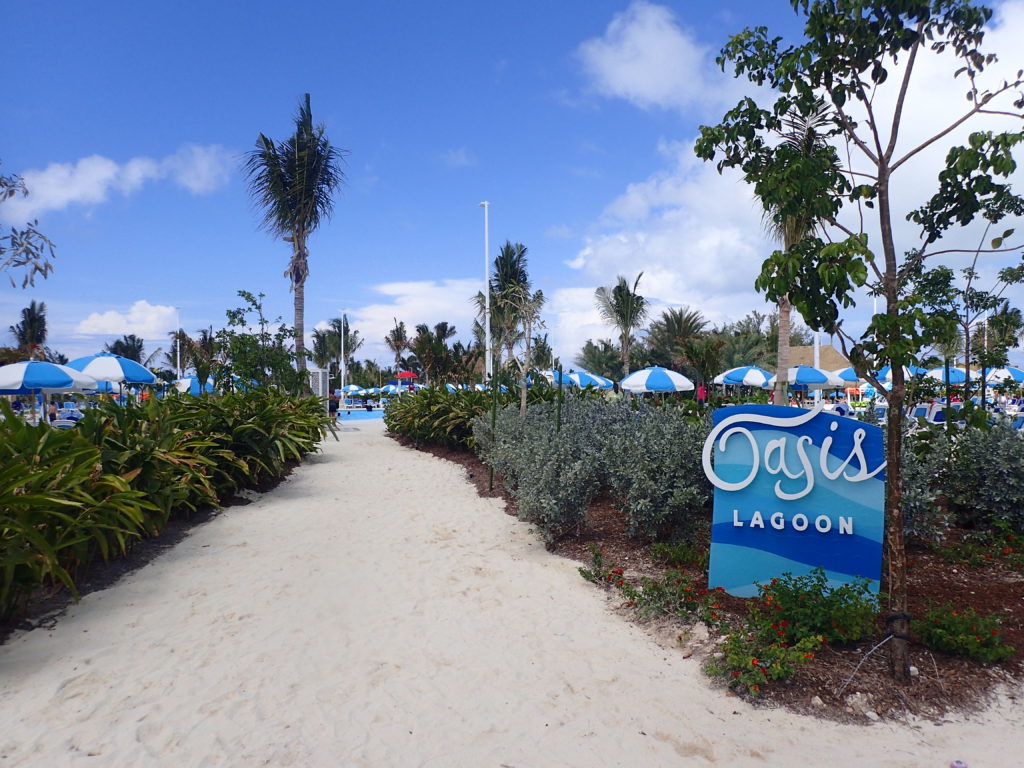 There are three swim-up islands with in-water seating and a swim-up bar. This area had a bit more of a party vibe, as there was upbeat music and a lively atmosphere. Also, plenty of loungers both in the sun and the shade were available.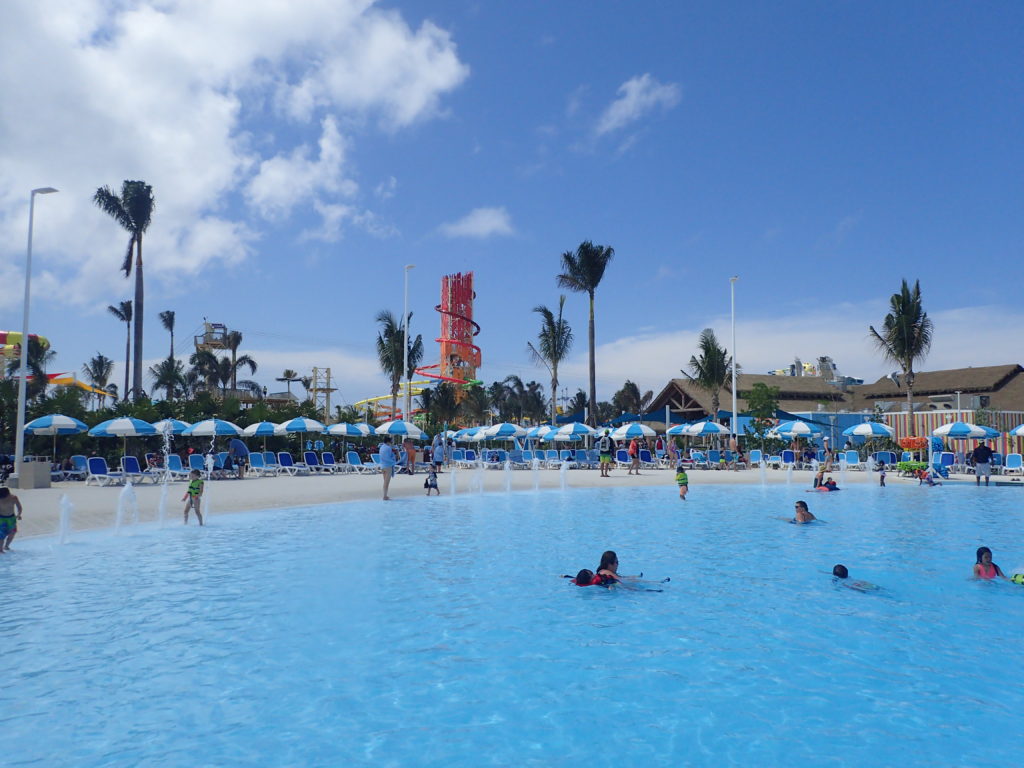 Up Up and Away Helium Balloon
When facing the back of the island, to the right of Oasis Lagoon is the Up, Up and Away Helium balloon. This tethered balloon takes guests 450 feet in the sky, which is the highest vantage point in the Bahamas. There is a small building to purchase tickets near the balloon (though I'd highly suggest booking in advance because there are limited flight times). We were booked for a 3 o'clock flight, however the wind was too strong at the time to safely go up. The pilot kept us up-to-date on their decision whether or not to fly, and even did a low test flight to confirm that it was not ideal conditions to safely fly.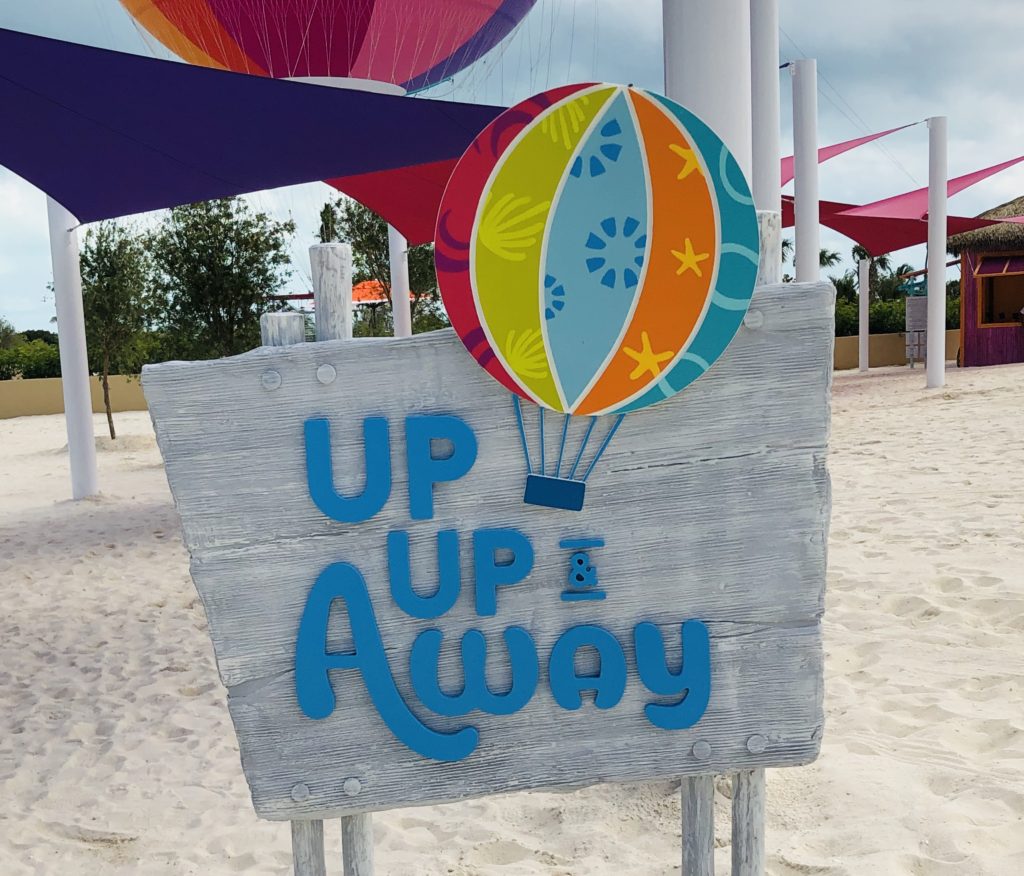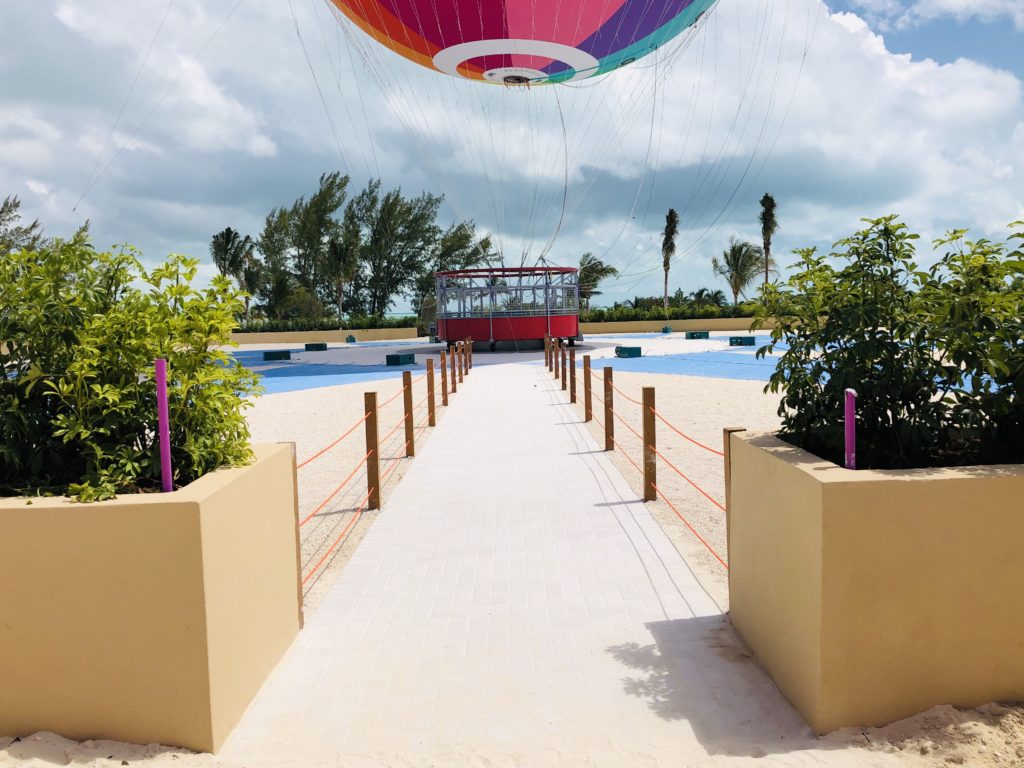 Thrill Waterpark
As you're entering the island to the right is the entrance to the Thrill Waterpark. This area is a ticketed area, available through Royal Caribbean shore excursions. We were not required to bring our paper tickets, as they were added to our Sea Pass card which we scanned at the entrance to the water park. Upon leaving the water park area, we received a wristband so we could easily come and go.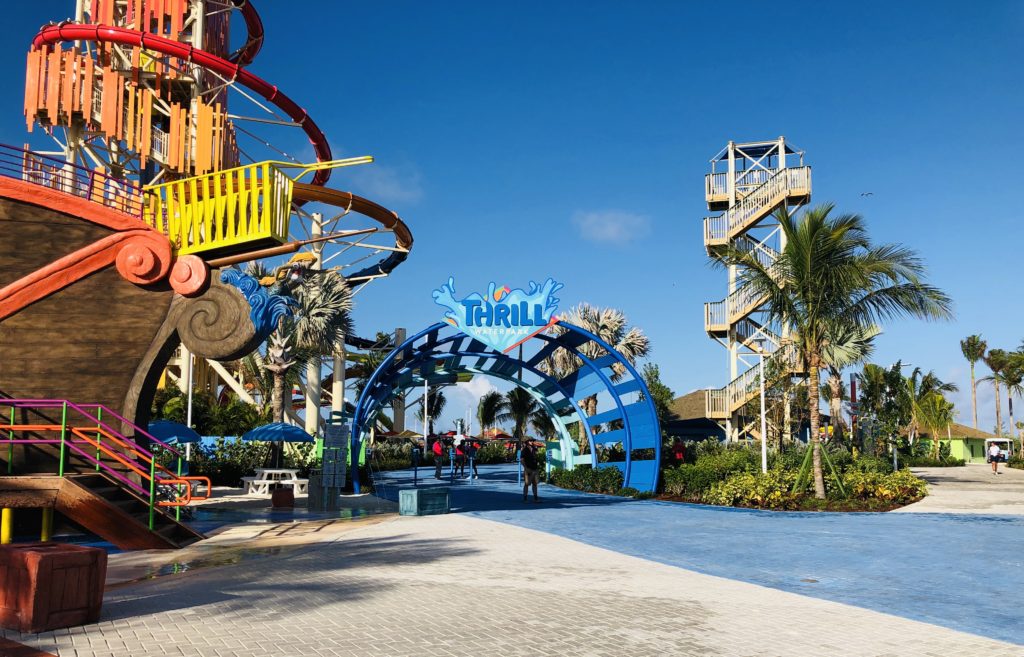 Inside the water park are four major attractions: Daredevil's tower of water slides, the wave pool, splash summit water slides, and adventure pool.
Daredevil's Tower
The first eye-catching attraction is Daredevil's tower, a mix of intense and semi-intense body slides. Daredevil's tower includes Daredevil's Peak, which is the tallest water slide in North America at 135 feet. It is not a straight slide, it twists around the slide tower, though that doesn't mean it isn't fast and intense.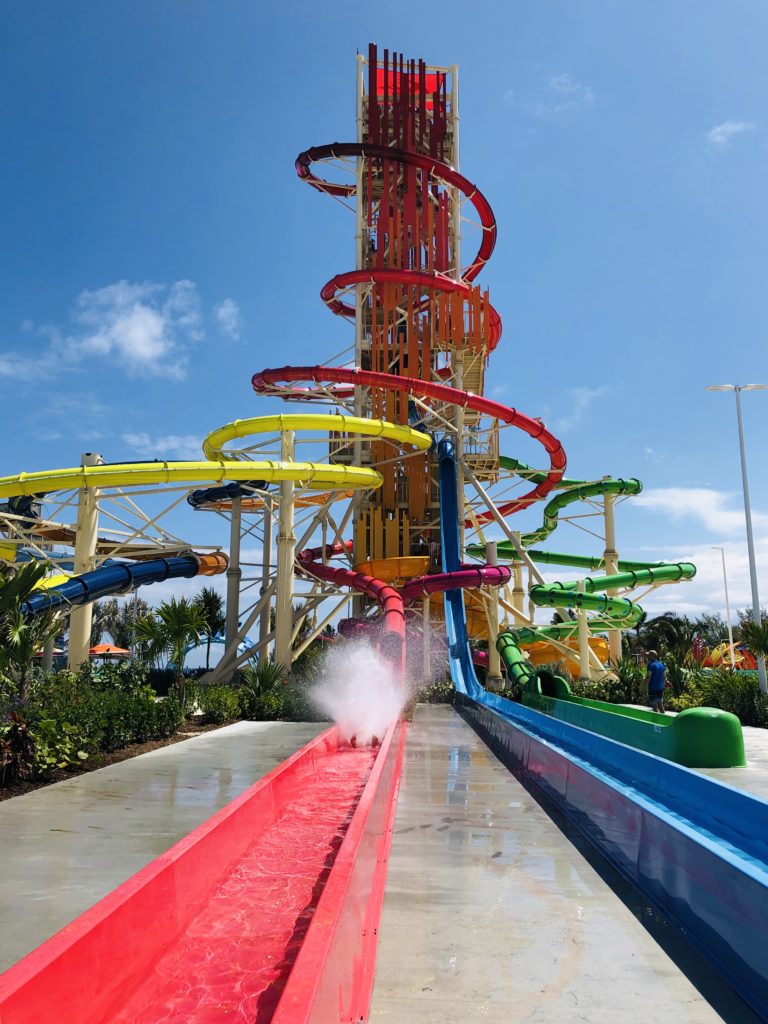 I watched people exiting the splashdown area of the Daredevil's Peak slide, and many adults were commenting on its speed and intensity. Everyone seemed to enjoy it. My 7 year old (who is much braver than me and not afraid of heights) loved the rainbow rings on the slide that give it an extra cool affect. On the day we visited Daredevil's Peak seemed to have the longest line. We attempted to estimate the wait time from the ground by counting the number of flights of stairs that have people lined up on them. We guessed that it was about 15 minutes of wait per set of stairs. I'd suggest going to this slide first in the morning to attempt to avoid a wait time if you are daring enough to ride it!
Other slides in the Daredevil's tower include twin trap door slides. These also seemed to be very thrilling, as I could hear screams as people were riding these slides. The next biggest thrill on this slide complex is the blue vertical speed slide. It heads seemingly straight down into its splash area. On the same stair landing area as the blue speed slide is the green tube slide. This was one of my favorite slides on the island. It is slow at first, and then gets really fast. It also had rainbow dots of light poking through the slide, which was a cool element.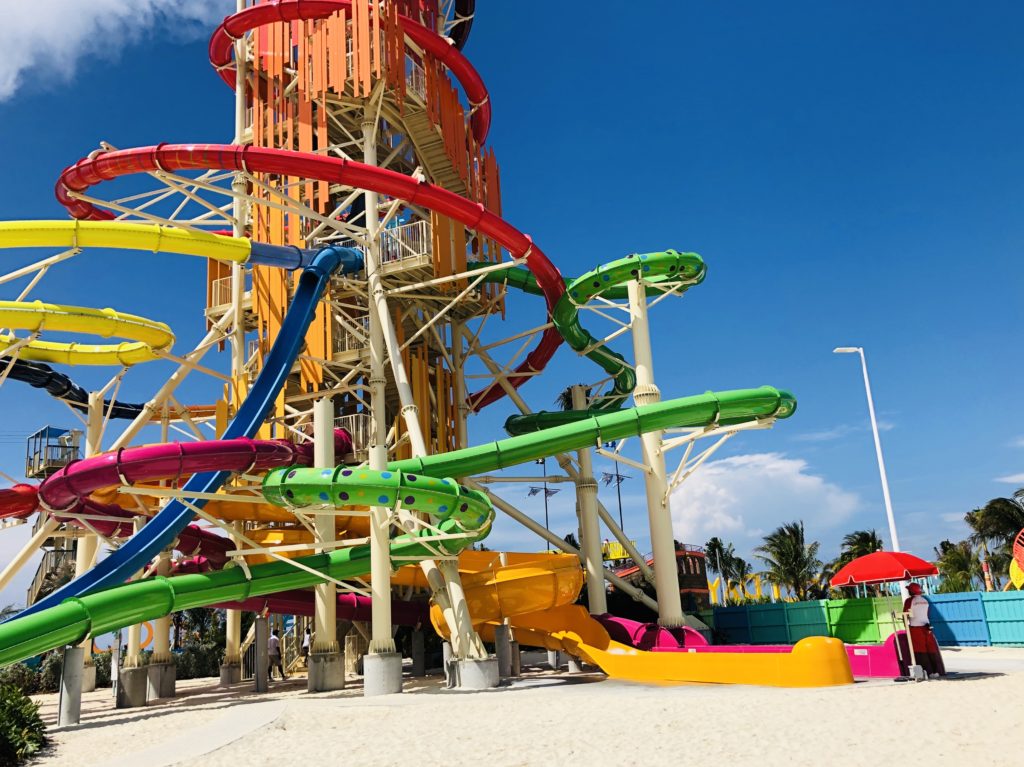 For those looking for a bit tamer slides, there are two much smaller slides, the Manta Raycers. The yellow one is an open body slide (I prefer these due to my claustrophobia) and the purple is an enclosed body slide. Both are somewhat tame (by my standards). During our Perfect Day at CocoCay, these slides didn't form much of a line. We walked right up to them several times.
Wave Pool
Directly to the right of Daredevil's Tower is the wave pool. It is the largest wave pool in the Caribbean. While there appeared to be a time clock to indicate the amount of time the waves were running, it wasn't in use the day that we visited. The waves just kept on coming, which was fine with us! There are lots of loungers and umbrellas at the wave pool, as well as outside showers, life jackets, towels, and restrooms available nearby. One of the two snack shacks on the island was within close walking distance as well, which is very convenient. The Snack Shack has similar, but not as extensive, offerings as Skipper's Grill.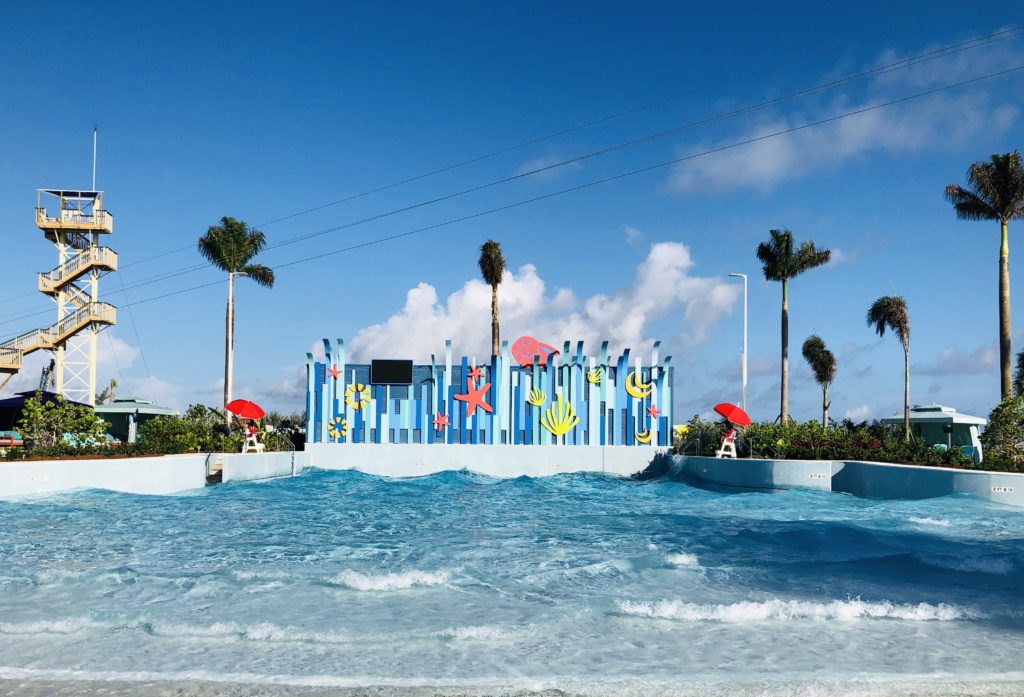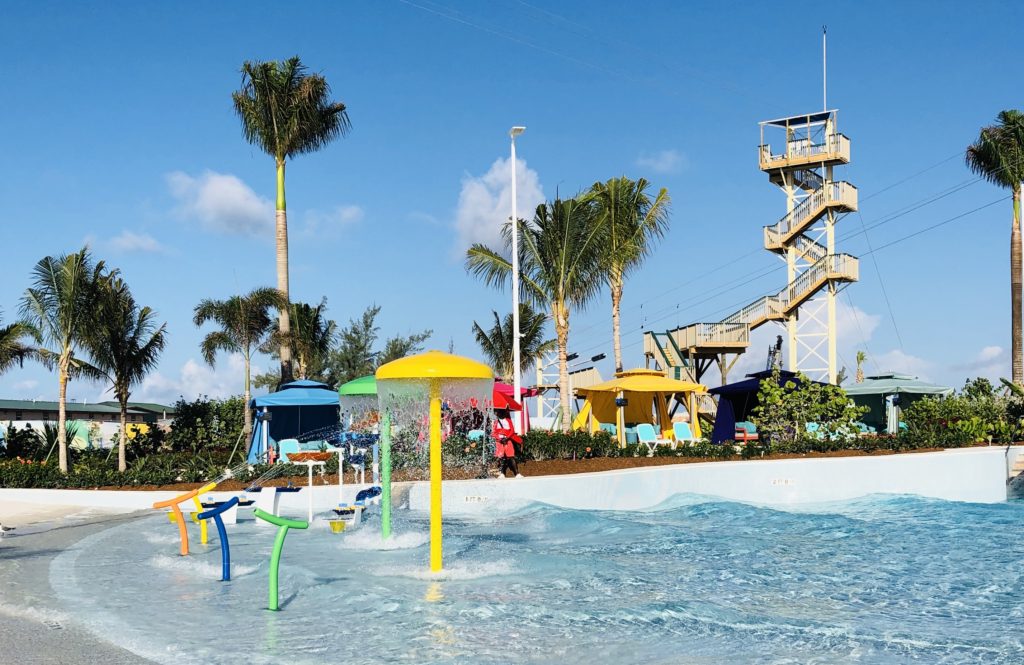 Adventure Pool
This pool has four lily pad obstacle courses, two have netting, and two have single ropes. The single ropes seemed to be the lowest for shorter children, the netting one that my daughter kept trying was a bit too tall for her, and she's 52 inches. There are also two swing ropes and a rock wall. Note that even though the rock is fairly large, only one person can be on it at a time.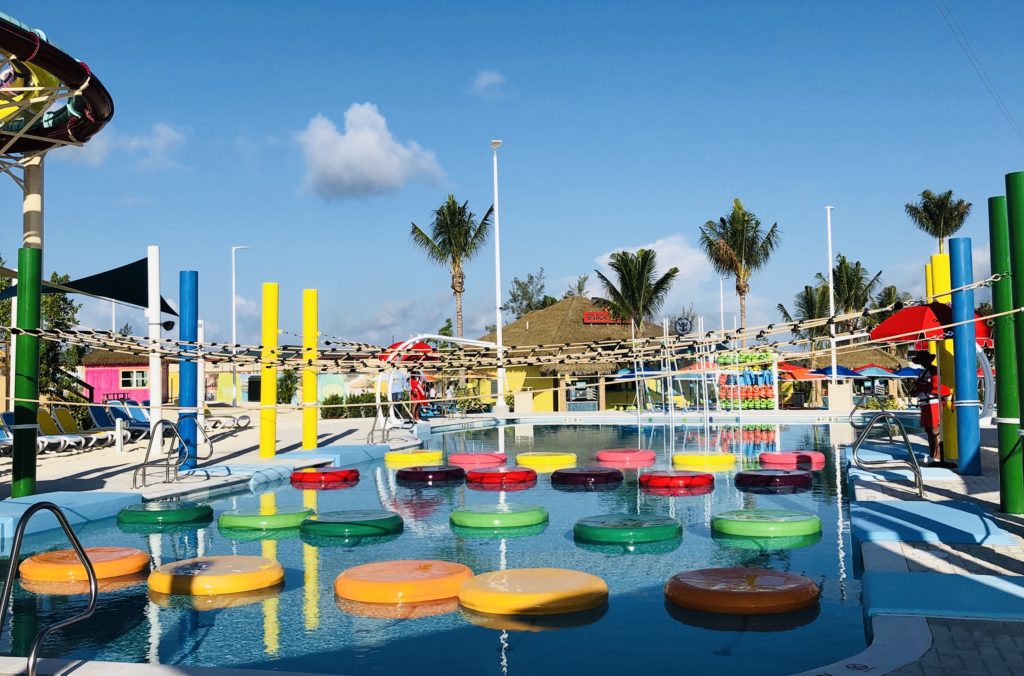 The rock wall was difficult to climb for my 7 year old who regularly climbs rock walls. She said the difficulty was a mixture of some grips being upside down, and because the grips were spinning. Life jackets are available and required for those under 48″ in this pool.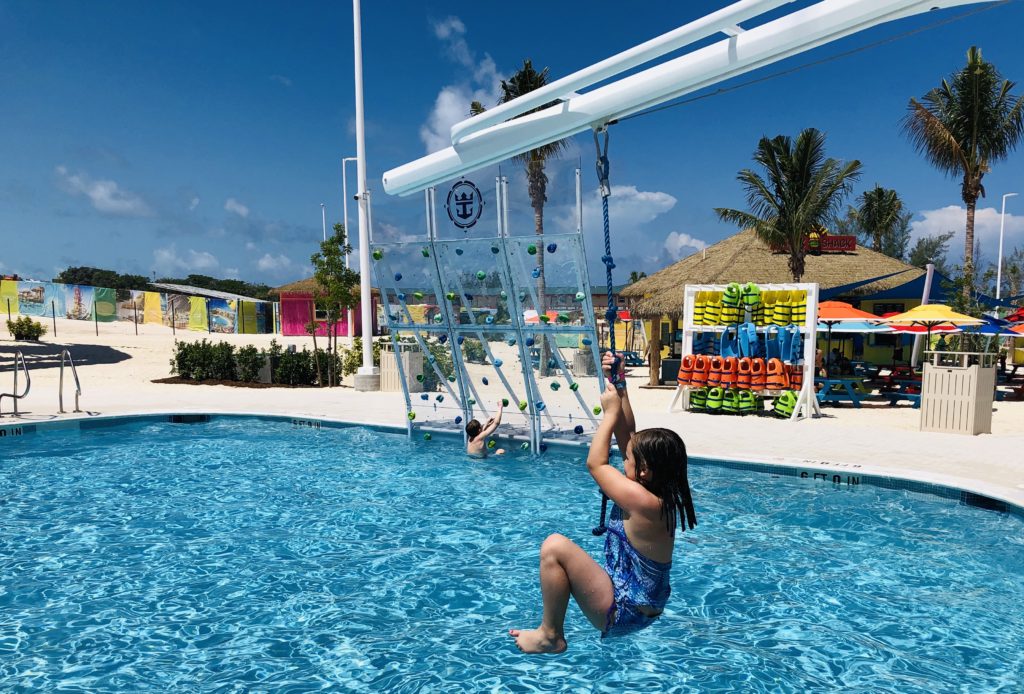 Splash Summit Waterslides
This slide tower has four mat racer slides, a sling shot slide, and a winding tube slide.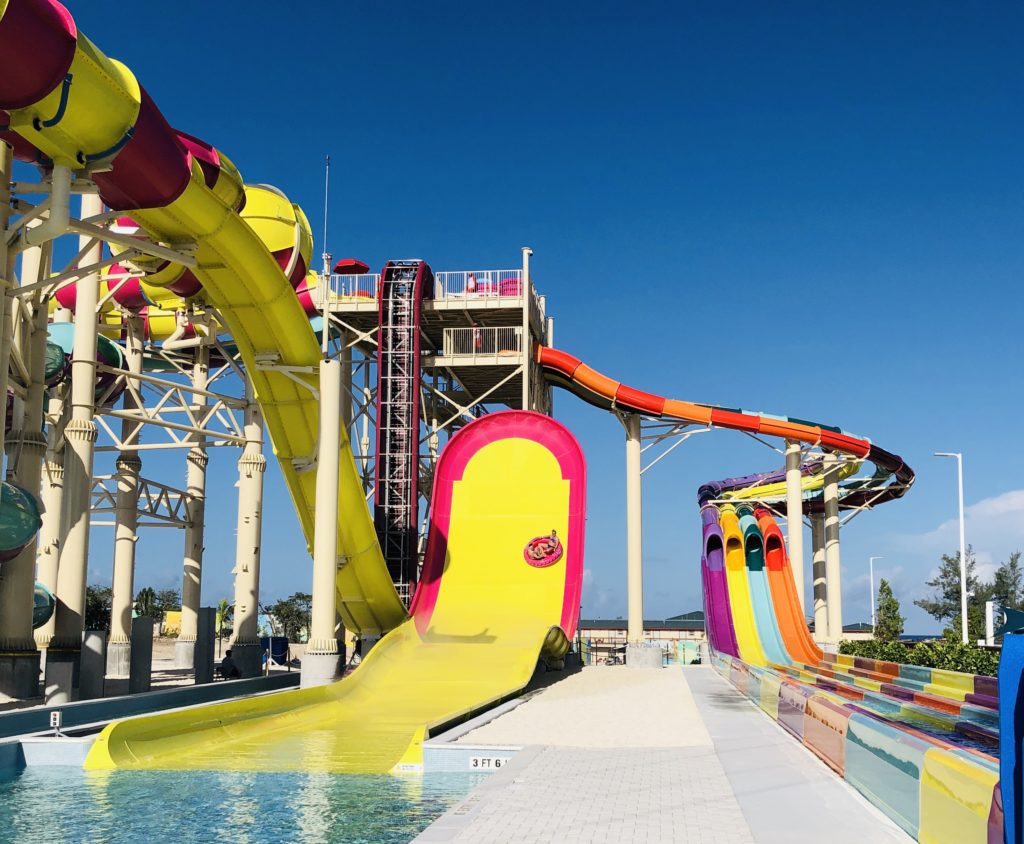 Sling Shot slide
The sling shot slide is a raft slide for two to four people, depending on weight. The lifeguards weighed us at the top of the slide complex to ensure we were within the allowable range (see photo of slide rules for details). Don't worry, the weight is hidden well so that just the lifeguards can see it. To ride sling shot, you need at least two people. My husband and daughter found a single rider that wanted to do it, and paired up with him.
The sling shot is the only slide on this complex that does not require you to take a mat or tube to the top with you. The rafts are moved to the top of the stairs on a conveyor belt. Sling shot goes through a tube into a ball, where you slide around a bit, then through a tube again down to the zero-gravity moment before heading into the splash down.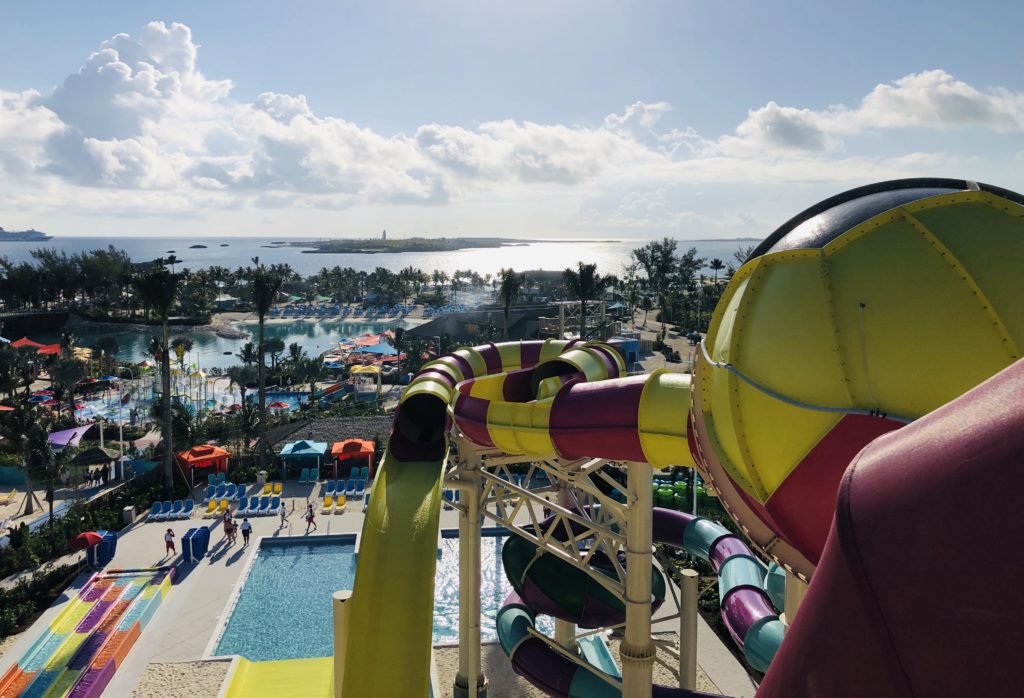 Twister
Another one of my favorite slides in the park. This slide requires a single or double tube that you must carry up the stairs. Tubes are available on a stack at the exit of the slides. The lifeguard weighs riders for this slide to ensure you're the proper weight (see photo of slide rules for details). This slide has color elements mixed into the tube as well, and is a fun, fast ride to splash down in a pool.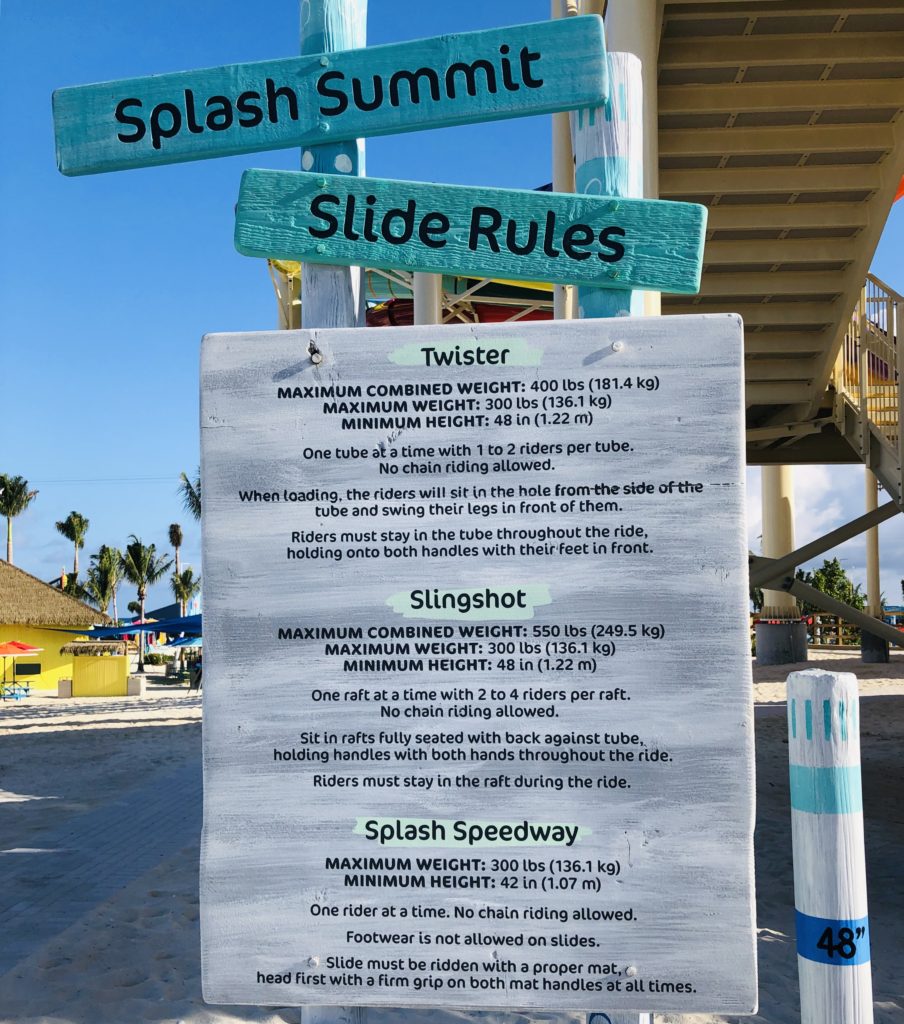 Splash Speedway
Splash Speedway are the mat racer slides, on the Splash Summit water slide complex. There are some mats available at the bottom of the stairs. More mats are available at the slide exits. Note that one set of stairs are for all slides on this complex. The sling shot line was the longest, and we noticed that no one was waiting for the mat racers slides, even though it looked like there was a line. We kept heading up the stairs, knowing that the people without tubes or mats were waiting for Sling Shot or the Twister slide, and not the mat racer.
Chill Island and Beaches
Chill Island sounds just like it is. It's a place to relax on the beach in loungers, and enjoy the clear waters and powdery sands. There's also Chill Grill if you work up an appetite relaxing. Chill Grill is open from 11:30 AM – 3 PM and has Caribbean-style eats. Other beach options include Harbor Beach with a waterfall and fountain, as well as South Beach. South Beach is on the backside of the island, but there are fabulous golf cart trams to get you there!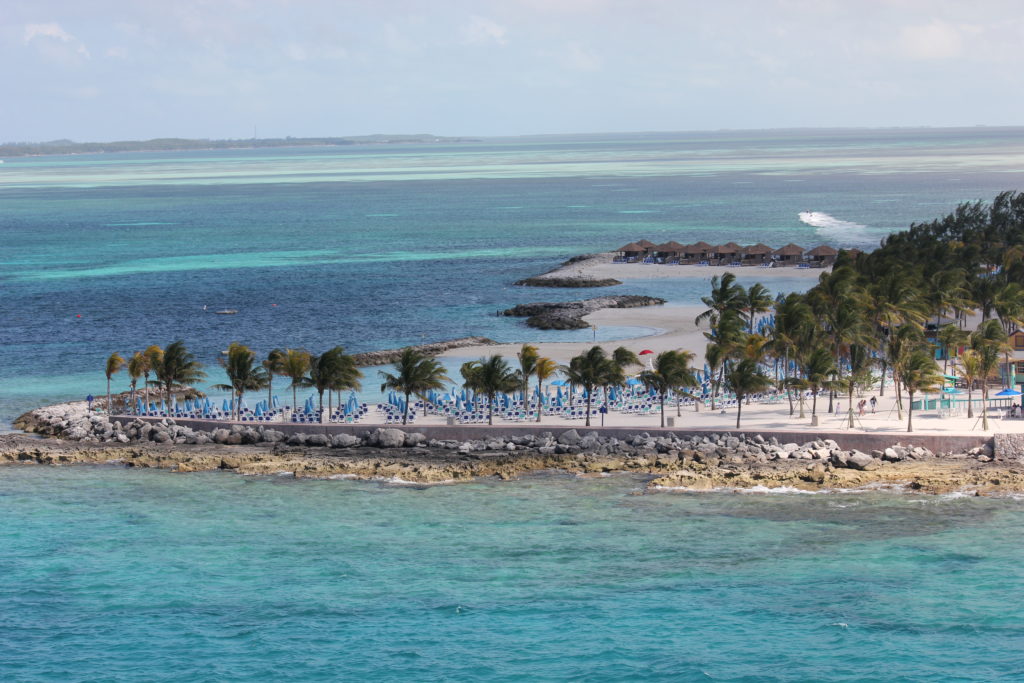 Shore Excursions, Other Activities and Bars
At the back left of the island, there are many other activities for additional fees. Snorkeling, Scuba diving, and jet skis can be rented in this area. Zip Lines also cross the island at several points, with the first tower to the right of the water park entrance. If you're looking for an adult drink, there are several options at Perfect Day at CocoCay: Captain Jacks, Wacky Seagull in the Chill Island area, and the Oasis Lagoon swim-up bar. The island even has a signature drink, the Coco Loco!
Captain Jack's
Captain Jack's is close to the center of the island and includes a large shaded area with a full-service bar. The day we visited there was live entertainment by a guitarist/vocalist. You can view Harbor Beach from here and enjoy some wings and fries as well.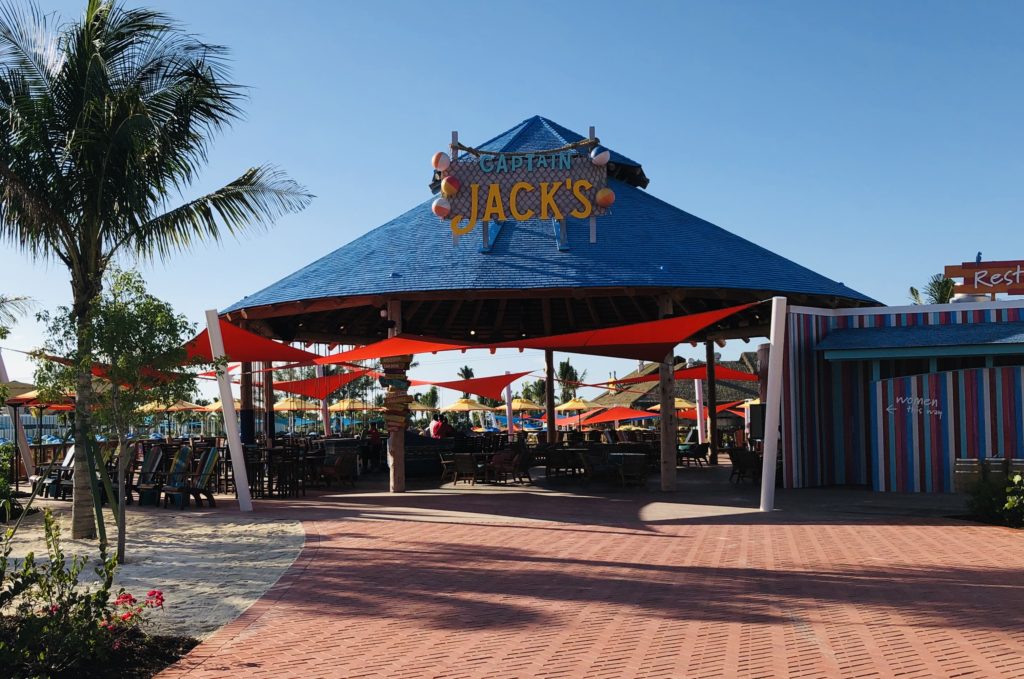 Tips for your Perfect Day at CocoCay
Bring lots of sunscreen. While there is plenty of shade, but we still reapplied sunscreen often.
If you have older children that want to ride the big slides, but younger ones who aren't tall enough, consider bringing some sand toys. There is plenty of sand throughout the island, and it is white with beautiful shells. My youngest daughter kept busy playing in the sand at the bottom of the slides while we waited for my older daughter on the slides.
Wear shoes as much as possible. Even though the pavement is light in color (thank goodness!) it can still be really hot. We wore our flip flops whenever we weren't in the water.
We were able to catch a tram at the end of the day right outside the main water park entrance that delivered us directly to the ship! It was amazing at the end of a long day when we were tired.
The water park has a main entrance at the front of the island, but also a side entrance near Splashaway Bay.
Lockers are available throughout the island. We didn't use one, but I didn't see any cost to use them.
Full showers are available inside the water park, if you would like to get showered and dressed back into clothes while still on the island. Bring soap and shampoo.
There is a towel station on the ship as you are disembarking. While Royal Caribbean doesn't guarantee towel availability on the island, there is a towel exchange beside the wave pool in the water park and to the left of the Oasis Lagoon. The towel stand seemed to be full of clean towels.
You may want to grab breakfast on the ship if you are headed to CocoCay early. Food service on the island starts at 11 AM at the Snack Shack and Captain Jack's. It starts at 11:30 AM at Skipper's Grill.
Skipper's Grill has brownies, cookies, and ice cream. Staff will handle the ice cream for you, and they are willing to put ice cream on top of their cookies and brownies. Yum!
There's a Snack Shack in the water park between the wave pool and Adventure Pool. We loved that they had mozzarella sticks. Double Yum!
We were lucky enough to be on a ship that's on the smaller side, as well as the only ship docked at Perfect Day. Everyone really spreads out on the island, and we didn't feel crowded at all. Consider this when booking your trip!
When we sailed away, the staff of the island lined up on the dock with a special message for us. Photo is below. Don't scroll down if you want to be surprised.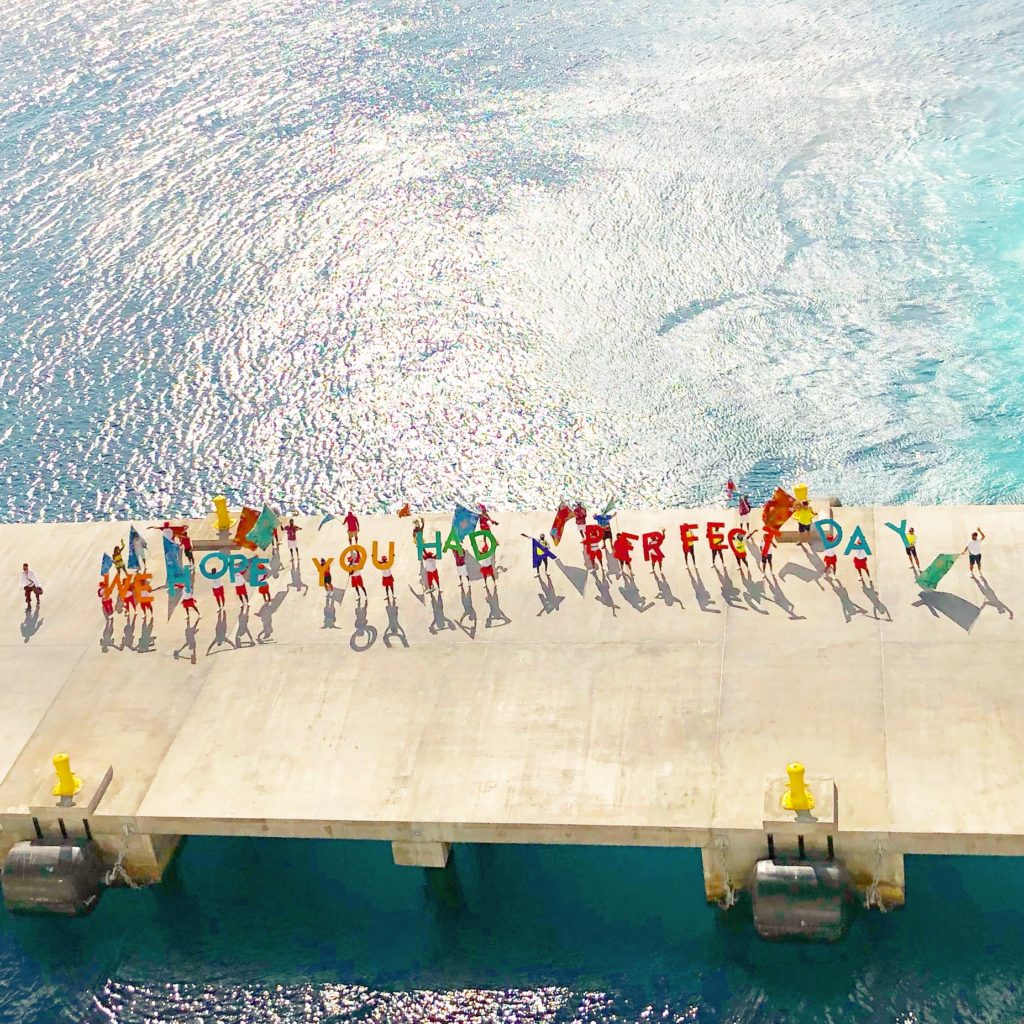 Sponsored post – Royal Caribbean provided us with VIP status and onboard credit in exchange for this post. All opinions are my own.