Sponsored Post – Kings Island hosted our visit to the amusement park. This post is about a new lodging, Camp Cedar, option close to Kings Island.
Camp Cedar is a new luxury camping resort located just a few minutes away from Kings Island amusement park and Soak City water park. The resort features several styles of cottages and also parking spots for RVs. Tent camping is not available at this resort.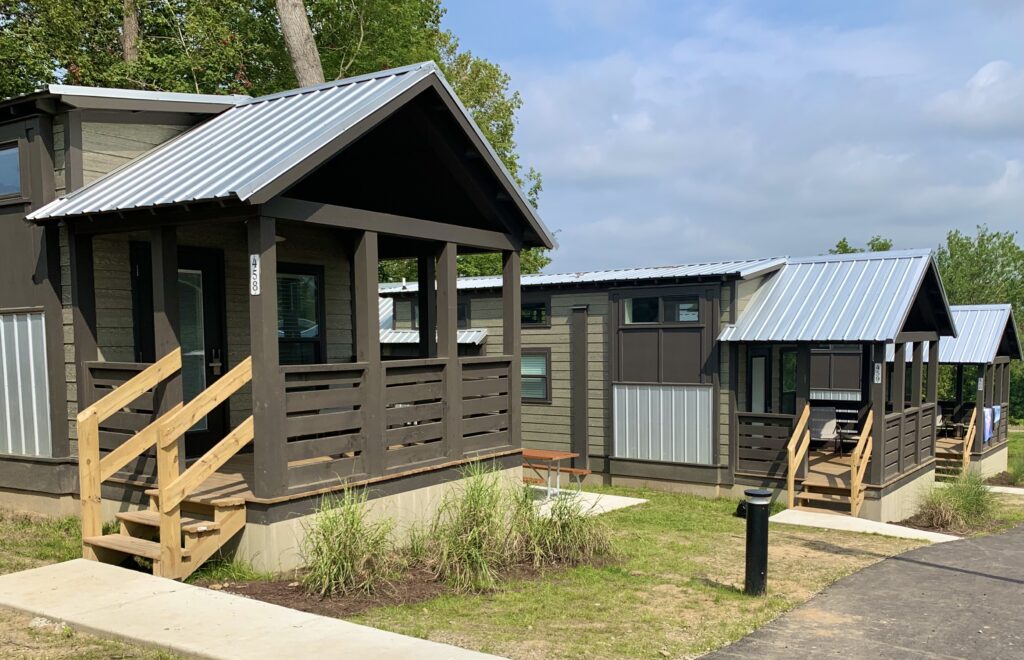 Camp Cedar Check In
Upon checking, you'll proceed to the Hornbeam Lodge guest check in area. There's a small parking lot in front of Hornbeam Lodge. You can park to receive your cottage access bands or information about your RV site.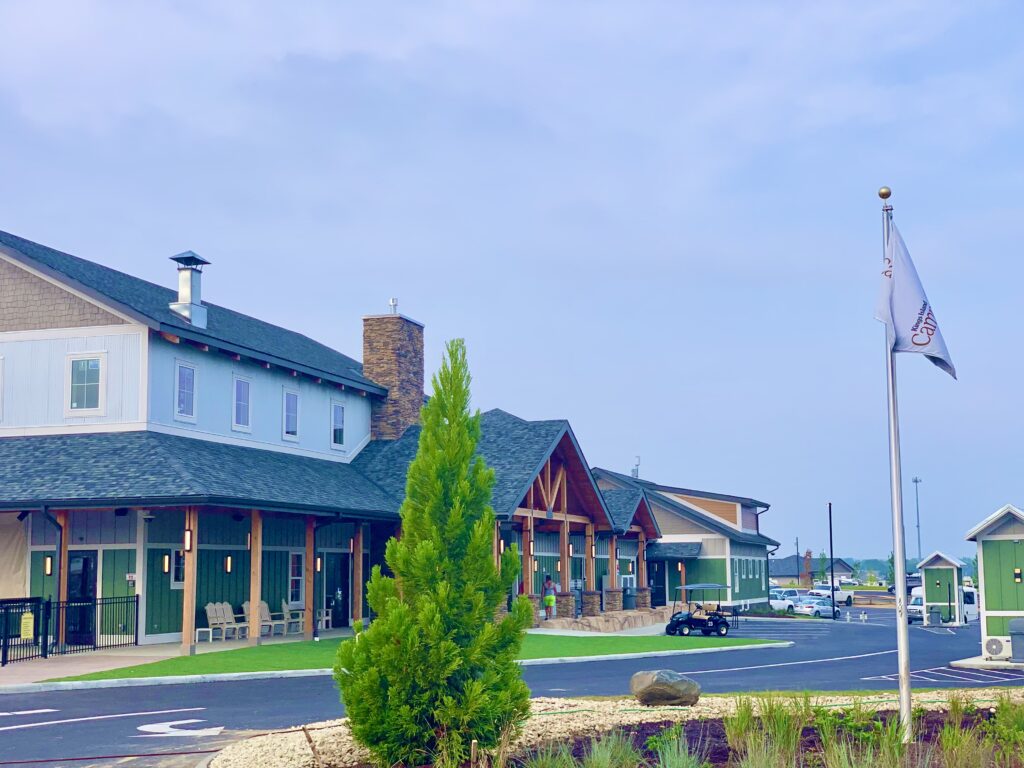 The check-in desk can also help you with your questions about Kings Island tickets and transportation. There is a shuttle to take you to Kings Island. There's also a list of the daily activities at the resort available at the check-in desk.
Beside the registration area is the Coyote Creek Camp Store. The store includes many camping essentials like sunscreen, swimwear, charcoal, and s'mores supplies. There's also souvenirs for sale such as shirts, hats, jewelry and stuffed animals.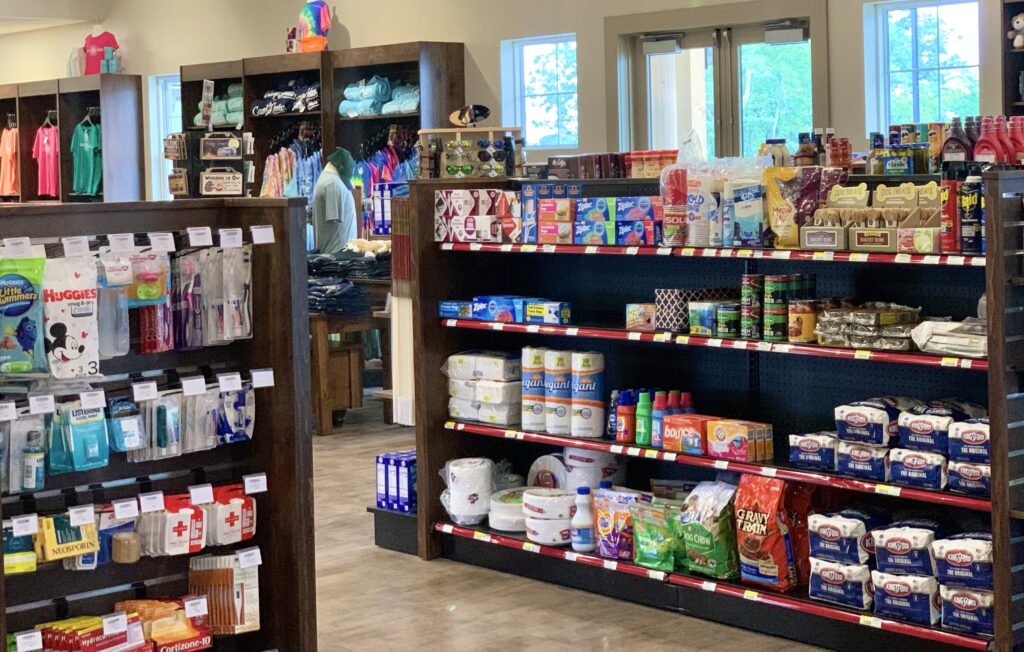 Camp Cedar Food
After walking through the camp store, you'll enter the lounge area and Ironwood Grill & Tap restaurant. Ironwood serves breakfast, lunch, and dinner with inside seating and a seasonal patio. There's also more eateries by the main pool, in an area called Belize Street.
Belize Street is a cluster of walk-up eateries by the main pool, Deerfield Springs. There are three eateries. One is the Urban Cow, which serves ice cream Next is Route 66, which features staples such as burgers, hot dogs, and fries. At the end of the row is The Fresh Tortilla, for burritos, nachos, and tacos.
The front eatery, closest to the pool, is the Beach Box. This is another outdoor bar with a variety of mixed drinks and other types of adult beverages.
Camp Cedar Cottages
Camp Cedar features two different cottage types that sleep up to eight, and three different cottage types that sleep up to four people. The larger cottages that sleep up to eight people are Hickory and Aspen.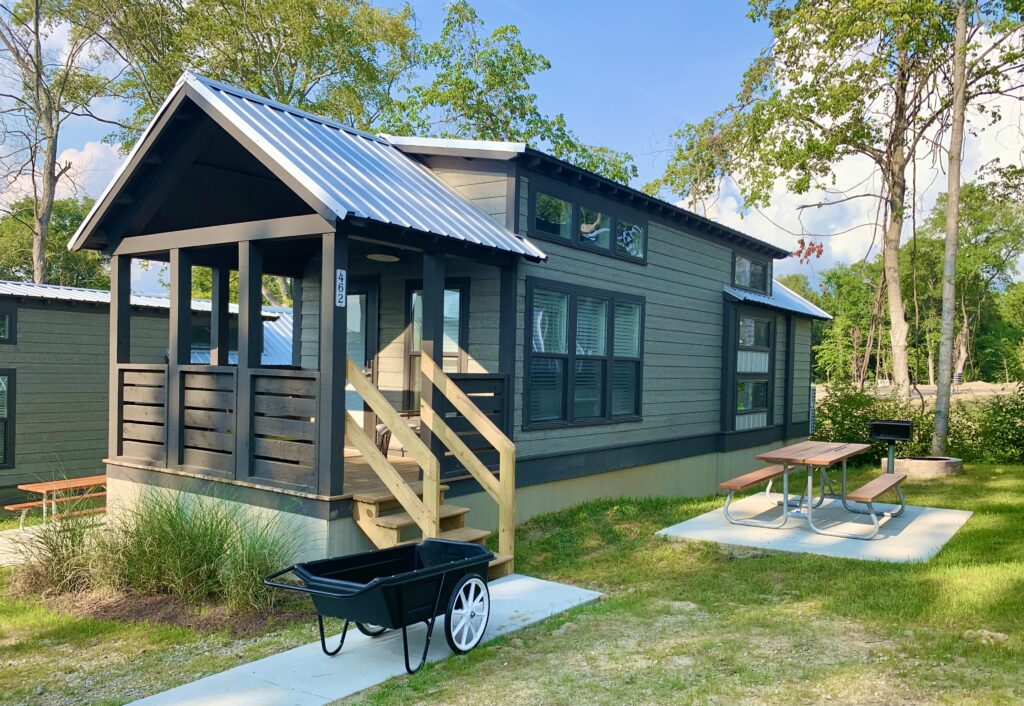 The Hickory Cottage includes a queen bedroom, kitchen with bar, and one full bathroom. There's a set of bunkbeds, and another bed in the loft accessible by ladder. Check the Camp Cedar website for more information about cottage types.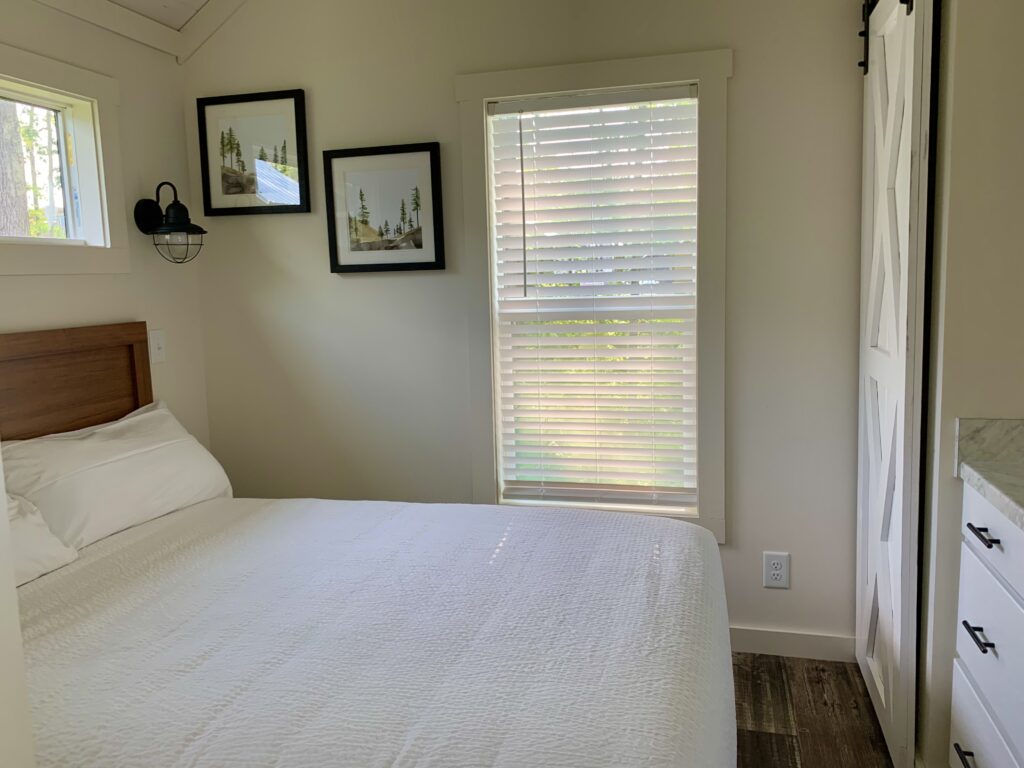 One of the smaller cottage types is the Birch Cottage. Cottages typically include a picnic table and a fire pit.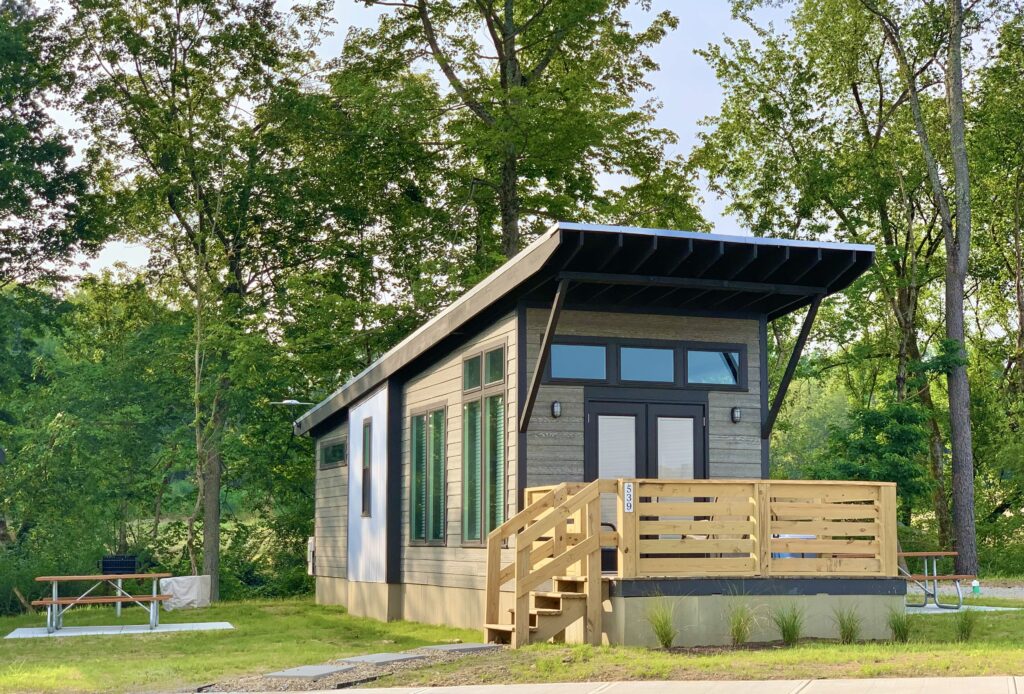 Camp Cedar Pools
There are two pools at Camp Cedar. There's a large family pool area, with two basketball hoops, a waterfall, and a small slide for children. There's also a zero-depth entry area on one side and stairs entry on another side. This pool is called Deerfield Springs.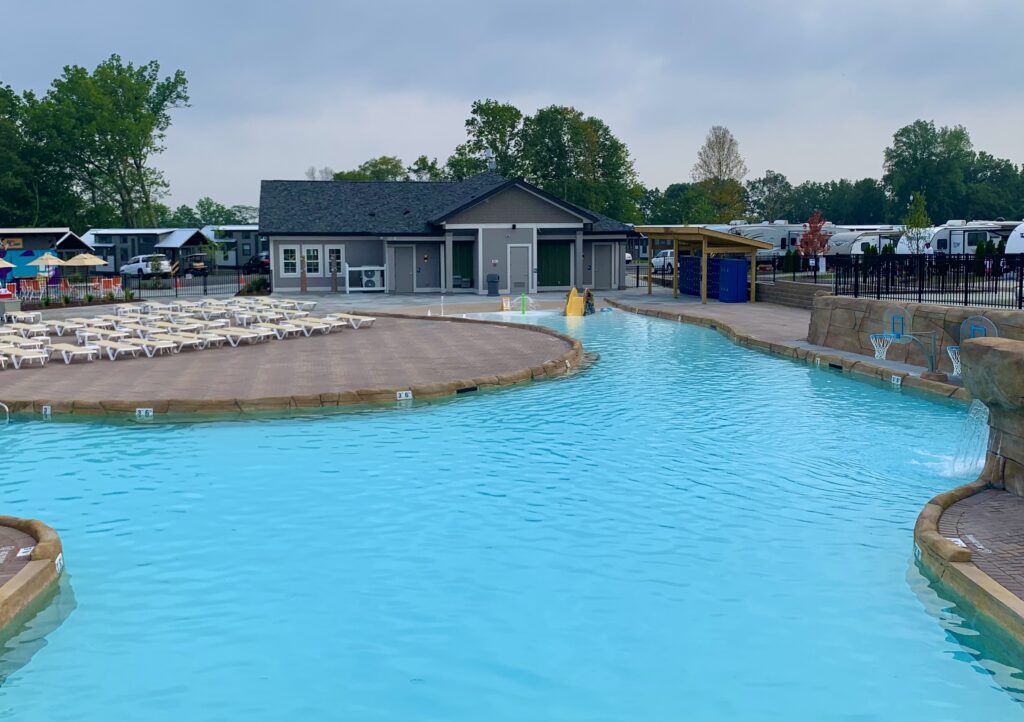 Private cabanas which include TVs are available for rental. There are plenty of other loungers. Towels are also available at the pool side.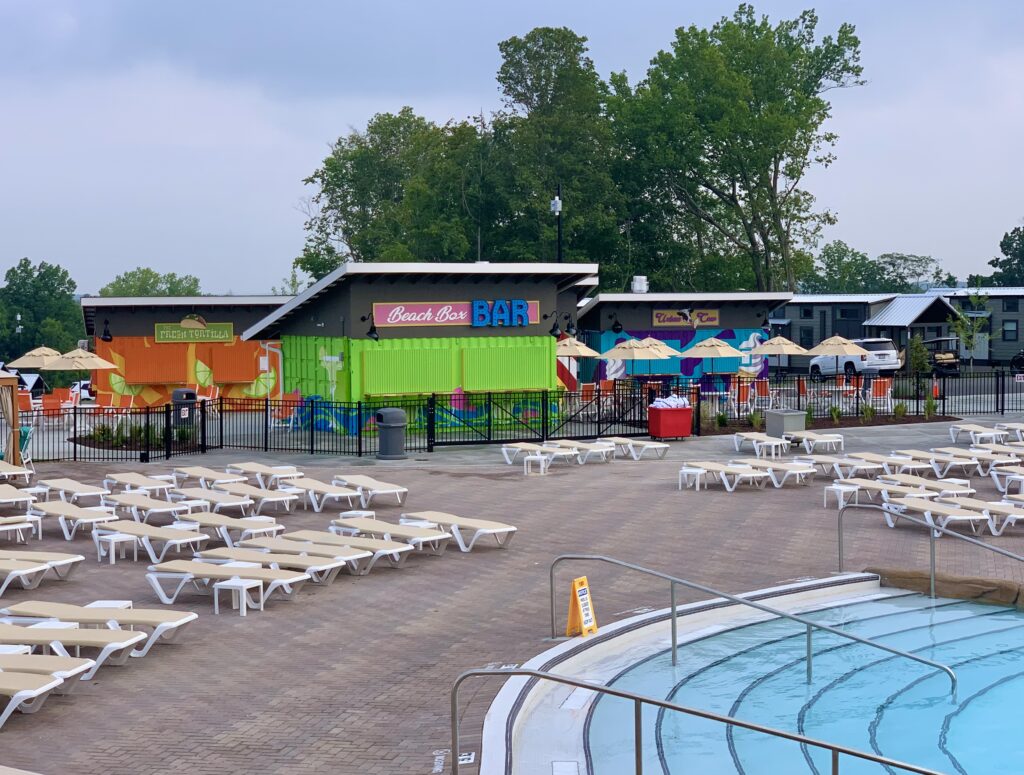 The two pools are located close to the entrance of the camping resort. As the resort grows with additional cottages and RV spots, there are golf carts available for rental to navigate the resort.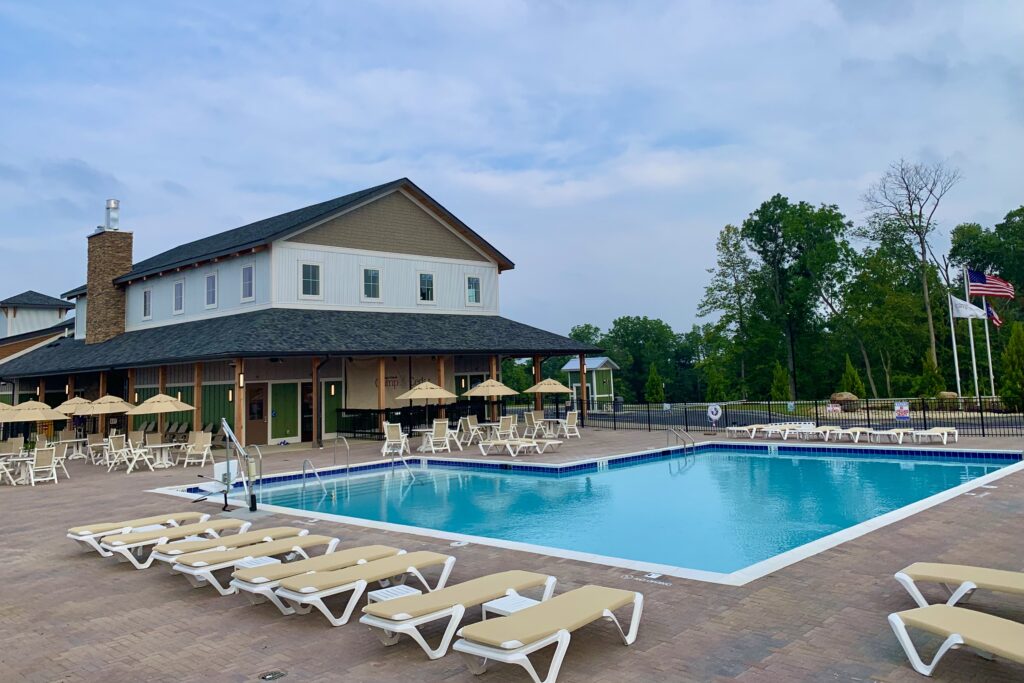 Kingfisher Landing is the adult pool at the camping resort. The pool is beside Hornbeam Lodge, which has patio seating and a seasonal outdoor bar.
Other Amenities
Camp Cedar also features lawn games such as corn hole and bocce ball. When we visited there was live music on the lawn in the evenings. Check the daily activity schedule for details about the events during your visit.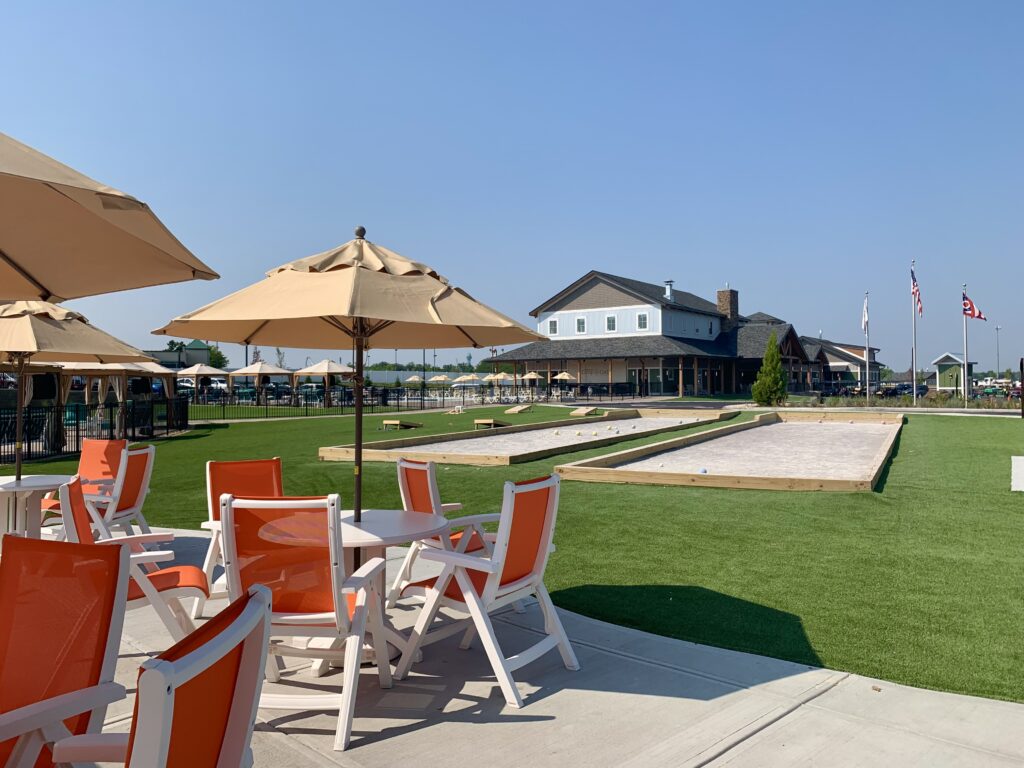 Golf carts are available to rent. There are also bathhouses with laundry available.
Tips for Visiting Camp Cedar
You may want to bring camping chairs to sit around the fire pit. In some cases, the fire pit was located on the opposite side of the cottage as the picnic table. There are a couple of chairs on most of the cottage porches, but camping chairs would be nice to have around the fire.
There are restaurants and fast food in the area, however we found that they closed early, even on weekends. Be sure to check their hours if you are planning to eat late.
Shuttle service to Kings Island is available the resort. Ask at the check-in desk for details on their hours of operation.
Ticket packages are available for Kings Island.