Sponsored Post – Camelback Lodge and Aquatopia Indoor Waterpark hosted us. All opinions are my own.
Camelback Resort
Aquatopia indoor water park is located inside Camelback Lodge in the Pocono Mountains of Pennsylvania. The lodge and indoor water park opened in 2015, and it offers a wide variety of fun activities.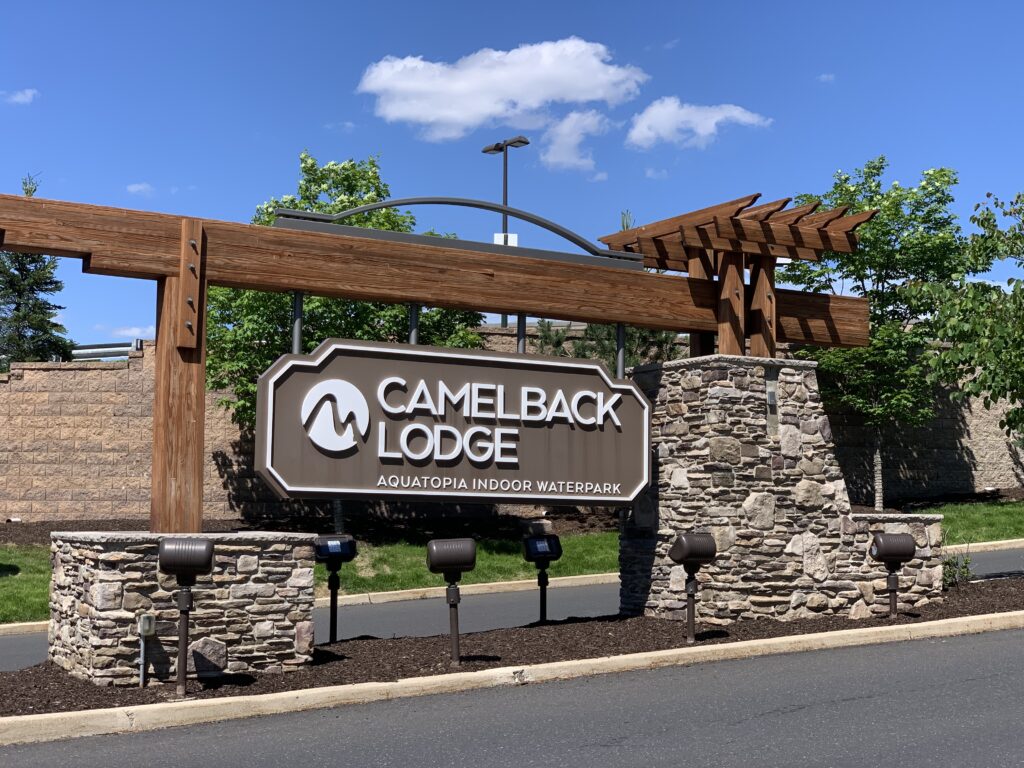 Aquatopia is a large indoor water park with 13 water slides including tube slides, body slides, mat slides, bowl slides and aqua launch capsule slides. There are also several kiddie slides.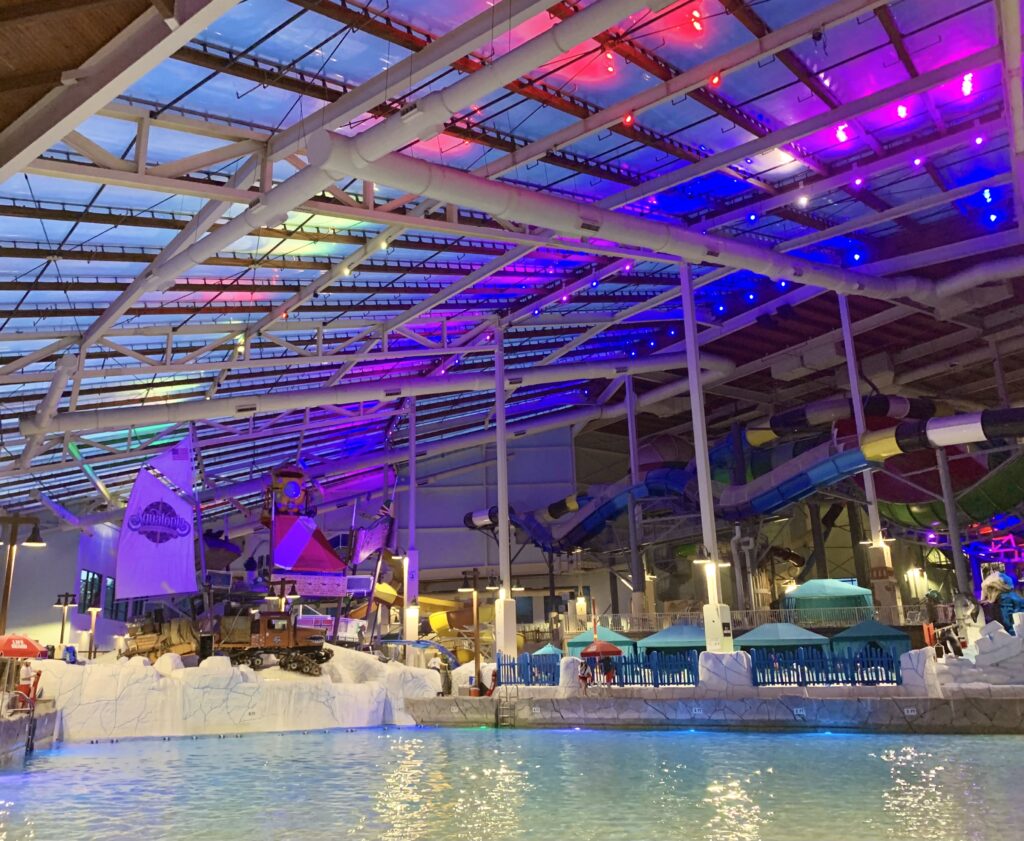 Entrance to the water park is available on your day of arrival as an overnight guest at Camelback Lodge. It continues through departure when you stay overnight at Camelback Lodge, however day passes are also available. When staying one night, you may enter the water park early on the day of check-in. You'll have access to the water park for the entire operating hours the next day.

Camelback offers different room types. There are the traditional two-bed rooms, as well as very large, two bedroom suites.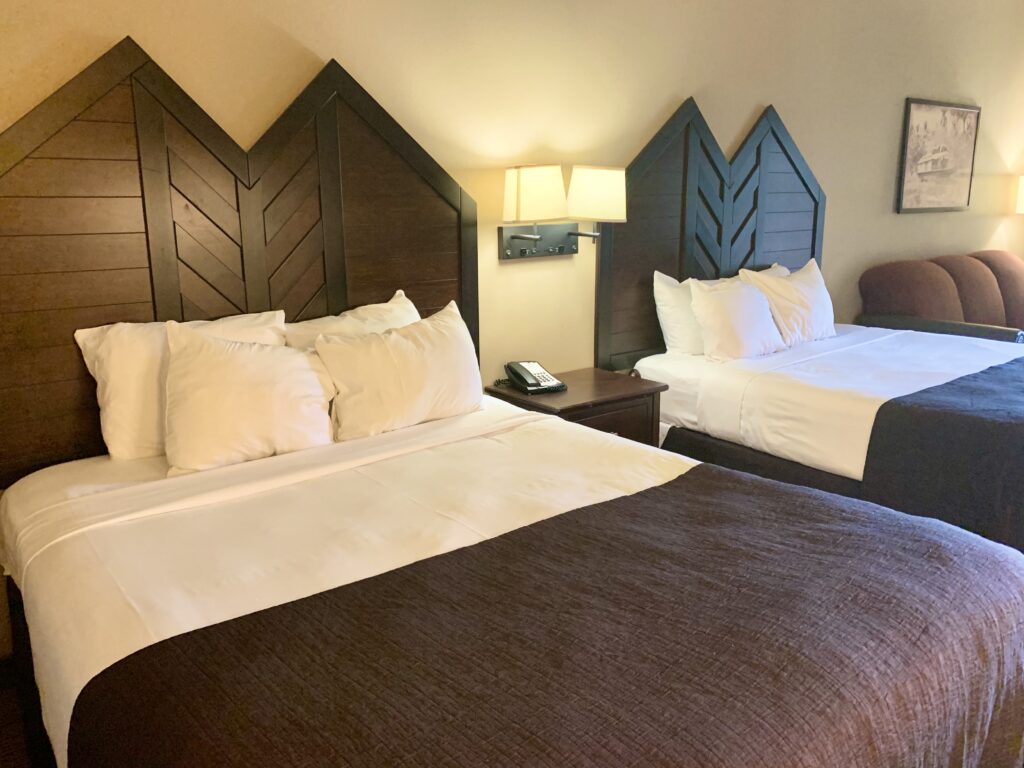 When arriving, each guest receives a wristband that must be worn for the entire stay. It unlocks the hotel room, gives access to the waterpark, and can be used to charge items and food to your room. It's actually quite convenient to not have to carry a room key, cash, or credit cards with you while in the water park.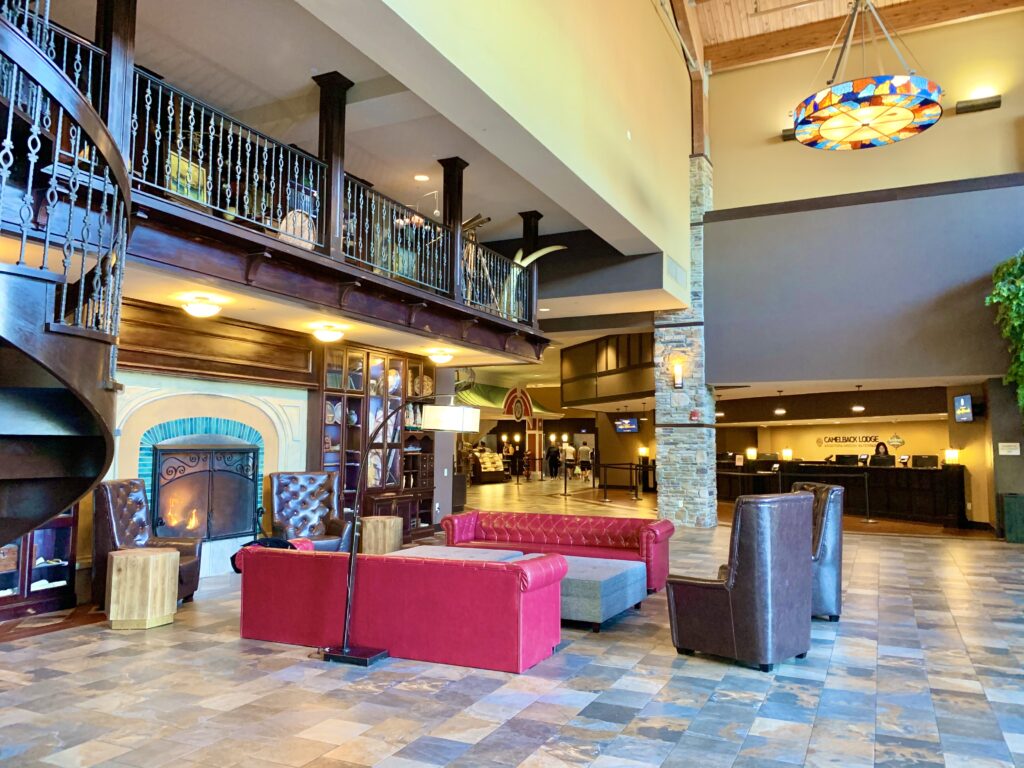 If your room isn't ready when you arrive, you may use the changing areas immediately to your right as you enter the park. TIP: Plan ahead and pack a pool bag with swim suits separate from our overnight luggage, so you can just grab that bag to take to the water park if you arrive early and your room isn't available.
Aquatopia Water Park
Also, upon entering the water park, don't forget to grab a stack of towels that are available on your left. It's also great to not have to deal with wet and dirty towels in your luggage. They are provided by the resort.
There are two major attractions you'll see upon entering the water park: FlowRider (indoor simulated surfing) and a large wave pool. Life jackets are required and provided for those under 48″. The major slides are located one floor up, and the lazy river winds through the section below the slides. In my opinion, Aquatopia has the best themed lazy river in the Poconos.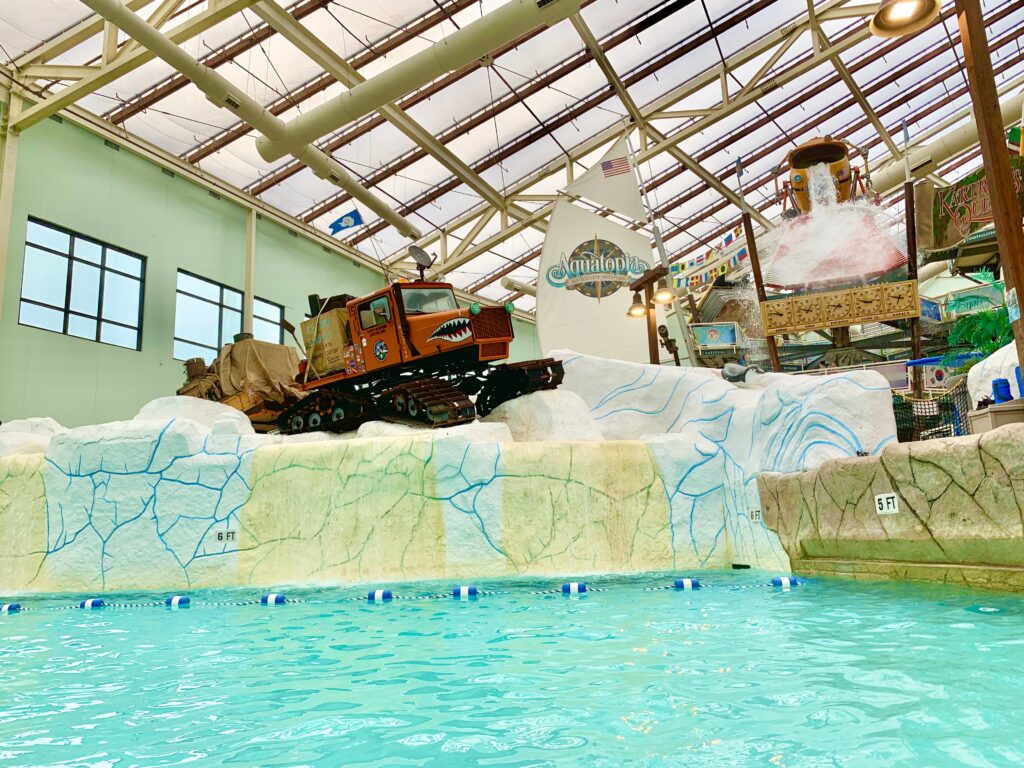 Aquatopia Slides
If your children are old enough (and tall enough) to conquer Aquatopia's large slides on their own, you will appreciate the set up of the stairs to the slides. There are loungers available near the slide section, and you can watch your child ascend the stairs, see which slide they choose. Be ready to take a photo of their splashdown!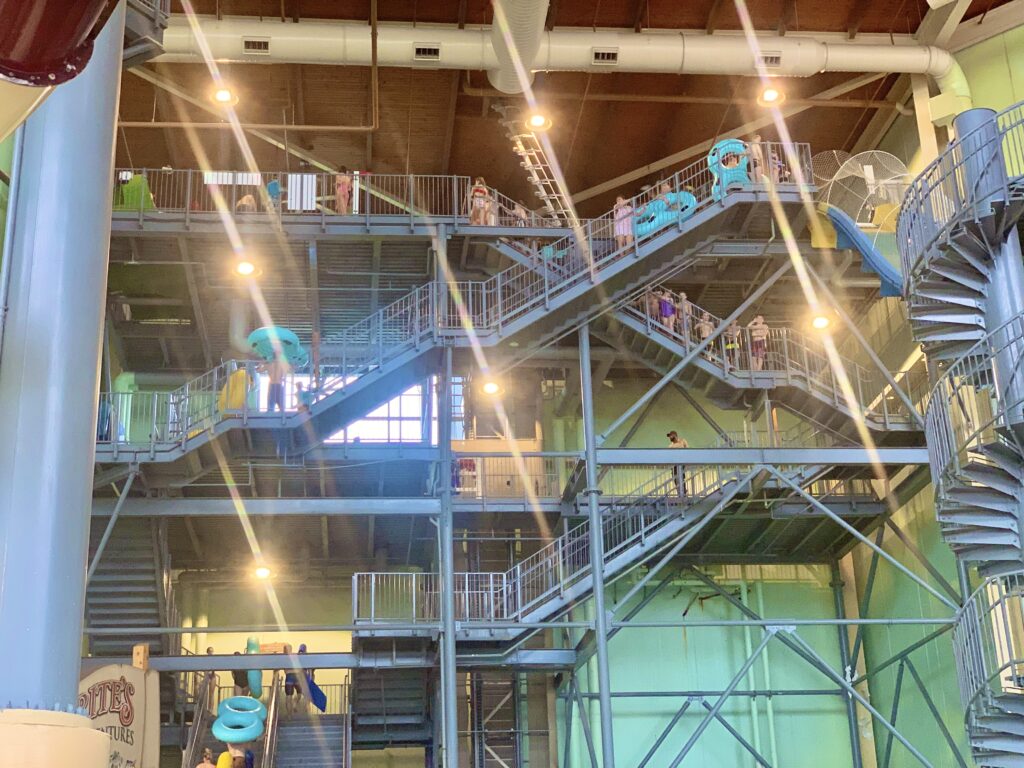 There is a wide variety of slides, which kept the adults and kids busy. Some of the more conventional tube slides tend to have the shortest lines. The water coaster probably gets the longest line, and though the Venus Slydetrap line looked to be the longest line, it actually moved quickly because several people could fit in the large rafts. The mat slides had some cool light features in them. Every slide we went on was really, really fast.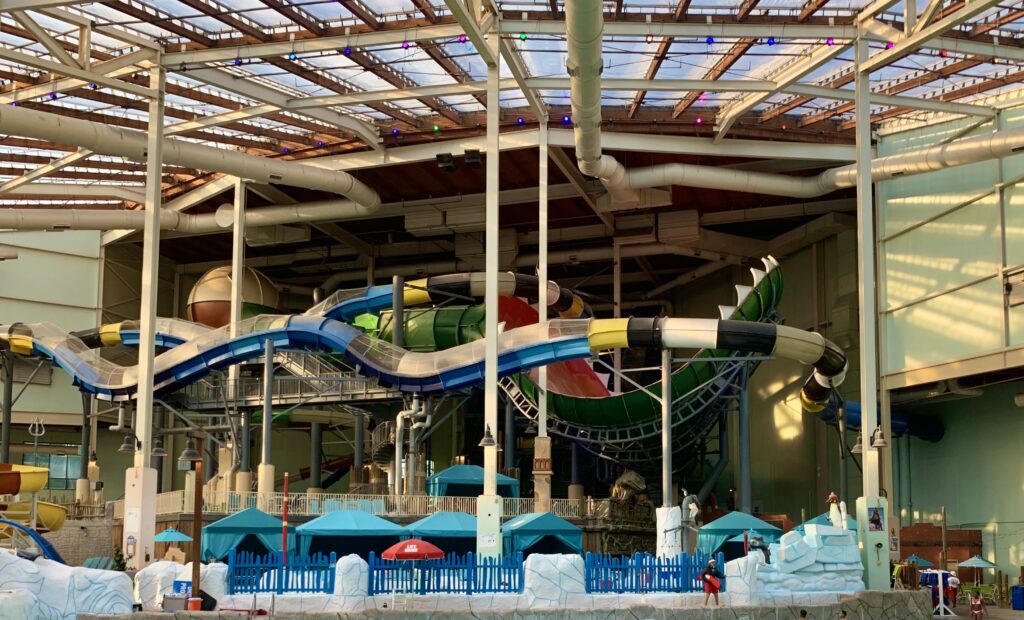 Aquatopia is home to a water coaster. Note that the water coaster, Storm Chaser, requires riders to be or equal over 100 lbs. Riders must be at least 42″ tall to ride, and at least one rider must be 48″. This may mean your child needs someone to ride with them.
Also, Venus Slydetrap, a raft ride, requires a total passenger weight must be greater than 300 lbs. and less than 800 lbs. Three to six riders are needed for this slide, and riders must be over 42″ tall.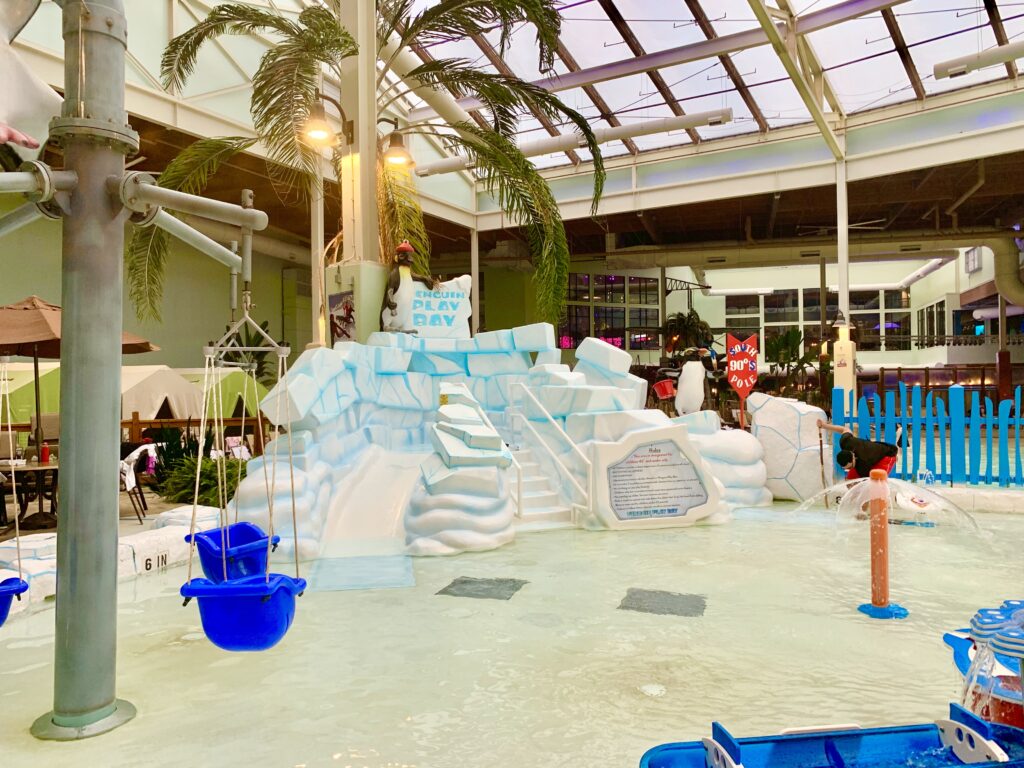 For those seeking a thrill, there are two drop slides at Aquatopia. One slide has a straight-down drop. The other slide has a few twists and turns. Riders must be at least 48″ tall.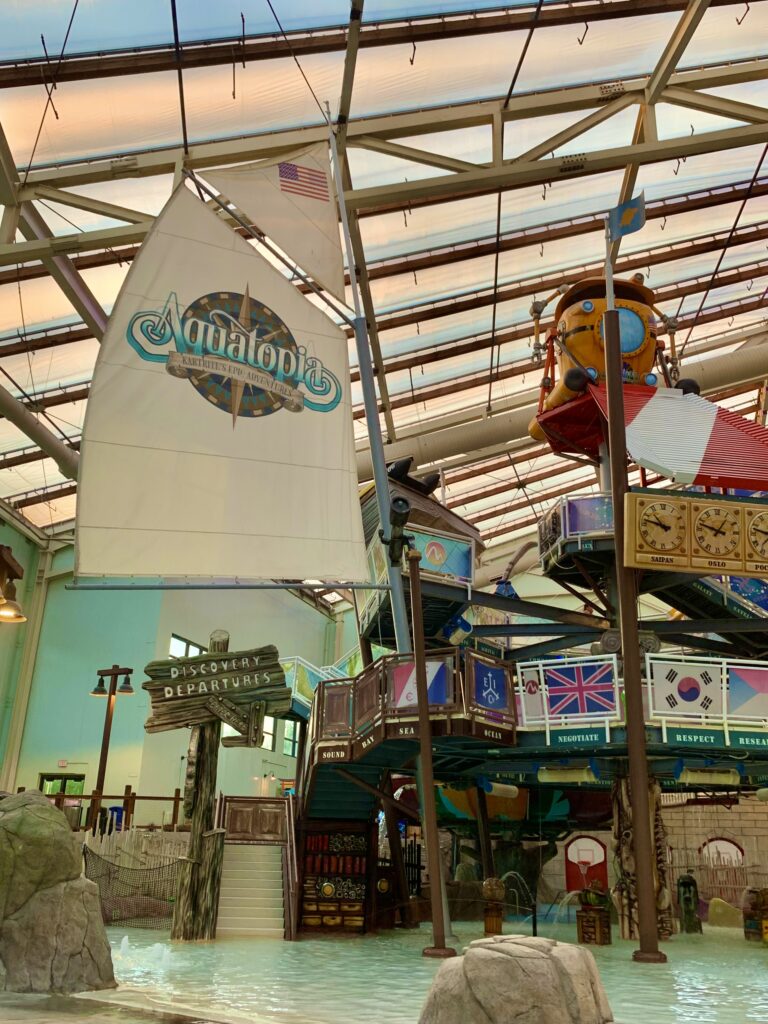 Other amenities in the water park include an indoor / outdoor hot tub, a large play and slide structure, a swim-up bar, and a lazy river. On the play structure, there are three slides at the top. These slides require riders to be 40″ for the body slides and riders need to be 48″ to do the bowl slide.
Aquatopia Lazy River
Aquatopia's lazy river seems to start underground, as it's dark and very well themed.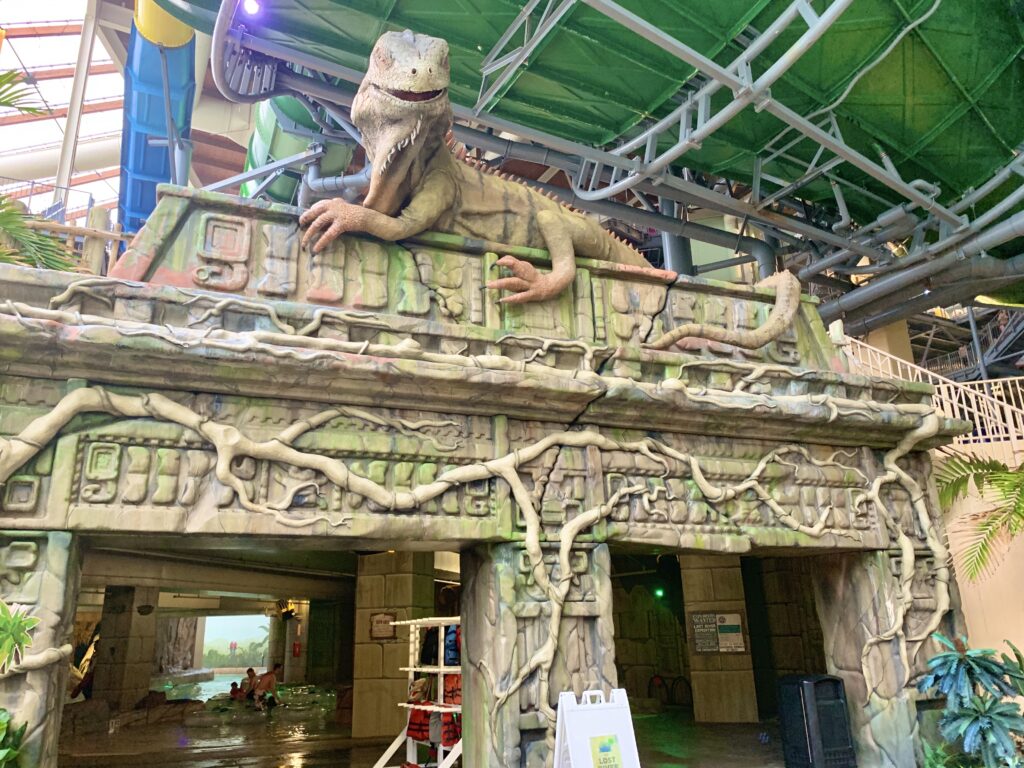 Upon coming around the first curve, it gets a bit lighter and you're greeted by nice water falls and other water features. It's my favorite lazy river in the Poconos.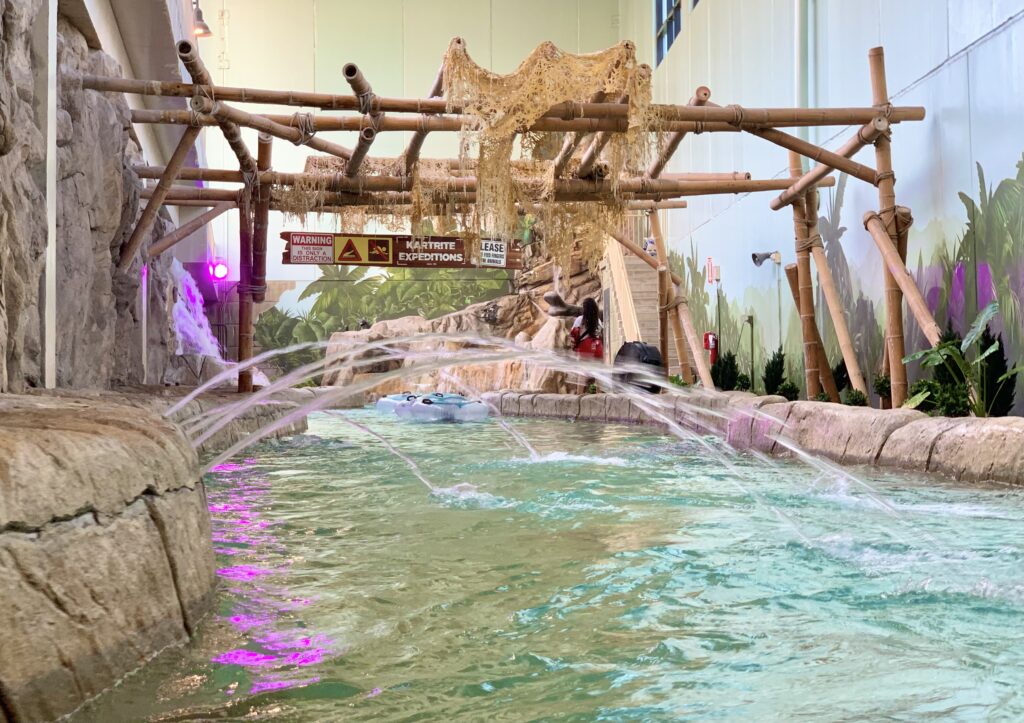 After a long day at the water park, there are several other activities at the lodge for children. Climbing walls, pottery painting, an arcade, and bumper cars are just a few additional things.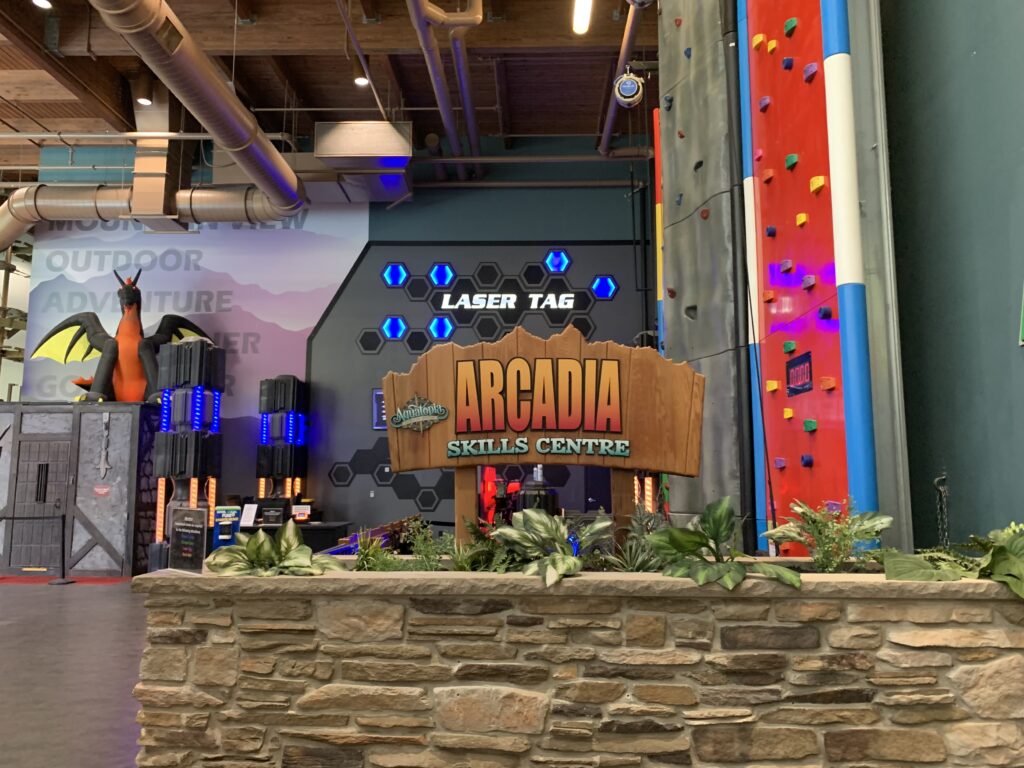 Camelback Mountain Adventures
In the summer, Camelback Mountain Adventures features 1000' Dual Zip Lines, a Mountain Coaster, Mountain Segways, and TreeTops Adventure Course.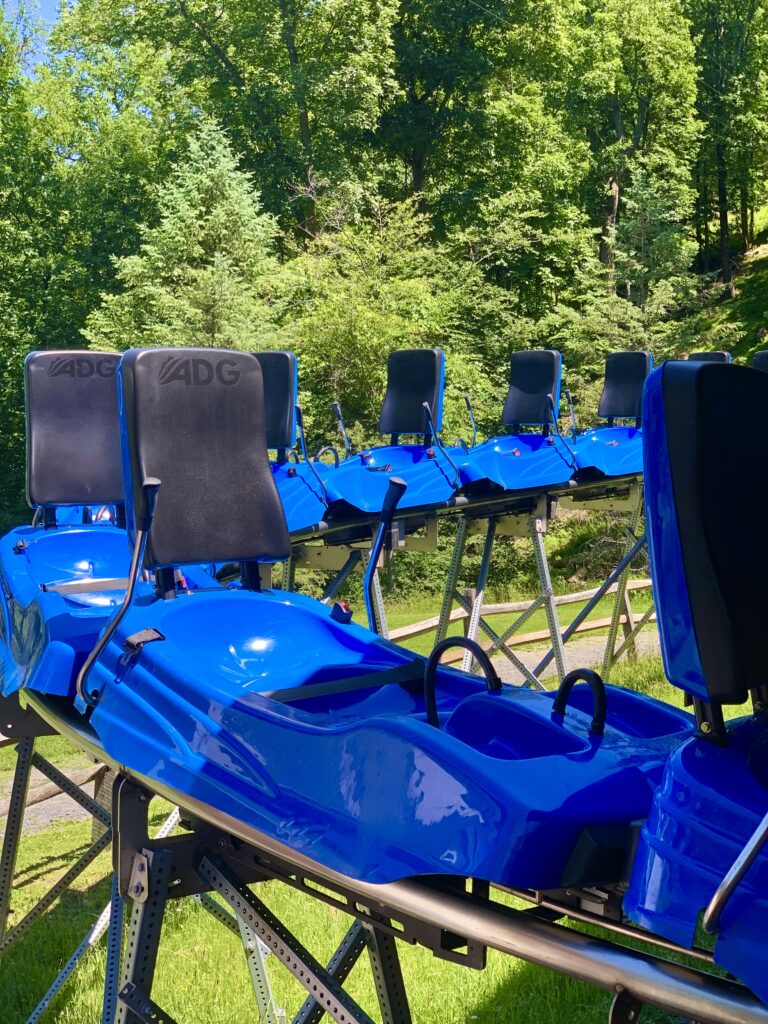 Camelback Mountain Resort has more to offer than just an indoor water park. In the winter, there is skiing and snow tubing that are located very close to the resort.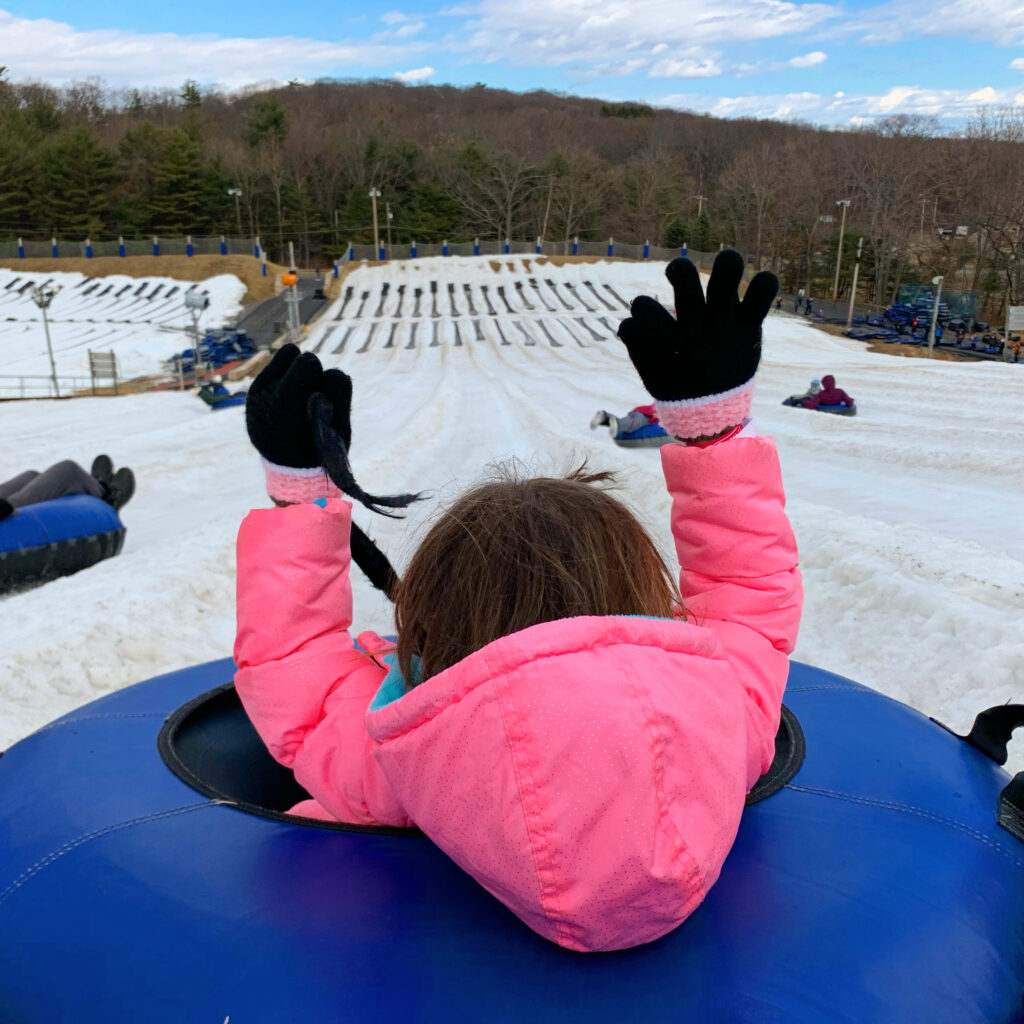 Tips for Visiting Aquatopia and Camelback Mountain
Take your child's barefoot height into consideration. Even if they are 42″ in a regular amusement park with shoes, they may not hit that height barefoot.
The water coast requires a double tube, even if you're going on it alone. Also, you must be over 100 lbs to ride alone. There is a sign that says this, but it is easy to miss.
If it's a really sunny day during the summer, bring sunscreen! You wouldn't think about it because you're indoors, but the ceiling is glass. There are signs posted around the park reminding guests that it is possible get sun exposure while indoors.
Sponsored Post – Camelback Lodge hosted our visit. All opinions are my own.