Sponsored post – Diggerland hosted us in exchange for this blog post.
Diggerland is a unique construction theme park in West Berlin, New Jersey.  Diggerland New Jersey located about a half hour outside of Philadelphia.  We arrived at the park on a cool day in April. The kids got excited as soon as they saw the construction equipment sitting at the entrance.  Diggerland uses a bright yellow and black color scheme throughout the park, which makes it feel like a real construction zone.  After quickly getting our wristbands, we headed into the park and started exploring.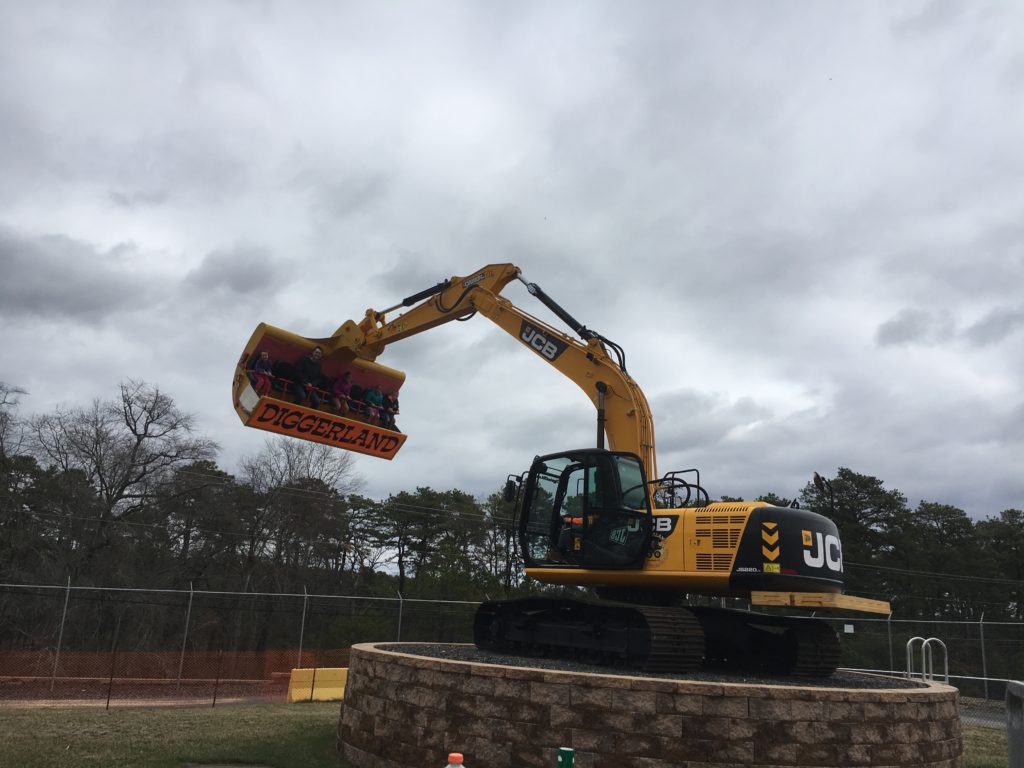 Rides at Diggerland
Our first stop at the construction theme park was the Mini Diggers.  There are several of each type of digger, which made each one a different challenge.  There's a digger to hunt for treasure, one to knock down bowling pins, a digger to try to catch fake ducks, and one that you can just play in the dirt.  After watching them be operated for a few minutes, I decided that this was going to be a rare chance for me to do this too. I got on one myself!  It was fun to see other adults in the park trying the equipment as well as the kids. It's so hard to pass up!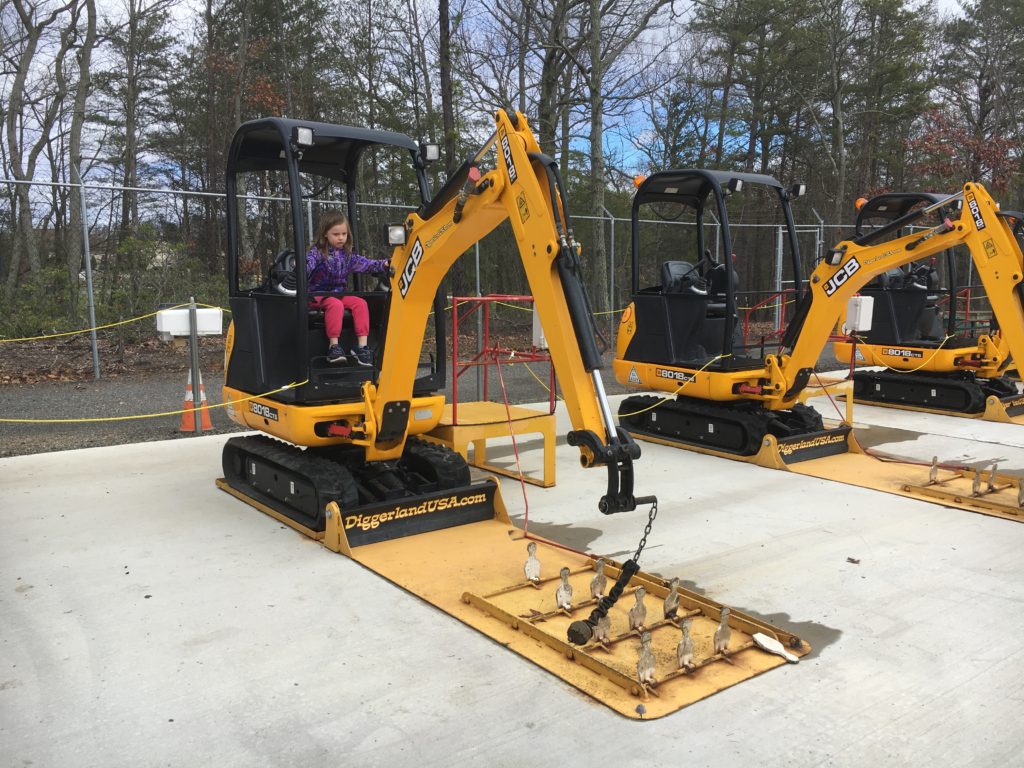 After spending some time at the diggers, we headed to the larger rides in the park: the SkyShuttle and SpinDizzy.  My daughter had a good time on both of these, and really enjoyed the unique ride on SpinDizzy.  She also got on the Dig-a-round, which is similar to the swings in an amusement park except they also go backward.  Next, we did the rock wall and ropes course.  She was a little hesitant about the height of the ropes course, because it looks high from the ground. Luckily there are stairs to take you down on every level. She went as high as she felt comfortable.
Food Options at Diggerland
At this point we were getting hungry, so we stopped at The Lunch Pail and had bite to eat, which consisted of a corn dog, chicken tenders, and fries. We ate in a picnic area that was covered and closed in for the chilly part of the season. After eating we headed to the newest ride in the park, the Greased Beast. It is a large trailer which raises to simulate the riders getting dumped out of the truck. Don't worry, the riders are tightly strapped in. I watched my husband and daughter ride it, and I was surprised by the "Beast" noise that comes out of it. During the noise, my husband said the ride vibrated to give a nice affect of it growling.
The next ride at Diggerland in New Jersey that looked interesting to me was the Ground Shuttle. However, it looked a bit bumpy!  This is a telescoping handler that transports its riders about 6 feet off the ground while it travels along a bumpy track.  After this ride, the kids were starting to get tired. We decided to leave for the day.  We took a look around the gift shop, and got a photo taken in front of the giant tire before we left the park.
Sponsored post – Diggerland hosted us in exchange for this blog post.
Tips for Visiting Diggerland
Check the height of your child and the rides available for that height before heading to Diggerland. I always prepare my daughter with which rides she will be able to ride alone, which ones she will need an adult, and the ones that she will not be tall enough to go on. She was able to do most rides in the park with an adult, and she is over 42″ tall.
It's a surprisingly clean park for one that involves playing in dirt. Have your child wear comfy, closed toed shoes for rock climbing and the ropes course.
An indoor water park is next door to Diggerland, so consider pairing your trip with a visit to Sahara Sam's Oasis.