Sponsored post – Diggerland hosted us in exchange for this blog post.
Diggerland is a unique construction-themed park in West Berlin, New Jersey. Diggerland is located about 21 miles southeast of Philadelphia. It's about 45 miles from Ocean City, New Jersey.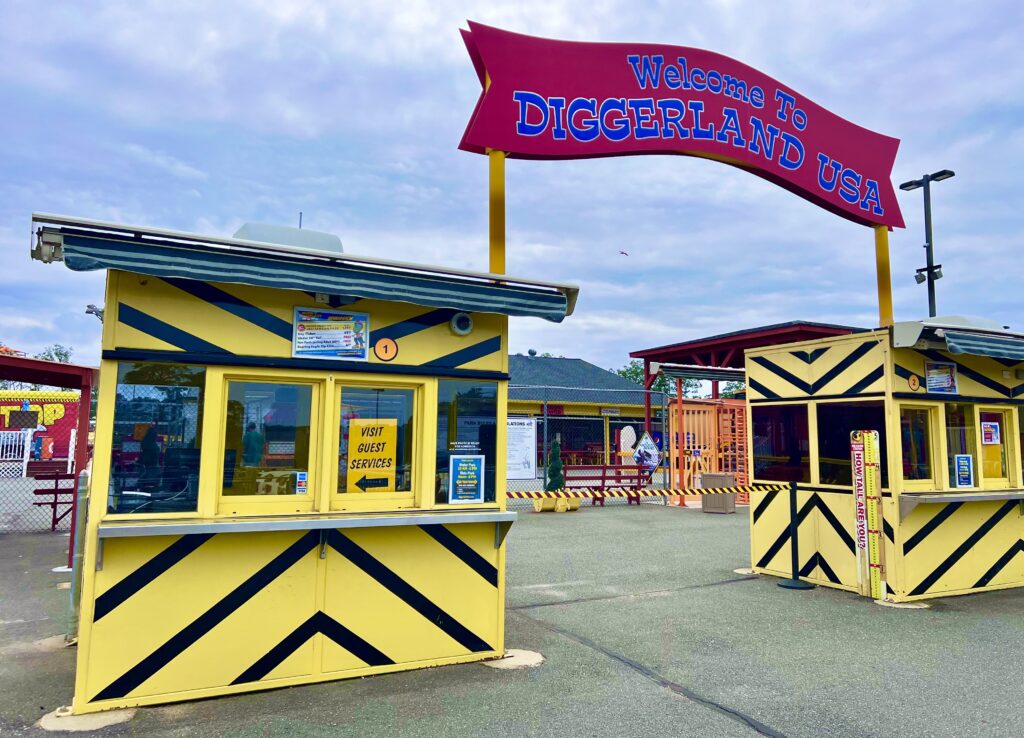 Diggerland uses a bright yellow and black color scheme throughout the park, which makes it feel like a real construction zone. Dated tickets should be purchased online in advance to guarantee entry for that particular day. There are also season passes available.
Tickets include Diggerland's construction-themed rides, and also include access to the waterpark, The Water Main, when it is open during the summer months.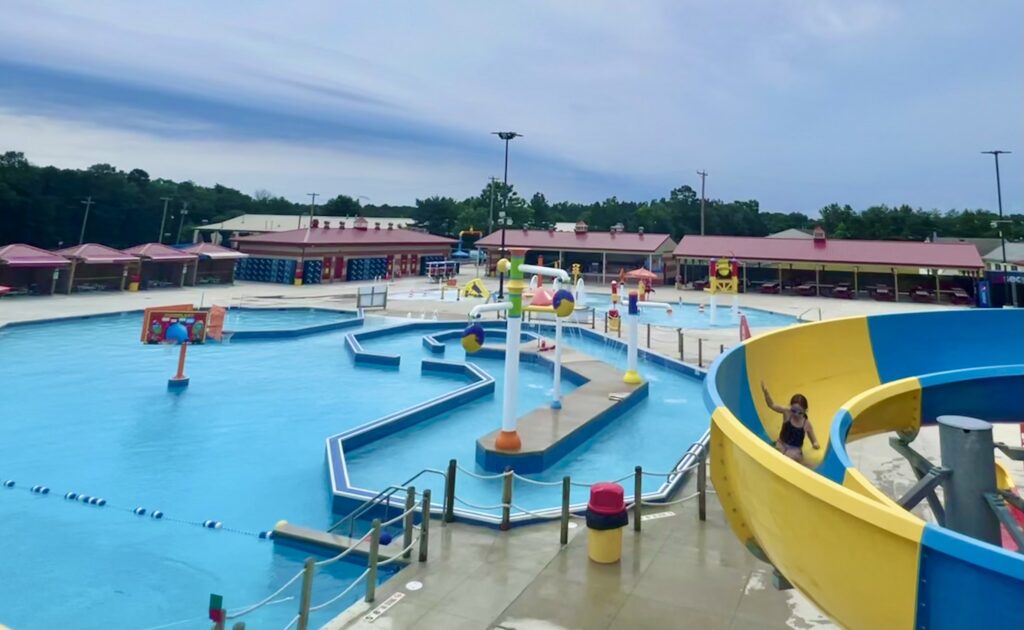 Find out more about The Water Main here.
Important Note: Attractions require children be a minimum of 36 inches tall to ride. Some rides require assistance of parent or guardian.
Rides at Diggerland
Diggerland has a wide-variety of construction-themed rides. Some of the rides are actual machinery that can be driven without a track or used to dig in the dirt!
One of the most popular rides at Diggerland is the Mini Dig: Ducks, Shapes, and Bowlers. These mini excavators present three different challenges. Try to knock down bowling pins, place shapes in the correct holes, and pick up ducks with these mini-excavators.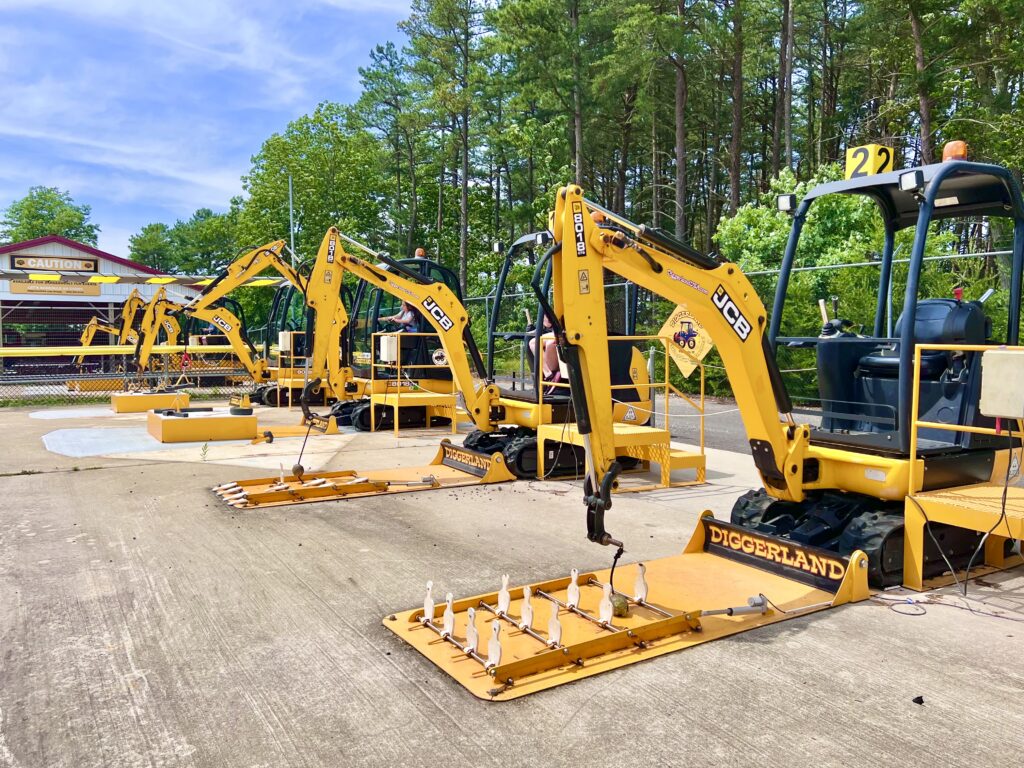 There's also the popular Big Diggers, where kids can learn to operate a real digger. The diggers will scoop and lift the pile of dirt located in front of them.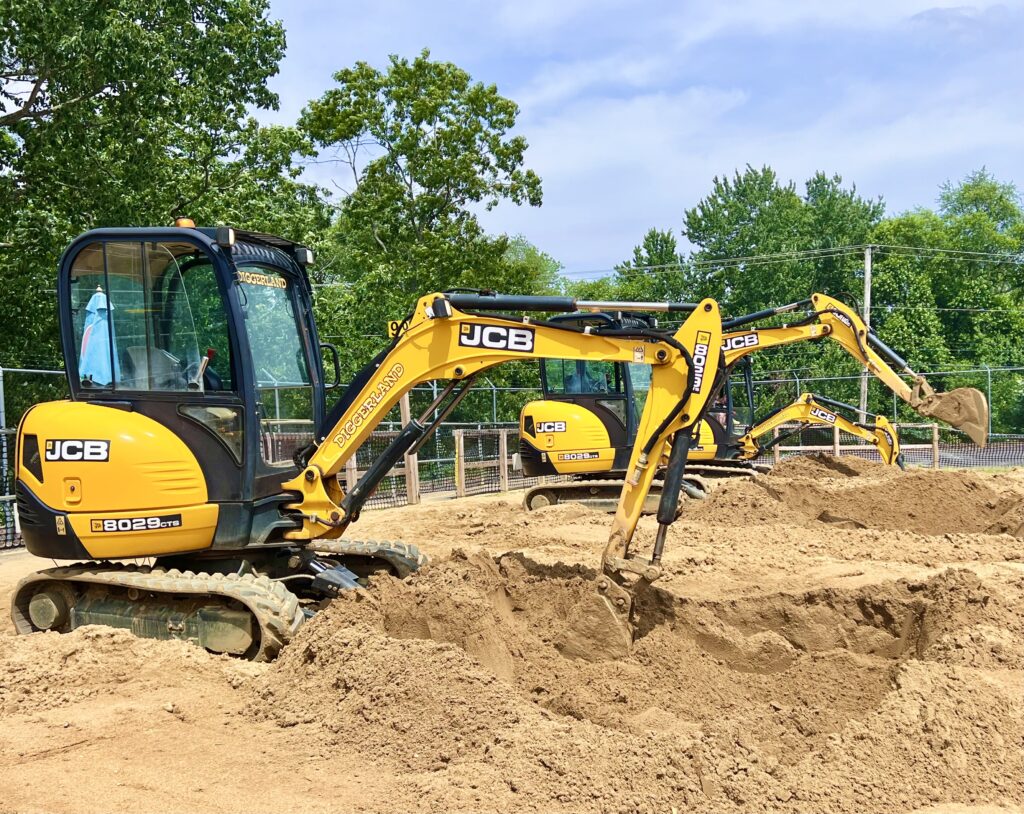 These actual diggers that are set in place, so only the boom, arm, and bucket move. The rider operators give a brief introduction on how to operate the using the mini digger. Check Diggerland USA's website for operator and lap rider height requirements.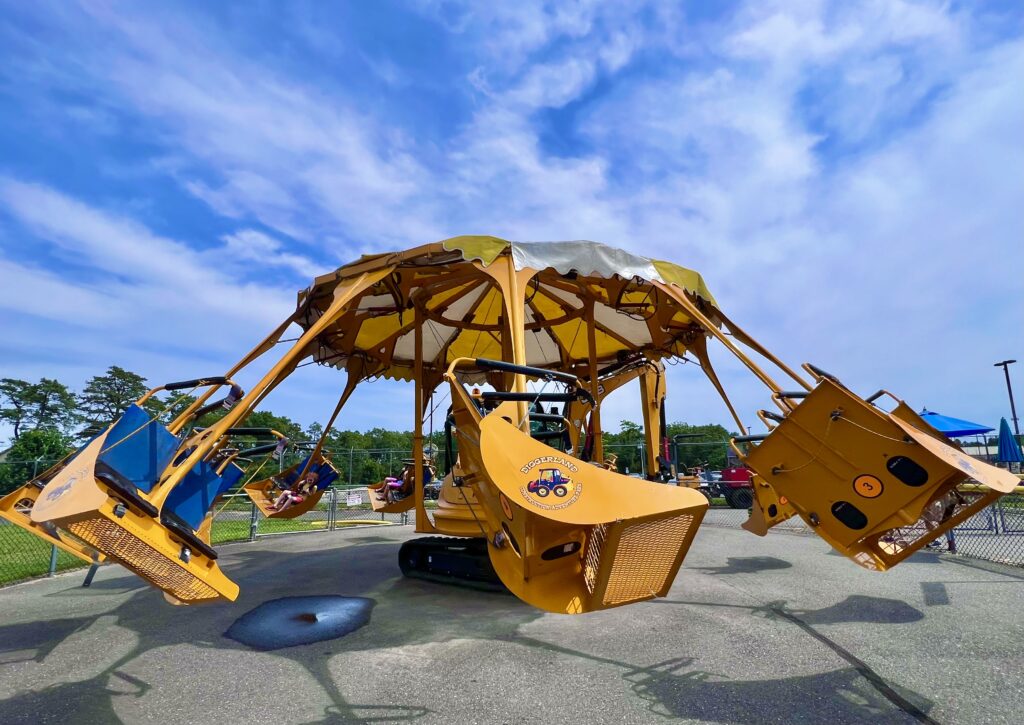 The Dig-A-Round is a combination of swings and merry-go-round. Keep in mind that this ride first goes forward, then stops and changes to backward.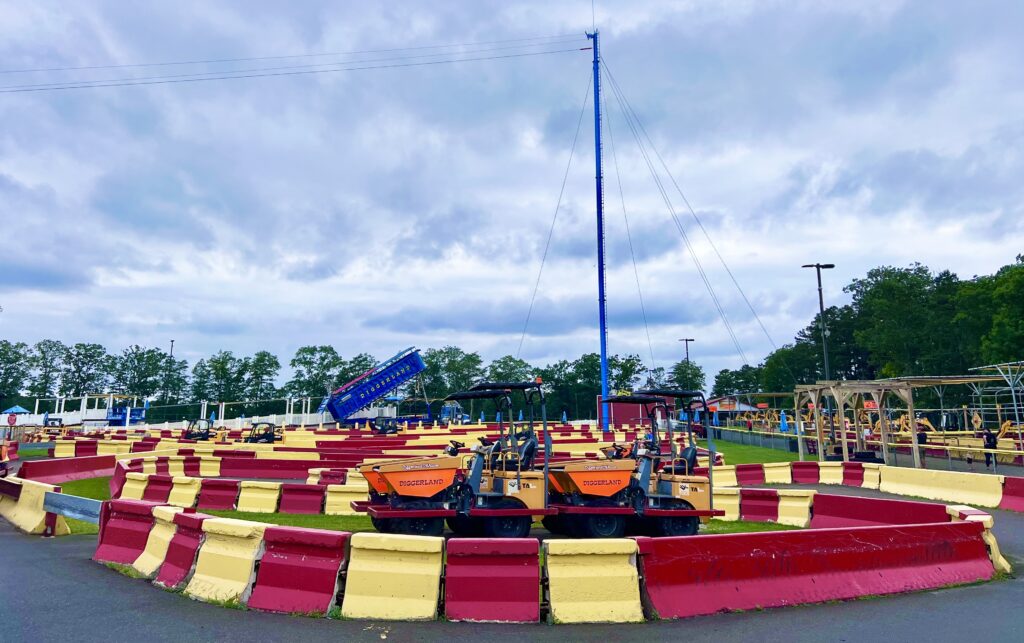 There are many rides in the park that allow a child to drive actual construction equipment. They have a very slow pace, and small children (must be at least 36″ tall to ride) sit on a parent's lap. Detailed instructions are given at the beginning of each ride, so they know how to properly operate it.
While almost all of Diggerland's rides are unique, the Greased Beast is a great example of their creativity. The Greased Beast is a large trailer which raises to simulate the riders getting dumped out of the truck. The riders are tightly strapped in with shoulder harnesses.
It makes a vibrating "growling" noise, so be sure to let kids know so they aren't surprised by the "Beast" noise. Also, watch loose shoes on this ride. It tilts forward, so flip flops and backless shoes could be dumped out of the truck.
A favorite ride in the park and probably the most intense ride is Spin Dizzy. This ride is a 12-ton excavator that lifts riders and spins around in a circle.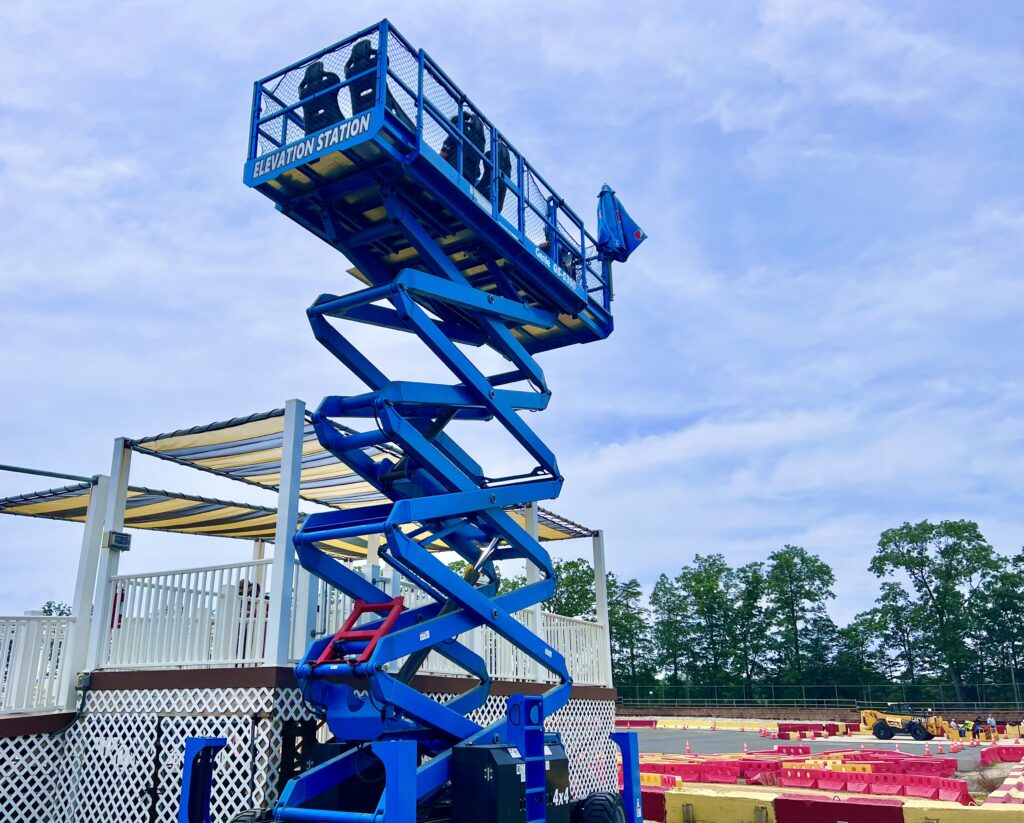 If you're a fan of views and heights, check out the Elevation Station and Sky Shuttle rides. Each of these rides take riders up to get a bird's eye view of the park. The Sky Shuttle reaches 50 feet into the air!
Food Options at Diggerland
The Lunch Pail at the front of the park, near the entrance, has a wide variety of food. Chicken quesadillas, chicken tenders, pizza, burgers, grilled cheese, wraps, and salads are available.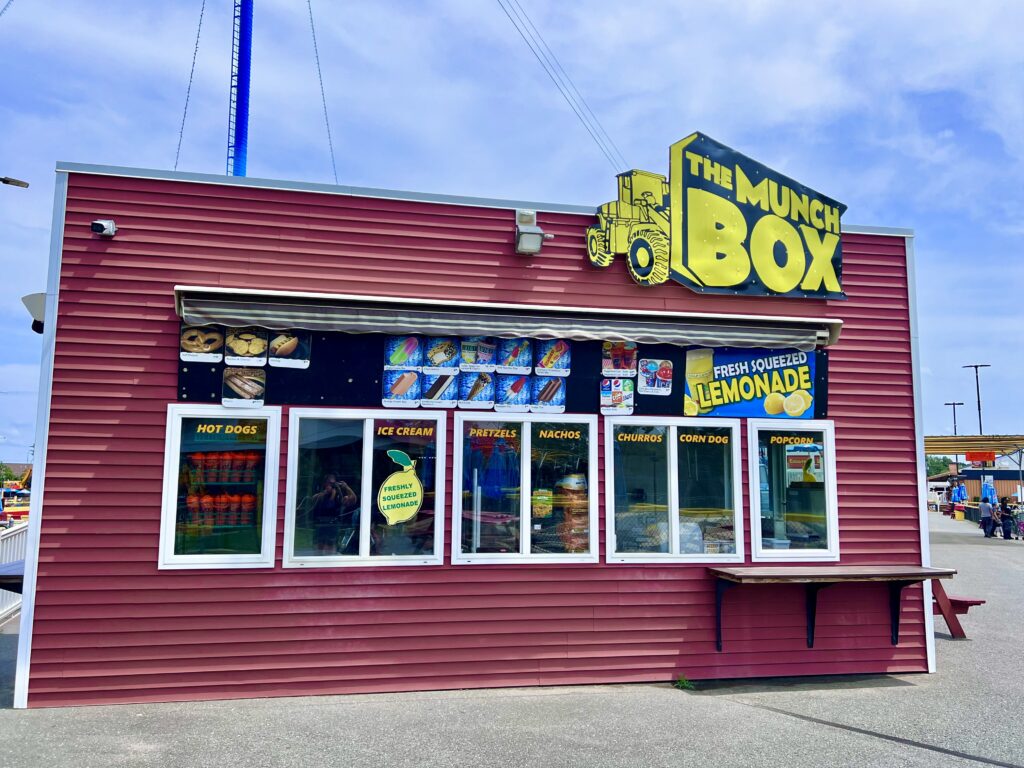 For snacks, check out The Munch Box toward the north end of the park near the Mini Dig. This stand has ice cream, pretzels, nachos, lemonade, and more.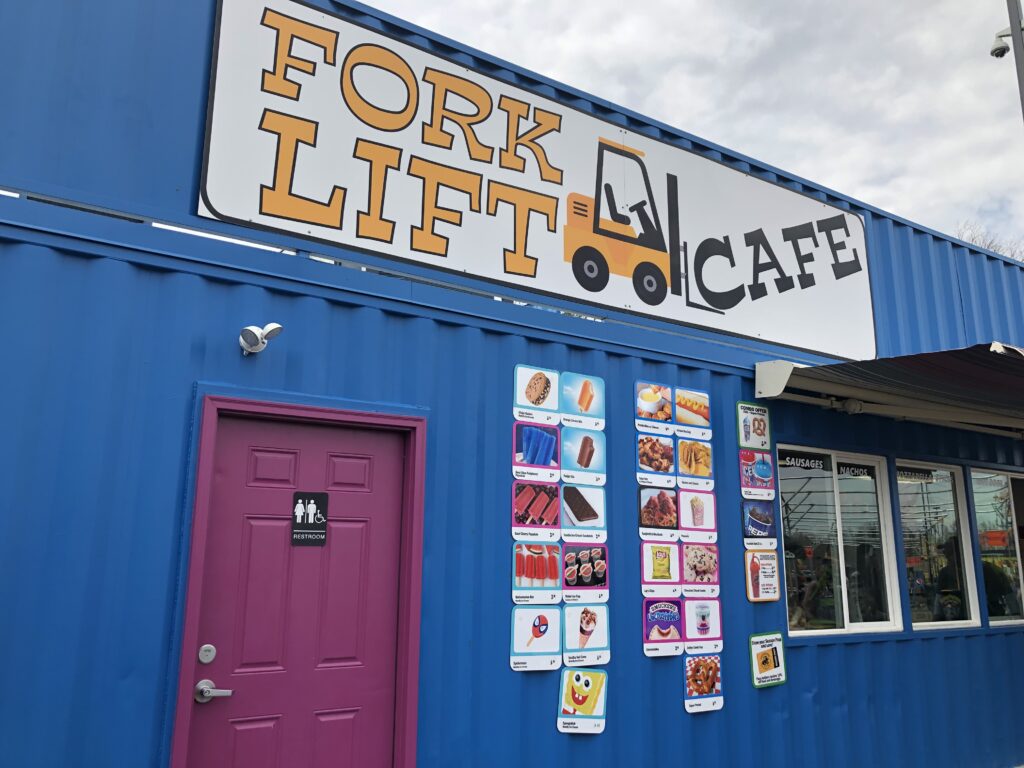 The Fork Lift Café is located on the south side of the park. This café features beverages and a variety of chilled desserts.
Other Activities at Diggerland USA
In addition to the construction-themed rides, there's also a playground, ropes course, and rock climbing wall. Be sure to bring close-toed, heel-covering sneakers for these activities. They are required for the rock wall and ropes course.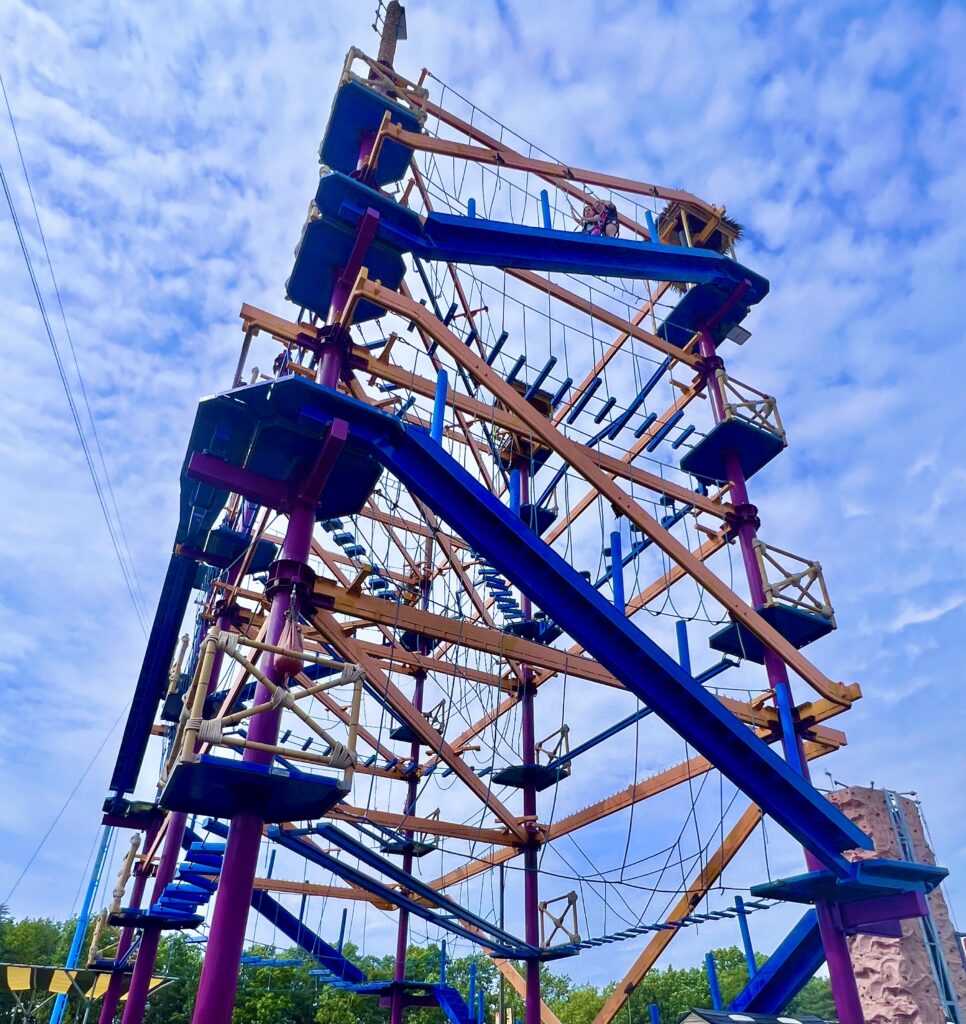 The playground features long tube slides and a swing set for younger children. There's also shaded benches for parents to watch their kids play.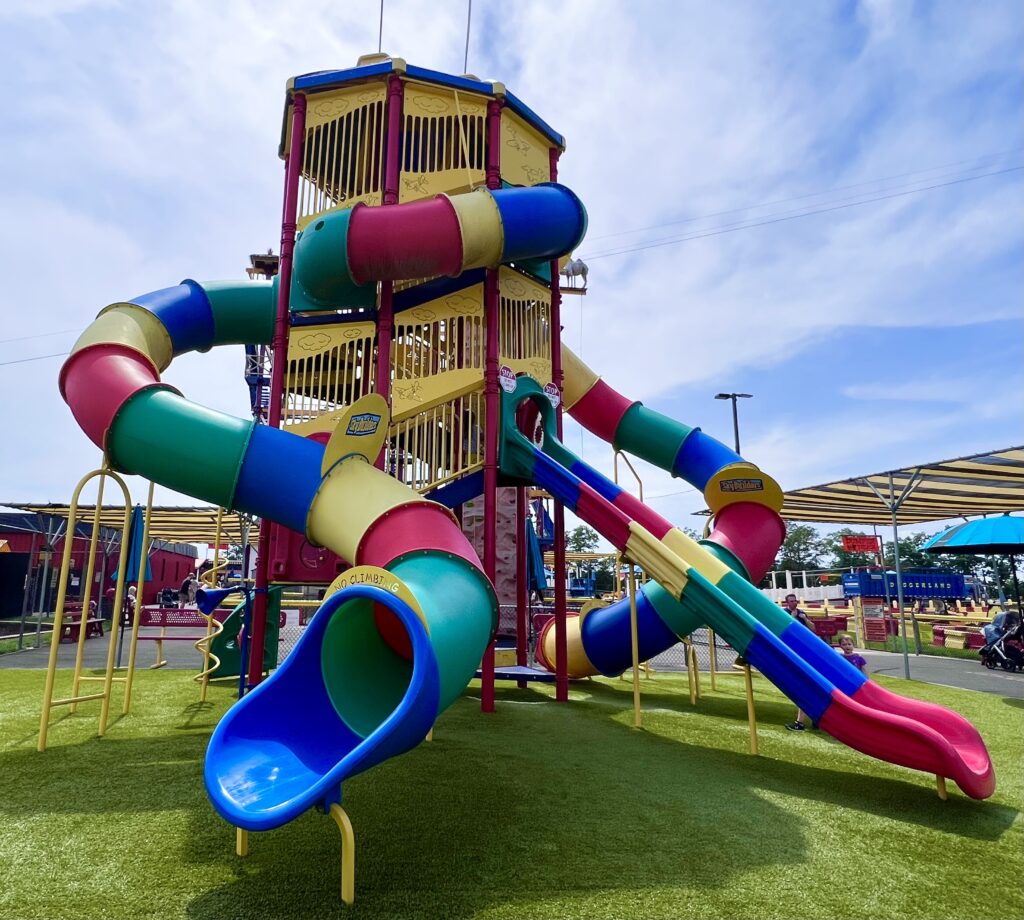 Tips for Visiting Diggerland
Check the height of your child and the rides available for that height before heading to Diggerland. Most rides require the child to be at least 36 inches tall to be a lap rider with an adult.
To operate some rides on their own, they need to be 42 inches. To be able to drive some of the dozers and steam rollers kids need to be at least 56 inches.
It's a surprisingly clean park for one that involves playing in dirt. Have your child wear comfy, closed toed shoes for rock climbing and the ropes course. They won't be able to participate in these activities without sturdy, closed-toed shoes.
The water park, The Water Main, is located to the side of the main park. Bring towels and swim suits if you're planning to visit the water park. Changing rooms are chairs are provided. Cabanas are also available to rent.
Check out this list of 8 tips for visiting Diggerland.
Sponsored post – Diggerland hosted us in exchange for this blog post.