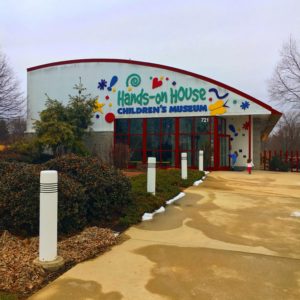 Hands on House Children's Museum is located near Oregon Pike in Lancaster, Pennsylvania.  It's an interactive play space for children that focuses on pretend play.  You pay one price to play all day.  They give a hand stamp when paying for reentry if you want to leave for lunch or go outside.  There is an inside and outside play space, and since it was cold when we visited we focused on the inside.  We arrived on a Sunday morning at opening time, and it wasn't very busy for the first half hour that we were there.  More visitors eventually started to arrive, and it was busy, but not crowded for the majority of the Sunday afternoon.
There are multiple sections with different themes inside Hands on House.  The themes include the outdoors,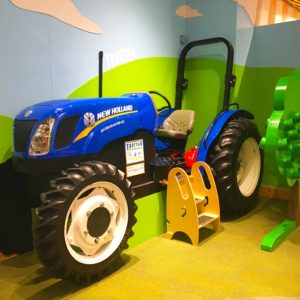 construction, factory, dress-up, grocery store, and farm.  Each section has multiple interactive items for kids to explore, play, and learn.  The first section upon entering has a tree house, construction site, snowman decorating (adding eyes, nose, mouth, hats, and scarfs), face painting (it's real paint!), and fishing.  My daughter quickly realized that she could paint her own face, and it got a bit messy.  Luckily there's a sink and plenty of paper towels to clean up the facial artwork.
The next section is the farm.  There are two trees to pick apples, a real tractor that the kids can sit on, an egg hatchery, and a place to feed a pretend pig and cow.  The kids loved picking apples and moving around the "feed" for the animals.  There's a second story loft that they can climb and move the "hay" from the loft to the ground where the animals are located.
The middle sections of Hands on House include the grocery store and the dress-up area.  The grocery store is always
a favorite.  There's baskets for shopping, and then the children can take turns being the cashier and working at the deli.  There's a working scale and a cash register that beeps.  Next door is dress-up, with children acting as dragons, pirates, princesses, and fairies.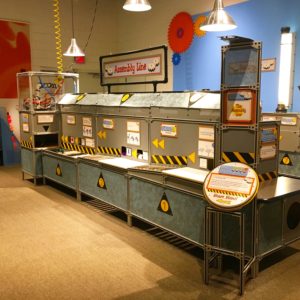 Finally, the back of the Hands on House is dedicated to factory space.  The kids can "clock-in" and work on an assembly line.  In the back corner of the factory, there's also a giant Lite Brite, which I loved playing with as a kid.
Tips for Visiting
They give you a hand stamp, so you can leave for lunch or outside play if the weather is nice.
Check out their website for special hands-on events and activities in the Clubhouse.
The face paint is real!  I needed to closely supervise to ensure it didn't get on clothes.
Check out these other kid-friendly places to visit in Lancaster – Go 'n Bananas and Tiny Town