Sponsored post – The Please Touch Museum hosted us. All opinions are my own.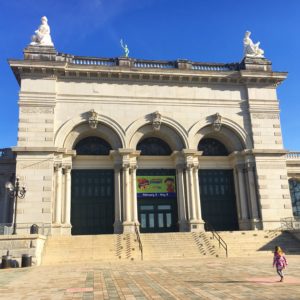 Please Touch Museum is located in Fairmount Park in Philadelphia, Pennsylvania. It's a children's museum that encourages discovery and learning for young children through pretend play. They focus on catering to children seven years old and younger. There are permanent exhibits, temporary exhibits, programs, and featured events.
Permanent Exhibits
The main, permanent exhibits include the following:
Wonderland – Go down the rabbit hole with Alice and experience the hedge maze, Mad Hatter's tea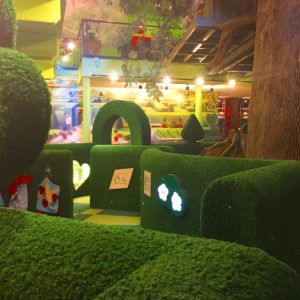 party, and paint the roses. Our favorite part was the hall of mirrors with optical illusions around every corner.
Roadside Attractions – Perfect for the child to learn to become a citizen of the city. This area includes a mini City Park, SEPTA bus, trolley, car repair garage, and ice cream shop. The cutest part is the car parts are magnetic, and the children can build their own, custom car. There's also a life-size KIA car that they can pretend to gas-up and fill the tires.
River Adventures – The popular water area. The museum supplies plastic aprons and hand dryers in this area, because these items are very needed! Roll up the kids' sleeves as you enter this area. Major splish splashing will happen as they play with all types of water toys, including a ton of rubber duckies.
Healthy Me, Health Family, Healthy Community – The best part, in my opinion. The grocery store, with tons of little details like scales for the vegetables and working check out registers. There's also a deli, where kids can assemble sandwiches and serve their customers. A hospital with MRI and x-ray machine, a restaurant, and a shoe store make this exhibit a home run with the kids.
Even More Fun
A full-size carousel is located inside the museum, with rides costing an additional $3 per ride or $5 for unlimited rides. Adults do not need to pay to ride if holding a toddler.
The Rocket Room is a bit hidden, but is a blast! Follow the signs at the back of the main lobby to lead you there. Kids can assemble their own rocket and try to launch it through the rings hanging from the ceiling. There's also a small camping exhibit right outside the rocket room.
Parking
The museum has a large lot right beside the building. Parking is $12 per car in this lot, though there is some on-street parking that is free.
Food and Snacks
The museum has a cafe with plenty of kid-friendly snacks and meals. Pizza, hot dogs, tator tots,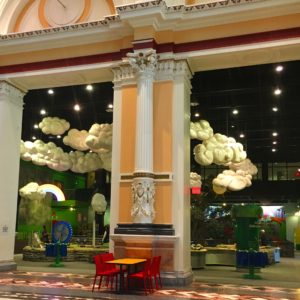 macaroni and cheese, and soft pretzels are all available to satisfy your child's hunger. The museum does allow food to be brought in, and additional tables are located in the lobby for snacking and full meals.
Things to Remember
Try to arrive at opening to snag free, on street parking. The museum was not very crowded for the first hour after opening.
If your child loves water play, an extra shirt may be necessary after playing in River Adventures. Much easier than getting a toddler to stand under the hand dryer.
Smith Playground is also in Fairmount Park. If it's a nice day, the playground pairs well with a trip to the museum.
Sponsored post – The Please Touch Museum hosted us. All opinions are my own.