Sponsored post – HKRS waived our registration fee. All opinions are my own.
It's almost spring, which means the next season of Healthy Kids Running Series (HKRS) is about to begin! HKRS is a five week running program for kids in Pre-K (ages 2/3) through 8th grade. The children participate in a race once a week and the length of the race depends on their age. The youngest children do a short, 50 yard dash, and as they get older they gradually increase the distance. Starting in 4th grade, the children run a mile.
We've participated in Healthy Kids Running Series for two seasons now. In our area, it's held on a Sunday afternoon. Every Sunday for five weeks, the kids in each age group gather together to stretch and play games before their run begins. The youngest run their race first, and they work their way through the grade levels. Depending on the size of the groups, they may split them between boys and girls. Each child receives points depending on the place they finish in the race.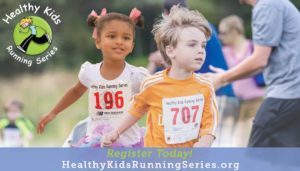 At the end of the five weeks, the children in the top places in each age group receive a trophy. All children receive a medal for participating. We love HKRS because it gets the kids up, outside, and moving. The HKRS in our area is held at a park, and it's great to see everyone playing and having fun after the race. There are locations throughout the United States, with plenty of options in the mid-Atlantic region.
There's several ways to get involved with HKRS. Of course, you can register your child to participate, but you can also be an age group leader who helps the kids warm up for their race. Other opportunities include keeping time for races or even becoming a sponsor.
Sign up today! Most seasons start April 8th, but check the HKRS website for details about the location closest to you. $35 covers the 5-week season, or you can even pay $10 per race if you can only attend a few weeks.
Sponsored post – HKRS waived our registration fee. All opinions are my own.