Walker Mill Regional Park is in District Heights, Maryland. It is another imagination playground in Prince George's County, the same County that boasts Watkins Regional Park in Upper Marlboro. 
Walker Mill Regional Park is a bit east of Washington, D.C.  We visited on a Sunday afternoon, as we just happened to be in the area.  We took a picnic lunch and were happy to find that the park has nice picnic tables surrounding the playground.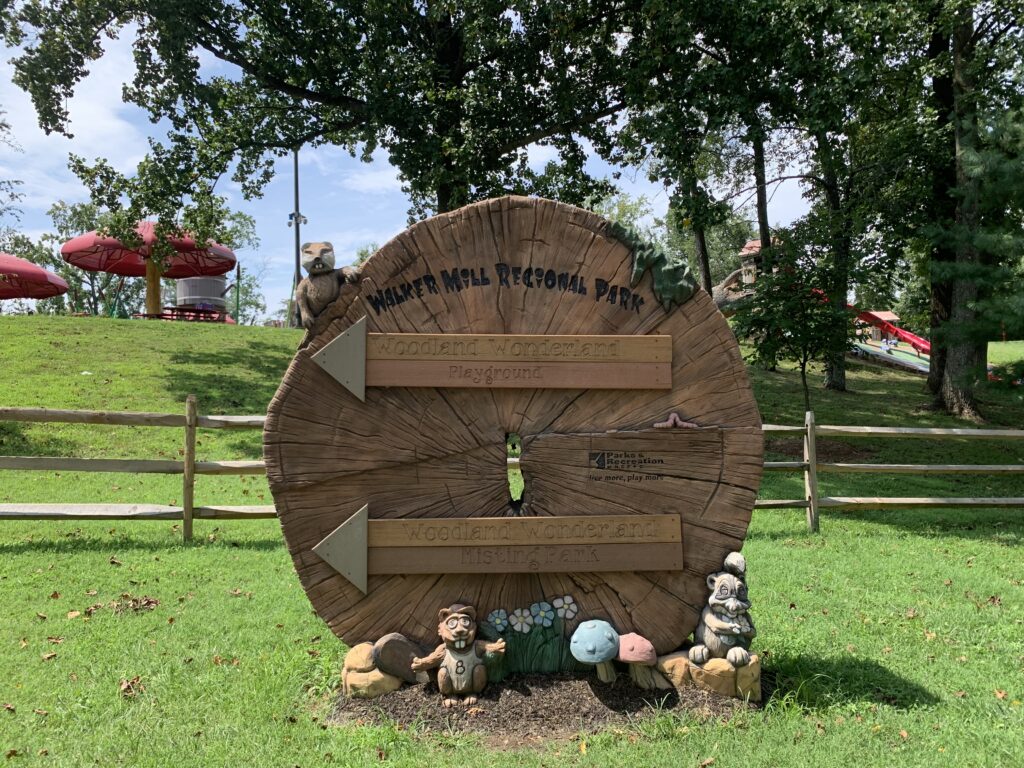 Arriving at Walker Mill Regional Park
Upon arriving, we parked in the lower lot and walked up the hill to the park.  From below, we could see a large slide and a cool entrance sign, but that was about it.   We knew it was going to be a great park as soon as we heard the little garden gnome at the entrance telling jokes!  I had never seen a park with this feature before!  We crossed under the entrance sign and saw the entire park; it's very impressive.
Walker Mill Regional Park Misting Park
The first area of the park has water features, which is the "misting" area of the park.  There's also a fish that spits out water. There's also a series of cattails that provide mist from above.  Even though it seemed to be a fine mist, the kids were getting pretty soaked.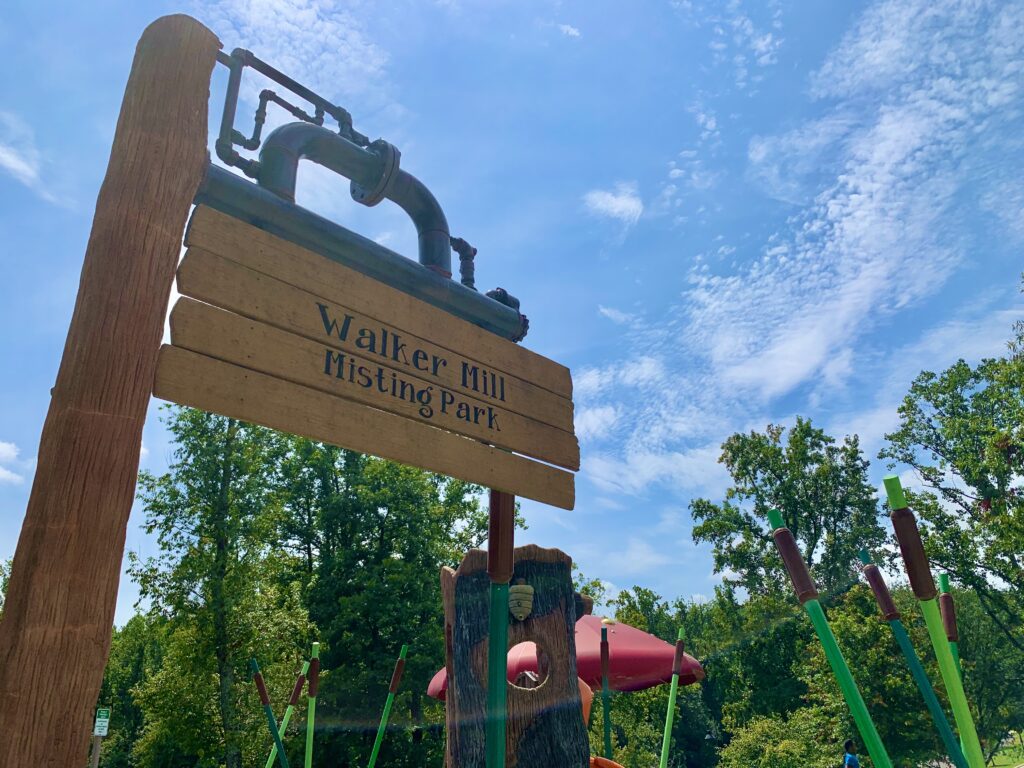 Beside the water area is several slide and climbing structures. Each one is themed with trees, rocks, and other nature elements.  One slide structure has a large tree that kids can climb up through the inside of the tree.  One slide is made out of a "fallen tree" next to a house that looks like a little shack.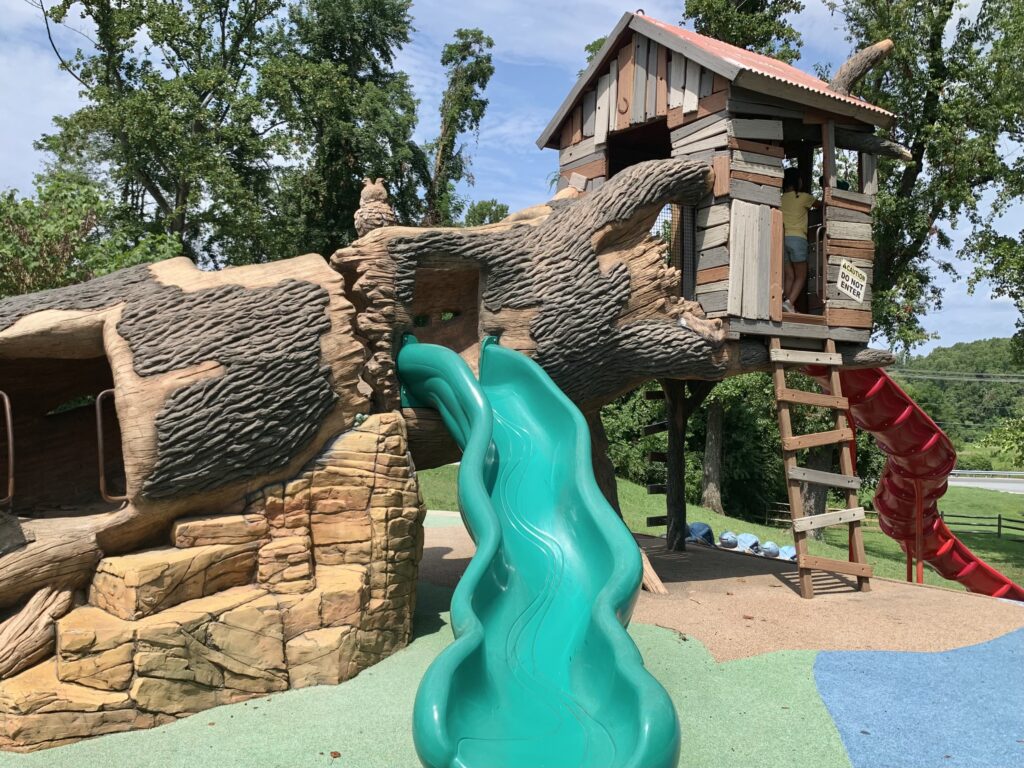 Play Structures at Walker Mill Regional Park
A very popular area of the is the windmill slides.  Kids can climb to the top of a windmill structure and choose whether to use the lower slide or the upper slide.  It's a fun, farm feature that I've also never seen in a park.  The park also has a set of swings on the outskirts (the swings appeared to be missing in August 2021), and cute bridges and other cute themed elements.
Restrooms at Walker Mill Regional Park
An essential part of all parks for kids is the bathrooms. This park has a set of restrooms very close to the play area.  It's also nice to have a place to take cover from the rain, as it looked like it may rain when we visited.  If it did start to rain, we know we could take cover and sit at the picnic tables until it passed.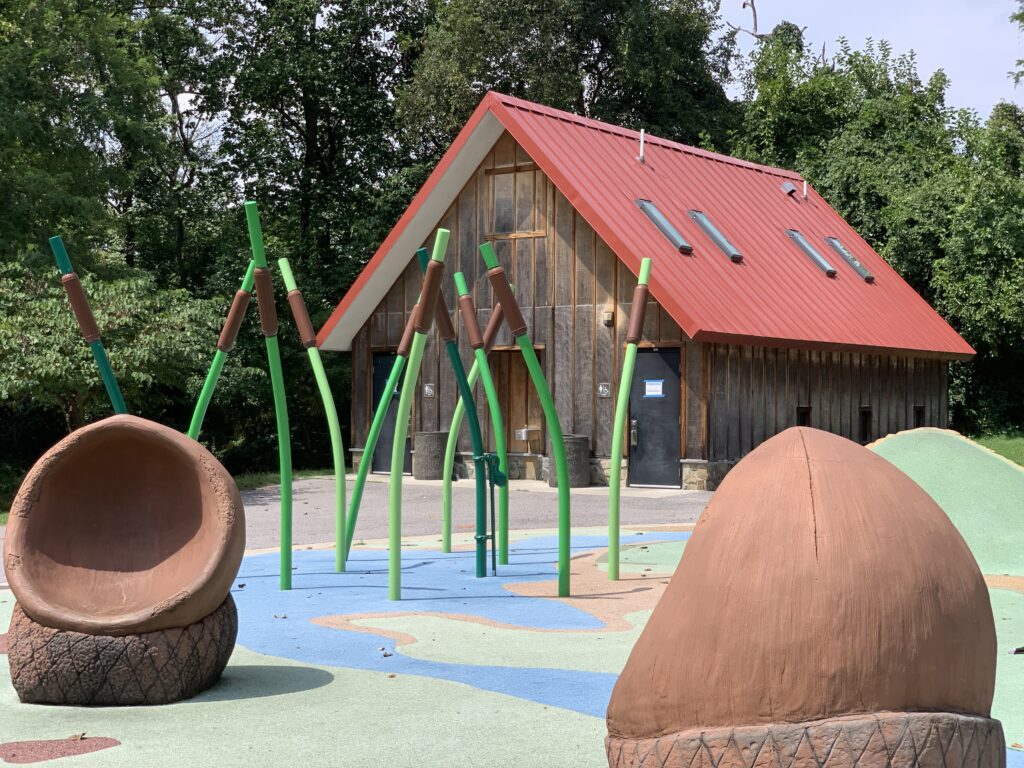 Overall, Walker Mill Regional Park was a hit with a 6-year-old and 2-year-old, and we hope to visit again soon!